Can you imagine going on a camping trip, reaching out into your portable cooler, only to find your drinks warm and your sandwiches soggy? There is nothing worse than being in such a situation! Well! You can prevent this by investing in a dependable brand of coolers.
In this article, we shall talk about one such brand, ORCA, which was born from the idea of manufacturing a hard-sided cooler that beat out all other coolers!
Whether you are a hunter, fisherman, or an avid camper, one thing you must carry with you is a portable cooler! Don't settle on just any cooler as you might regret it when you are left high and dry on a hot, sunny afternoon.
ORCA produces top-of-the-line coolers that keep your food and beverages cold for a long time.
Who Makes ORCA Coolers? [Evolution Of ORCA Coolers]
ORCA is a very popular brand headquartered in Nashville, Tennessee, and is well known for manufacturing premium cooler and drinkware products.
ORCA coolers were born from the idea of offering outdoor enthusiasts premium outdoor products made in the USA using American-made components at a competitive price. This idea prompted two lifelong outdoors people to create the Outdoor Recreation Company of America (ORCA). 
Besides producing a cooler made entirely from American materials, the owners also wanted to find a way to put Americans back to work.
ORCA has fulfilled these goals and taken them a step further by offering a more extensive selection of coolers than competitors and offering a lifetime guarantee for complete peace of mind.
Since the company's inception in August 2012, ORCA has been responsible for more than thirty manufacturing and production jobs and is increasing its staff daily. ORCAs manufacturing division is located in Akron, Ohio.
The brand's Made in the USA products have been an enormous success and are easy sale compared to imported products. ORCA coolers have since launched many new creations under the officially licensed brand ORCA cooler gear.
ORCA started with one size, the 75-quart, in four standard colors in 2012 and has shown tremendous growth since then. They now have seven sizes of hard-sided coolers, a full line of stainless-steel drinkware, apparel, accessories, and soft-sided coolers.
Best Usage of OCRA Coolers [Popular Igloo Coolers and Usage]
| | |
| --- | --- |
| OCRA Cooler Model | Best Usage |
| ORCA 75 Quart cooler | Perfect size for weekend family gatherings and outings as it comes with a capacity of 75 qt. It can easily accommodate 90 cans and also keeps the items cold for 8-10 days. |
| ORCA 40 cooler | Perfect for summer outdoor activities such as camping, and beach trips. Beat the heat with your favorite beer as the cooler will keep your beverages chilled. |
| ORCA Walker 20 Cooler Tan | A Portable and affordable cooler model for carrying around 20 cans. It is easy to carry snacks and beverages for a beach day, and sports games. It can hold ice for over 24 hours for that quick day trip. The easy open and close split magnetic handles are quite convenient.   |
| ORCA 20 cooler | The cooler is perfect for day trips, and convenient to carry with a swing arm handle. It comes with an anti-skid base and indestructible rotational molded construction.     |
| ORCA 140 quart | Very durable cooler with huge 140 quarts of storage capacity. It comes with roto-molded construction and integrated insulation for maximum ice retention and freshness of your beverages and food. |
Is ORCA A Good Brand for Coolers?
ORCA is a relatively new contender in the cooler market. ORCA coolers are proudly made in the USA and are like no other on the market.
They are as tough as the Americans! These coolers are built to perform and turn heads wherever they go with their bright colors and stylish design elements. ORCA takes a very straightforward approach when it comes to designing its coolers.
ORCA is known to deliver high-quality products that last for a long time. Being manufactured in America, ORCA knows what the buyers are specifically looking for and meets all the quality standards as well.
Moreover, ORCA has put its coolers to the test against the elements time and again. Whether fishing in the rivers of Tennessee or hunting in the mountains of Montana, ORCAs bear-resistant coolers can withstand extreme conditions wherever you carry them.
Its rotomolded construction makes it super durable and built to keep your beverages cold for days at a stretch. 
Thanks to the built-in drainage spout, you won't have to worry about its maintenance and clean-up. You can also store smaller items in the cargo net woven into the back for your convenience.
These coolers are available in 20qt, 26 qt, and 40 qt storage capacity options, and their integrated insulation guarantees maximum ice retention for at least ten days. Moreover, ORCA coolers come with a lifetime warranty on all products.
Although relatively new in the market, ORCA coolers are fast making it to the top, which is evident from the fact that the brand is rated four and above out of 5 on Amazon and other online stores. 
Key Features of ORCA Coolers
The Outdoor Recreation Company of America, ORCA, as it is commonly called, is an American company that, despite being new in the industry, has shown tremendous growth because of its high-end outdoor products that perform as advertised.
ORCA coolers are known for their simple and sturdy build that can withstand whatever you throw. The buyers vouch for the unique and thoughtful design of these coolers. Some of their unique features are:
1. Types and Application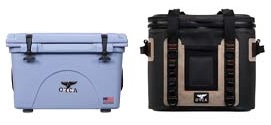 ORCA offers everything you may need for an outdoor event or excursion. From hard-side coolers with a capacity ranging from 20 quarts to 140 quarts to soft-sided coolers with different capacities, you are sure to find what you want.
When you need a portable cooler for camping, fishing, or parties, the ORCA cooler will easily transport all your refreshments and drinks while keeping them chilled for days. 
Consider the features you prefer when deciding what type of cooler to buy. A hard cooler offers different benefits than a soft cooler. If you are going on a long trip and need to keep your food and beverages fresh and chilled for a long time, go for the hard coolers.
If you are going out on a day trip and need to carry some sandwiches and beverages for the day, you can opt for the soft coolers that are easier to carry over your shoulder.
2. Size and capacity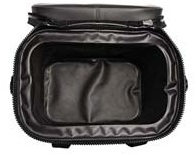 ORCA coolers are available in different sizes and capacities to suit all requirements.
If you are traveling alone for a day or two, you can opt for a small portable soft-sided cooler that will take care of your needs.
Go for ORCA Walker 20 cooler with a comfortable padded shoulder strap that can be conveniently slung over your shoulder. It has a dry weight of 3.6 lbs and can hold up to 20 cans.
With the ORCA 20 quart, you can store around five gallons or 18 cans of your favorite drinks. ORCA 58 quart has a capacity of 14.5 gallons, can hold up to 72 cans, and is ideal for small groups.
If you plan a more extended camping trip with your friends, go for the largest model, the ORCA 140 quart, which has a capacity of 35 gallons and can hold around 192 cans of beverages. With 64 lbs, you will need people to carry this cooler.
3. Design for Extra storage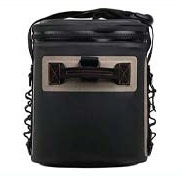 ORCA coolers have been thoughtfully designed to care for all your outdoor needs. The coolers come with a cargo-net attachment that can store smaller items such as your phone, lighter, flashlight, keys, or other supplies within reach.
Although it may seem like a small detail, it is an incredible feature you would love to have.
4. Portability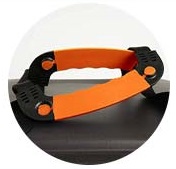 ORCA coolers come with extendable Flexi-grip handles for comfortable solo or tandem portage.
Soft coolers can easily be slung over the shoulder, while the heavier hard-sided coolers do not have wheels and need to be carried with the help of handles. However, you can add wheels to these coolers as well.
5. Premium Materials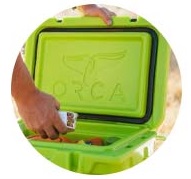 Being manufactured in America, ORCA maintains a high degree of quality in its design and manufacturing.
ORCA coolers have thick-walled insulation covered in a seamless plastic coating, making them virtually indestructible.
These thick walls and lack of seams give ORCA coolers an extremely long lifespan.
6. Sturdy fittings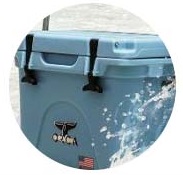 Entrusted with clever additional fittings, the brand offers more functionality to the product.
a. Handles
The handles of ORCA coolers are made of tough, durable nylon with a rubber handle.
b. Latches
ORCA coolers have rubber latches designed to look like a whale's tail. The rubber is thick and heavy-duty and doesn't wear quickly.
c. Cargo Pouch
A significant feature of all ORCA coolers is the mesh cargo pouch mounted at the back of each cooler. Keeping small things such as your keys, phone, and compass that you frequently need during your trip is very convenient.
This is one of the main reasons that people prefer ORCA over other similar coolers.
7. Size and colors

ORCA manufactures six different cooler sizes, from 20 quarts to 140 quarts. Different sizes have different weights; the larger cooler you buy, the heavier it will be, so figure out your needs before buying one.
If you need to take your cooler to the beach, ORCA 20 or ORCA 26 will be perfect! Buy one in the size range of 40 – 70 quartzes for weekend trips or something more versatile.
Go for larger models if you are traveling with bigger groups and for a longer duration. ORCA coolers are available in attractive colors too.
8. Ice Retention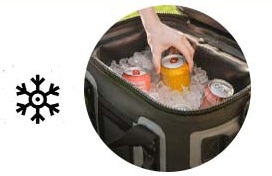 ORCA offers better ice retention than similar products in the market, which Is an essential factor to consider while buying a cooler.
The ice life goes up significantly as the cooler gets larger.
9. Bear-proofing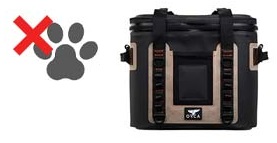 Although ORCA coolers do not have an IGBC certification, they can be considered beer-proof because of their ability to be locked with a padlock, keeping beers and other wildlife away from your stuff.
10. Accessories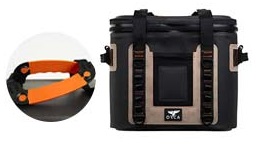 This is one more reason for the popularity of ORCA coolers. They offer a wide range of accessories, far more than any other cooler company.
You would simply love these accessories, such as the molle wrap, a canvas material that clips around the entire cooler, allowing you to use it in any way you like.
Check out the hybrid solar pack, which is a little zip-up solar panel that can be used to charge a reusable internal battery. This battery comes in handy to charge your phone, speaker, light, or anything you need.
11. Visual appeal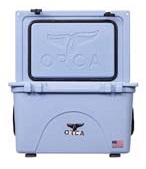 The base design of ORCA coolers is pretty simple, but its visual appeal has become its most vital selling point.
Although the base design is simple, the number of unique colors, patterns, and logos you can order are tremendous.
There are seven categories to choose from- Classic, Collegiate, Camouflage, Hero, Lifestyle, Licensed, and Team.  
12. Warranty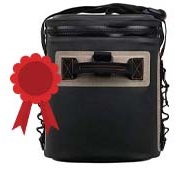 A lifetime warranty backs ORCA coolers against manufacturing defects in the material or artistry. ORCA replaces or repairs your defective cooler if you have purchased it from a registered dealer or online retailers like Amazon.
The cooler and the rubber latches, non-slip rubber feet, and the nylon rope handles are covered by ORCA's lifetime warranty. ORCA's excellent customer service and warranty will never be an issue.
Are Orca Coolers Good? (Pros and Cons of ORCA Coolers)
Known benefits of ORCA coolers (Pros)
Made in the USA
Rugged roto-molded construction
Excellent ice life of 10 days
Virtually indestructible.
Available in great color options
Mesh Cargo pouch allows for extra storage
Lifetime warranty
A wide range of accessories
Cold-sealing gasket and T-handle latches
Single stainless-steel handle with flex-grip for easy transport
Integrated drainage spout
Known Issues with ORCA Coolers (Cons)
Can be quite heavy, even when empty
Few models do not retain ice for long.
Some users complained of leaking issues.
How Long Do Orca Coolers Hold Ice?
An ORCA cooler promises to retain ice for ten days which is pretty good. The combination of roto-molded construction, a firm squeeze thanks to T-handle latches, and an oversized food-grade gasket ensure multiple days of ice life, no matter which model you buy.
Typically, the larger coolers tend to have better ice life, but it all depends on various other factors. Some of these factors include the external temperature, how many times you open the ice box, how much ice you use, and how much food you have kept inside, among others.
Moreover, the brand recommends specific steps to enhance the cooler's output:
Prechill your ORCA cooler overnight before every use by keeping it in the shade with ice.
Avoid opening your cooler frequently to prevent cold air from escaping.
Use smaller ice cubes and blocks of ice to keep your cooler chilled for longer. 
Clean your cooler regularly with warm, soapy water to prevent stains and odors.
ORCA Cooler Customer Service, Support and Warranty
ORCA is probably the only cooler company that provides a lifetime warranty on not just the main body of the cooler but all the other parts. ORCA promises excellent, user-friendly customer service, which is second to none.
The experts have fantastic trade knowledge and provide timely responses to every query. Most of the customers are satisfied with the post-sales support services.
ORCA Coolers Price Range – Are ORCA Coolers Worth It?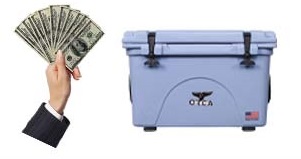 ORCA coolers can be placed somewhere in the middle of the premium price tier. You will find many more affordable or expensive brands than ORCA. However, this is mainly true for ORCA coolers in 'Classic' and 'Team' color schemes.
If you want to go for some unique colors such as Camouflage or opt for one with a college logo, there will be a considerable price jump, which is understandable.
ORCA informs on their website that his price jump is due to the handmade hydro dripping process used to put the pattern on the cooler.
The unique and extraordinary color choices available in ORCA make these coolers stand out among the rest. Those who have decided to buy Camouflage, for instance, will have to pay a higher price.
1. Premium models
ORCA offers many models in the price range of $200 to $300, featuring all you'll need for a hassle-free outing. With an ice retention capacity of 10 days, what more could you ask for?
These coolers have it all with exceptional insulation, rugged roto-molded construction, and a cargo net attachment.
Popular picks in this range are ORCA 20 cooler and ORCA Walker 20 Cooler Tan featuring an easy-to-open magnetic split handle, and a comfortable padded shoulder strap.
2. Ultra-Premium Range
If you want high-end OCRA coolers, check out the ORCA 75 Quart cooler with extendable Flexi-grip handles for comfortable solo or tandem portage.
It has a capacity of 75 quarts/ 90 cans and is suitable for long trips. Popular picks in this range include ORCA BW058ORCORCA cooler with a capacity of 58 quarts and ORCA 40 cooler that can hold 48 cans of your favorite beer.
Where To Buy Orca Coolers?
You can buy OCRA Coolers using any of the below-listed options:
You can buy directly from orca website
You can also purchase ORCA coolers from popular retailers like Amazon, SAM's Club, Walmart, Target, Homedepot, etc.,
Top 5 Best OCRA Coolers Considering All OCRA Cooler Reviews
Final Words:
All we can say is that it is pretty hard to go wrong with an ORCA cooler! The quality construction makes ORCA coolers very tough and resilient.
They can handle almost everything you throw on them and help you survive in extreme climatic conditions. Their straightforward design, good performance, and unique color choices make these coolers a worthy competitor in the cooler market.
All these reasons are why users have given them four-plus ratings on a scale of one to five. ORCA coolers are your best companion for fishing and camping trips and are ready for wild adventures.
Regardless of which ORCA cooler you choose, you can be confident that nothing can spoil your fun. ORCA has been designing and perfecting their American-made coolers.
These coolers have been tested both on local trips and global adventures. The durability and performance of ORCA coolers have been appreciated by users worldwide.