Evaporative coolers need water to work more effectively and distribute cool air in the room. Where water is absent, the swamp cooler's fan will simply blow out hot air which may be uncomfortable, and eventually affect your unit.
For convenience, there's a need to have a constant supply of water to the unit with the help of a pump. Rather than manually filling your unit's water reservoir every other hour, you should attach a pump connected to your power source.
This pump would naturally have a water hose that sends the water to the swamp cooler pads as needed.
However, swamp coolers are selected based on their capacity and the square footage of the room. Shouldn't that also be the case for the pump?
Evaporative Cooler pumps come in different sizes and choosing the one that works best for your unit can be a hard nut to crack. Not to worry, we've got all the bases covered in this post.
We'll begin by telling you how to measure the pump size you need for your cooler, as well as explain what effects a wrong-sized pump can have on your unit.
How Do I Know What Size Pump I Need for My Cooler?
Many people do not even know that pumps come in sizes and they must choose the one that suits their swamp cooler. The first thing to note is that pumps are measured in Cubic Feet per Minute (CFM).
You must first arrive at the CFM of your room before you can determine what pump size you need.
To do that, you need to multiply the square footage of the room by the ceiling footage. Whatever result you arrive at should be divided by two to get the size of the pump you should purchase.
Here's a simple calculation:
Assuming the square footage of your room is 1,200 and it has a 10-foot ceiling, that would amount to; 1,200 x 10 = 12,000 CFM.
Divide the 12,000 by 2 and you'll get 6,000 CFM. This means a 6,000 CFM evaporative cooler pump should work for your swamp cooler.
This is the formula you should use no matter the size of your room. Just multiply the sum by the ceiling's footage and divide the result by two. Try not to overshoot it, and using a pump that's too small will just make your unit run low.
Let's be clear, the climate in your area and your budget are other factors that will determine the type of pump you eventually settle with. The swamp cooler pump will also likely be 110-120 volts.
Be sure this is the voltage of the pump, but for very large, industrial coolers, you may need something bigger.
Can I Put a Larger Motor In My Evaporative Cooler?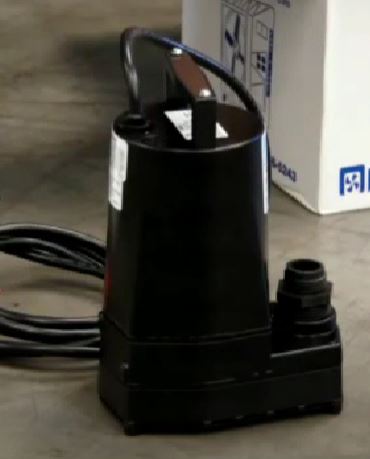 There are indications that some people would prefer a larger motor in order to increase the speed of their evaporative cooler and its airflow. In the real sense, this is not necessary.
It is best to use a pump with the recommended size and speed of the cooler's manufacturer.
A good pump between 3,000 and 8,000 CFM at 115 volts should be able to handle regular medium-large swamp coolers and offer the speed that's required. Just be sure to calculate the size using the formula provided above.
A larger pump may also put too much pressure on the fan and cause an irregular flow of water to the pads.
Besides, attempting to run a cooler faster than it should only make things worse; it will make more noise, wear the bearings out faster and more easily, and even cool less.
Stick to recommended sizes only for best results. If you want better airflow, you should get a better and bigger swamp cooler, but just big enough for the room size.
Using a swamp cooler that's too big for the room may just raise your power consumption level and that's not efficient.
Does Pump Speed Affect the Cooling?
This is another question that we get a lot. The answer is Yes and No. Truth is, as long as the pump is running at normal speed, cooling should be good. In perfect condition, the pump will not affect cooling.
Damage to the pump which affects its speed can actually affect the cooling. Also, when your cooler pump runs slower than it should, the water supply to the pad can be affected and this can lead to reduced cooling.
Remember that cooling is a function of water evaporation and distribution in the room; when this is affected, cooling is also affected.
The point is to ensure that the pump is right for the cooler and the speed is just right for the fan and other components of the unit. You also need to check for leaks or malfunctioning of the pump to prevent a bigger problem.
Evaporative Cooler Pumps of Different Sizes
| | | |
| --- | --- | --- |
| Pump Size | Pump Model | Pump Description |
| 10,000 | Dial Manufacturing 1095 Evaporative Cooler Pumps | This is one of the big capacity pumps in this category. The pump is UL listed, rated 115V, and can pump as much as 5 gallons per minute and up to 290 gallons per hour. |
| 7,500 CFM | Dial Manufacturing 1175 7500CFM UL Standard Pump | Standard swamp cooler pump with noncorrosive and flame-retardant housing. Also has an optional bleed-off port and is very easy to use. At 120V with an extra-long cord, this unit works like a typical fuel pump. |
| 5,000-7,500 CFM | Little Giant 540005 CP1-115 1/70 Horsepower Evaporative Cooler Pump | Great 115V swamp cooler pump. The pump is made of plastic and weighs about 3 pounds. It is also able to pump 5 gallons of water every minute. |
| 5,500 CFM | Dial Ul5500 Cooler Pump | This pump is UL certified for safety. At 115V, it is able to pump 4 gallons of water per minute. The base plate is easily detachable so you can remove debris. Also, this pump is built with flame-retardant housing. |
| 3,000 – 6,000 CFM | Portacool Pump-CYC-3 Cyclone Replacement Pump | Cyclone replacement pump by Portacool is suitable for 2000 and 3000 evaporative coolers. It is a bearing and bushings kind of pump that's made in the United States. |
Final Words:
Pumps are a very important component in evaporative coolers. They ensure a continuous flow of water to the cooler pads which is then blown by fans into the room to make the air cooler.
But, getting the wrong pump can make everything go awry; you'd not get the cooling you desire and you may actually cause some damage to your unit. Be sure to size your room and evaporative cooler properly.
Knowing the size of your room in Cubic Feet is a crucial factor for knowing what pump size you need, and getting the right size of cooler pump will help you get the best out of your unit.