If you are among those who enjoy outdoor activities like going for regular picnics or fishing expeditions, camping trips with friends and family, and sporting events, especially during summers, then your trip essentials would be incomplete without a cooler.
Best coolers are portable and convenient to carry, and in addition, they keep your drinks and food items at the right temperature all day.
By choosing a superior quality cooler, like Igloo's, one cannot go wrong outside. Igloo coolers are specifically designed for heavy-duty performances. Each model is created to assure you that your food and drinks remain as is throughout the entire day.
Igloo coolers have been in America's industrial region for about 75 years. It is the most recognizable brand of ice chests among the simplistic crowd as it manufactures affordable and high-performing coolers for the world.
With several fantastic feature-packed line-ups, Igloo coolers are counted for their wide variety of cooler sizes with numerous price ranges, top quality features, a higher standard of quality control, and a guaranteed customer support team.
You've no doubt seen Igloo coolers everywhere, from Costco to Walmart.
However, the question Are Igloo coolers good has not been answered extensively, but we'll provide all answers through this blog.
Who Makes Igloo Coolers? [Evolution Of Igloo Coolers]
Igloo has been an American-made brand since 1947. Located in a 1.8 million-square-foot, three-building facility in—Katy, Texas, the brand has covered a long journey.
They started by creating metal water coolers for workers to drink clean water on their worksite to invent more modern and feature-rich coolers such as the world-famous Playmate and beyond. Igloo coolers are almost like having a portable refrigerator.
The company started its operations in a small metal working shop with two employees and currently employs nearly 1200 of the workforce.
Since its inception, the company has witnessed a series of joint ventures, mergers, and acquisitions. Presently, the Dometic group owns Igloo coolers. They purchased it in September of 2021.
Today the brand builds some of the most super-functional, best-in-class ice chests. Igloo coolers are a hot-selling brand in the market and the reason why about 15,000 outlets in the United States sell their products.
The trusted brand is called to invent all cooler styles in the country and revolutionize the family outdoor recreation movement. The brand has influenced and redefined the way we live, work and play.
Best Usage of Igloo Coolers [Popular Igloo Coolers and Usage]
| | |
| --- | --- |
| Igloo Cooler Model | Usage |
| Igloo Polar Cooler   | Perfect size for large groups or family gatherings as it comes with a capacity of 120 qt. It can easily accommodate 188 cans and also keeps the items cold for 6-7 days. |
| Igloo Heavy-Duty 25 Qt BMX Ice Chest Cooler   | Perfect for summer, and outdoor activities such as long camping, fishing, tailgating, beach trips, or for any rugged usage as it has an ice retention capacity for 4 to 5 days. |
| Igloo 14-16 Qt Hardsided Lunch Playmate Pal Cooler   | A Portable and affordable cooler model for carrying a work lunch with a unique tent-top design. It is easy to carry snacks and beverages for a beach day, and sports games. It does a wonderful job with a few ice packs that last a few hours.   |
| Igloo Sportsman 30-150 Qt Heavy-Duty High Performance Hardsided Coolers   | The cooler is perfect for day trips, moving trucks or in boats for fishing and kayaking. It is available in multiple sizes with an anti-skid base and indestructible rotational molded construction     |
| igloo Trailmate 70 Qt | With oversized wheels, the cooler is ideal for challenging terrain as it offers superior traction and superb (about 10-inch) ground clearance. Its additional dry storage pockets, food basket, and butler tray make it perfect for family gatherings, and for keeping all your things organized and dry. |
Is Igloo a Good Cooler Brand?
Count among the most reliable and affordable brands for almost all types of cooler lines; brand Igloo occupies nearly half of the American market. Igloo offers a large selection of cooler both in terms of styles & sizes.
The brand does have products that fit in about every environment and application. In fact, the most impressive feature of Igloo coolers lies in their competitive pricing.
Whether one considers its premium, heavy-duty coolers or cooler backpacks, Igloo remains the most affordable in the industry.
IGLOO is considered a good brand for coolers because the brand is consistent in delivering high-quality standards products. The products are ergonomically designed to last for years.
Be it features or the addition of accessories; Igloo knows what the buyers are really looking for. Again, with a vast manufacturing unit, and remarkable access to the necessary materials, the company does everything in-house.
From simple, relatively lightweight, and optimally-sized mobile options (such as cooler backpacks, handy lunch boxes, and totes) to larger plastic coolers in wheeled configurations like Polar coolers, Igloo coolers offer a well-thought-out product that can keep food and drinks cold.
Igloo coolers have been rated almost 4 and above stars out of 5 among buyers on amazon and other online stores and for most of its models. This shows buyers' worth, efficacy, and customer satisfaction with the brand.
Also, Igloo offers a one-year warranty on both hard and soft side coolers. It is fair to say that Igloo coolers have done pretty well to establish itself as a reliable brand globally. 
Key Features of Igloo Coolers
The Igloo brand is known for its well-defined and user-friendly features. Its users attest to the unique qualities and designs that make Igloo coolers stand out. These include:
1. Types & application

Igloo coolers offer massive variety in terms of usage and utility- Igloo cooler designs both hard and soft coolers.
As the name suggests, hard coolers have a tough and firm outer shell, which makes them more functional while traveling. Again, these igloo hard coolers possess telescoping handles, cupholders, and a butler tray, available in wheel configurations.
The handles are sturdy, providing a better grip and angle to push and pull.
Softer Igloo coolers are insulated bags with flexible fabric sides and an insulated liner. These are much more lightweight than hard coolers and can be folded for storage. They also come in backpack designs or small lunchbox styles.
2. Size/ Capacity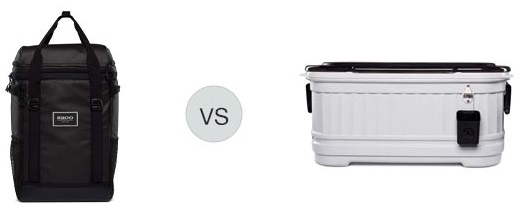 The brand offers numerous size or capacity options to buyers. One can select different sizes as per their requirement. The size or capacity of Igloo coolers is measured in quarts or no. of 12oz it can hold.
For example, if you are traveling solo, you can choose a small-sized Igloo mini personal cooler like Igloo's Playmate lunch box or insulated lunch bag (15 Qt or 6-12 cans) that can hold juice boxes or soda cans.
Again, for one-night camping, Igloo has small & medium-sized coolers in both hard and soft-sided options with different capacities ranging from 13 cans to up to 50 cans. Igloo also manufactures large and extra-large size coolers with a capacity of about 100QT or more.
3. Design for Multiple Applications

If someone is unsure which right-sized cooler to buy, Igloo assists them with their application needs. Igloo coolers built have been done in such a way that they can be used for multiple purposes.
It can be used for camping, beach holidays, fishing, or even BBQ. IGLOO has different cooler sizes models in its Mission Series, BMX, or Playmate.
Moreover, some soft cooler models come with a removable hard-liner basket that helps in keeping different items without getting them crushed. Some igloo coolers have an interior food basket or zippered exterior pockets to hold dry items separately.
4. Portability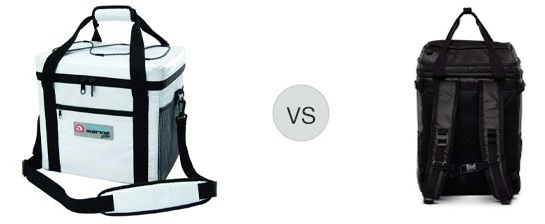 An important feature to consider in any cooler is portability. Models with less capacity weigh less and are easy to carry. Igloo recommends using soft coolers if one does need to move it all by themselves.
Otherwise, Igloo heavy-weight hard coolers come in with wheels to eradicate any portability issue. The design is ideal for easy carry for more extended periods.
Furthermore, Igloo provides different handles for specific transportability needs, such as adjustable straps for backpack coolers, tow or bolt-through handles for heavy hard coolers, etc.
5. Clever Accessories 

Igloo coolers have been built with additional features that make them more convenient and functional. Some of the igloo coolers come with interior led light, butler trays, lid latches, or even a mobile device stand. These features are model specific.
6. Material
The extra-thick foam makes the thicker insulated walls and lids exceptionally durable. Again, Igloo uses Oversized hinges & stainless-steel hardware, and rubberized lid T-latches to extend product life. All igloo cooler has a thick outer shell.
7. Certification
All IGLOO cooler models have Bear-Resistant Ratings. This rating is provided by the Interagency Grizzly Bear Committee (IGBC) to certify that the product has been designed and tested against the toughest standards.
8. Drain Systems
When ice is melted, you need an excellent drain-out system in coolers to allow the water to get out. Igloo hard-sided coolers have ideal drainage systems. A pop-off or screw-on cap is located at the bottom of the Igloo cooler to let the water flow out.
9. Tested ice life
The day's ice can be retained in the cooler and is tested in Igloo labs at 90-degree Fahrenheit. It's called Ice retention capacity or level of cooling," which is measured in days.
All model lists their ice retention ability. Depending on our usage and need for ice, you can pick the model. For example, for overnight use, don't opt for an expensive model that retains ice for seven odd days.
10. Heavy-duty Construction
Igloo cooler is made with either injection molding or blow-molded construction technique. Premium models are made with an expensive process called roto-molding.
Premium Igloo cooler is made from a single, continuous piece of plastic with fewer stress points, so they are long-lasting.
11. Cool Riser Technology
The process improves cooling performance by elevating the cooler body away from hot surfaces
12. Warranty
Igloo product is warranted to be free from manufacturing defects under regular use. However, the brand offers service for a minimum of 1 to 3 years of limited warranty from the original purchase date, depending upon the model.
Are Igloo Coolers Good? (Pros & Cons of Igloo Coolers)
Known benefits of Igloo coolers (Pros)
You don't need to break the bank to get one
Blow-molded construction and a reinforced base
Rust-resistant, stainless-steel hardware
Cool riser technology
Extra-thick foam walls and insulated lid
Affordable and portable
Excellent insulation
Comfortable carrying handle
Known Issues with Igloo Coolers (Cons)
Igloo coolers sometimes come with flimsy hinges
Hard coolers from Igloo are very heavy
Few models suffer from the seal and durability
Soft cooler models are best for drinks rather than food 
How Long Will an Igloo Cooler Stay Cold?
The manner in which an igloo cooler is designed and constructed; is determined to last long regardless of the environment. The thick and insulated base won't absorb the radiant heat and keep contents cold for up to four to seven days using Ultratherm insulation.
The large the cooler, the better its temperature regulation feature. Most models in Igloo Coolers claim to retain ice comfortably for around 5 days before beginning to melt.
However, it may come down to 3 days of ice retention in extreme summers, which is not bad for a long weekend trip.
Further, the brand recommends following specific steps to keep an Igloo Cooler cold.
Prechill the cooler overnight by storing it in a cool place with a bag of ice inside.
Also, chill the beverages or food items in the fridge before placing them in the cooler.
Use large ice blocks or dry ice instead of crushed or dripping ice.
Avoid opening your cooler unnecessarily.
Doing so will help you keep the ice last longer!
Igloo Cooler Customer Service, Support, and Warranty
On a scale of 1 to 10, we can rate Igloo a 7 for after-sales support. The brand claims to accept any defective item for refund or replacement within 30 days of purchase.
As per customer reviews, we found that many of them were satisfied by the Igloo post-sale support services. This is mainly because many customers got free replacement of accessories where their products/parts were broken within the stipulated time.
You can reach them for inquiries or make a complaint, or to even claim your replacement if your product lies under the warranty period. There is a customer service calling facility or email, or one can visit the Warranty Service page on their website, where you can write your query and get a response.
Igloo Coolers Price Range
It is believed that better-performing products are more expensive. However, you get quality and performance at affordable rates with Igloo coolers. Igloo brand manufactures varied price range coolers that are available from $15 to $350.
1. Low-Cost Igloo Coolers
For under $30, you can get both hard or soft cooler that holds up to 10-16 cans. These coolers are designed to keep drinks or food cold for individuals or a couple and are ideal for a day trip or carrying work lunches.
Igloo Playmate Cooler 4 Quarts or Igloo Fanny Pack is one of the cheapest igloo coolers that also performs well.
2. Mid-Range Igloo Cooler Models
 Igloo coolers have many good models between $30 and $100. One can get numerous sizes and design options in hard and soft coolers.
These mid-range priced coolers are large-sized and come with assisted features such as tie-down loops, Dual snap-fit latches, Threaded drain plugs, and fish rulers.
These coolers can carry up to 188/12-oz cans in this price range. Some soft cooler in this price bracket has backpack straps, anti-mildew, and UV protective exterior and resembles traditional duffel bags that can carry up to 40-50 cans.
Polar 120 Qt Cooler, Marine Ultra 94 Qt Cooler, and Marine Ultra 24-Can Square Cooler are very popular mid-range igloo coolers.
3. Premium Coolers from Igloo
These coolers that cost you between $100 and $200 are the top-rated ones featuring the best aspects one needs while enjoying their outdoor adventures.
The ice retention capacity is up to 5 days, including wheels in some models, leakproof design, bottle openers, multiple Utility loops, Heavy-duty locking casters, Removable lid, etc.
Hard Igloo coolers in this price range hold anywhere from 114 to 280 12-ounce cans. Our pick in the premium range is Party Bar 125 Qt Cooler, and Pursuit 24-Can Backpack.
4. Ultra-Premium Igloo Coolers
There are a few ultra some premium igloo Hard coolers that cost you a fortune. Available at over $200, these are huge & oversized hard coolers that are heavy and meant for large groups.
This ultra-premium range includes aluminum and stainless-steel wheeled machinery, tie-down loops, telescoping handles, dry storage compartments, and built-in butler trays.
Try out Trailmate Marine, Imx Cooler or Ecocool Series if you are looking for high-end coolers from Igloo.
Based on your need and occasion, you can browse through the whole range and pick the best model that suits your requirement without forgoing features or spending more on things you don't think are necessary.
Where To Buy Igloo Coolers?
You can buy Igloo Coolers using any of the below-listed options:
You can buy directly from igloo website
Igloo coolers can also be purchased from igloo company store
You can also purchase igloo coolers from popular retailers like Amazon, Walmart, Target, Homedepot, etc.,
Top 5 Best Igloo Coolers Considering All Igloo Cooler Reviews
Final Words:
Most buyers on almost online partner market platforms have given a Four plus rating to Igloo coolers out of 5 stars.  Most igloo coolers are built to tolerate wear, pressure, and damage.
Moreover, these coolers are streamlined in a style and weight that fits most of your outdoor needs. Again, available in multiple coolers, one can pick the coolers according to their icer retention capacity.
Offering a size and model for every household and adventure, the classic& innovative coolers from brand Igloo are a must-have apparatus.
If you want to enjoy a weekend afternoon, a soccer tournament, or even while throwing a backyard barbecue party, this foam insulated cooler and rugged coolers come in sizes from small (up to 20 qtz) to extra-large (101 plus qtz).
The smallest Igloo Playmate mini-series duly satisfies anything more than an afternoon event. Still, the ultra-premium design of Igloo's coolers gives you enough performance that you can head out on your camping trip or your trekking expedition comfortably.
Igloo brand has received appreciation from a family group to adventurous friends' trips to a work lunch. The classic brand is recommended by all for ultra-premium durability.