Suppose you are someone who goes out for regular picnics, outdoor expeditions, camping, sports events, etc. You must know how important it is to have a reliable cooler such as Coleman to keep your drinks and items chilled all day.
With Coleman Coolers, there is no chance your party with friends or family will get ruined because of warm beverages or spoilt food.
Coleman Coolers are indeed one of the top choices among people who own or might have used a cooler at some point. The dependable brand has been available in the market for many years and is known for its high-quality service.
The brand offers multiple models that cater to your needs, from picnics in the park to beach BBQs to a backyard party, camping trip, or even a group chat on the balcony.
Again, Coleman coolers are convenient, inexpensive, and light to carry no matter where you go. With superb insulation performance, Coleman models are adjudged to be the most portable and enjoyable to use.
That said, if you still need clarifications to recognize the Coleman brand as a top-rated brand for your camping and outdoor needs, you are suggested to read further. We have researched extensively to find answers to all the queries associated with Coleman Coolers.
Are Coleman Coolers Made In USA? [History of Coleman Coolers]
Coleman is a famous American brand founded by William Coffin Coleman in 1900. The notable company is known for making high-quality camping gear.
The brand started its journey by making its maiden product -gasoline pressure lamps that created history as they were used for the first evening football game in Mississippi. The next transformation occurred in 1942 when the company made a camping stove for WW11 soldiers.
After the demise of the founder in 1953, the company was taken over by investors. However, the company did invest in some ill-fated ventures before the 1990s.
It was only during the end of the 20th century that the company closed its experimented product divisions, such as air conditioning units to pressure washers, and decided to focus on well-made recreational gears that stay true to the legacy and heritage of the brand.
Coleman started manufacturing its coolers range in the 1950s. In 1954, the organization acquired Queen Stove Works and began manufacturing ice chests. The brand modified and revolutionized the old metal cooler design with a plastic liner which they marketed as "coolers." This was the same year
when Coleman introduced the first Styrofoam ice chests, made from a rubber substitute material. In the 1970s, the brand launched soft-sided coolers made from nylon and vinyl.
Since then, Coleman has continuously released cooler models with increased storage size, advanced ice retention capacity, and improved aesthetics in both hard and soft designs.
Today the Coleman company is owned by Newell Brands and headquartered in Chicago, IL, USA. The brand manufacturers coolers, portable stoves, sleeping bags, camp chairs, lanterns, and shelters.
Best Usage of Coleman Coolers [Popular Coleman Coolers and Usage]
| | |
| --- | --- |
| Coleman Rolling Cooler | 50 Quart Xtreme   | Perfect for tailgating, camping, BBQs, & outdoor activities with a capacity to hold 84 cans with ice retention for up to 5 days even in hot summers. The heavy-duty wheels are fit for any terrain. |
| Coleman Portable Rolling Cooler   | This is a generic wheeled cooler, an ideal choice for a weekend trip to the lake or a tailgate. This can be reliably transported across almost any terrain and stored in the back of any SUV. |
| Coleman 28 Can Backpack Soft Cooler   | A user-friendly and cheap backpack that fits enough food/snacks for a family of 3 or 4 for a day's excursion |
| Coleman 48 Quart Cooler   | Perfect for on-land excursions, this cooler has a storage capacity of 60 cans. This lightweight cooler comes in other sizes as well (30, 36, 40-, 50-, 100-, and 150-quart sizes) and is tall enough to fit 2 ltr bottles. Overall, a good choice for a casual cooler enthusiast. |
| Coleman Cooler | Steel-Belted Cooler   | Great for taking on camping trips, at a festival, picnics, and other outdoor activities as it fits nicely into the trunk of your car, or near the passenger seat. Perfect for people who need to store food and beverages cool in sweltering weather conditions or for many days. It's super portable and convenient to carry. |
Is Coleman a Good Brand for Coolers? 
In short, Yes. The brand has enjoyed immense recognition and trust created in outdoor recreational gear consumers for over 100 years. 
Talking about coolers, Coleman's engineers some of the best and most sturdy coolers. They have a massive list of product ranges comprising hard and soft coolers. Available in sizes ranging from small coolers covering 5 to 20quarts to extra-large coolers with over 100 quarts capacity, Coleman  
coolers are also among the best on the market when it comes to the stylish design, capacities, and ability to keep the ice.
Coleman coolers have far superior ice retention performance compared to brands like Igloo in the same price range. Additionally, Coleman coolers are better rated for their style and practicality. Designed with cup holders, wheels, etc., Coleman offers the most bang for your buck.
With more than 50 years of experience making coolers alone, the brand has the best price and quality combination.
The company primarily targets families who don't need gears that can withstand Arctic temperature or hurricane-strength winds. Instead, they make more practically usable products with basic functions and perform consistently.
The brand believes in keeping the models free from flashy designs and loaded with features that people will never use in ordinary situations. Hence Coleman coolers are fit for spending a weekend with your loved ones in the lapse of nature but not for hardcore professional expeditions.
Most models of Coleman coolers have been rated almost 4.5 stars out of 5 among buyers on amazon and other online stores. This shows buyers' trust and customer satisfaction with the brand.
Hence if you are there with friends and family for campfires and fun, Coleman coolers will be a perfect choice among all your outdoor essentials.
Key Features of Coleman Coolers
People looking for reliable and budget-friendly coolers will end their search on Coleman for its user-friendly and practical features. The unique aspects that make Coleman coolers stand out among all are:
1. Range of Sizes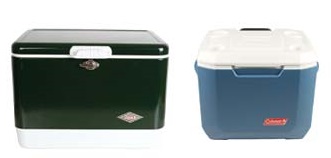 It is crucial to understand that size and shape will obviously impact the performance of coolers. A cooler size is calculated based on how many cans of beer or soda each one will hold.
Coleman designs both hard and soft coolers in multiple sizes and has the capacity for buyers to pick the right size depending on the occasion, purpose, and usage.
 It has a host of small-sized coolers for individuals to carry work lunch to medium-sized and oversized coolers for serious campers to store enough of an entire week's supplies needed for long camping tours.   
2. Multipurpose Application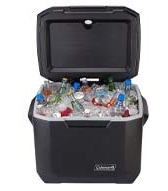 Coleman coolers have a historical experience of fifty-plus years. The brand knows exactly what customers' requirements are. Through a series of innovations, it has carved out coolers full of versatility and flexibility.
From stereotyped hard campervan models to the beach, hunting, marine coolers, or laid-back barbeque party coolers, Coleman is handy every time.
Besides keeping your drinks cool, a modern Coleman cooler observes food safety, locks food odor inside, and keeps your fishing catch fresh.
3. Multiple Styles and Colors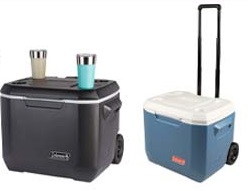 Coleman is known for its vintage design. The classic brand has embraced the latest trends in color and conventional styling but retains its legacy of sticking to practicality.
The latest models have shiny exteriors but are sturdily built for rugged use, and the higher interior bottom provides good insulation. Again, the stylish design has an aesthetic appeal and is supplemented with additional features that make them super functional.
The brand is constantly upgrading its product by integrating more functional aspects into the construction process. Moreover, Coleman coolers come in multiple colors and patterns- from eye-catching colors like red, blue, green, and grey to attractive metal coolers.
4. Accessories/Extra features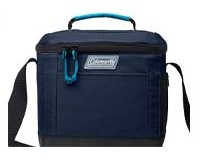 The basic Coleman coolers may not exhibit the latest features, but the premium and gigantic models come with accessories for your convenience.
Features like external storage compartments, snap-lock lid/easy-access lids, multiple carrying methods, cup holders, bottle openers, even umbrella holders, and much more. Some Coleman coolers have a facility that offers bike attachments.
5. Durability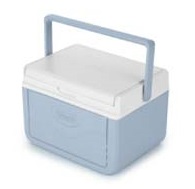 People have durability concerns while buying any product. Coleman is recognized as a reliable brand that offers dependable products.
It provides a line of models that matches premium roto-molded coolers, wheels, and a retractable handle that offers good durability without the high price tag.
Again, the brand manufactures products for a family audience who don't need features like 7-day ice retention or robust design to survive a bear attack or premium heavy-duty wheels with an extra-sturdy steel handlebar to trek wild terrains.
6. Ice Retention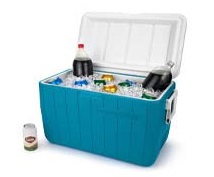 Coleman constructs the interior of its coolers with one to two inches of insulation foam on all the walls (especially building a thicker bottom) for longer ice retention.
The coolers are better designed with insulated lids and a leakproof gasket that prevents cold air from escaping and balances temperature inconsistencies.
7. Cooling technology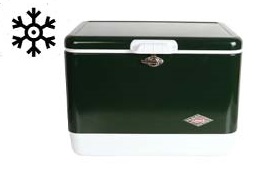 With smarter TempLock™, insulation technology is used both at the top and bottom of the cooler; the Coleman coolers can keep drinks ice cold even within hottest temperatures (up to 90 Fahrenheit).
Unlike past models that could hold ice for up to 3 days, the brand claims that current models can retain ice for up to four to six days.
8. Material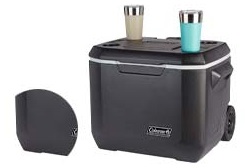 Coleman uses durable plastic that resists UV damage and cracking for its hard coolers and durable polyester materials with high denier counts for its soft coolers.
9. Vast product line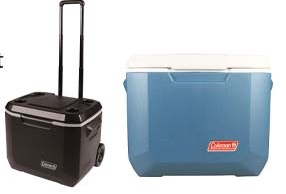 Coleman has a huge product line that includes both hard and soft coolers.
Again, these categories are available from small personal-sized coolers, drink dispensers, and lunch boxes, to larger, party bar-style coolers and vintage coolers in steel.
The range also houses wheeled, thermoelectric, and specialty coolers (marine, fishing, hunting, etc.).  
10. BPA-free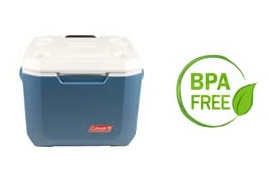 Coleman coolers don't contain BPA or polycarbonate. Concerned Authority approves all of the constituents used in Coleman Coolers for food contact.
11. Bear proof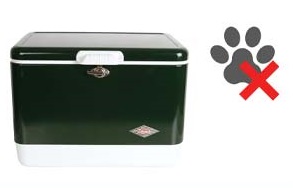 Some models of Coleman cooler, such as the Steel-Belted Cooler, are certified by the Interagency Grizzly Bear Committee (IBGC).
Are Coleman Coolers Good? (Pros and Cons of Coleman Coolers)
Known Benefits of Coleman coolers (Pros)
Designed more for people on a budget
Made with good insulation
High-quality material, functional and vintage design
Decent performance, toughness, and affordable price tags
Impressive ice life
Simple pop-open drain, straightforward to clean and care
Functional built-in cup holders 
Can be used for multi-purposes
Known Issues with Coleman Coolers (Cons)
The hinges of the Coleman cooler are weak and flimsy
The latch is delicate and fiddly
Very simple styling
Poor ice life in many Lower-end models
Some may find the narrow, plastic handles uncomfortable
Price of Coleman Coolers
Coleman coolers are reasonably priced. The cooling ability, life expectancy, and features you get from these coolers justify your purchase. 
1. Non-Premium Range
Coleman always believes in offering a low-cost coolers range that won't burn your pocket and provide excellent performance.
They construct most of their non-premium coolers with crucial features such as sturdy construction, decent & acceptable ice life, thick rubber gaskets, quality hinges, etc. They avoid over-the-top features that are irrelevant in routine use but will only add cost to the asking price.
The price range of budgeted Coleman coolers starts from as low as $15 and can go up to $100
2. Premium range
They also have some high-end coolers loaded with features that include metal hardware, roto-molded construction, premium gaskets, elevated bases, impressive ice life, and Have-A-Seat™ lid and are designed and targeted to try to keep up with other top-end brands like Yeti and Pelican.
The price range can be in the middle of the $120- $ 250 price tier.
How Long Does a Coleman Cooler Stay Cold?
Coleman coolers are usually regarded as having good ice retention abilities.
However, the cooling capacities vary between each model. Low-priced and small-sized budget coolers can keep ice intact for a day, while large-sized coolers can hold ice for up to four-five days.
Coleman Cooler Capacity
As explained above, Coleman coolers are available in varying sizes and capacities. Coleman constructs coolers with a capacity ranging from 5 quartz to 120 quartz. 
Point to note: The numbers of cans mentioned on the Coolers models do not represent the actual capacity. While deciding on the capacity, one should remember that the storage capacity depends on the number of ice blocks one will keep inside. The more ice you store, the fewer cans or items you can store inside and vice versa. Usually, about 25-30% of space is taken up by ice blocks in any cooler. It can be pretty misleading for those who are unaware of this fact.
Let's categorize Coleman coolers as per their capacities. We have tried to lay down the average capacity with ice blocks.
1. Coleman small-size coolers
These coolers can store anywhere between 3 to 20 cans. In terms of quartz measurement, a small cooler will be expressed anywhere between 5 and 16 quartzes.
Available in both hard and soft models. So, it's ideal for a 4-6 hours trip or work shift. Chiller™ 5-Quart Portable Cooler can hold up to 3 cans with 2 pounds of ice, whereas XPAND™ 9-Can Soft Cooler can keep food and drinks cold for up to 12 hours.
2. Coleman Medium size coolers
Mid-size Coleman coolers have a capacity ranging from 16 to 36 quartz. That means if you buy a 30 quartz excursion cooler, it can hold up to 50 cans alone, but with ice, the capacity lowers. It is then reduced to 27 cans + 14 pounds of ice. 
3. Large Size Coolers
Coleman Large-sized coolers range from 42qtz (34 cans + 20 pounds of ice) to 70 quartzes (can store 62 cans + 40 pounds of ice). Ideal for a family of four for multi-day excursions and weekend trips. 
4. Extra-Large size Coleman coolers
Coleman extra-large coolers have a capacity ranging from 100 to 200 quartz. These oversized coolers can ideally store 75 to 250 plus cans with 50 to 80 pounds of ice. Coleman Marine series belongs to this category.
Coleman Cooler Customer Service, Support and Warranty
The company does have after-sale support management for its products. With a limited warranty, it has options for returns.
But the brand accepts returns only for products purchased on Coleman.com and when the product is returned in its original condition within 60 days of purchase (not including shipping charges).
There are no returns in case products are purchased from a store or other e-comm portals. Again, the brand doesn't have an exchange facility.
Overall, Coleman neither has the best warranty and return policy nor do they score well on after-sales customer services. 
Where To Buy Coleman Coolers?
You can buy Coleman Coolers using any of the below-listed options:
You can buy directly from Coleman website
You can also purchase Coleman coolers from popular retailers like Amazon, Target, Walmart, Homedepot, Lowes, etc.,
Top 5 Best Coleman Coolers Considering All Coleman Cooler Reviews
Final Words:
For over 120 years, Coleman has developed top-notch outdoor gear (From tents to sleeping bags to portable furniture, camping essentials, coolers, and much more).
If you are at a tailgate, on the trail, by the lake, or in the middle of a music/sports event, it is very likely that some or the other Coleman essentials are beside you.
Some may argue that Coleman coolers don't feature many add-ons or accessories that other competitive branded coolers do on this list, but the fact is it serves its purpose.
They curate coolers with features that are actually needed and used by people. For them, over-engineering leads to overpricing, ultimately burdening the budget buyer's pocket.
To conclude, if you want the best ice life with desired features and longer life expectancy for the tiny amount, then a budget Coleman cooler may be the way to go.