The energy efficiency of space heaters has been a big subject of controversy for many years. Since Space Heaters have become the option of choice for homeowners who wish to cut down energy costs by focusing on heating where it is needed, it is important to consider how much it costs to run them.
After all, the essence of space heaters is to achieve energy efficiency by dedicating specific heating units in the spaces where they are needed rather than leaving a central heater to run endlessly and pile up energy bills.
So, when you shop for a space heater, you must be mindful of the types of space heaters that are the most energy efficient. That is, what space heater offers the best heating at a relatively lower cost? This is the focus of this post and we'll get to the main gist soon.
Which Space Heater Is Most Energy Efficient?
Simply put, the most energy-efficient space heater is the one that has optimum coverage, fast and consistent heating, good heat distribution, and relatively low wattage.
There are several factors to consider in order to ascertain the energy efficiency of a space heater. These include:
1. Wattage
Wattage simply refers to how much electric power the unit needs to run. On average, common space heaters run on between 1,000 and 2,000 Watts. However, you must be sure that the wattage is commensurate with the performance of the unit and offers more for less. You have to compare the wattage with that of other similar units and choose the one which uses up less energy.
2. Programmable Thermostat
This is another important feature you must look out for. A programmable thermostat helps you preset your heater so that it works according to your heating needs. Heating is increased when the temperature gets cooler and reduced when it's warmer. This is an excellent way to save energy.
3. Eco Mode
Some space heaters have the eco mode feature which helps to save energy by ensuring that your unit doesn't continue running even after the room has attained the desired temperature. What the eco mode does is to respond to temperature needs by selecting the required heating level at every point, usually moving between low and high.
4. Multiple Heat Settings
Again, you need to look out for heat settings and how much flexibility the heater offers. The most energy efficient space heaters often come with at least 3 heat settings, so that you can choose between high, mid, and low settings. Energy usage is significantly lower when running on low heat.
5. Timer
Well, you need a timer, but not just any timer- you need a programmable timer. This is what triggers your unit to shut off automatically when it has run for the number of hours you set it to run. Apart from cutting down on energy costs, it is also a safety net to prevent overheating (where applicable). Hence, every energy-efficient unit should have this feature.
6. Energy Star Rating
This is one of the easiest ways to tell if a space heater is energy efficient. Looks can be deceiving though, so be sure to confirm that the brand is truly Energy star rated.
How To Calculate How Much Energy an Appliance Uses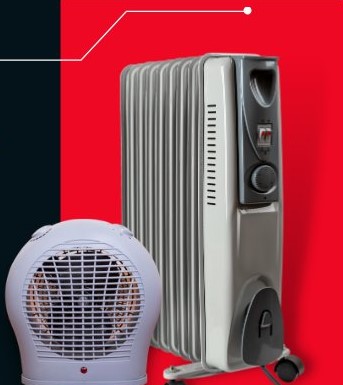 To determine how to calculate how much energy your space heaters need, you need to look for the Energy Guide sticker on your appliance first, which is present on most units.
The label shows the energy consumption in kilowatt-hours (kWh) and the average annual energy cost in US dollars.
Furthermore, you can also do a simple calculation based on the wattage that's listed on your appliance's Underwriter's Laboratory (UL) label.
If that label shows amps or volts instead of watts, here is how you can convert:
(wattage × hours used per day) ÷ 1000 = daily kilowatt-hours consumed.
Daily kilowatt-hours consumed × days per year you use this appliance = annual energy consumption
If you want to calculate the energy cost for an appliance, you'll need to know your electricity cost per kilowatt-hour, which can be discussed between you and your utility provider.
Most cities in the US have an average of around $0.13. After you have done this, multiply it by your annual energy consumption (in kWh) to see your approximate annual cost.
Energy Consumption of Different Types of Space Heaters
There are different types of space heaters and each comes in different brands, models, sizes, and configurations. Let's look at some of the popular types of space heaters and their energy-saving capabilities;
1. Convection Heaters
Convection heaters are built uniquely to warm up the air inside a room. The idea is that providing warmth in the entire room will make the room comfortable enough for residents in winter. They are usually oil-filled and are best suited for large spaces. They are also considered pretty energy efficient.
Most Energy-efficient Convection Heater: Lasko Oscillating Ceramic Space Heater
This bladeless unit is a favorite in the market for a number of reasons, including its superb energy-saving features. With coverage exceeding 300 sq feet, this unit only uses up 1,500 Watts. But that's not all, it has an automatic thermostat and an 8-hour timer that shuts the unit off automatically when not needed.
The tip-over safety switch and overheat protection are other perks that make the unit a top choice. There's also a simple touch control that makes it easy to set the heat level on high or low, depending on the temperature.
Pros
Easy to use
Energy efficient
Adequate safety features
Impressive coverage at 300 sq ft.
Comes with convenient remote control.
Cons
2. Radiant Heaters
Radiant Heaters are quite different from Convection heaters in the sense that they heat up objects and people in the room, rather than heat up the air. Heat is generated internally and allowed to radiate in the space where they get in contact with objects and people.
Surfaces are also targets of Radiant heat, such as walls, floors, ceilings, etc. Radiant Heaters are considered energy efficient because the issue of heat loss through ducts is eliminated.
Most Energy-efficient Radiant Heater: Dr. Infrared Portable Heater
In case you're wondering why this box of heating goodness is so popular, it's simply because it was built to perform optimally and efficiently.
The 1,500-watt unit is a super-quiet device that is highly energy efficient and comes with other amazing perks like the 12-hr auto shut-off timer, overheat protection, and tip-over protection to provide the safety you need.
What's more, there's an auto energy saving feature with options of low or high settings. The unit offers advanced heating technology and convenient remote control for ease of use.
Pros
Energy efficient unit.
Very quiet.
Comes with amazing safety features.
Portable and reliable.
Highly durable.
3. Ceramic Heaters
Ceramic heaters are another common type of heater that use a form of Ceramic heating elements to heat up an area quickly. They are also notable for immense energy efficiency because they don't require so much energy to provide heat.
This is because they heat up pretty quickly. Their relatively more resistance also means they can produce much more heat per every watt they use. Ceramic heaters produce resistive heating which results from passing electricity through certain heating elements.
Most Energy-efficient Ceramic Heater: GiveBest Portable Ceramic Heater
Ceramic heaters are often considered a subtype because they can be convection or radiant as well. This GiveBest unit is a clear winner when it comes to energy efficiency. It produces heat faster and much quicker, so the unit doesn't have to be turned on for so long.
Also, the space heater has an adjustable thermostat which enables users to adjust the heating level based on the current room temperature. Furthermore, the heater is able to heat up a 200 sq ft room in a matter of seconds, and this helps to save electric costs.
Pros
Comes with an adjustable thermostat.
Large coverage for small-medium rooms.
Fast and quick heating.
Energy efficient.
Very portable.
Comes with safety features.
Cons
Overall, The Best Energy-Efficient Space Heater is: De'Longhi Ceramic Tower Heater
This De'Longhi Ceramic Space Heater is our overall best in terms of energy efficiency due to its superior heating power and amazing cost-saving features.
The keenly contested prize comes as a result of superb technology that comes in the form of ECO Energy Saving Mode.
The Ceramic allows for fast and even heat distribution, which is enhanced by motorized oscillation. At 1,500 Watts, you can be sure of sufficient heat for the winter season, while saving a lot on energy costs.
Pros
Comes with eco mode
Ceramic for even heating
Superior oscillation technology
Very energy effective
Enhanced safety features
Cons
Not the cheapest space heater out there.
Comparison Of Above Listed Energy Efficient Space Heaters
Final Thoughts:
The next time you seek a space heater that is most energy efficient, it is best you run your options through the parameters provided in this guide. Check for low wattage, fast and quick heating, auto or eco mode, as well as safety features that automatically shut off the unit.
Also, be sure the heater you pick doesn't run low on performance because, at the end of the day, you want a heater that offers adequate heating at minimum energy costs. You can make a choice from the products highlighted here, or simply do your own search.