One of the major challenges homeowners face when purchasing HVAC units or appliances is getting the right size for their homes. When it comes to ventless heaters, everything can go awry if you get the wrong size and winters will be harsher without a functional heater.
When it's too large, you'll simply attract more than necessary energy bills. So, you may ask the all-important question; "what size ventless heater do I need"? Before we delve into the main issues of sizing a ventless heater, it's important to look at the basics.
A ventless heater otherwise called an unvented or vent-free heater is noteworthy for its efficiency. This is because, without a venting mechanism and a chimney or grill for the fume or heating wastes to go out, heat will also be retained in the room or space.
No heat is wasted and you'll get the maximum heating value from the unit. Ventless heaters can be used in specific rooms and whole-house applications as well. However, the size you get must be commensurate with the size of the space and the needs of the property and residents.
What Size Ventless Heater Do I Need?
To determine what ventless heater you need, it is necessary to first determine the size and condition of the space where the unit will be deployed. Whether it's a home, shop, or garage, the general thing to consider is the BTU rating of the unit and how much square footage it can cover.
Although there are other specific factors to consider based on the place you intend to use the heater, knowing the BTU requirement is the most important factor.
Below listed are three major steps to take:
Determine the size of the room by calculating the area = length X width.
Find out how much BTU is required per square foot in your location. You can contact a heating guide or local contractor for this detail.
Multiply the BTU per square footage by the total square footage of the area.
Here's how it works:
There are several climate zones and each one has its own BTU per square footage specification. Miami, Florida in climate zone 2, for instance, requires  35 BTUs of heat for every square foot. In zone 5 where you have Chicago, you'd need as much as 50 BTUs per square foot. There's a climate map provided here to check your BTU rating.
So, if you have a 1,200 sq ft space in Chicago, you'd need to calculate the needed BTU by multiplying the sums.
1,200 x 50 BTUs = 60,000 BTUs
In the same vein, if you have a 1,000 sq ft space in Miami or any state within zone 2, that means 1,000 x 35 which equals 35,000 BTUs.
Knowing the BTU rating of your region is very important. But, beyond BTU specifications, the type of place you intend to install the ventless heater is also important.
For instance, the size of the ventless heater required in a garage or shop will certainly be different from what is required in a home. This is because you have to be careful of how much BTU you put in a living space, such as a home.
Another rule of thumb suggests that you'd need to multiply the length by the width and ceiling height of the space by 20 to get the heating BTU requirement.
Assuming your home has an area as explained below:
18 ft (length) x 14 ft (width) x 10 ft (ceiling height) = 2,520 square feet
That means 2,520 square feet x 20 = 50,400 BTU.
Whatever the dimension of your home, this is another way to calculate what size ventless heater you should get.
However, you can't afford to exceed a certain capacity because fuel-powered ventless heaters can result in carbon emissions inside your home, and the higher the BTU, the higher the risk of poisoning.
Bottom line is, be careful how much BTU you put in a home to avoid poisoning. We advise you to try to keep the BTU at under 60,000 BTU at all times, regardless of house size. Here, knowing what size ventless heater you need requires discretion as well.
Size Of Ventless Heater for Homes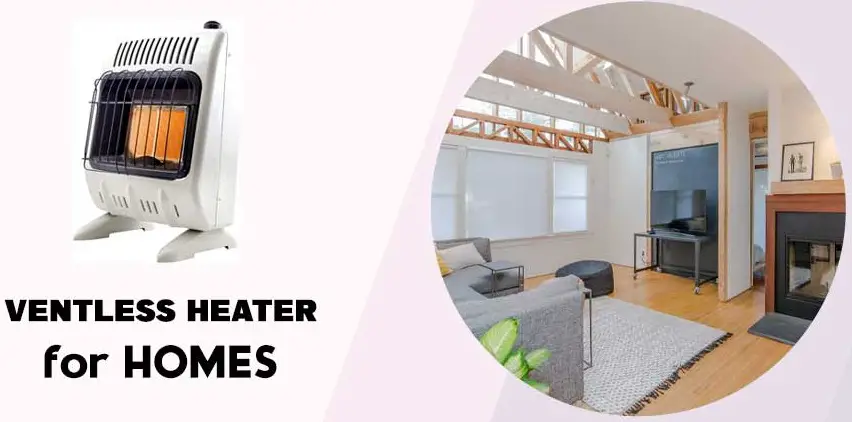 The size of the average US home is around 2,500 sq ft. Some may be smaller and others larger. For a whole-home application, you'd need a ventless heater with a capacity between 40,000 and 60,000 BTU.
But if you need a heater for a room or a large space in the house, you can simply settle for Mr. Heater 20,000 BTU Ventless Radiant unit.
Size Of Ventless Heater for Garage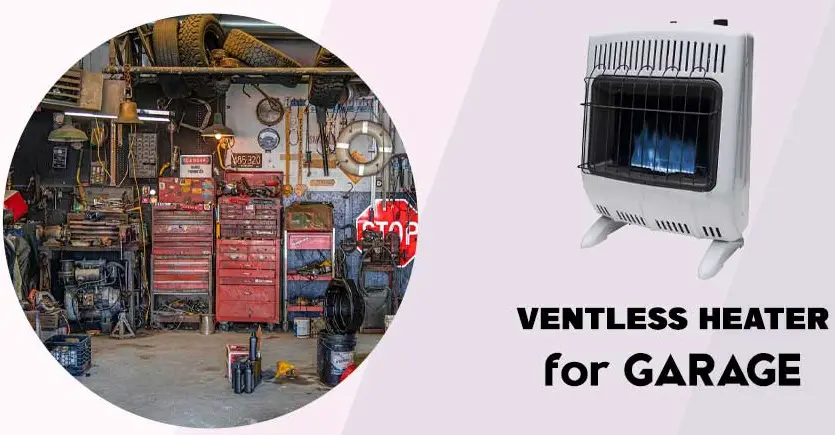 Your garage is another part of your property that will require heating when winter bites hard. An average garage in the US is between 240 and 384 sq ft.
Going by our sizing formula, that would require a ventless heater with a heating capacity of around 6,000 to 10,000 BTU. This 10,000-BTU Mr Heater ventless unit should work well, even in winter.
Size Of Ventless Heater for Shops
It's quite difficult to give an accurate average for shops because they are often built to suit the purpose for which they're acquired.
What you need to do is get the size of your shop by multiplying the length by the width and then multiplying the result by 20 to get the required BTU. For instance, if you own a 1,000 sq ft shop, you'd need a 20,000 BTU ventless heater, on average.
Size of Different Types of Ventless Heaters
| | | |
| --- | --- | --- |
| Unit Size | Home Size | Recommended Units |
| 15,000-20,000 BTU | 500-700 sq. ft | Mr. Heater 20,000 BTU Propane Heater |
| 20,000-25,000 BTU | 700-900 sq. ft | ProCom Ventless Plaque Heater |
| 20,000-30,000 BTU | 700-1,000 sq ft | ProCom Ventless Fuel Stove |
| 30,000-35,000 BTU | 1,000-1,200 sq ft | Dyna-Glo Blue Flame Ventless Heater |
| 35,000 and above | 1,200 sq ft and above | Remington 60,000 BTU Propane Heater |
Final Words:
Sizing a ventless heater is an important task if you're looking to get just the right amount of heat for your home, shop, or garage. In fact, it can be the difference between comfort and an entirely awry situation.
Be sure to calculate the area of the space and know the BTU per square footage rating of your region, and you shouldn't have any trouble determining what size fits your space.
You may also try any of the methods available to determine what size ventless heater you need. Whatever the case, ensure you get a good brand, with lots of recommendations and positive reviews, like those mentioned here.
TOP RATED PRODUCTS FOR HOME