According to the US environmental protection agency, the most common air problems are indoor air problems. Since we spend most of our time indoors, the air quality can be two to five times more polluted than outdoor air because we are increasingly exposed to air pollutants such as smoke and formaldehyde indoors than outdoors.
To combat this issue, CleanForce has developed an innovative air purifier to help you and your loved ones stay protected from all kinds of air contamination. It features a double 4-in-1 filtration system and has the highest CADR (clean air delivery rate) in the market.
This article will extensively discuss everything you need to know about the CleanForce Air Purifier and what makes it one of the best filtration systems to purchase.
Cleanforce Air Purifier Vs Similar Air Purifiers from Other Popular Brands
Filters
H13 Medical Grade HEPA filter
H13 True HEPA filter
Medical Grade H13 True HEPA filters
True HEPA air filter
True HEPA filter
Noise Levels
35 dB
25 dB
39 dB
24.4 dB
35 dB
Cleanforce MEGA1000 Air Purifier Review – Product Details
The CleanForce MEGA1000 Air Purifier delivers impressive results and is one of the most advanced extra-large air purifiers available in the market.
As per our rating system, CleanForce Air Purifier scores overall 9 out of 10 which is excellent.
Purification capacity, Low Noise levels, Ease of Use, and CADR rating are top-performing features and score 9 out of 10.
The timer feature has some scope to improve and received an 8 out of 10.
It comes with extra-large plastic pre-filters and two multi-integrated filter set, offering you up to eight layers of filtration.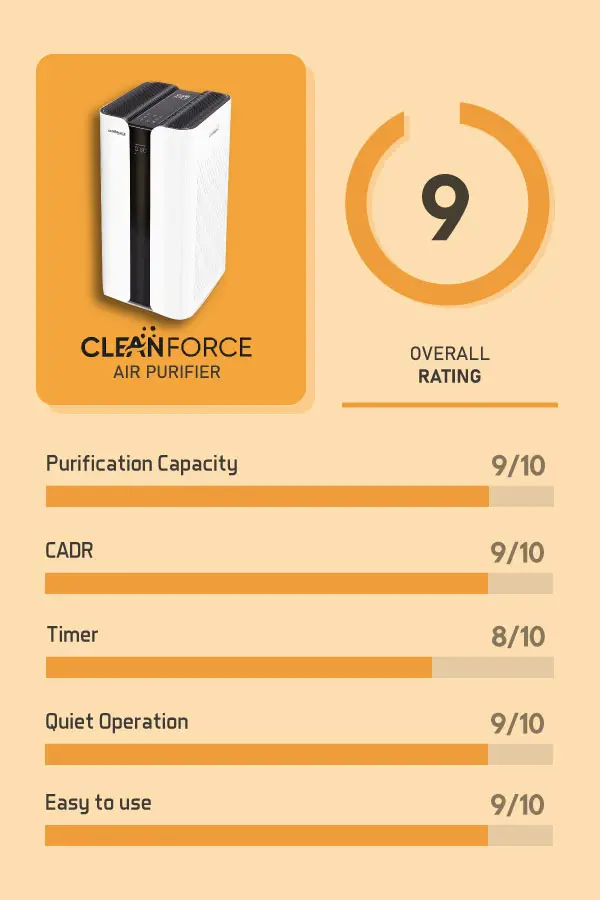 The multi-integrated filter set contains a H13 medical-grade HEPA filter, a non-woven cloth filter and an activated carbon filter that defends you against smoke, odors, and harmful household chemicals like formaldehyde and benzene.
While the cloth filter traps large particles like hair, lint and pet dander, the HEPA filter captures extra-fine pollutants as small as 0.1 microns (including DNA and RNA-based viruses and bacteria), thereby ensuring maximum air purification.
Specifications
1000m3/h CADR (600CFM)
Twin-turbo fans system
H13 medical-grade HEPA filter
Plastic pre-filters
Non-woven filters
High-precision laser particle sensor
High efficient DC motor
HD-Led display
Benefits
Aesthetically pleasing
User-friendly design
Filters are easy to insert and remove
Comes with a filter replacement indicator
Energy star-rated
Remote control
Excellent purification capacity
Impressive customer support
Drawbacks
The device is expensive
Filter replacement is expensive
Where is The CleanForce Air Purifier Most Effective?
The CleanForce air purifier is used to filter and capture virtually all kinds of air pollutants in your home or office.
It can purify almost anything, including volatile organic compounds, pollen grains, dust, marijuana smoke, and even wildfire smoke.
It also has an excellent CADR, which means the device can suck up all the air in the room and push it out with great speed.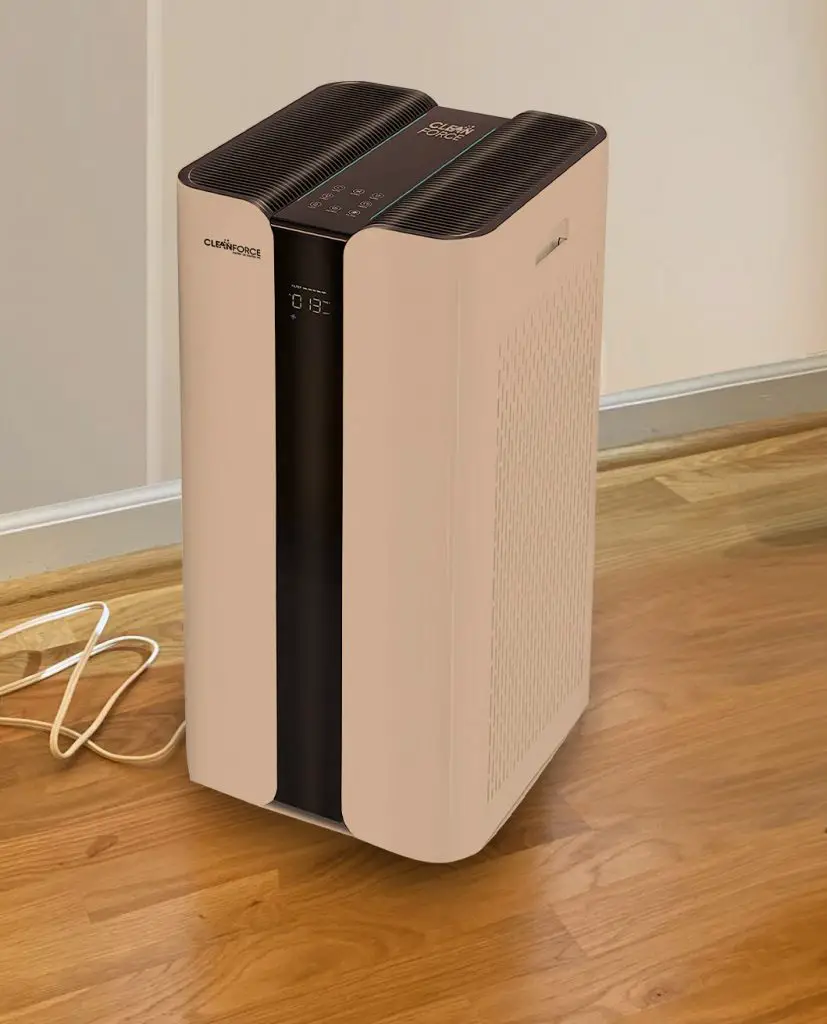 Our Rating of CleanForce Air Purifier
| | |
| --- | --- |
| Top Features | Rating (on a scale of ten) |
| Purification Capacity | 9 |
| CADR | 9 |
| Timer | 8 |
| Quiet Operation | 9 |
| Easy to use | 9 |
| Overall rating | 9 |
Usability and Performance of Cleanforce Air Purifier
1. Controls
The CleanForce MEGA1000 Air Purifier is very convenient to use. It has a touch screen panel and LED display that helps you monitor and access all the device's features easily. It also features an air quality indicator light that lets you know whether the air quality is poor or satisfactory.
The CleanForce Air Purifier has a sleep mode setting, timer, filter replacement reminder, and a laser particle sensor that automatically measures the air quality to adjust the fan speed.
2. Coverage
With a CADR of 1000, this device can effectively clean a 67.08 feet x 67.08 feet room with a 10 feet ceiling in less than one hour. The purification capacity of CleanForce Air beats the majority of air purifiers that are currently on sale today.
3. Durability
If you run the air purifier always, then the filters will last for a maximum of three months, and you can squeeze in another extra month by cleaning it often. However, if you occasionally use the air purifier, you can use the filter for up to six months.
4. Placement
The CleanForce Air Purifier is an indoor, cord-connected electric air purifier. It weighs only 36.40 pounds and has a dimension of 15.55 x 14.57 x 31.7 inches. It also comes with four sturdy wheels at the base that allow you to move it around easily.
5. Maintenance Cost
Filter replacements are expensive. And while the filters are competitively priced with other brands (about $60.00 per filter), you need two filters for this machine (i.e., about $120.00 to replace the filters).
Additionally, the activated carbon filters can cost anywhere between $14 and $40. So, you could end up spending more than $800 to $1000 every year on maintenance costs.
6. Safety Features
When purchasing large electronic appliances, it is important to choose a machine that can run safely for long hours. The CleanForce Air Purifier is safe to use and does not generate any ozone, you can even sit comfortably next to it.
The plastic pre-filters are washable and can prolong the life of the filter sets, making them last at least 4300 hours. To clean, just soak them in soap water (normal temperature) and gently rinse with clean water. Be sure to completely dry the filter before putting it inside the machine.
7. Noise Level
The CleanForce Air Purifier runs so quietly that you can sleep right next to it. Its noise level is just 35dB.
Important Features of Cleanforce Air Purifier
Nothing is more important than the health and safety of your family members. This air purifier provides superior performance with high-tech features.
Here are the top properties of the CleanForce Air Purifier:
Medical-grade filtration
Superior purification capacity
Simple touchscreen and remote control operable
Washable plastic pre-filters
HD LED display
Smart auto mode and quiet operation
Safety and Build Quality
1. Filters
This top-notch air purifier comes with an H13 Pure HEPA filter that efficiently clears out fine particles, dust, and cooking odors while absorbing smoke and other pollutants from your room.
2. Superior Purification Capacity
No other air purifier in the market comes close to beating the superior purification capacity of the CleanForce air purifier. This device has a 1000 CADR which can filter up to 4650 sqft in 1 hour and 2325sqft in 30 minutes.
Furthermore, its twin-turbo fans and plastic pre-filters can take in air effectively and offer up to two to four tines layers of filtration.
3. Simple Touchscreen and Remote Control Operable
The CleanForce air purifier features four fan speed levels, a 12-Hour Timer, sleep mode, four colors LED air quality display, auto on/off, and child lock.
4. Washable Plastic Pre-filters
The CleanForce air purifier comes with removable and washable plastic filters, allowing you to extend the life of the multi-integrated filter (consisting of the cloth filter, HEPA filter and activated carbon filter) up to 4300 hours.
5. HD LED Display
This top-notch air purifier has four air quality indicator lights that automatically go off in sleep mode. Red light indicates poor, an orange light indicates moderate, a green light indicates good, and blue indicates very good.
6. Smart Auto Mode and Quiet Operation
The CleanForce air purifier has an inbuilt smart mode that automatically adjusts your fan speed based on your real-time air quality. Furthermore, the fans and the entire device operate quietly, making it the best air purifier for your bedroom and living room.
7. Build Quality
Lastly, the EPA-registered CleanForce purifier is fully verified, including energy star for energy efficiency, ETL-INTERTEK for safety use, and PROPOSITION-65 for non-toxic materials.
The CleanForce air purifier is made entirely of safe and non-toxic materials; it passes the CP65 test (the Safe Drinking Water and Toxic Enforcement Act).
User Feedback on CleanForce Air Purifier
Positive Reviews
Most customers found the CleanForce Air Purifier satisfying and simple to set up. The device is easily controllable, and the filters are not difficult to install.
The device's purification capacity is incredible, as most users with allergies and asthma complimented its efficiency and how it helped them breathe better in no time.
Furthermore, the remote is considered a handy addition as most users found it pleasing to be able to control the device from the comfort of their couch.
The remote has all the settings and buttons you need to enjoy maximum air purification. There is a front display that measures the quality of the air and colored light that displays the air's quality.
Additionally, a lot of users complimented the machine's timer and auto-mode. The device has a timer, and you can control how long you want the machine to remain active (in 1hr increments) before turning itself off anywhere from one to 12 hours.
The "auto mode" adjusts the fan speed automatically according to the air quality (the dirtier the air, the higher the fan speed). For a good night's rest, the "sleep mode" helps to turn off the lights on the unit, and the fan speed and sound are at the lowest.
The customer service is also outstanding. Seventy-five percent of customers on top review sites reported that the company was highly responsive as they attended to e-mails promptly (either the same day or the next day).
Overall, many users found this device effective and easy to use. They also showed a 90 percent likelihood to recommend the product to friends.
Negative Reviews
The price of the device, as well as the high cost of replacing the filters, was a big turn-off for most customers as they found it rather too expensive. Furthermore, most customers weren't overly satisfied with the device's timer; they wished the device could display how much time was left after setting the timer.
Users also complained that the sensors were not very efficient and didn't meet their expectations.
As the placement of the sensor is located behind the unit, they reported that they had to turn the unit the other way round to work much better, which was somewhat awkward. They opined that they had difficulty activating the sensor even after cooking or spraying substances close to it.
CleanForce Air Purifier Alternatives from Other Brands – Comparison
| | | | | | |
| --- | --- | --- | --- | --- | --- |
|   | CleanForce Air | Kokofit Air Purifiers | Alen FLEX Air Purifier | Germ Guardian True Air Purifier | Coway Airmega AP-1512HH Air Purifier |
| Filters | H13 Medical Grade HEPA filter | H13 True HEPA filter | Medical Grade H13 True HEPA filters | True HEPA air filter | True HEPA filter, |
| Activated carbon filter | Yes | Yes | Yes | Yes | Yes |
| User-mode | Auto smart mode, machine timer, and sleep mode | Auto mode and sleep mode | Sleep mode | Ultra-quiet sleep mode | Auto mode, and machine timer, |
| Certification | ETL Listed, FCC Certified, Energy Star Verified, California air resources board (CARB), and CA PROP 65 certified | CARB, FCC listed, and ETL listed | CARB certification and ETL listed | ETL listed, CARB compliant, and AHAM Verified | ETL listed |
| Noise Level at quiet/sleep mode | 35dB | 25dB | 39dB | 24.4dB | 35dB |
| Display | Filter replacement indicators, and Air quality indicator | Filter replacement indicators, and Air quality indicator | Air quality indicator | None | Filter replacement indicators, pollution sensors and Air quality indicator |
Final Words:
The CleanForce air purifier is an advanced air cleaner that comprises a high-grade filtration system and a twin-turbo fan system. If you've got pet allergies or are asthmatic, this air purifier will make your air free and help you breathe better in minutes.
The CleanForce air purifier will suck up all air pollutants in your room, leaving you with a clean, fresh apartment. It is one of the best high-performance air purifiers available in the market.
TOP RATED PRODUCTS FOR HOME