When looking for Air Purifiers, you will have to consider several factors like the cleaning process, room size coverage, real-time features, design, and convenience.
Considering that the air purifier is good in all these areas, you might have a great purifier insight. The Airdoctor 4-in-1 Purifier is one of the top-of-the-line, has excellent features, and can handle even severe allergies. 
Airdoctor 4-in-1 Air Purifier is excellent in performance, safety, and quality. Its design allows you to work, play, sleep, and relax better. It also features an in-built air quality monitor that lets you know if your air quality is good. 
In this review, we will look at the features, characteristics, and functionality of the Airdoctor 4-in-1 Air Purifier.
The Airdoctor 4-in-1 Air Purifier has a sturdy and sleek design with a touch panel for easy control.
In addition, the Air Purifier has a two-tone white and gray exterior that helps lit blend better with your room décor. The round corners also make it less edgy and boxy. 
The purifier draws in air from two vents on the front of the unit for cleaning and expelling air, it also has a five-stage filter system with a pre-filter, activated carbon filter, true H13 HEPA medical grade filter, and ozone generator. It has four fan speeds to choose from.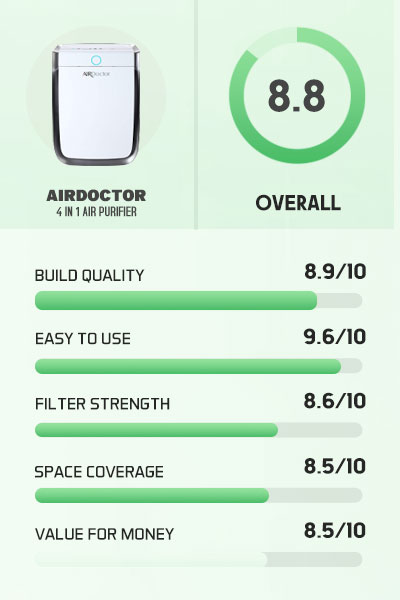 You can use any of the six preset air quality levels or customize your settings. The device also allows you to reduce the fan noise during sleep mode to have a good sleep.
The noise this produces is 30% less than other purifiers, and at this speed, it can effectively filter the air of particles as small as 0.003 microns and remove gases, odors, and VOCs from clean air.
Its selling points are its auto mode, quality sensors, and the ability to customize your purification needs.
Specifications of Airdoctor 4-In-1 Air Purifier
The Airdoctor 4-in-1 Air Purifier has dimensions of 8.5 x 15.75 x 23 Inches
It has a corded electric power source
The device weighs 23.6 pounds
It has replacement filters
Your safety is ensured with a CADR rating of 326 for smoke, 373 for pollen, and 343 for dust.
It has a five-stage filtration process
Has coverage of 900 sq. ft
Ease of Handling of Airdoctor 4-In-1 Air Purifier
Most users agree that the Airdoctor 4-in-1 Air Purifier is relatively easy to use and control, especially with the touch panel feature. You might even set it to auto mode, which will allow it to identify air quality and operate on its own.
The auto mode allows the sensor to show you the quality of the air you are breathing using simple color indicators like red for poor air quality, orange for moderate air quality, and blue for good. 
The alternate fan modes make it suitable for use in rooms, and the modes can be easily adjusted with clearly marked buttons. This allows you efficiently balance effectiveness and noise output.
In addition, the filters are easily accessible and replaceable without tools, so you can keep the purifier running at all times.
The handles on both sides allow you to adjust the purifier, and you may position it in the corner of an open room, on a metal or wooden mount, even though it is a bit tough to carry around due to its size.
Usage Guide of Airdoctor 4-In-1 Air Purifier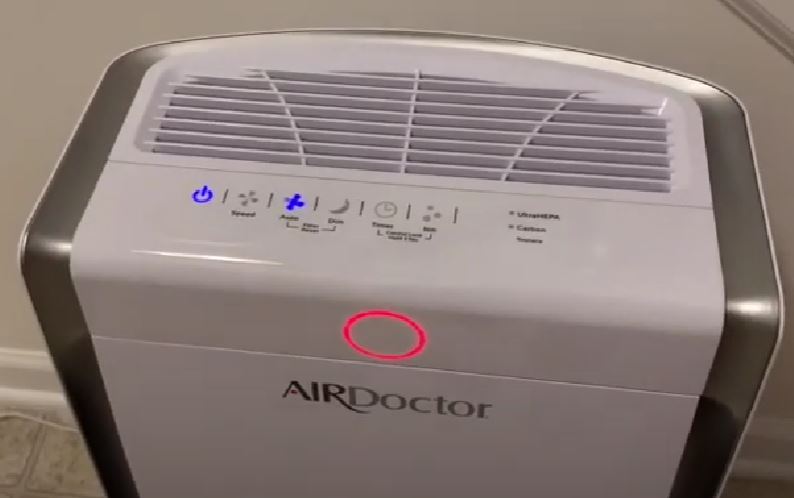 To use this device, you turn it on using the touch control panel. The purifier immediately begins to operate by first detecting and showing you the air quality.
You can leave the purifier to operate independently or adjust the fan modes using the touch control panel by setting the highest or lowest fan speed.
The purifier does not need much adjustment and is relatively easy to use, but removing the plastic covering on the filter is necessary before using it and can be swapped in and out.
The ionizer setting can be used for extra filtration by enabling the setting on the touch control panel. You can use the handles on the side to move it around, place it in at a position and start using.
Key Features of Airdoctor 4-In-1 Air Purifier
1. Ultra HEPA filters
Like other purifiers, the Airdoctor 4-in-1 Air Purifier also has a HEPA filter, but this is better as it can remove 99.97% of particles up to 0.003 microns. Plus this is smaller than other purifiers that only trap particles larger than 0.03 microns.
2. Ionizer
This is a bonus air-cleaning feature that uses negatively charged ions to clean the air in your environment. This gives you ionized air, which is known to be a mood enhancer and odor neutralizer.
3. Touch Panel Display
This can be found on top of the Airdoctor 4-in-1 Air Purifier and is used to control the purifier. With this, you can efficiently control the settings and modes of the Airdoctor purifier.
4. Whisper-Jet Fan
This feature reduces the noise output from the purifier by 30%. The noise levels are between 39 to 59 dB, the high and turbo settings being the highest. This also works with the night mode feature to ensure sound sleep. 
5. Filter Change Alert
This feature lets you know precisely when the ultra HEPA filter and activated carbon filters will need to be changed. This has an indicator that lights up for each one when it is time to be replaced. With this, the purifier keeps running efficiently.
Core Functions of Airdoctor 4-In-1 Air Purifier
1. Filters
The filtration system is one of the best in the market and can clean the air of particulates as small as 0.003 microns. This means the filtration system absorbs dust mites, mold spores, bacteria, viruses and smoke.
The filtering system is more advanced with ultra HEPA filters, as few air purifiers have that. This makes it suitable for pet-friendly homes.
2. Coverage Area
The purifier can comfortably clean the air in a 900 square feet room. At maximum capacity, it is efficient and powerful enough to protect the air in bedrooms, living rooms, kitchens, and other places.
3. Noise Levels
The purifier reduces the noise by 30% at all speeds, with the lowest at a light noise output. The noise output ranges from 39dB to 59dB due to the whisper-jet feature.
4. CADR
The clean air delivery rate differs depending on the substance in the air. For example, it has a CADR of 326 for smoke, 373 CADR for pollen, and 343 CADR for dust. This, of course, is contingent on how quickly the air purifier can operate in confined quarters.
5. Safety
This purifier meets the requirements of California Air Resources Board (CARB) indoor cleaning, approved as ozone-safe. In addition, it is electrically safe according to its ETL/UL listing, hence no electrocution concerns.
Running Cost of Airdoctor 4-In-1 Air Purifier
Replacement Filters
The Airdoctor 4-in-1 Air Purifier comes with three filters that can last for a year, and then you will need to replace them. The replacement filters are recommended to keep the purifier running efficiently. 
The activated carbon filter can be gotten for $60 and is used for removing fumes, VOC, and ozone.
The pre-filter can be gotten for $19, the ultra HEPA filters cost $60, and the entire set is $79. This includes one ultra HEPA filter and an activated carbon filter. If you want everything, it will cost you about $180 to replace the filters annually.
The filters are pretty easy to fix, but the purifier will only operate with filters from Airdoctor. The replacement filters has a one-year warranty in case there are any flaws.
Energy Consumption
The Airdoctor 4-in-1 Air Purifier uses up to 79W in power, so if you use the purifier for 24 hours with an off time of 1 hour, you will be paying $6 every month.
This means you are paying $72 annually for electricity, but this varies depending on your location in the United States. Your total cost for replacing the filters and paying for electricity annually will come to $252.
Warranty & Support
This purifier has a five-year warranty, and its filters can last for 12 months. This warranty covers any flaws that the product might have, and you can access it as long as you have a receipt.
In addition, the customer service is excellent, and you can always reach out to ask questions concerning your purifier.
Best Usage of Airdoctor 4-In-1 Air Purifier
The purifier is best used for cleaning the air in open floor plans, bedrooms, finished or finished basements, garages and workshops, and office spaces due to the efficiency of the filters.
The pre-filter traps large particles like dust, hair, and dirt. The ultra HEPA filter captures 99.97% of mites, viruses, bacteria, spores, and other particulates, while the activated carbon filter is for chemical fumes or VOCs.
7 Reasons to Buy Airdoctor 4-In-1 Air Purifier
It has a touch panel for easy control of the purifier
Removes particulates from your air
Cleans effectively in sleep mode
Has a three-stage filtration system
Includes feature not found in other purifiers like dual action VOC filter
Quiet performance
Easy to carry with handles
2 ReasonsNot to Buy Airdoctor 4-In-1 Air Purifier
It is pretty expensive at $495
The purifier does not have intelligent or wifi control
User Feedback on Airdoctor 4-In-1 Air Purifier
Positive Reviews
The following are some of the good comments made by consumers about the Airdoctor 4-in-1 Air Purifier 
Users loved the touch panel, which allowed them to control the purifier easily and understand how it operates.
Customers are happy with its warranty. They say it has saved them from allergies and works quite efficiently without getting a new unit too often.
Most users agree that the filter strength is excellent. It can remove allergens and give great results in sleep mode.
Users also love the filter indicator that shows you the life of your filter and when you should replace it.
Some users say it allows them to breathe easily after 2 hours of running.
Negative Reviews
The following are some of the unfavorable comments made by users concerning the Airdoctor 4-in-1 Air Purifier:
Some users complained about the smell the purifier produces when it cleans the air.
Customers complain about how hard the filters are to find, especially since the purifier is only compatible with filters from the company.
Our Rating of Airdoctor 4-In-1 Air Purifier
| | |
| --- | --- |
| Feature | Rating (0-10) |
| Build quality | 8.9 |
| Easy to use | 9.6 |
| Filter strength | 8.6 |
| Space coverage | 8.5 |
| Value for money | 8.5 |
| Overall | 8.8 |
The Airdoctor 4-in-1 Air Purifier is costly, but buyers claim it is worth it. The space coverage feature is rated 8.5 because, unlike other purifiers in its price range, this could only cover an average range in 4 hours.
The easy-to-use feature is rated 9.6 because users loved how easy it was to set up.
The build quality is rated 8.9 because it is made from robust, durable material resistant to heat and pressure.
Because it can effectively clean the air of microns, including bacteria and viruses, as small as 0.003 microns, the filter strength is set to 8.6. Nevertheless, the air purifier is quite efficient and is ideal for those with allergies.
Final Words:
This is enough information to help you decide whether to buy the Airdoctor 4-in-1 Air purifier or move on to the following product that better meets your requirements.
HIGH PERFORMANCE: 3-stage filtration provides another layer of protection to the air you breathe. With its UltraHEPA filter and proprietary dual-action Carbon VOC (Volatile Organic Compounds) filter, the AirDoctor 3000 air filter captures allergens, dog dander, and other volatile organic chemicals like formaldehyde.
CAPTURES PARTICLES 100Xs SMALLER THAN HEPA STANDARD – Our UltraHEPA filter is independently tested and proven to capture airborne particles as small as 0.003 microns in size.
ROOM COVERAGE - The original AirDoctor 3000 air purifier is a classic. Powerful enough to protect the air in bedrooms, living rooms, kitchens and more. Cleans the air in up to 638 sq. ft. 4x/hour or in 1274 sq. ft. 2x/hour
AUTO MODE & AIR QUALITY SENSORS - Auto-mode adjusts filtration levels instantly to current air quality. Whisper-jet fans are 30% quieter than traditional air purifiers. With 4 fan speeds to choose from, you can customize your purification needs, from whisper quiet to boost.
AirDoctor 3000 air purifier for home is only compatible with UltraHEPA and Carbon VOC filters made by AirDoctor.
The device can remove dust, pollen, bacteria, viruses, and hair from a specific space. Thus, it will be ideal if you suffer from allergies or stay in a stuffy room, but if you are concerned about the cost, you can go for an air purifier that is cheaper to maintain.
TOP RATED PRODUCTS FOR HOME