Air Purifiers are great for cleaning your air and making sure you are in a healthy environment but there are many options in the market and it can be pretty overwhelming trying to make a decision.
While Gocheer is known for the humidifiers they manufacture, they are doing quite well in the Air Purifier space, even though they are not well established. 
The Gocheer Smart Air Purifier is efficient and has a great style. It offers great performance, safety, and quality. It has a cutting-edge mechanical cleaning system and is recommended if you want a purifier made by manufacturers known for quality devices.
This device has a medical-grade H13 filter that can effectively reduce potential allergy-causing substances or pollutants in the atmosphere.
In this review, we will look at the characteristics, features, and functionality of the Gocheer Air Purifier.
The Gocheer Air Purifier is a smart cleaner. It has smart and wifi control.
The smart mode of the purifier has three options, the control panel, which sits on top of the purifier, a remote control, and your smartphone. 
Using your smartphone gives you access to the air purifier no matter where you are and makes the experience more enjoyable.
This allows you to see the current status of the purifier, activate certain features, adjust the levels, and stop operation.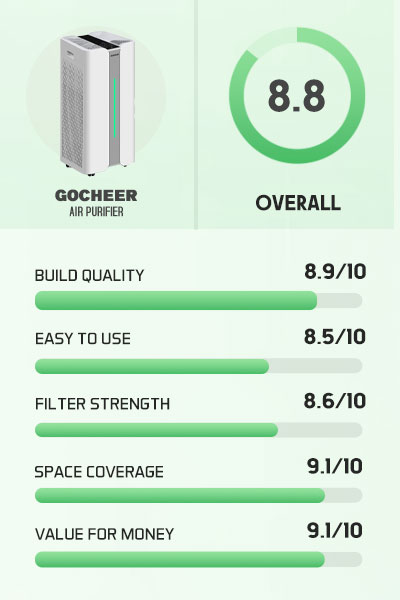 The air purifier has a polypropylene pre-filter and dual H13 True HEPA filters, which are better and more efficient when compared to other purifiers.
In addition, the HEPA filters are combined with activated carbon to capture 99.97% of particulates in the environment larger than 0.3 microns. This creates more effortless airflow.
The Gocheer comes with an advanced touch screen panel that gives you access to 4 fan speeds, sleep mode, child lock, timer with 1 to 8-hour settings, and indicators for filter lifetime.
The lighting conditions are automatically adjusted depending on your desired mode and fan speed. Its selling points will be to control this device from anywhere with your phone and access to an advanced touch panel.
Specifications of Gocheer Air Purifier
It has dimensions of 15.94 x 31.89 x 14.76 inches
The purifier weighs 35 pounds
You get coverage of 2,500 sq. ft
It has a 4-stage filtration process
It has replacement filters
The filters can last for one year
Has smart mode and wifi 
Has a CADR rating of 1000 CFM
Uses up to 80W
The device has a laser particle sensor
Ease of Handling of Gocheer Air Purifier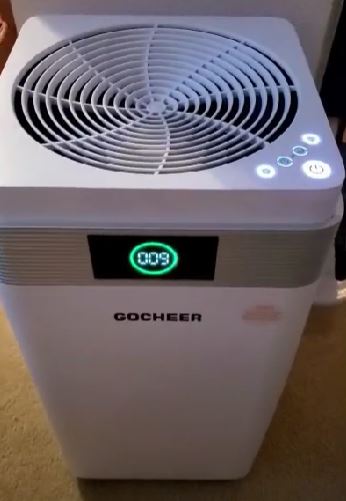 As most users have mentioned, the highly efficient Gocheer Air Purifier is tall but exciting. It is suitable for use in big rooms and is relatively easy to operate with the touch panel.
The side air inlet panel is removable and easily fixed with less effort. In addition, the vertical LED light in front allows you to know when the purifier is on.
The Gocheer purifier is bliss for new users as they can find all the features of a premium device on it.
The adjustable fan modes allow you to balance performance and noise output easily.
In addition, the inbuilt laser particle sensor allows you to use the auto mode, which automatically sets the fan to high speed when the number of pollutants has increased in your environment.
The smart control even allows you to control the device and the operations at any point. However, the downside is that it is difficult to move around due to its large size, so you can only set it down in one place, most likely at the corner of the room or a wooden mount.
Important Features of Gocheer Air Purifier
1. Dual Medical-grade H13 HEPA Filter
The Gocheer Air Purifier uses a certified medical-grade HEPA filter to clean the air of allergens, pollen, mites, bacteria, viruses, and particles larger than 0.3 microns with PM 2.5 pollution.
You can efficiently remove 99.97% of these discomforting particles and safeguard family members and close friends who have allergies.
2. Laser Particle Sensor
This feature comes with an air smart indicator to show the quality of your air and how the purifier is working. In addition, it prevents particulate matter on the surfaces of windows from affecting the purifier's performance.
3. Touch Panel Display
This can be found on the Gocheer purifier and controls the air purifier's performance. This allows you to also control the device with a phone or remote control.
4. Filter Reset Indicator (Mobile enabled)
This feature can be found on the control panel and your smartphone. It tells you when the filer needs to be replaced, how it is functioning at the moment, and if it needs adjustment.
Core Functions of Gocheer Air Purifier
1. Filters
The Gocheer Air Purifier has a HEPA filtration system that makes it difficult for 99.97% of microns to get through.
The True H13 HEPA filter is combined with Activated Carbon filters for enhanced and efficient performance against dirt, smoke, chemical fumes, and odor. In addition, the polypropylene pre-filter traps uncaptured dust, lint, hair, and fiber to protect the HEPA filter.
2. Coverage Area
The air purifier can cover a 4,100 square foot room in 1 hour and 2,500 square foot room with two changes per hour in 30 minutes. This means you can use it in a kitchen, a bedroom, or even a living room. 
If you have allergies, you can adjust this to 4 changes an hour or every fifteen minutes. This makes it ideal for offices, living rooms, hospitals, or an entire studio apartment.
3. Noise Levels
Gocheer Air Purifier has a good rating for sleep mode and noise levels. It has a noise level range of 25dB to 35dB, from the lowest to the highest. The highest it can reach during sleep mode is 25dB with all lights off. This means that you can have a comfortable sleep, even with a pet around.
4. CADR
This refers to how much clean air is delivered in an hour. The delivery is at an industry-leading 1000 cfm. This, of course, is contingent on how quickly the air purifier can operate in confined quarters.
5. Safety
The Gocheer Air Purifier meets the requirements of California Air Resources Board (CARB) indoor cleaning, approved as ozone-safe.
In addition, it is electrically safe according to its ETL/UL listing, hence no electrocution concerns. The allergen remover is also certified asthma and allergy friendly by the Asthma and Allergy Foundation of America.
Replacement Filters and Running Cost of Gocheer Air Purifier
Replacement Filters
The Gocheer Air Purifier already comes with two original filter elements, but the HEPA and Activated Carbon filters should be replaced annually, and you'll have to pay $260 to replace them.
The replacement filter is usually advised when purchasing the Gocheer Air Purifier to make purifier use more enjoyable.
You don't need tools, making them relatively easy to fix. Depending on the environment and how you use it, the replacement filter can last for one year. You can also obtain a replacement filter with a guarantee and return it if it has any flaws.
Running Cost
The Gocheer Air Purifier uses up to 80W in power, so if you use the purifier for 12 hours a day, you will pay $3 each month. That means you are paying $36 annually for the electricity, but this will vary depending on your location in the united states.
Your total cost for annually replacing the filters and paying for electricity every year will come to $296 -$300.
Warranty and Support
The Gocheer Air Purifier has a 4-year warranty while a one-year warranty covers the filter. However, this warranty becomes void in vandalism, misuse, or overuse, and the purifier's refund policy requires proof of payment.
On the other hand, the filter is simple to replace, but the refund policy lasts only 30 days.
Best Usage of Gocheer Air Purifier
The purifier is best used for reducing the growth and spread of captured pathogens in the air you breathe.
The purifier does this with its dual medical true H13 HEPA filters, the polypropylene pre-filter traps, and the activated carbon filter.
It is great for capturing allergen and microscopic materials as small as 0.3 microns with an efficiency of 99.97%. These substances include mold spores, mites, pollen, bacteria, and viruses.
In addition, the activated carbon filter is used for household smokes, odors, chemical fumes like VOCs, asbestos, radon, formaldehyde, and ozone.
8 Reasons to Buy Gocheer Air Purifier (Pros)
It is easy to alternate between the three modes.
Has a smart display that is easy to understand
Prevents congestion
Removes allergens from your air
It has a child lock.
The purifier cleans effectively in sleep mode.
With the certified medical HEPA filter, you can remove 99.97% of all microns.
With your smartphone, a remote control, or the buttons on top of the purifier, you can easily set up and control the Gocheer Air Purifier.
2 Reasons Not to Buy Gocheer Air Purifier (Cons)
The air purifier is expensive at $599
Costly and troublesome filters that are replaced 6-12 months
User Feedback on Gocheer Air Purifier
Positive Reviews
The following are some of the good comments made by consumers about the Gocheer Air Purifier:
Users loved the Wifi app connection, which allowed them to control the purifier from anywhere.
Customers are happy with its lifespan. They say it has saved them from allergies and works quite efficiently without getting a new unit too often.
Most users agree that the filter strength is excellent. It can remove allergens and give great results in sleep mode.
Users also love the filter indicator that shows you the life of your filter and when you should replace it.
Negative Reviews
The following are some of the unfavorable comments made by users concerning the Gocheer Air Purifier:
Some users complained about how difficult it is to move around
They also found the unit very expensive to maintain and complained that the filter was challenging to find.
Our Rating of Gocheer Air Purifier
| | |
| --- | --- |
| Feature | Rating (0-10) |
| Build quality | 8.9 |
| Easy to use | 8.5 |
| Filter strength | 8.6 |
| Space coverage | 9.1 |
| Value for money | 9.1 |
| Overall | 8.8 |
The Gocheer Air Purifier is costly, but buyers claim it is worth it. The space coverage feature is rated 9.1 because users said it worked very well in large spaces.
The easy-to-use feature is rated 8.5 because while users loved the display panel and control panels on top, along with the ability to control the purifier from anywhere, they said it was pretty confusing to figure out how it operates at first.
The build quality is rated 8.9 because it is made from strong, durable material resistant to heat and pressure and the filter strength is at 8.6 because it can efficiently clean the air of microns including bacteria and viruses.
Nevertheless, the air purifier is quite efficient and is ideal for those with allergies.
Final Words:
This is enough information to help you decide whether to buy the Gocheer Air Purifier or move on to the following product that better meets your requirements.
❤️The filters for GH-Monster are being shipped to Amazon warehouse, please buy with confidence!Large Coverage and All-round Cleaning: CADR 1,000, easily cleans up to 4,410 sq ft in one hour, 2,500 sq ft in 30 minutes, 1,102 sq ft in 15 minutes (CADR 1000). This allows you to run the unit at lower speeds and still easily clean the air in your rooms. Medium to large rooms between 262 square feet and 459 square feet. Such as bedrooms, big living rooms, hospitals, and offices.
Dual H13 Ture HEPA Filters: Combined activated carbon and a true HEPA filter to deliver true HEPA performance capturing 99.97% of particulates and allergens larger than 0.3 microns, makes your air cleaner and fresher so you can breathe easier. Dual intake also creates better airflow.
Advanced Touch Screen Panel: Touch screen panel, 4 fan speeds, sleep mode, and child lock. has a timer with 1, 2, 4, and 8-hour settings, plus indicators for filter lifetime for both the washable pre-filter and filter.
Smart and Wifi Control: Smart mode with 3 settings, Gocheer smart air purifier adapts to its surroundings. The lighting conditions are automatically adjusted according to the fan speed. If you don't need the light, you can press and hold the button for 3 seconds to turn it off. Wi-Fi enabled for control through the Smart app compatible
Dual Protection Filters Sold Separately: We provide an extra level of carbon filtration to remove odors and smoke including those caused by wildfires. The product itself comes with 2 original filter elements. We suggested being replaced every 1 year depending on use. Genuine Gocheer replacement filters are in Amazon stock. Search for "B08L4V2JLC" on Amazon to purchase.
The device can remove dust, pollen, bacteria, viruses, and hair from a certain space. Thus, it will be ideal if you suffer from allergies, but if you are concerned about the cost, you can go for an air purifier that is cheaper to maintain.
TOP RATED PRODUCTS FOR HOME