GermGuardian is one of the more popular brands as far as air purifiers are concerned. Manufactured by Guardian Technologies, they are renowned for their use of technology and advanced features to make air filtration easy and convenient.
GermGuardian air purifiers use a combination of HEPA filters and UV-C Light in many cases, helping to remove indoor air particles down to 0.3 microns by as much as 99.97%. They're also quite effective against germs, airborne mold, smoke and pet odor.
However, does this seeming effectiveness also translate to durability? Just how long do GermGuardian Air purifiers last?
On average, a Germ Guardian Air Purifier should last for about 4-5 years, depending on usage, maintenance culture and model. No wonder the brand offers as much as 1-3 year warranty on its products.
A 3-year warranty on an air purifier is a good indication that it may last up to 5 years. A good example is the Germ Guardian 22-inch 3-in-1 True HEPA Filter Air Purifier.
This is within the expected lifespan range of 2-5 years for most air purifier brands. It is important to know this because nobody wants to purchase an air purifier that won't last.
This post will also pay attention to GermGuardian purifier filters and how often they need to be changed so that you'll get all the information you need before you make a purchase.
How Often Do You Change Germguardian Filters?
GermGuardian filters will last between 6 and 8 months on average. This depends on the extent of use and how well you care for the filters. The good thing is, you can extend the life of your filter by vacuuming occasionally.
Just be sure to keep the pressure at a low level to avoid damage to your filters. Basically, you should change your GermGuardian air purifier filter every 6 months.
This is also applicable to combination filters which include a Pre-filter, HEPA filter and Activated Carbon filter.
On the other hand, the UV-C bulb has a useful lifespan of 8-12 months. This means that a UV-C bulb used actively for air purification against germs will no longer produce good results after 12 months.
Note that the air quality in your area will also affect how often you change the air purifier filter. If it gets clogged too often, it is likely you'll need to replace it sooner.
When To Replace A Germguardian Filter?
While we've already established a lifespan for germguardian air purifier filters, it is not always white and Black as situations can force you to replace your unit's filter earlier than anticipated.
The goal is to ensure your filter is functioning at an optimum level to protect you from allergies and diseases caused by air pollutants. Signs to look out for include;
1. Visible dirt on the filter
Unless it's a washable or reusable filter, a dirty filter should be replaced. Bring out your filter and inspect for dust.
This is one of the most common ways to tell if it's time to order a new one. Trapped dirt on the filter may eventually be blown into the room's air and cause difficulties for you.
2. Dusty air and surfaces

When you notice dust in the air or on surfaces even while your purifier has run for hours, it could also be an indication that the filter needs replacement.
It is either too dusty that it begins to release some of it's own dust or too weak to trap particles and pollutants.
3. Allergy symptoms persist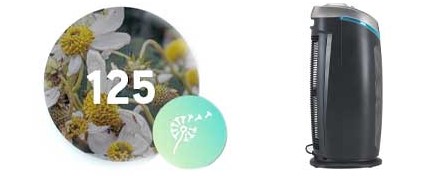 Another way to tell it's time to change the filters in your germguardian air purifier is when you have allergies and they persist for days, even with your unit running.
It means you're simply breathing in dust and allergens which should've been trapped by a functioning filter.
4. Filter Replacement Indicator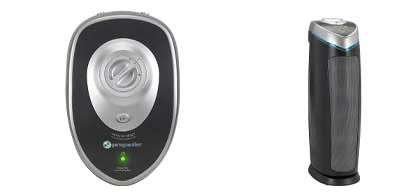 The filter replacement indicator is a feature on more recent air purifiers which tells you when it's time to replace the unit's filter. It's really that simple.
5. Air Quality Monitor
Modern air purifiers are equipped with an air quality monitor which is triggered when there's pollution in the air.
A continuous trigger of this feature despite the continuous running of your unit can mean one of two things; your filter isn't functioning any longer or your unit is faulty.
6. Bad odor coming out of the purifier
Sometimes, mold and mildew may attach themselves to the filter or other internal components of the air purifier, which would cause the unit to release a bad smell. This may just be an indication that it's time to replace the filter.
Can You Reuse Germguardian Filters?
GermGuardian air purifier filters are largely non-washable because they use HEPA filters which are mostly permanent.
However, there are pre-filter and charcoal filter layers that can be cleaned by using the attached brush on your regular vacuum cleaner.
Note that your HEPA filter will need to be replaced once it turns black or grey from white, and this means replacing the entire thing. It's safe to say that germguardian air purifier filters are not reusable.
The outer layers can be cleaned occasionally, but the filters can't be washed, and hence can't be reused.
Tips To Improve The Lifespan Of Germguardian Filters?
There are a few ways to improve your germguardian air purifier filter's lifespan. This would mean frequent monitoring and maintenance.
1. Take advantage of the pre-filter
A pre-filter serves as a shield and reduces the burden of the HEPA filter. This means less work, more efficiency, and an improved lifespan. Ensure the pre-filter layer of your filter is properly vacuum cleaned as frequently as required to keep it working effectively.
2. Occasionally air out your room
The Environmental Protection Agency has said that indoor air is actually multiple times more polluted than outdoor air.
Airing your highly polluted room will help to dispose some of these pollutants and allow fresher, cleaner air in, thereby reducing the pressure on your air purifier filter.
3. Keep away from moisture
If you live in a highly humid region, it's best to also use an effective dehumidifier. Allowing moisture to settle on your filter may cause clogging and rust over time.
Cost of Replacing Germguardian Filters
GermGuardian filters are custom made. It would be wise to get a GermGuardian replacement filter when it's time to change them. This will ensure compatibility and the same level of effectiveness.
The average cost of a germguardian HEPA filter is $25 to $35. The FLT4825 HEPA GENUINE Air Purifier Replacement Filter is a great example of a replacement filter with a wide compatibility range across multiple models.
It is a 3-in-1 filter with HEPA, pre-filter and Activated Carbon filter. You can get this for about $25-$30.
The FLT4850PT True HEPA Genuine Air Purifier Replacement Filter is another very good example of a germguardian replacement filter.
This is also good for pet odor and litter treatment and is sold for between $30 and $35. As for the UV-C replacement bulb, you're likely to get a unit for $15 to $25 depending on the store you're buying from.
Replacing a germguardian air purifier filter isn't so much work and is something you can do on your own. It is unlikely you'd need an HVAC professional.
If your filter is made of plastic, you should get proper information on the right way to dispose them off without causing an environmental hazard. Generally, the cost of the replacement filter is the only cost you're most likely to bear.
Final Words:
GermGuardian air purifiers are actually highly rated when it comes to durability and lifespan. They perform well above the average purifier with at least 4-5 years.
Its filters, on the other hand, aren't exactly what you'll term long-term because they're not washable and cannot be reused. An average filter will last between 6-8 months, which means you'll be replacing the unit's filter about 6-10 times during its entire lifespan.
TOP RATED PRODUCTS FOR HOME