If you live in a highly humid region, you certainly know how important owning a dehumidifier is. Residents of Florida, Alaska, Hawaii and Mississippi in the US know all too well what it means to live through a very humid climate.
Thanks to dehumidifiers, you don't have to deal with indoor air with too much moisture and all the attendant mold, mildew, bacteria and viruses and thrive in such places. However, just how long is too long when it comes to the lifespan of a dehumidifier?
Questions around safety often arise when people talk about dehumidifiers, more so when they're old.
But, are old dehumidifiers actually safe? Is it okay to use a dehumidifier that's nearing its lifespan or even lived beyond it? How can you tell when it's time to replace your dehumidifier?
These are just some of the questions we'll answer in this post. So, welcome on board!
Is It Safe to Use an Old Dehumidifier?
It depends on how old the dehumidifier is and how recent a model it is. Very old dehumidifiers belonging to an older model can be pretty dangerous to use.
Most of its parts and components could be worn out and it may even release certain substances into the air along with dehumidified air.
When inhaled, these substances may affect your lungs and health in different ways. Old dehumidifiers may also produce a lot of noise and make their usage very uncomfortable.
Apart from that, an old dehumidifier is likely to have lost most of its effectiveness and may not perform as much as it used to. This can make using it counterproductive and keep your relative indoor humidity high, causing allergies and severe respiratory problems.
Add this to the cost of energy that keeps piling for an appliance that doesn't do the job anymore. You should know that using certain old dehumidifiers will do more harm than good and should be avoided.
There's also the issue of safety from overheating and other possible hazards. Older versions may lack such added perks and are likely not to possess the safety features that manufacturers include in more recent models.
So, overheating auto shut-off, tip-over protection, and so on, maybe missing and this can put you at great risk.
How Often Should Dehumidifiers Be Replaced?
Dehumidifiers generally have a lifespan that ranges from 5 to 10 years. This depends on the brand quality, usage frequency and duration, maintenance level, etc.
So, we'd advise that you start paying closer attention to your unit once you've used it for more than 5 years. This becomes its delicate period and extra care is required to keep it running effectively after 5 years.
Generally, we recommend replacing your dehumidifier every 6-8 years to keep the units working at an optimum level.
More practically though, dehumidifiers should be replaced as often as required. That is, as soon as your dehumidifier starts showing signs of deficiency, you should pull the plug and get a new one.
If you want to replace your old dehumidifier, you can check below listed top-rated dehumidifiers available.
How To Know If Your Dehumidifier Needs to Be Replaced?
While we recommend replacing your dehumidifier every 6-8 years, it is neither a rule nor is it cast in stone. It is not a one-size-fits-all, but merely an average replacement span for most dehumidifiers we have seen.
At the end of the day, you're the one that can truly tell when it's time to replace your unit. There are many signs to look out for and we'll share with you the most common;
1. Dehumidifier is serviced at least thrice a year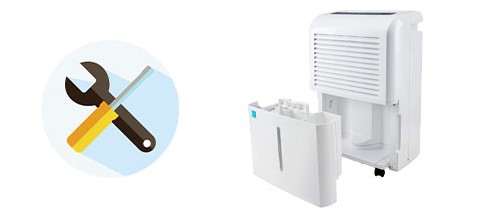 This is one of the biggest signs that tell you it's time to pull the plug on your old dehumidifier and get a new one.
Calling in your HVAC professional almost every 3 months means Mist components of the unit can no longer withstand the demands of your home and are wearing out.
Apart from the continuous breakdown, it begins to incur a lot of maintenance costs. When this begins to happen, your best move is to get a replacement.
2. There've been multiple compressor and parts replacement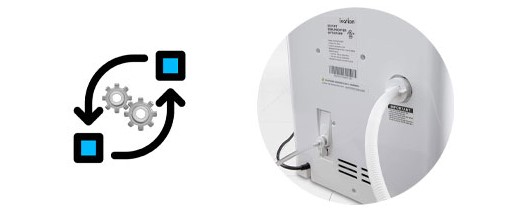 Just like multiple repairs, replacing the parts and components of your dehumidifier every now and then is another clear sign. This means the unit is generally weak and its components are giving in.
It becomes even more glaring if the compressor has been replaced a few times already. This is not a part of a dehumidifier you should be reckless with, and chances are that you're replacing the parts with products that aren't exactly compatible.
3. Performance is below par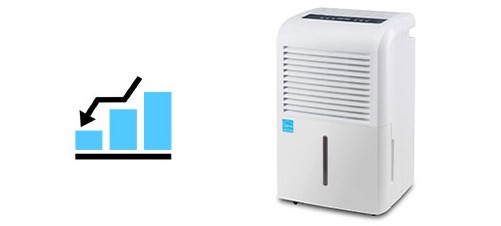 When you notice the performance of your dehumidifier wanes over time, even after maintenance, repairs and parts replacement, it's probably just a pointer that it's time to let it go.
Sometimes, the engine of your unit simply tires out and there's really nothing you can do about it. Just turn it off and get a new one.
4. It has been used for more than 10 years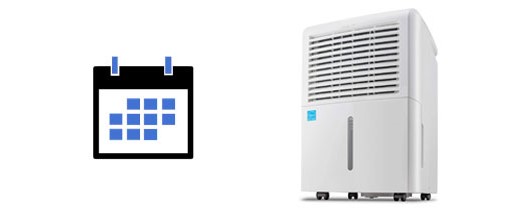 No matter how good a dehumidifier is, once it's been used for more than 10 years, it's living on borrowed time. Even if you think it's still working fine, it's only a matter of time before it packs up.
You should start shopping for a new one after 10 years, no matter how well you think you've maintained the unit. It's best to act early enough so you don't witness some of the dangers of using an old dehumidifier.
What Do You Do with Old Dehumidifiers?
This depends on whether the unit is simply old or is actually damaged. If it's old but still operational, you may decide to do any of the following;
1. Sell
Sell it as a second-hand product at a flea market or garage sale. You can also lookup your local newspaper or online communities for an ad about anyone looking for a used dehumidifier.
You can also use online platforms like ebay, amazon, or any online classified websites to sell your old dehumidifier.
2. Donate
You can donate your old dehumidifier to someone that truly needs it. This can be a friend or member of your extended family who has a mold or mildew problem and is struggling with allergies, headaches and other reactions. You may also give it to a needy neighbor or donate it to charity.
3. Dispose it
If you think the unit is already too old and poses a risk, then it's best to dispose of it properly.
A dehumidifier is a very sensitive appliance just like a refrigerator or air conditioner and the refrigerant contains a chemical known as hydrochlorofluorocarbons, also simply called HCFCs. They are a form of greenhouse gas that further destroys the ozone layer if released.
You may need to contact your area's public works department on the best way to dispose of your old dehumidifier responsibly. It is wrong to simply drop the unit beside your trash or abandon it by the freeway.
4. Bounty Offers
Look out for bounty programs or recycling opportunities offered by utility companies. Your utility company may have a bounty program and pay you for taking your old humidifier.
There are some terms and conditions though, so you need to find out how it works. Otherwise, you can offer it up for recycling. You should contact your local sanitation units, so they can remove the hazardous components before recycling is done.
Final Words:
So, are old dehumidifiers safe? Generally, we'd say Yes. Old dehumidifiers are more prone to risks and hazards, so it's best to dispose of them as quickly as possible, especially if they're already showing signs of wear and tear.
Besides, they're likely not to be as effective as newer ones and will run on higher energy bills as they get older.