The Aprilaire E70 dehumidifier is excellent for reducing the humidity levels of your work or home space. It is a new and improved dehumidifier from Aprilaire, great for crawl spaces, basements, and attics.
It can efficiently reduce the humidity levels in a room to 50% and maintain this humidity level in crawl spaces while removing up to 70 pints (9 gallons) of moisture from your air.
Aprilaire E70 dehumidifier uses quality corrosion-free aluminum coils, quality manufactured tubes and hoses to prevent leakage, and a compact casing to ensure high performance.
This review will look at the characteristics, features, and operation of the Aprilaire E70 dehumidifier.
If you consider buying this dehumidifier, this review will help you decide if you should go with it or buy from another brand.
The Aprilaire E070 dehumidifier is white and small enough to fit into small spaces large dehumidifiers cannot reach.
It is built with a digital control on the unit body. It is covered by a solid metal casing to prevent damage due to moisture.
It features a discharge selector to adjust the settings and decide to discharge from the rear or top of the unit.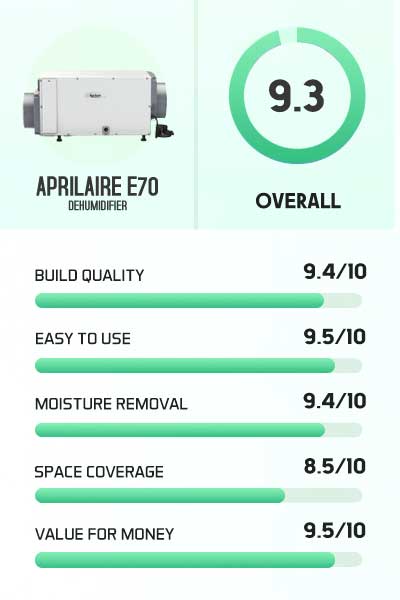 The dehumidifier can be used to remove odor from the air caused by high humidity in the air.
If the humidity level in your space rises above 50%, the unit automatically adjusts to bring the humidity level back to a healthy standard. 
The unit also contains an 8-inch round collar connecting to your duct and a 10-inch hose length for proper drainage. In addition, there is a wifi controller to easily adjust the settings from anywhere and a remote controller for comfort.
There is also a MERV 8 foam core and aluminum filter that cleans the air of dust mites and other harmful pollutants.
The selling points of this unit are its wifi controller and remote control, which make it one of the high-performing dehumidifiers in the market. 
Specifications of Aprilaire E70 Dehumidifier
Summary:
| | |
| --- | --- |
| Dimensions | 33 x 13.04 x 12.88 (inches) |
| Weight | 56 pounds |
| Temperature range | 50°F to 104°F |
| Coverage | 2800 sq. ft. |
| Pint Capacity | 70 Pints |
| Energy Factor | 2.1L/kW-h at 80°F; 1.8L/kW-h at 73°F |
| CFM | 200 |
| ACH | 6 |
| Noise Levels | 50db |
1. Dimensions and Weight
The unit is small enough to fit into small spaces with dimensions of 33 x 13.04 x 12.88 and a weight of 56 pounds. This means it is flexible for transportation, placement, and storage.
2. Temperature Range
The unit can function at a temperature range of 50°F to 104°F. Beyond this temperature, the unit fails to function effectively.
3. Coverage Capacity
The Aprilaire E70 dehumidifier can decrease the humidity levels in a 2800 sq. ft room to the health standard of 50% to 60%.
4. Pint Capacity
This machine can extract 9 gallons (70 pints) of moisture from the air in a short period.
5. Energy Factor
The energy factor of this unit varies at different temperatures. For example, at 80°F, the unit has an energy factor of 2.1L/kW-h and has an energy factor of 1.8L/kW-h at 73°F.
6. CFM
The unit has an airflow capacity of 200 cubic feet per minute. This means the Aprilaire E70 dehumidifier can reduce humidity quickly from the air.
7. ACH
The unit has a standard ACH rating of 6. The ACH is the number of times air will be sucked in through the filter to remove excess vapor and pollutants.
8. Noise Levels
The unit can be loud at times, with a noise output of around 50dB. You can get a professional installer to change or reduce this noise output.
Aprilaire E70 Dehumidifier Build Quality and Durability
The Aprilaire E70 dehumidifier has a solid white metal casing that protects the unit from damage caused by moisture, heat, and impact.
In addition, the solid build and quality of the internal components allow it to last for as long as 5 years. This means the Aprilaire E70 dehumidifier is durable.
Handling and Maintenance of Aprilaire E70 Dehumidifier
Cleaning the Dehumidifier
Cleaning the dehumidifier regularly minimizes the damage caused by dust or moisture. First, clean the unit's covering using a soft, wet cloth.
Cleaning the Filter
It is important to clean the filter to ensure high performance. Use a soft, damp cloth to clean the filter once it has been brought out through the filter access door.
Portability
The unit has no handles for transportation, but it is light enough and has a compact design to make transportation easier.
Aprilaire E70 Dehumidifier Usage Guide
The Aprilaire E70 dehumidifier is simple to set up and control. This section will explain how to use the unit.
The unit can be controlled by an external control panel that you can use to turn it on or off.
You will also find a digital control at the front of the unit with up and down arrows that allow you to adjust the level of humidity.
The unit has a mode feature that can be used for optional ventilation.
You will find the filter access door by the side for cleaning or replacing the filter.
The power switch is located behind the unit, and this is where you may turn it off.
You can find a manual on aprilaire website to understand how this unit operates better. 
Key Features of Aprilaire E70 Dehumidifier
1. Eco-Friendly Filters
The Aprilaire E70 Dehumidifier has a MERV-8 filter that filters the air in an area with high RH and produces clean air free of ozone or VOC. The filter does not produce any gas that can harm the environment.
2. User-Friendly Controls
The dehumidifier or detachable control panel controls are pretty easy to understand. The remote control is extremely simple to operate, and the wifi control allows you to connect the item to your smartphone and control it from any location.
3. Hose Connection
The unit has a 10-inch hose that you can easily connect to your duct system. This saves you the stress of emptying a water tray at intervals.
4. Clean Filter Alert
The unit has an indicator that lights up every 6 months. This shows that it is time to clean or replace the filter. With this feature, you can keep the dehumidifier in good condition.
5. Auto Reset
The unit automatically measures the humidity levels every hour and starts running if the humidity level is too low or too high. This saves you from frequently adjusting the settings all the time.
Core Functions of Aprilaire E70 Dehumidifier
1. Filtration System
Aprilaire E070 Dehumidifier comes with a high-performance MERV-8 filter to dehumidify air effectively. This improves your workspace's airflow and moisture levels. This filter can clean the air in an ample space effectively and remove particles larger than 3 microns.
The foam filter is thick to ensure that the air that passes through is thoroughly clean and healthy enough for users with allergies.
2. Moisture Removal and Dehumidification
Aprilaire E70 Dehumidifier can quickly remove up to 70 pints of moisture and impurities from the air, leaving behind a healthy and comfortable environment. The filter, vents, hose, and automatic drainage system make it possible to serve its purpose quickly.
In the presence of a dirty filter or slow air passage from the vents, the dehumidifier has a low moisture removal rate, and you will need a professional installer to fix this issue.
When the air in the room has acceptable RH levels, the unit shows an E8 error. The unit has stopped working and will resume operation when air levels are optional.
3. Drainage System
The dehumidifier contains a hose connected to your duct and has a continuous drainage system. This system allows the accumulated water to go through your ducts automatically.
4. Safety
The unit prevents overflowing with its quality internal components and a solid casing, thus reducing accidents and making it safe to use even when children are around.
Running Cost of Aprilaire E70 Dehumidifier
Replacement Parts
The replacement filter for the Aprilaire E70 Dehumidifier costs $39.99, and they are easy to find. However, they should be replaced every 6 to 12 months to guarantee efficient performance. This means replacing the filters will only cost you $40 to $80.
Energy Consumption
The device uses little energy. This dehumidifier will cost you roughly 40 cents per day and $12 per month to run. So, over a year, you'll pay $144 on power. This is dependent on where you are in the United States.
Warranty and Support
This unit has a five-year warranty covering any fault in the original unit component.
However, it does not cover faults from parts that do not come from the company installed by a repairer or issues that can arise from unprofessional installment.
This warranty can be used anytime during the 5 years and becomes void 30 days after 5 years.
Best Usage of Aprilaire E70 Dehumidifier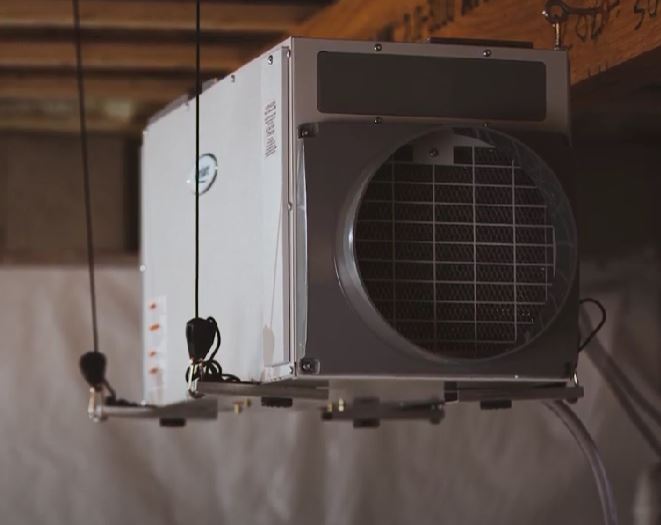 The Aprilaire E70 Dehumidifier reduces the humidity levels in a room to 45% or 60% with its efficient MERV filters and dehumidifier control.
The unit can also eliminate dust mites, allergens, mold, viruses, and other particles as small as 3 microns.
Due to the compact and simple design, it can be installed in small spaces or crawl areas that cannot be reached by large dehumidifiers, thus making it easy to remove moisture from even the deepest places.
The unit is also great for humid environments because a strong metal casing protects it.
8 Reasons to Buy Aprilaire E70 Dehumidifier
It increases comfort and reduces odors in rooms
Prevent rotting
Consumes a low amount of electricity
Has wifi control
Comes with an optional detachable control unit
It is durable
No water tray to empty
Can automatically control the entire dehumidification process
3 Reasons Not to Buy Aprilaire E70 Dehumidifier
Can be loud at night
The unit is expensive
There is no built-in pump
User Reviews and Feedback on Aprilaire E70 Dehumidifier
Positive Reviews
The following are some of the good comments made by consumers about the Aprilaire E70 Dehumidifier: 
Users appreciate the remote control and wifi control feature as they can control the humidifier settings from a distance and easily change the settings.
Some love the ability to leave the dehumidifier on a plane, dry surface. They say it makes positioning easy.
Users love the unit as it is easy to carry around.
Customers are happy that there is no stress involved in emptying a water tray as the unit can be connected to your duct for draining.
Negative Reviews
The following are some of the negative remarks users have made about the Aprilaire E70 Dehumidifier:
Users do not appreciate the loud sounds the unit produces at night.
Customers dislike how expensive the unit can be to maintain.
Our Ratings for Aprilaire E70 Dehumidifier
| | |
| --- | --- |
| Feature | Rating (0-10) |
| Build quality | 9.4 |
| Easy to use | 9.5 |
| Moisture removal | 9.4 |
| Space coverage | 8.5 |
| Value for money | 9.5 |
| Overall | 9.3 |
According to user reviews, the Aprilaire E70 Dehumidifier is straightforward. The space coverage feature has an 8.5 rating because it can quickly clean the air in a 2800 square foot room. Thanks to the remote control and wifi control features, the easy-to-use feature received a 9.5 rating.
The build quality is rated 9.4 since a metal case protects it. Furthermore, the unit was given a 9.4 for moisture removal because it could quickly lower humidity levels by 60%. Nonetheless, the dehumidifier is well-suited to high-humidity situations.
Final Words:
This is sufficient information to help you decide whether to purchase the Aprilaire E70 Dehumidifier or move on to a product that better matches your needs.
PROTECT YOUR HOUSE - Helps prevent mold, termites, structural wood rot, and odors in a sealed crawl space, and damp carpeting and furnishing, mold, mildew, and odors in basements and whole homes
COMPACT SIZE (12.5" x 12.5" x 25") fits through most crawl space doors, and between joists and tight spaces
EFFICIENT PERFORMANCE - Removes up to 70 PPD of moisture inside homes up to 2,800 square feet
NO MESSY WATER TRAY TO EMPTY and simple to set up - just place the hose (included) or place dehumidifier over a floor drain
BUILT TO LAST with corrosion-resistant aluminum coils, AprilAire Dehumidifiers are designed and manufactured in the U.S.A. by AprilAire, the leader in indoor air quality solutions
In addition, the device can lower humidity levels in huge areas. As a result, it will be great for your workstation; however, you can go for another dehumidifier if you are concerned about the expenses or loud sound.
TOP RATED PRODUCTS FOR HOME