Excess humidity in your home can result in discomfort and a number of health complications. From supporting the growth of mold, mildew, bacteria and other microorganisms, to affecting your skin, floors, furniture, and walls, keeping your humidity in check is a very important task if you want to live in a  comfortable space.
While this is known, it is usually difficult to decide what brand to buy. The desire to find which brand of dehumidifier is best for your home is what has probably led you to this post and you made the right choice.
There are so many dehumidifier brands out there to choose from. In fact, the number of brands in stores can throw you off balance because each one promises the best experience.
But, how do you tell which one is actually best for your home? This is what determines whether or not you'll purchase it. This post has put together a review of top dehumidifier brands, containing all the information you need, so that you're better informed to make a choice.
Popular Dehumidifier Brands
1. Frigidaire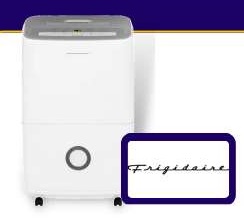 Frigidaire is one of the most popular dehumidifier brands on the market. As a brand, Frigidaire was created in 1918 in Fort Wayne, Indiana after General Motors acquired Guardian Frigerator Company.
This is why some people often trace the brand's origin to the establishment of Guardian Frigerator a few years earlier.
The company released its first product- its version of an electric refrigerator- in 1913. The acquisition came with a lot of changes and smart marketing tactics, leading to increased popularity for the brand.
Now owned by Electrolux, Frigidaire quickly moved from refrigerators to air conditioners and other electronics. Over time, they began the production of dehumidifiers and became one of the world's most successful dehumidifier brands.
Today, they have a range of dehumidifiers of different capacities, from the 20-pint capacity dehumidifier to the 70-pint units. Frigidaire dehumidifiers are notable for their custom humidity control feature, which helps to monitor the amount of humidity in a room at every point in time.
One of their most successful models is the Moderate-humidity 35-pint humidifier, which comes with custom humidity control and a washable filter.
2. Aprilaire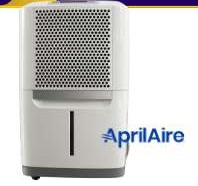 Aprilaire has been in the business of promoting indoor air quality for several decades.
What is now known as one of the world's biggest dehumidifier brands started out in 1938 as its parent company, Research Products Corporation.
The company became a truly respected brand when it introduced its whole-home humidifier in 1954. The company was located in Madison, Wisconsin and as demand continued to increase, the brand expanded its offerings and moved on to other products. In 1960, Aprilaire established a manufacturing plant in Poynette, Wisconsin.
This expanded the brand's capacity into moving on to the production of other indoor air quality appliances like dehumidifiers in the years that followed. By 2000, homes across the United States had an Aprilaire product.
Aprilaire has a variety of dehumidifiers, especially for commercial and whole-house applications. Most of their units range between 70 and 130 pints in capacity. This makes them a specialist in the manufacture of large, commercial dehumidifiers.
One of the most unique features of Aprilaire dehumidifiers is its energy efficiency, which is rated one of the best in 2022.
However, its corrosion-resistant aluminum coils also stand out as a unique selling point, making them quite durable and long-lasting. The E070 Pro 70-pint Dehumidifier is one of the brand's most popular products.
3. GE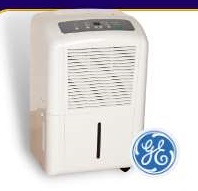 When Thomas Edison's Electric Company and Thomas-Houston's venture merged in 1892, many expected the result "GE" to be a huge success as it evolved, and it certainly did.
The company went on to become one of the founding members of the Dow in 1896 and continued to grow as the economy did.
The company has grown exponentially over the years, creating subdivisions along the way. GE Appliances, one of the group's companies, was created in 1907 and sells appliances using several brand names, including Monogram, GE Profile, GE, Cafe, Haier, and Hotpoint brands.
Today, dehumidifiers are one of the many appliances produced by the GE family. Its dehumidifiers exist in different capacities, including 22-pint, 35-pint, 50-pint, and others, and are famous for their built-in pumps and smart technology.
4. Midea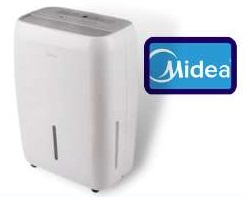 Midea Group is another global appliance brand that's been at the forefront of producing a variety of dehumidifiers.
The group is listed on the Shenzhen Stock Exchange and was inducted into the Fortune Global 500 in July 2016, attaining a sales revenue of $40.5 Billion in 2020.
Midea was founded in 1968 in Shunde, China and has since grown to become one of the world's biggest brands.
Midea began the production of electric fans in 1980 after spending its earlier years producing bottle lids and car parts. Then in 1985, it manufactured and released its first air conditioner.
Between 1985 and 2000, the company built on its air conditioners and became a brand to reckon with across the globe. Midea also expanded its product line, branching into other electrical appliances for the home, including refrigerators, microwave ovens, and washing machines.
Several expansion projects and moves followed in the years that followed, seeing the brand take its footprints to other countries overseas.
Although much of its export trade is in OEM and ODM, the company has recently begun producing its own brands in nations like Egypt, Chile, Brazil, Argentina, India, and much of Southeast Asia.
Midea's interest in dehumidifiers has gone on for decades. Through innovation, research and development, the company continues to break ground in releasing products that are ingenious, functional, and practical.
In 2021, the company introduced The Midea Cube, a high-tech extended unit that comes with a unique Lift and Twist design.
Midea Dehumidifiers are known for their emphasis on prolonged usage and smart technology, allowing you to connect the units to smart devices.
5. TOSOT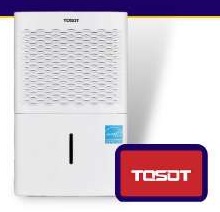 If you're familiar with HVAC systems, you must've seen some products and appliances with the brand name, TOSOT.
TOSOT is an acronym that represents Technology, Outstanding, Style, Originality, and Trust. Introduced in 2003, the brand was introduced by the Chinese HVAC manufacturer, Gree Electric Appliances Inc.
Today, the company has its footprints in several countries across the world, including Angola, Belgium, China, Canada, Israel, Iraq, Denmark, Hong Kong, Turkey, Austria, and the Philippines.
It's been almost 20 years since the company was established and with dehumidifiers in its catalog, TOSOT has stamped its authority as a leader in the HVAC industry. There are 20-pint, 35-pint, and 50-pint units in its lineup, known for their whisper-quiet operation and large coverage.
19 Top-Rated Dehumidifiers from Above-Listed Popular Brands
| | | | |
| --- | --- | --- | --- |
| # | Brand | Dehumidifier Model | Best Used for |
| 1 | Frigidaire | FFAD3533W1 35-pint | Indoor damp removal, rooms and offices. |
| 2 | Frigidaire | FFAD5033W1 50-pint dehumidifier | Great for high-humidity situations, such as basements, garages, laundry rooms, etc. |
| 3 | Frigidaire | 22-pint dehumidifier | Small to medium room, office, study, etc. |
| 4 | Aprilaire | E100 Pro | Crawlspaces,whole-home, basements, and commercial use. |
| 5 | Aprilaire | E070 Pro | Crawlspaces, basements, and commercial spaces. |
| 6 | Aprilaire | E080 Pro | Whole-house, basements, crawlspaces, and commercial areas. |
| 7 | Aprilaire | E130 Pro | Very large spaces, industrial and commercial use, whole-house application. |
| 8 | GE | 35-pint Energy Star | Rooms, basements, and garages. |
| 9 | GE | 50-pint Energy Star | High-humidity areas, basements, and garages. |
| 10 | GE | 50-pint Smart Dry | Bedroom, trailer, office, and study. |
| 11 | GE | 22-pint Energy Star | Bedroom, basement, garage, and other small-medium spaces with high humidity. |
| 12 | Midea | 50-pint Dehumidifier | Best for rooms and basements. |
| 13 | Midea | Cube 35-pint | Smart homes and offices, medium-size rooms, garages, etc. |
| 14 | Midea | 4,500 sq ft MAD50C1ZWS | Best for bathrooms, basements, and bedrooms. |
| 15 | Midea | Cube 20-pint | Smart homes and offices, can be left unattended for a few hours. |
| 16 | TOSOT | 50-Pint Dehumidifier with Internal Pump | Best for bedrooms, bathrooms, and basements. |
| 17 | TOSOT | 20 Pint 1,500 Sq Ft Dehumidifier | Bathroom, bedroom, basement, trailer, etc. |
| 18 | TOSOT | 35-Pint 3,000 Sq Ft Dehumidifier | Also suitable for bathrooms, bedrooms, and basements. Quiet enough for office and study use as well. |
| 19 | TOSOT | 50-Pint Dehumidifier | Perfect for a bedroom, small apartment, small basement, and garage. |
Final Thoughts:
These are just 5 of the top dehumidifier brands across the globe. Depending on your needs and the size of the space that requires dehumidification, you should be able to get a unit that serves the purpose. There are other popular brands like Aloraire, home labs, Luko, and several others which have been used by homeowners worldwide.
However, be sure to consult reviews and check the ratings of such products on amazon and other online stores before you make a purchase because it goes beyond just the brand name.