Dehumidifiers are one of the most vital gadgets in water-logged regions or places that are almost damaged by moisture. It may be tough to relax and breathe fresh air in areas with excessive wetness.
The 113-pint Alorair Commercial Dehumidifier (HD55) eliminates moisture from even the tightest spaces very effectively.
Depending on how large your worksite is and whether you require a built-in pump or ducting, the Alorair dehumidifier comes with various options.
The dehumidifier is well-known for restoring flood and water damage. To ensure that their humidifiers perform efficiently, Alorair uses LGR and SLGR technologies.
The Alorair Commercial Dehumidifier 113 Pint has several functions that will come in handy during commercial cleaning and help you, your friends and your family relax in a clean environment.
This dehumidifier can be installed in crawl spaces and reduce the air saturation rate in a short amount of time. In this review, we'll explore the Alorair Commercial Dehumidifier 113 Pint's characteristics, features, and operation to determine its effectiveness.
The Alorair Commercial Dehumidifier 113 Pint is straightforward to use, according to verifiable consumer comments and personal experience.
This device is ideal for commercial use and is one of the most excellent humidifiers due to its small size. It removes 53 pints of saturation in a 1200 square foot space under 24 hours under AHAM settings.
The high-performance dehumidifier is easily adjusted to the ideal humidity setting to decrease moisture and reduce odor using the onboard humidistat.
If the humidity level climbs over the set level, the dehumidifier begins to function. With this setting, the two-digit display screen shows the current humidity level or the target humidity.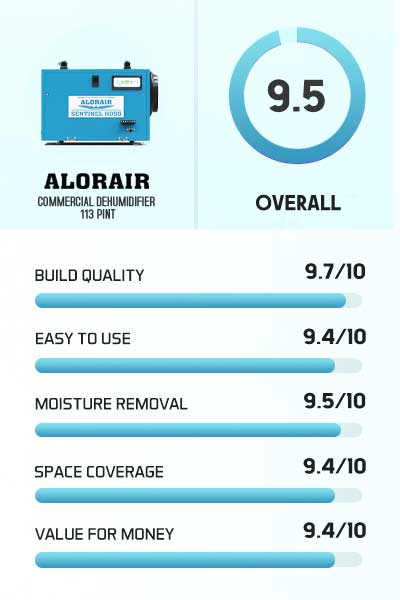 The dehumidifier also contains a MERV-8 filter to protect the dehumidifier's internal components from dust. It also doesn't come with a tank, but it drains on its own.
The blue metal housing of the Alorair Commercial Dehumidifier HD55 protects it from moisture. This also makes it more robust and suited for various applications, such as job sites and crawl or deep areas.
Alorair employs epoxy-coated coils and a rare earth alloy tube evaporator to prevent corrosion and leakage. The unit can also detect frost on the coils and enters auto defrost mode to prevent harm from ice build-up.
When the unit is turned on, when it is in auto defrost, and when the compressor is functioning, indication lights illuminate. The ability to filter water accumulated simultaneously without manual tank emptying and the optional remote control are the selling points.
Specifications of Alorair Commercial Dehumidifier 113 Pint
Summary:
| | |
| --- | --- |
| Dimensions | 19.2 x 12.2 x 13.3 (inches) |
| Weight | 57.3 pounds |
| Temperature range | 33.8°F to 104°F |
| Coverage | 1200 sq. ft. |
| Pint Capacity | 113 PPD At Saturation |
| AHAM | 53 PPD |
| Energy Factor | 2.27L/kWh |
| CFM | 120 |
| ACH | 6 |
| Noise Levels | 52db |
1. Dimensions and weight
This dehumidifier is much smaller than conventional commercial dehumidifiers. With dimensions of 19.2 x 12.2 x 13.3 inches and a weight of 57.3 pounds, it allows for more flexibility with transportation, placement, and storage.
2. Temperature range
The unit functions at a temperature of 33.8°F to 104°F. However, beyond and below this temperature range, the dehumidifier does not function as efficiently as it is supposed to.
3. Coverage Capacity
The Alorair Commercial Dehumidifier can reduce the humidity level in 1200 sq. ft to a more comfortable level so you can relax and work efficiently. 
4. Pint Capacity
This is a 113 dehumidifier which means it can remove 113 PPD at saturation 53 pints per day at AHAM. This allows the dehumidifier to work fast when removing moisture from the air.
5. Energy Factor
The unit has high energy efficiency with a rated energy factor of 2.27L/kWh. This means the Alorair Commercial Dehumidifier 113 Pint uses low energy.
6. CFM
With an airflow rate of 120 CFM, the unit can quickly reduce the humidity level and circulate good air around the room.
7. ACH
This refers to how many times the air will pass through the filters to collect air and pass it through the filters to remove all the excess water vapor. This dehumidifier has an ACH of 6.
8. Noise Levels
The unit generally produces less sound due to the quality of filters, with the noise output being less than 52dB.
Alorair 113 Pint Commercial Dehumidifier Build Quality
The Alorair Commercial Dehumidifier is made of a solid metal outer casing to reduce rusting, leakage, and damage due to water.
This casing makes the dehumidifier strong enough to withstand harsh conditions that would have destroyed it otherwise. The unit is very durable and can last for years due to this design.
How Easy to Handle Alorair 113 Pint Commercial Dehumidifier?
1. Cleaning the Dehumidifier
It is essential that you clean the body of the purifier to minimize damage. You can use a soft tissue or cloth soaked in water without soap or solvent when it is unplugged. You also have the option of vacuuming the unit. Make sure you clean the coil once a year.
2. Cleaning the filter
Unplug the unit, slide out the filter, and clean it with warm water or by vacuuming to clean the filter. Before installing the filter, make sure it's totally dry.
3. Portability
The unit has a straightforward and compact design with two handles on top and a lightweight metal casing that makes it simple and easy to carry from job site to job site or between offices.
Alorair Commercial 113 Pint Dehumidifier Usage Guide
The Alorair Commercial Dehumidifier is easy to use and clean. It can be installed on a level surface. This section will make the dehumidifier easy to use and understand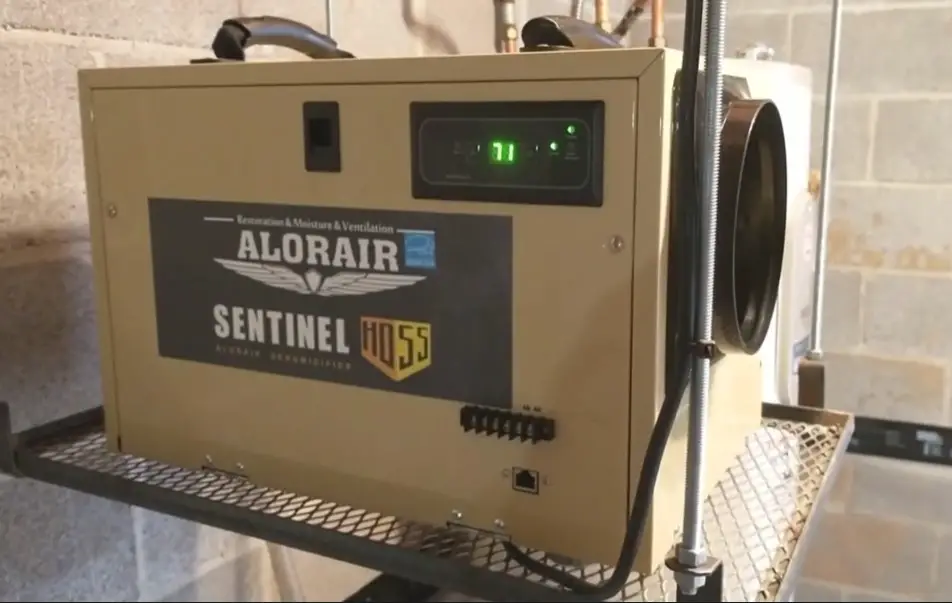 To turn on this dehumidifier, use the power key. The dehumidifier will produce two beeps, and the power light will be green.
Place the unit on a dry surface and avoid placing it on a vapor barrier like a damp basement.
Use the remote control to switch the unit off and avoid the power key.
Use the arrow keys to set your desired humidity level between 50-55%.
Give the unit 10 minutes to defrost before and after usage.
Alorair has provided a detailed guide that will make using this device easy. You can access the guide here.
Key Features of Alorair Commercial Dehumidifier HD55 (113 Pint)
1. Frost Control Sensor
The unit has a frost control sensor to detect when the coil is freezing or when to start defrosting. This allows the unit to keep clean, warm air in circulation and prevent damage to the internal parts of the dehumidifier.
2. Automatic Defrost
With this feature, the Alorair Commercial Dehumidifier HD55 can defrost the coils and filters automatically without you putting it as a setting. This prevents damage and maintains the dehumidifier.
3. Integrated Humidistat
This unit has a remote humidistat feature that allows you to adjust the humidity settings and know the humidity levels in the room. In addition, this function allows you to see how quickly the dehumidifier is working.
4. User-friendly controls
The unit has a remote control for easy use, a power key, and arrow keys on the body to turn on and adjust the dehumidifier settings.
Core Functions of Alorair Commercial Dehumidifier 113 Pint
1. Filtration System
The unit has a high-performance MERV-8 filter that can suck in the stale air and produces clean air in a space. In addition, the filtration system makes sure the air released in the environment is of excellent quality.
2. Moisture Removal and Dehumidification
The dehumidifier can remove the excess moisture in a room in a short period. This means that the dehumidifier can reduce moisture levels in ample space and reduce the risk of disease caused by unclean air.
3. Drainage System
The dehumidifier has a gravity drainage system with no tank. This means that it drains water on its own, you don't have to filter a tank, and you can just let the system work on its own.
4.  Safety
The unit is safe for use. The metal casing and rubber handles protect the user from any accident due to electrical faults or leakage.
Running Cost of Alorair Commercial Dehumidifier 113 Pint
Replacement Parts
The replacement parts of this Alorair Commercial Dehumidifier are easy to find. You can get a replacement filter for this unit at $45 to $100. Fortunately, the filters can last as long as 12 months, meaning you will only spend $100 annually replacing the filters.
Energy Consumption
You will spend about 50 cents running this dehumidifier every day and $15 every month.
According to most user feedback, the unit is certified energy safe, does not consume too much energy, and uses a current of 4.1A.
In a year, you will spend $180 on electricity bills. This, however, varies depending on your location in the US.
Warranty and Support
This unit, as well as its filters, come with a five-year warranty. The warranty, which can be activated with a receipt or other proof of payment, covers any damage or malfunction with the Alorair Commercial Dehumidifier.
If you have any questions or require assistance related to Alorair Commercial Dehumidifier HD55, you can always contact Alorair customer service.
Best Usage of Alorair 113 Pint Commercial Dehumidifier HD55
The optimum application is to remove excess moisture from wet or uncomfortable environments. This means that you can quickly reduce the humidity levels in a room or a commercial location. This dehumidifier can also help to circulate clean air and reduce odors in the area.
Because of its basic design and auto-filtering mechanism can fit into crawl spaces, basements, warehouses, offices, factories, storage facilities, and stores.
The MERV-8 filter protects the dehumidifier's internal components from dust and excess moisture, making it safe for usage in humid environments. In addition, the dehumidifier's qualities make it effective at removing stale air and odors from your environment.
9 Reasons to Buy Alorair Commercial Dehumidifier 113 Pint
It has a great operating system
It removes moisture in a shorter time
You can save on energy
The filter is very easy to clean
Does not come with a tank that has to be manually cleared out at intervals
It is small and compact
Produces less noise
A remote control is available
Very affordable
2 Reasons Not to Buy Alorair Commercial Dehumidifier 113 Pint
The device has no built-in pump
The unit can sometimes freeze from the coil
User Feedback on Alorair Commercial Dehumidifier 113 Pint (HD55)
Positive Reviews
The following are some of the good comments made by consumers about the Alorair Commercial Dehumidifier:
Customers appreciate the remote control feature as they can control the humidifier settings from a distance. This allows for comfort while using. 
Users love the ability of the dehumidifier to reduce moisture in a short time.
Some say they love the rate at which it works. They say it makes it easier to get fresh air circulating again.
Users love the defrost feature on the unit that prevents it from harm during cold weather. They say this allows the dehumidifier to circulate warm fresh air.
Negative Reviews
The following are some of the unfavorable comments made by users concerning the Alorair Commercial Dehumidifier:
Users do not appreciate the noise that is produced after it has been running for sometime.
Some users noted that the unit removed less moisture than it claimed to.
Our Rating for Alorair Commercial Dehumidifier 113 Pint
| | |
| --- | --- |
| Feature | Rating (0-10) |
| Build quality | 9.7 |
| Easy to use | 9.4 |
| Moisture removal | 9.5 |
| Space coverage | 9.4 |
| Value for money | 9.4 |
| Overall | 9.5 |
The Alorair Commercial Dehumidifier is pricey, but customers say it's a terrific dehumidifier for the money, especially considering its features.
The space coverage feature has a 9.4 rating because, unlike other purifiers in its price range, it can clean the air in a 1200 square foot room quickly.
Thanks to the remote-control feature and automatic draining system, the user-friendly feature received a 9.4 rating because consumers appreciated how simple it was to operate.
The build quality is scored 9.7 because it is protected by a robust metal casing that can withstand heat and moisture damage and is easy to clean with common tools.
In addition, the unit received a 9.5 for moisture removal since it could readily reduce humidity levels by 50% to 60%. Nonetheless, the dehumidifier is highly effective and suitable for those who have suffocating environments.
Final Words:
This is sufficient information to assist you in deciding whether to purchase the Alorair Commercial Dehumidifier 113 Pint (HD55) or move on to a product that better matches your needs.
👍 [113 PINT DEHUMIDIFIER] AlorAir Sentinel HD55 commercial dehumidifier can remove 113 PPD at saturation, 53 pints per day at AHAM, up to 1,200 sq.ft, lowering the humidity to comfortable levels in a short period. On the other hand, this cETL-listed dehumidifier is made of a metal outer casing that withstands more rugged conditions, ensuring long-term use and easy maintenance. Fit any crawl spaces, basements, warehouses, offices, factories, shops, storage areas.
👍[SUPER CONVENIENT USAGE] This high-quality dehumidifier is adjusted simply to the ideal humidity setting to minimize moisture and reduce odor. The MERV-1 Filter can protect internal components from dust when dehumidifying. The most convenient point is that you are not requested to pour away the water every hour like a typical domestic dehumidifier, there is no tank inside, it drains automatically.
👍[AUTO DEFROSTING SYSTEM] Auto defrosting is important, as ice buildup on the dehumidifier's coils can cause the units to malfunction. AlorAir commercial dehumidifier can truly make the dehumidifier work at the Low temperature (36 degrees Fahrenheit). The unit works continuously and efficiently without periodic stopping during the defrosting process. Not only saving the energy but also making the unit last longer.
👍[SAME FIT FOR CRAWL SPACES & BASEMENTS] We designed this professional dehumidifier with the modern consumer in mind, smaller size, compact design, rugged handle, easy and safe to transport from job to job, and even from downstairs to upstairs. All special features make it the best for crawlspace, basement, and commercial applications, auto defrosting system, optional remote control system, strong as the tank, Low-temperature operation, cETL.
👍[5 YEAR WARRANTY AND STRONG LOCAL SERVICE TEAM] 5 YEARS Warranty-We believe in quality and after-sales service. All our high-quality AlorAir basement/crawlspace dehumidifiers are made for your full utilization. It will last longer and still keep its shape look, even in some cruel commercial USES. Your 100% satisfaction is with 5 Years and an excellent after-sales service team countrywide.