Excess humidity in your home or office can be a devastating situation. Hence, dehumidifiers have become the go-to appliance for ensuring you maintain the right amount of moisture in the air and keep things comfortable. But finding the perfect fit for your home or office can also be a hard nut to crack.
In large spaces, one is left to decide whether to use a large unit or to use multiple dehumidifiers in one space. You may have asked at some point, "should I use two small dehumidifiers or one big unit"?
If you've ever battled with a choice like that, you can confirm it takes a lot of consideration. If you're still puzzled, this post is here to help you make the right choice.
We'll delve into the nitty-gritty of the subject and recommend a choice that truly suits your unique situation. Imagine you need to dehumidify your home, will two 60-pint dehumidifiers work better than one large 120-pint unit?
Is It Better to Have 2 Dehumidifiers Or One Big One?
This depends on a number of factors, but overall, two dehumidifiers should be your preference. However, having one large unit may also be preferred in some circumstances.
We'll suggest you use two smaller dehumidifiers when it's for whole house application and there are different areas to be covered.
Also, it's possible humidity levels in the different areas of the house are not the same; you'll be able to set the dehumidifiers to suit the needs of those areas, such as separate rooms.
There are other reasons why you should consider using two small dehumidifiers as against 1 big one.
Below are key factors to consider before you decide to go for either 2 small humidifiers or 1 big:
1. Upfront Cost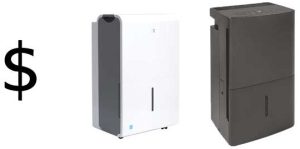 This is easy to pitch. Consider the cost of two 70-pint dehumidifiers at $300 each and that of 1 big 140-pint dehumidifier which would cost more than $1,200.
In terms of upfront cost, two small dehumidifiers are likely to be way more cost-effective to buy and install.
2. Portability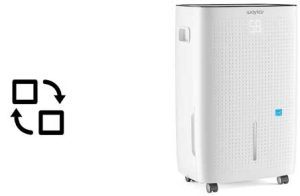 Having two small units are also more portable than having a large, commercial-grade unit.
Small units are easier to carry around and move when necessary.
This is not the case with larger units which often come with wheels and handles.
3. Placement/Installation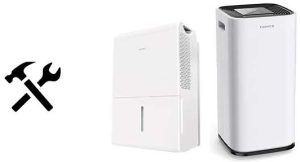 Also, because of the size and weight, it is easier to install two small units than install one very large one.
You have to consider available space and a conducive spot before you can install a large dehumidifier.
4. Type of Room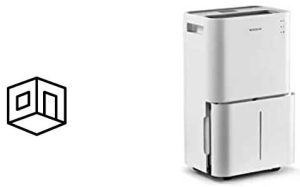 There are situations where one single unit may not be sufficient. Places like laundry rooms and swampy basements would require a lot of dehumidification.
So, rather than use a single 120-pint unit, you should consider two 70-pint units.
So, using two dehumidifiers will be the better choice if you need to put them at different spots of your home, cannot afford a large whole-house dehumidifier, and would need to move the units around frequently.
There's another school of thought that suggests it may be better to have one big dehumidifier than two small ones. First of all, there's a strong argument that you may spend more on two separate units in the long run.
Energy efficiency is a concern if you're using two dehumidifiers instead of one, so the cost you save during the initial purchase may be lost eventually.
When it comes to dehumidifiers and energy costs, larger is always better. It'll ordinarily cost less to run a single 100-pint unit than run two 50-pint units.
For instance, a typical 50-pint dehumidifier will use up around 550 Watts while a 100-pint unit will only use up about 750 Watts.
This means you'll save almost 35% on energy bills using a single large dehumidifier than using two small ones. In fact, some smaller units may have a higher wattage, such as this 50-pint GE dehumidifier which uses 770 Watts.
Final Words:
It's important to get all the information you need before you make such decisions because making the wrong one can have severe consequences. This is why this post was put together.
As we have pointed out, there are pros and cons to using two small dehumidifiers or one large unit; the key is to understand what you need and know how each choice works in your home.
TOP RATED PRODUCTS FOR HOME