The importance of good air quality cannot be overemphasized. Not only should the air be clean and free of particles and toxins, it is also important that your indoor air smells nice in order to enjoy a quality life. To achieve the desired healthy indoor air, homeowners often choose between air purifiers and deodorizers.
So, what's the difference between air purifiers and deodorizers? How can you choose between them? What makes air purifiers better and vice versa? Stay with us and you'll find out in a bit.
An air purifier is an indoor appliance that traps air particles and other pollutants using components like particulate and/or carbon filters. The goal of air purifiers is to improve air quality and help allergy sufferers. Some of them have the capacity to remove as much as 99% of air pollutants from the room.
On the other hand, a deodorizer is mostly used to remove unpleasant and offensive odors from indoor air. The appliance may remove physical odor-causing substances as well as chemical odors from the air, ensuring indoor air is clean and healthy.
Air Purifiers Vs Deodorizers [Key Differences]
Air purifiers and deodorizers may seem one and the same because they perform slightly similar functions when you consider the bigger picture.
The essence of air purification is to cleanse the air and keep it fresh, which is also what a deodorizer is built for. However, there are some differences that must be pointed out.
1. Particulate and gaseous pollutants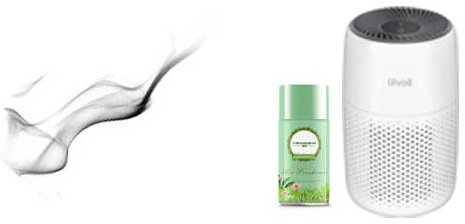 One of the major differences between an air purifier and a deodorizer is the fact that air purifiers primarily target particulate pollutants.
That is airborne substances like dust, smoke, mold, mildew, and so on.
However, a deodorizer is designed to remove odors, especially the odor-causing molecules floating in the air.
2. Odor removal capabilities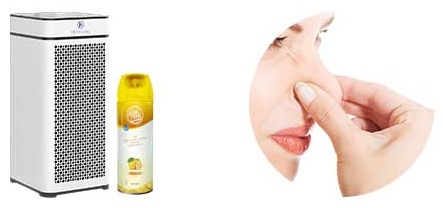 This is another very obvious difference between the two appliances.
While deodorizers primarily prevent, eliminate or suppress odors and smells, not all air purifiers can do the same.
The type of filter the purifier uses is the main factor here, as the only carbon and electrostatic may be as effective as you'd want your odor-removing filters to be.
3. Germ-killing capabilities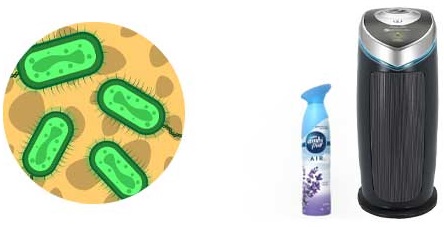 It is important to note that deodorizers are likely not to be able to kill airborne germs like bacteria and fungi.
What they do is mask bad odors and replace them with more pleasant ones.
On the flip side, air purifiers, especially those with activated carbon filters and UV light are able to eliminate VOCs and other bacteria.
4. Allergies and reactions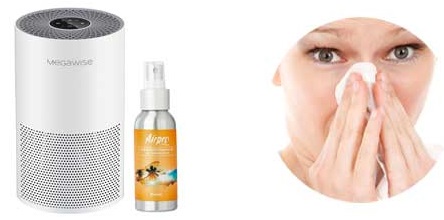 Another major difference is the ability of air purifiers to prevent and address allergies that are caused by airborne dust and allergen.
Deodorizers do not have this feature and cannot help you with allergies.
This can lead to asthma and several other respiratory diseases if not addressed.
5. Power source/Method of use
Most deodorizers come in cans, just like air fresheners while few are built as diffusers.
On the other hand, most air purifiers are appliances, often powered by electricity.
This is different from the wicks, bars, and other items that are also used as purifiers.
Do Air Purifiers Deodorize the Air?
Yes, some air purifiers can deodorize the air. First of all, it has to do with the type of filter the unit is equipped with. Activated carbon or charcoal filters are designed to eliminate VOCs, harmful airborne chemicals, and other gaseous air pollutants.
Electrostatic air cleaners and UV rays are also quite effective at removing odors because they can eliminate chemicals and gases in the air.
Other air purifiers with HEPA filters may not have the capacity to deodorize, except in cases where particulate pollutants are the reason for the smell.
For instance, if the odor is caused by mold or mildew, then removing such mold from the room with the help of an air purifier will inadvertently also eliminate the odor.
The logic is simple; by removing the source, you also remove the smell. In a similar vein, odors caused by smoke can also be eliminated by air purifiers built for smoke removal.
This is more commonly associated with air purifiers that have activated carbon filters. Because smoke is carbon, it is possible to eliminate it with such equipped air purifiers.
Generally, using an air purifier may help you achieve cleaner and fresher indoor air, but not all air purifiers are built to remove actual odors.
Even the US Environmental Protection Agency (EPA) recommends that you combine your air purifier with good ventilation and safe deodorizers for that perfect indoor air balance you desire.
While particulate air purifiers may not have the answer to odor removal, they sure provide a great foundation by removing air particles that have the potential to cause terrible odors in your home or office.
What Air Purifiers Can Deodorize?
As earlier mentioned, there are specific air purifiers that are designed to attack airborne molecules, making them too heavy to float and remain in the air. Some others simply destroy the airborne particles, rather than just trap them.
1. Air Purifiers with Activated Carbon Filter
One good example of this type is the Levoit Core 300 Air Purifier which is said to be effective at removing several kinds of odor, including those from pet litter, smoke, chemicals and VOCs, etc. Its True HEPA filter is also effective at removing mold, which is another source of odor in your home and office.
2. Ozonators
These include air purifiers which release some amounts of ozone to get rid of particles and molecules in the air. They can be purifiers equipped with UV light or those built as ozone generators. This Pure Enrichment 300 sq ft air purifier with UV-C Light is a great example.
3. Electrostatic Ionizers
These are air purifiers that release negative ions into the air and attach them to airborne particles that are as small as 0.1 microns (including smoke and odor-releasing molecules).
Many of them also come with ozone and carbon filtration to make them much more effective at removing unpleasant smells. A great example is the OION B-1000 Ionic Air Purifier.
Final Words:
Overall, it is safe to say that although both an air purifier and a deodorizer are meant to improve the quality of indoor air, there are some distinguishing features between them.
A deodorizer is mostly meant to mask and eliminate odors, while an air purifier traps/eliminates air particles and pollutants. While the functions of an air purifier may overlap sometimes, its primary responsibility is to cleanse the air and keep it safe.
At the end of the day, it is the quality of the product you purchase- whether air purifier or deodorizer- that determines the results.