Choosing an effective air purifier from many available options can be difficult. Kokofit's high-performance air purifier provides very effective air cleaning.
You may select between three-speed settings with the Kokofit Air Purifier, either automatically or manually, and enjoy clean air with your family while you sleep or go about your regular activities.
This review will look at the Kokofit Air Purifier's characteristics, features, and functionality.
According to user feedback, the Koko Air purifier is simple to set up and use. It is simple to use, but have a distinct and elegant design
In addition, they are lightweight and composed of heat-resistant material to prevent cracking and damage.
The air purifier's typical three-stage mechanical cleaning process includes pre-filter, HEPA H13, and Activated Carbon filters.
In addition, it features a sensor that detects the amount of smoke or pollutants in the air and switches between the three-speed levels during filtering.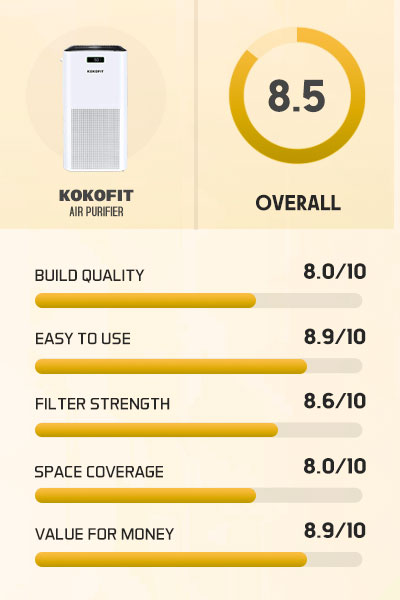 The three-speed options are low, medium, and high, with the ability to adjust between them manually.
The HEPA filter traps small particles as small as 0.3 microns, such as germs and pollen grains. The pre-filter traps hair (both pet and human hair) and dust, while the activated carbon filter eliminates odors.
If you wish to utilize the air purifier all day, it features a sleep mode. The purifier runs at its slowest pace in this mode, which reduces noise and dims the mode lights.
As most customers have pointed out, this enables decent sleep because it's too loud at the fastest speed. 25dBA is the lowest speed.
The HEPA filter, which removes allergy-causing pollutants from the air, and the sensor, which switches between modes based on the amount of pollutants in the air, will be its selling points.
Specifications of Kokofit Air Purifier
White exterior color
The purifier is measured 11 x 11 x 23 inches
The purifier weighs 17.95 pounds
Has replacement filters
The filter can last for six months
The CADR rating of 190 CFM
Has a power of 60 Watt
Ease of Handling of Kokofit Air Purifier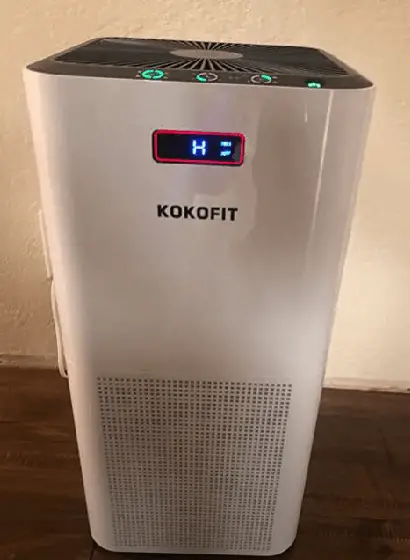 According to customers, the Kokofit Air Purifier is straightforward to set up and use. This can help those with respiratory problems get at least four air changes every hour.
The purifier also features a display that makes reading the air quality data simple.
For example, the PM2.5 indicator turns red when the air quality is poor, blue when the air quality is fair, and green when the air quality is excellent.
The timer's controls are simple to turn on and off, and the fan speed and sleep mode may be adjusted without difficulty.
Because of its modest size, you can easily move it about the room to the desired location, and it takes up very little space. For example, it can be placed on a table, in the middle or corner of a room, or even on a wall.
Important Features of Kokofit Air Purifier
1. H13 True HEPA Air Purifier
The Kokofit Air Purifier employs effective HEPA technology to filter the air and eliminate particles and PM 2.5 pollution.
You can efficiently stop 99.97% of dust, hay, smoke, odor, pet skin dandruff, mold spore, and anything else that can cause allergy symptoms with this function. You're safeguarding your family and ensuring that they live in a healthy atmosphere.
2. Rapid Purification
This purifier's triple filtration technology is quite effective.
The initial filter, HEPA filter, and Activated Carbon Filter work together to ensure comprehensive cleaning of an average area of 720 square feet, a clean air output ratio of 320m3/h, and the ability to cover a 1410 square foot space in under an hour. This lessens the harmful effects of smoking and cooking.
3. 100% Ozone Free
This means the Kokofit Air Purifier does not rely on UVC lights or negative ions to function, which destroys the ozone layer.
Children with asthma are particularly vulnerable to air purifiers that use UVC lamps. The Kokofit Air Purifier cleanses air mechanically rather than producing ozone, harmful to the environment.
4. Real-time Air Quality Monitor
When the Air Purifier is switched on, it automatically enters induction mode. Then, depending on how clean the air you are inhaling is, it will automatically modify the fan speed and the color of the indicator light.
5. Check Filter Indicator
The plastic covering of the filter should be removed before using the purifier to make sure it is effective. The filter can be used for more than 3,000 hours, and when it needs to be replaced, the filtration button will flash. This will keep the purifier efficient and on high performance. 
Core Functions of Kokofit Air Purifier
1. Filters
The Kokofit Air Purifier has a HEPA filtration system that makes it difficult for microns to get through. The True H13 HEPA filter is combined with Activated Carbon filters for enhanced and efficient performance against dirt, smoke, and odor.
The HEPA filter eliminates 99.97% of smaller particles like dust, mites, spores, while the carbon filters can filter the hair from pet dander.
2. Coverage Area
The air purifier can cover a 1600 square foot room in 1 hour, 800 feet room in 30 minutes, and a 400-foot room in 15 minutes. This means you can use it in a kitchen, a bedroom, or even a living room. 
The filter effect on the pet dander is better. The air inlet area reaches 80 square inches and has a powerful motor. This means that this air purifier has you covered when cleaning the air in large spaces.
3. Noise Levels
Kokofit Air Purifier has a good rating for sleep mode and noise levels. It has a noise level range of 25dB to 45dB, from the lowest to the highest. During sleep mode, the highest it can reach is 26dB. This means that you can have a comfortable sleep, even with a baby around.
4. CADR
This refers to how much clean air is delivered to the room every minute. With Kokofit, you get as much as 190 CFM or 320m3/h. This, of course, is contingent on how quickly the air purifier can operate in confined quarters.
5. Safety
This is always a significant concern when you are talking about air purifiers. However, the Kokofit Air Purifier meets the requirements of California Air Resources Board (CARB) indoor cleaning. It has also passed the FCC certification and is ETL-listed. 
The air purifier does not use UVC lamps, so there are no Ozone releases, UV exposure, or other harmful effects. It is also safe around your kids as it has an exterior cover, hence no electrocution concerns.
Replacement Filters and Running Cost of Kokofit Air Purifier
Replacement Filters
The HEPA and Activated Carbon filters should be replaced every three to six months. You'll have to pay $60 to replace the filters every six months. The filters are very simple to obtain.
The replacement filter is usually advised when purchasing the Kokofit Air Purifier to make purifier use more enjoyable.
It's simple to replace the filter. If you need to replace the air purifier filter, remove it and replace it with the new one. The filter can be replaced without the use of any tools.
Depending on the environment and how you use it, the replacement filter can last 180 days. You can also obtain a replacement filter with a guarantee and return it if it has any flaws.
Running Cost
The Kokofit Air Purifier is expensive, and it may be costly to maintain and operate. The Air Purifier's cost may be calculated, but you must first understand your electricity expenses and how much they will cost you annually.
If you use the air purifier at maximum speed for 12 hours a day, you will pay $3 each month. So if you pay $3 each month, you will pay $36 per year. However, this will vary depending on your local electricity rates in the United States.
The air purifier will cost you around $100 per year in filters and electricity to keep it operating when everything is said and done.
Warranty and Support
A two-year warranty covers the Kokofit Air Purifier. In contrast, the filter is covered by a one-year warranty. The purifier and filters are covered under warranty.
The warranty does not cover accidental damage, vandalism, abuse, or overuse. You'll also need evidence of payment to acquire the purifier's refund policy. The filter, on the other hand, is simple to replace.
Best Usage of Kokofit Air Purifier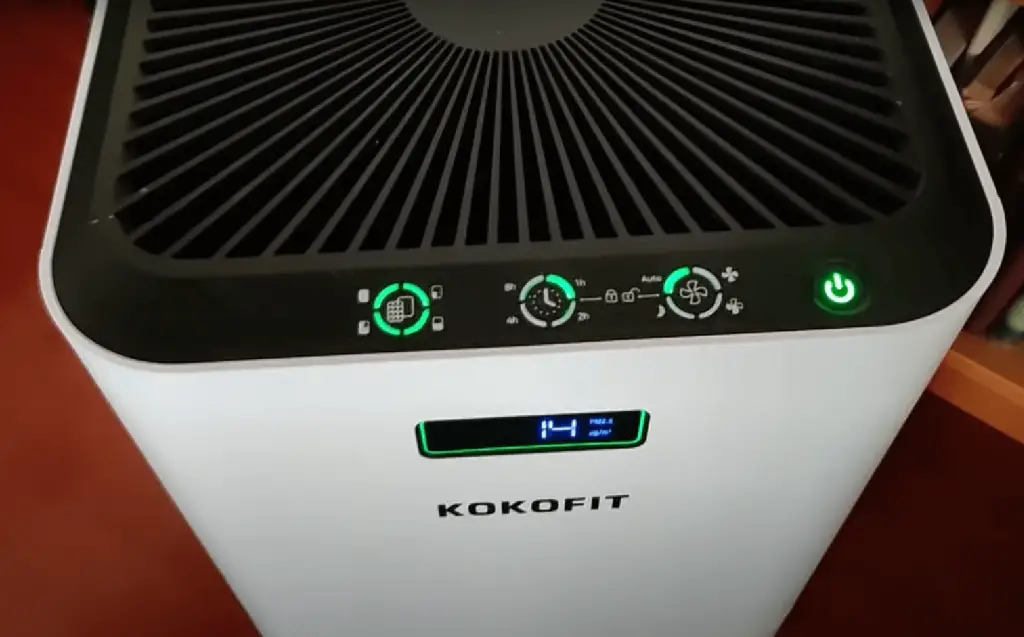 Because of the efficient filters, sensor, and easy-to-understand display, this device is excellent for use indoors, in rooms up to 1600 square feet, in your pet area, and even in your kitchen.
It is used for microns, dust mites, spores, allergens, smoke, and odors.
What makes it effective is its HEPA and Activated Carbon filters to remove everything that could be possibly dangerous from the air. In addition, the strong motor ensures that your pet dander is filtered effectively.
7 Reasons to Buy Kokofit Air Purifier (Pros)
It is easy to alternate between the three modes
The display is easy to understand
You can thoroughly clean the air with it and even suck in the dirt in your pet area.
It has a child lock
The purifier stills clean effectively in sleep mode
With the HEPA filter, you can remove 99.97% of all microns
The Kokofit Air Purifier is easy to understand and set up.
2 Reasons Not to Buy Kokofit Air Purifier (Cons)
The air purifier is expensive
Very noisy at high speed
User Feedback on Kokofit Air Purifier
Positive Reviews
Below are some of the positive remarks customers have regarding the Kokofit Air Purifier:
Users loved the built-in sensors on the air purifier. They said it made the purifier great for emergencies.
Customers are happy with its portability. Many say that they can easily carry it around and use it.
Most users agree that the filter strength is excellent. It can clean the air for up to 12 hours and give you outstanding results even in sleep mode.
Users also appreciate the PM2.5 display that shows you the life of your filter and when you should replace it. They say this helps them maintain the Kokofit Air Purifier.
Negative Reviews
Below are some of the users' negative remarks about the Kokofit Air Purifier:
Some users complained about how easy the filters get filled up with hair and how difficult it is to get them replaced.
Our Rating of Kokofit Air Purifier
| | |
| --- | --- |
| Feature | Rating (0-10) |
| Build quality | 7.9 |
| Easy to use | 8.9 |
| Filter strength | 8.6 |
| Space coverage | 8.0 |
| Value for money | 8.9 |
| Overall | 8.5 |
The Kokofit Air Purifier is a little costly, but buyers claim it is worth it. The easy-to-use feature was rated 8.9 because some users claimed that replacement filters were difficult to find.
The build quality was rated 7.9 because while users said it had a sturdy design and was difficult to crack, they also noted that it looked like it was made of inferior materials.
The space coverage is at 8.0 because the users say that the purifier sometimes stopped at 800 ft which is against the 1600 square foot room. 
The filter strength is kept at 8.6 because of the inability to filter much pet hair and become blocked after some time. However, the air purifier is incredibly portable and can work in a broad space.
Final Words:
This is enough information to help you decide whether to buy the Kokofit Air Purifier or move on to the next product that better meets your requirements.
High performance: Kokofit air purifier 1 hour to clean the air in a 1,600 square foot room, 30 minutes to clean 800 feet, and a 400 foot room can be cleaned in 15 minutes. Whether it is in the bedroom, living room, or large room, it can operate efficiently.
It has an excellent effect on pet hair: the air inlet area of ​​each side reaches 80 square inches, and it is equipped with a powerful motor, which can efficiently filter pet dander.
High-efficiency filtration system: Relieve sneezing, congestion and other allergies caused by air pollutants. H13 True HEPA filter works with pre-filter and high-efficiency activated carbon filter to capture 99.97% of 0.3-micron air particles, such as dust, smoke, pollen, and a peculiar smell.
Know your air quality: Smart particle sensors can monitor your air quality and provide you with real-time accurate measurements and feedback. The display panel on the front of the machine can display the air quality score.
Safer comprehensive certification: Meets California Air Resources Board (CARB) indoor cleaning equipment requirements. Also passed FCC certification, ETL listed. An excellent after-sales guarantee team provides professional warranty support for the product. The product's warranty service reaches 2 years. Please search "B08K2L4682" to get a replacement filter.
The device can remove dust, pollen, and hair from a certain space. Thus, if you suffer from allergies, it will be ideal, but if you don't want to be without a new filter at some point, you can go for an air purifier that does not require one.