Air purifiers have become very popular in recent years following a growing awareness on air quality and the need to breathe in clean air for good health and comfort.
While there are hundreds of brands parading themselves as the best on the market, there is always the chance of being ripped off or buying a product that is below par.
Of all the air purifier brands on the market, a few have caught our attention and one of them is Aslotus.
Therefore, we have put together this Aslotus Air Purifier review to give you a better understanding of how the product works and whether or not it deserves your attention and investment.
You don't have to make a mistake with a purchase or lose some money before you eventually get what you want.
Just so you know, the best way to make such decisions is to rely on honest reviews like this one.
As per our rating system, Aslotus Air Purifier scores overall 9.4 out of 10 which is awesome.
Coverage, Ease of Use, and Noise Levels are top-performing features of the Aslotus Air purifier and it scores 9.8, 9.7 and 9.5 out of 10 respectively for these 3 features.
Smart features and CADR in Aslotus Air Purifier received a score of 9 out of 10.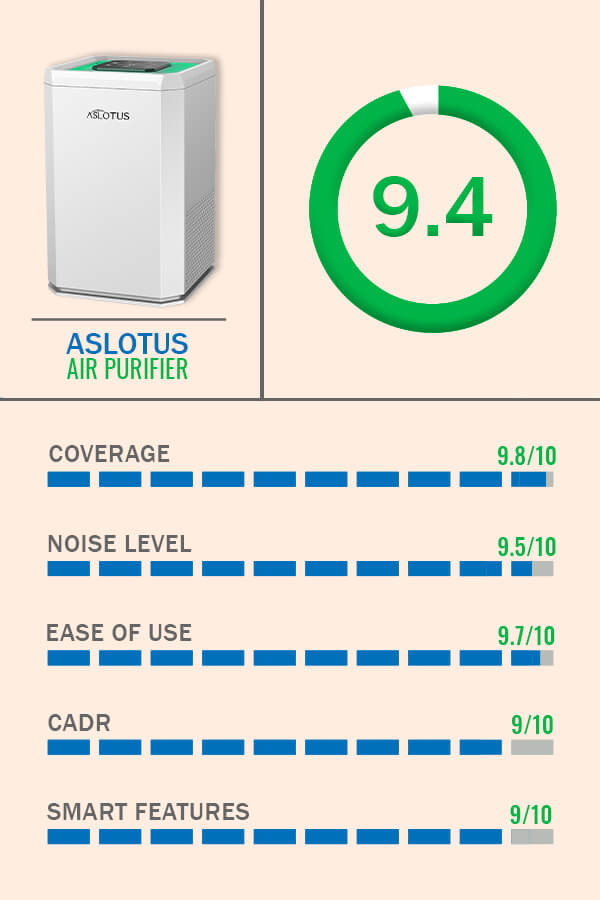 The most important question to ask yourself when you shop for an air purifier is, "what do I need it for"? When you've figured out why you need an air purifier, every other thing is pretty easy.
Maybe you've just moved into a new home and you're dealing with a combination of odors from paint, carpet cleaning chemicals or even raw wood.
Perhaps, you need something to help with cigarette fumes in your home or the several particles and dust that find their way in. Read on to find out if this Aslotus Air Purifier is what you need.
About Aslotus Air Purifier
Certified by the California Air Resources Board (CARB) and ETL, this product is a recognized piece of technology in many homes across the US and the world.
Its simple but elegant exterior design is iconic among air purifiers, but not many can put out the amount of power and coverage that Aslotus does.
Aslotus air Purifier introduces an amazing filtration combination as an alternative to the regular Pre-filter-HEPA-Carbon combo with what is known as the ColdCatalyst filter.
One of the major concerns of the Activated Carbon filter is what experts call absorption saturation. That is, when saturated with dirt, there is a likelihood that the carbon filter can become another source of pollution.
With the ColdCatalyst, the manufacturers say that recycling can occur without leaving any room for secondary pollution. This means, instead of dirt, what is likely to be released are water, Carbon dioxide and other harmless substances.
It is a touch-sensitive device that can be operated without any hassles. What's more, this product has an impressive coverage capacity that can take care of all your airborne particles and odor in master bedrooms and other large spaces in your home or office.
Specifications
9.3 Pounds in weight
10.24 x 10.24 x 20.83 inches in dimensions
Touch-sensitive smart screen
White exterior color
Control displays at the top in the middle of the event
360-degree air intake design at the base
Air release at the top vent
Key Features of Aslotus Air Purifier
1. Air Quality Sensor
Aslotus Air Purifier features air quality monitoring with a sensor that detects the quality of air in your home at every point in time.
The result is presented in color displays, such as Green for Good, Blue for Moderate and Red for Poor. This lets you know how clean or dirty your room air is and determines what action you should take.
2. Auto Mode
In auto mode, the Aslotus air purifier is set to function based on the results of the air quality sensor. So, if the air quality is poor, an increase in fan speed is automatically triggered to take care of it, but if it is good, a decrease is triggered to conserve energy.
3. Flexible Timer
A timer is always a great addition to any air purifier, and it's a good feature on the Aslotus purifier as well. With the timer, you can set your device to turn off at specific intervals.
This product has a timer that works within a range of 1 hour to 12 hours. Imagine you need your air cleaned but you won't be home in good time to turn it off, you can simply set your timer for 4 hours so it shuts down automatically even in your absence.
4. 5 Adjustable Fan Speeds
This device also has 5 fan speeds to choose from. Depending on the time of the day, the quality of your air or what activity you're engaged in, you can choose a speed level from the lowest to the highest.
5. Filter Replacement Notification
As with most other products, the filters in this Aslotus Air Purifier require occasional replacement. With this product, you're alerted when it is time to replace any of the filters.
This keeps things in check and prevents the possibility of running a device that may have become counterproductive.
6. Sleep Mode
One quality of great air purifiers is the presence of a sleep mode feature. This means you leave your air purifier on even when you go to bed.
This sleep mode reduces the fan speed and the noise level to the barest minimum to allow for comfortable sleep.
Core Functions of Aslotus Air Purifier
1. Filter
The type of filter your purifier has can determine its performance and is also a crucial detail for its purpose.
If you're more concerned about airborne particles, a particulate filter like True HEPA is enough.
However, if your problem is with odors and VOCs, you may want to try out filters that can trap odors and gases like the Carbon (Charcoal) filter for instance.
The filtration system of Aslotus Air Purifier is quite unique and very rare. But it is also very interesting.
Aslotus comes with a 3-in-1 filtration system which comprises a durable nylon pre-filter, a True HEPA filter and a unique ColdCatalyst filter.
While the pre-filter takes care of larger particles above 0.6 – 1 microns and above, the HEPA filter traps and eliminates smaller particles like dust mites, pollen and mold spores.
The ColdCatalyst filter replaces the regular Activated Carbon filter that most purifiers have. It is effective against odors of all kinds as well as some levels of formaldehyde.
Together, these filters can eliminate 99.97% of all airborne pollutants in your home.
2. Coverage
When it comes to coverage, this product stands really tall. At a maximum, it takes only an hour to cover an area of about 2,045 square feet; that is 12 minutes for every 409 sq feet.
In rooms around 400 square feet, we can expect it to clean up the air at least 5 times within an hour.
This is very impressive and has to do with its powerful fan and fast purification technology supported by its 360-degree air intake design. You can, therefore, use this device in large rooms, offices and apartments, as well as restaurants and bars.
3. CADR Rating
Aslotus Air Purifier has a CADR rating of 320 cubic meters per hour in rooms as large as 409 sq ft. This is more than the recommended standard for CADR.
4. Noise Level
As a large air purifier with very powerful fans, the expectation would be a lot of noise. However, a lot of attention is given to the noise level as well.
At sleep mode- which is the lowest fan level- the device emits minimal noise at 24 db only. So, you can get your air cleaned up and still enjoy a good sleep.
5. Power Output
At the highest speed, Aslotus air purifier runs on 30 watts. Considering the size, coverage, weight and fan power, that is relatively fair energy consumption.
It is lower than what a regular light bulb uses. This is good because you don't have to worry about crazy electric bills because of your purifier.
6. Safety
When it comes to safety in air purifiers, attention always goes to ozone. Truth is, this filter does not have an ozone generator and does not emit ozone into the environment.
7. Child Lock
A child lock function is also a very important feature and Aslotus makes sure no child or pet will be able to interrupt or cancel your settings during operation.
8. Durability/Build Quality
This device is made of good build material and should perform pretty well for a long time. Among its range, it is one of the most durable you will find.
This device is not too heavy to be placed on a solid table, neither is it too large.
At 9 pounds, it can sit pretty on a side stool, as long as you don't have kids or pets that can knock it over.
Also, placing it in a central position will enhance its efficiency.
As we've shown already, this air purifier has an airborne particle eliminator in the True HEPA filter and an odor eliminator in the Cold Catalyst filter.
It is therefore ideal for dusty environments, large rooms and offices, beauty salons, restaurants, and so on.
It may also help with some degree of cigarette fumes and formaldehyde from cleaning agents.
If you require an air purifier for some kinds of VOCs, Aslotus may not just be what you're looking for.
Benefits (Reasons to Buy)
Very large coverage
Good noise level
Very efficient timer
Quite easy to use
Certified for energy saving
Filter life indicator promotes responsiveness
Not the most expensive purifier in its category
Also has 5 adjustable fan speeds.
Drawbacks (Reasons Not to Buy)
May not be as effective against harmful VOCs and carbons.
Requires filter replacement every 3-6 months.
| | |
| --- | --- |
| Feature | Rating (On the scale of 1-10) |
| Coverage | 9.8 |
| Noise Level | 9.5 |
| Ease of Use | 9.7 |
| CADR | 9 |
| Smart Features | 9 |
| Overall | 9.4 |
Final Words
Aslotus Air Purifier is fast establishing itself as a market leader with growing popularity and patronage. This stems from its desire to provide users with the best solution to their air contamination challenges.
Over time, the brand has proven itself efficient and highly effective in eliminating airborne particles and odors that would otherwise cause discomfort and diseases. If the features highlighted above meets your desires, then we recommend this product.
TOP RATED PRODUCTS FOR HOME