Evaporative coolers are cooling appliances that use water and electricity to provide cooling in warm and dry climates. The emphasis on water has often made users wonder whether they can do much more with their evaporative coolers.
We've often received questions from users across the world regarding the possibility of adding other things to evaporative cooler water and what that could result in.
Some people add substances to their swamp cooler water to make it smell nice and eradicate bad smells; others add cleansing substances.
We'll explore as many possibilities as possible in this post and let you know some of the things that you can add to evaporative cooler water to make your experience more pleasant.
Can You Put Vinegar in Evaporative Cooler?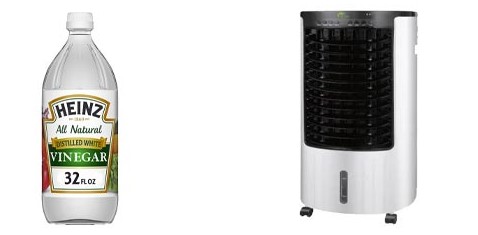 Yes, you can put vinegar in an evaporative cooler, but this is mostly for cleansing the cooling pad and water pan. Mix vinegar in water in a 50-50 solution and pour into the tank.
Leave it to cycle around all the edges and sides of the tank for at least an hour to remove mold and mildew, as well as bad lingering smells.
You can also soak the cooling pad in the solution for a few minutes, then rinse off the solution to remove the vinegar smell.
Note that once soaked in the pad, the vinegar smell can be hard to remove. Rinse properly and leave it out to dry. Do not reinstall the cooling pad until it is completely dry.
Vinegar can also help to prevent and remove corrosion, as well as eliminate calcium deposits and other forms of buildup.
Can You Put Ice in Evaporative Cooler?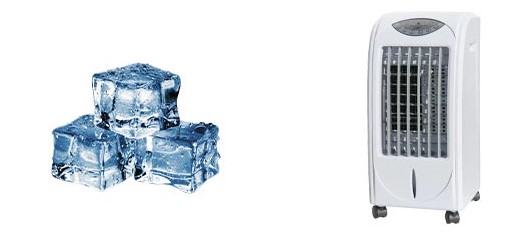 Yes, ice cubes are one of those things that you can add to your evaporative cooler water.
In those days when the heat becomes unbearable and water isn't just good enough to provide the cooling you need, you can throw in a couple of ice cubes in the reservoir to make the water colder and introduce cooler water vapor in the air.
This is a common practice by many swamp cooler owners who live in very warm climates. Beyond increasing the room's humidity to provide some cooling effect, ice ensures it is actually cold.
It is best to add the ice cubes to the water to allow for easy evaporation. Ice cubes on their own will take some time to melt and evaporation is delayed. Hence, adding the ice cubes to the cooler water makes it more effective.
Can You Put Chlorine in Evaporative Cooler?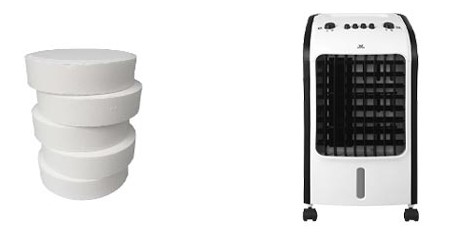 There are some chemicals and substances that shouldn't go into your evaporative cooler and chlorine is one of them.
Chlorine, along with other strong oxidants like bromine, bleach and ozone are not recommended for your evaporative cooler because they may mix with water and irritate your skin, cause severe damage to your eyes, lead to several respiratory problems, and may also damage the components of your evaporative cooler.
Your attempt to ensure a clean swamp cooler shouldn't tempt you to use chlorine as it can be pretty devastating to you and your appliance.
It is best to follow the specified recommendations of the manufacturer in order to get it right. You can't afford to be reckless with an appliance that produces indoor air as this can severely affect your respiratory system.
Can You Put Fabric Softener in A Swamp Cooler?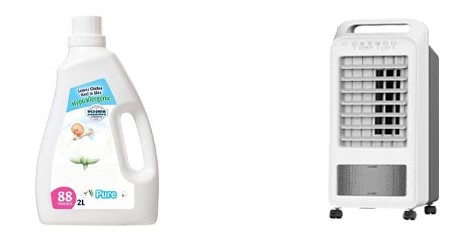 A fabric softener can be used as a cleanser and odor removal in evaporative coolers. Fabric Softener is preferred to other cleaning agents like detergents because it will not damage the media or pump.
A good example is the Snuggle Plus Super Fresh Fabric Softener. Just add a cap-full to the water reservoir and leave it to do its magic.
This will help to remove and mask odors, break down calcium deposits and other deposits like mold, algae and bacteria.
There are many brands out there from which you can make your pick. They can be found at your local supermarket too.
Can You Put Essential Oils in Evaporative Cooler?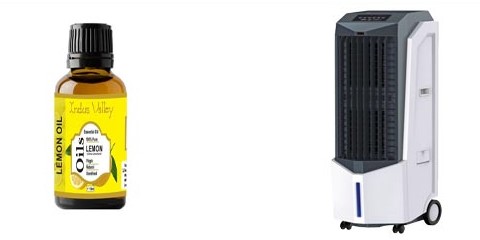 Yes, you can put essential oils in an evaporative cooler. In an attempt to get rid of foul smells and pollutants in your cooler's reservoir, you'll probably try out many things.
Essential oils can help to mask foul smells and replace them with soothing aromas. They can also help to prevent bad smells from emanating out of your unit. Pick out your favorite essential oils and apply them in your evaporative cooler for the best aroma in your home.
The best way to go about it is to apply the essential oils after cleaning the unit.
Pour your essential oil mixture into a spray bottle and spray generously into the evaporative cooler, especially in and around the reservoir, so that the oil evaporates with the vapor and flows into the room.
What Else Can You Add to Evaporative Cooler Water?
As long as it is not toxic, can evaporate, and will not form plaques in your water reservoir, pads, or other components of the evaporative cooler, it can be put in the unit.
This can range from fragrances to cleaning agents and other non-toxic liquids to get the best out of your swamp cooler.
The aim is to ensure your swamp cooler is in perfect condition and does not emit bad smells or contaminants that may affect your health. What you put in your swamp cooler should also be screened for toxicity and negative impact on the appliance.
Final Words:
Evaporative coolers have become such a practical alternative for people seeking a more affordable way to cool their rooms.
The use of water is what provides the cooling effect, but you can also make this better; by adding ice cubes to make it colder and more comfortable in the heat, or essential oils for a pleasant fragrance.
For cleansing, vinegar and fabric softener are two things that you can use to remove mold, mildew, bacteria, bad smells and deposits in your unit's cooler pads and reservoir. Be careful though, because not everything can be added to your evaporative cooler.