In general, all domestic space heaters are safe to use on carpets. It does not imply that you should leave it running while away. A space heater is only safe if used responsibly.
The standard household heaters are safe to use on carpets. Infrared heaters, ceramic heaters, oil-filled radiators, and other electric heaters fall into this category.
While most conventional electric household heaters are suitable for carpeted rooms, you cannot use them all because some of them are not for domestic settings. You should carefully check the settings before you make a purchase.
In this article, we bring you the 5 safest space heaters for carpeted rooms. Also, we will provide you with a very detailed guide to follow to select the best space heater for your carpeted room.
Top 5 Safest Space Heaters for a Carpeted Room
The Best Space Heater for a Carpeted Room: Dr. Infrared Space Heater
Best Overall
To be considered a top selection on this list, the space heater should be strong enough to heat the desired room and incorporate safety measures that shut off the device if it falls over. The models listed below are suitable for different heating requirements and used for diverse settings.
The Advanced Dual Heating System of the Dr. Infrared Heater combines Quartz Infrared Element and PTC to keep you cozy in the winter while saving you money on heating expenses.
With a High-velocity Low Noise blower and Dual Heating System, this space heater maximizes heat distribution by warming a space rapidly to a suitable temperature while emitting just 39dB of noise.
It is approved and certified for use in the home and assures the highest level of safety. This space heater is safe to use around pets and children, and it only feels warm to the touch with no exposed heating components that may cause fires.
There are three heating modes, which are energy-saving Auto Mode, as well as high and low settings. When set to Auto, the device will toggle on and off and adjust between high and low mode settings to maintain the appropriate temperature.
It utilizes infrared heating, which heats items in the room to make you feel warm. It delivers optimum energy efficiency and warmth by heating only the objects in the room rather than the air.
The heater does not dry out your skin like convection heaters that blast out hot air to deprive the air of moisture. That is due to its cutting-edge technology that helps to maintain air moisture in a particular place.
If you use this space heater instead of a traditional heating system, you might save up to 50% on your electricity bill.
With this unit, you will have peace of mind while asleep, knowing that your heater is superior in safety, thanks to its automatic shut-off overheat protection and tip-over protection features.
Dr. Infrared space heater can warm a room faster than a similar heater with a higher price tag in side-by-side testing with the same starting temperature. It can provide up to 60% more heat than typical 1500-watt heaters.
Two heaters can have the same wattage but do not produce the same quantity of heat. Wattage represents the quantity of electricity required to power the heater and not the amount of heat it offers.
It is the first heater with a dual heating system for optimal heat transmission. It integrates the energy efficiency of infrared heating with the comfort of convection heating to quickly and comfortably warm your space without hot and cold patches.
Dr. Heater employs a cutting-edge 7-inch blower that creates higher pressure and transports high air volume at a lower speed while producing minimal noise.
There are three power options available: Low 1000W, High 1500W, and Auto modes.
The automatic energy-saving mode enables you to select your preferred temperature between 50 and 86 degrees Fahrenheit.
It automatically chooses between the two settings based on the temperature of your room. The thermostat controls the heater, causing it to toggle on and off to maintain the desired temperature.
You can program the heater to operate continuously on low, high, or on a timer. 
To use the remote control, the user must first press the Power switch on the heater to activate its STANDBY mode. Then turn ON the heater by tapping the POWER button on the remote. The device must be on STANDBY mode before you can switch it ON.
Considering all the above-described features and functions, Dr. Infrared Heater is our top choice for the best space heater for a carpeted room. It is also the safest space heater for a carpeted room.
Specifications
Dimensions: 13 x 12.5 x 17 inches
Weight: 19 lbs
Timer: 12-hour programmable timer
Wheels: Yes
Noise Level: 39dB
Advance Blower: Yes
Thermostat: Yes
Overheat Protection: Yes
Tip-over Protection: Yes
Remote Control: Yes
Power Source: Corded Electric
Temperature Range: 50 – 860 F
Heating Method: Radiant
Heating Modes: 3 heating modes (Low, High, Auto)
Output: 5200 BTUs
Wattage: 1500W
Operating Voltage: 120V, 60Hz
Pros
An advanced dual heating mechanism
12-hours programmable timer
Whisper quiet
Room temperature LED display
High-Pressure and Low Noise Blower
Easy push-button controls
Features a rapid heat transfer rate and maximum comfort
An adjustable thermostat with different setting modes
Remote control for easy operation.
Cons
Users Feedback on Dr. Infrared Space Heater
Positive Reviews
1. Low fan noise
According to several users, Dr. Infrared space heater has a modest fan noise, but it is a quiet heater compared to other similar models.
One user reported that he didn't have to raise his TV volume while this heater was running, making it a rather inconspicuous heater in your room when trying to relax or sleep.
Some users admitted that they expected it to make a lot of noise but were shocked to realize that it only emits a regular white noise that does not their sleep.
2. Portable and easily carried around
Dr. Infrared space heater gets excellent remarks for size because it is compact and comes with wheels, making it easy to handle and transport from one place to another. Several users appreciated the wheels because you can use them in one room and then wheel it to the next.
3. Rapid heat transfer
In terms of heating time, users report that it heats the room quickly, offers a smooth, non-dry heat, and is safe to keep it running throughout the night. It heats a medium-sized room so well to keep it warm.
4. Durable and worthwhile
Several customers also commended the durability of this device, saying that it works efficiently. The body is cold to touch while operating and made of high-quality materials.
5. Easy to use
The majority of customers appreciated the easy-to-use control buttons. Since the remote control has a good range, you can conveniently operate the device even from a distance using the buttons and remote.
6. Multiple safety features
Several satisfied users consider this appliance as one of the safest space heaters. You may use it without fear of a fire disaster because of the advanced safety features like overheating protection, tip-over safety, thermostat, and timer control.
7. Maintains a stable temperature
Some customers also mentioned the ability of this unit to control the temperature automatically. When it reaches the desired temperature, it will automatically switch off and only turn on when the heat level falls below the specified value to maintain the settings.
Negative Reviews
1. Melted plug and cord
Some buyers of this product complained about the poor quality of the plug and cord, which might cause a fire. One of them stated that he operated the heater for a few moments before it stopped working.
When he examined it, he discovered that the plastic around one of the three prongs had melted, thus affecting the outlet and cable.
2. Not for large rooms
Few customers were dissatisfied with its heat output, which is insufficient to properly heat a large room even when you leave it running all day.
4 More Top Rated Space Heaters for Carpeted Rooms
1. Dreo Portable Space Heater
Quiet, Fast & Portable Space Heater
 With its effective heating, energy-efficient performance, and quiet breezes, this compact and powerful space heater sets the standards for heating the home. It keeps the house warm and comfortable on cold days with different customizable alternatives.
The Dreo space heater uses innovative ceramic heating to rapidly heat a room in 2 seconds and take you back to summer.
It features three heating modes ranging from 900W to 1500W and provides personalized and pleasant warmth to your carpeted room, workplace, bedroom, or living room while being energy-efficient.
It is quiet with a noise level of 40dB when running. This space heater employs Dreo's unique ObliqueAirlow Technology, which considerably minimizes the airflow noise passing through the fan wheel to deliver warm breezes that are 11% quieter than typical space heaters and provide long-lasting warmth for your work and sleep during winter.
It has several built-in safety measures such as V0-rated fire-resistant materials, a tip-over switch and overheats prevention sensor, an automatic shut-off feature after 24 hours of inactivity, and other ETL-certified features. These are the answers to your questions about the device's safety.
The LED display and panel provide a range of features such as a thermostat, mode, timer, oscillation, and mute options, providing configurable options and maximum flexibility.
The 70° broad oscillation helps the heat cover large areas. The timer will automatically put off the heater at the specified time, allowing you to get a decent night's rest while saving money on your energy costs.
Its 60-second auto-off display and mute function will let you sleep peacefully in heated comfort.
You can operate the heater from your sofa or bed using the remote control, which has all the capabilities with a 26-foot control range. When moving the unit from one location to another, the concealed handle at the rear comes in handy.
Dreo ECO mode regulates its power between 900 and 1500W, according to the ambient temperature, combined with a 41-95°F thermostat in increments of 1°F, to maintain the right temperature for your carpeted room and save money on heating expenses during the cold days.
Pros
Quiet and gentle operation
Features a 12H Timer mode
Embedded with a memory function
Multiple safety functions
700 wide oscillation to cover a large area
Easy to carry around
Instant heating and even heat distribution
It saves energy.
Cons
It emits an unpleasant odor while heating.
2. Space Heater with 70° Oscillation
Best for Small Spaces
This small and powerful space heater will keep you warm in winter. With ceramic heating components and 1500W of power, you will enjoy soothing warmth in seconds.
It has a broad 70° oscillation and delivers a 20% wider heating range that warms from side to side to expand the heat distribution range for balanced warmth. It is an excellent choice if you desire rapid heating for your workplace, living room, and bedroom.
This space heater is ETL-Certified for safety, with built-in smart tip-over and overheat protection, a 12-hour timer, and V-0 flame retardant material, making it a safer personal warmer.
It rapidly warms to 70°F and has a rated power of up to 1500W, thanks to the innovative PTC ceramic heating. You can choose from the two heating modes: high (1500W) and low (900W), which may depend on your needs.
A remote controller makes it simple to operate the portable space heater. You can also alter and view the current setting on the LED display. It is designed with an easy-to-carry concealed handle on the back, allowing you to pick it up and transport it to anywhere you may need it.
It saves energy with the Smart ECO mode that automatically changes the heating setting based on the ambient temperature. This electric heater can help you save money on your energy bills while keeping you warm.
The digital LED display panel makes it easy to select the settings and turn them off automatically after two minutes. You can also put it off manually by pressing and holding the oscillation button for 3 seconds.
Its whisper-quiet operation with a noise level of 40dB will keep you focused whether you are at work or sleeping at night.
Pros
Easy to control
2-seconds rapid and effective heating
It is energy efficient
It has a wide heating range
Advanced safety features
Programmable thermostat
Efficient heat distribution
Quiet operation
Portable and compact
24hr automatic off function.
Cons
Not suitable for large areas.
3. Pro Breeze Space Heater
Best Price
This Pro Breeze's 1500W Mini Ceramic Heater has industry-leading ceramic heating elements for ultra-warm heat transfer in confined areas.
It has innovative ceramic heating components that deliver quicker and more energy-efficient heating than a standard electric space heater and has a noise level of 58dB.
The ceramic fan heater will emit a stream of warm air at the flick of a button, swiftly and efficiently heating the space in front of the heater and circulating it in the area.
It offers an efficient heating power and heating modes of 750W (Low) and 1500W (High), with a soft fan-only setting. You may save money on energy bills by utilizing this energy-efficient unit to warm certain rooms instead of heating your entire house.
This portable heater has an easy-to-use, fully adjustable thermostat control that monitors the temperature of the surrounding air to ensure maximum heating efficiency.
The overheat protection and anti-tip over switch will automatically shut off the heater in an unsafe situation to give you peace of mind.  
Due to its lightweight and portable design, you can transfer it to wherever you need it most, making it ideal for homes, offices, and garages.
Pros
It is portable, compact, and lightweight
Super-fast and powerful warming
Adjustable thermostat
Advanced safety features
It is durable
It features three heating modes.
Cons
4. PELONIS Ceramic Space Heater
Energy Efficient
Ceramic heaters are very effective radiant electric heaters. With an efficient ceramic heating technology, this device can swiftly heat up to 70°F in 3 seconds and maintain a constant temperature. It is an excellent heating appliance in the winter.
It comprises high-quality, cool-touch fire-resistant material designed for your safety. It has a US standard socket that may be plugged directly into an outlet without an extension cable or adapter. It also features tip-over and overheating switch protection.
This tower heater has three heating modes (High, Low, and ECO) for customized temperature settings with maximum efficiency and warmth. The ECO mode automatically saves energy based on your current temperature.
This silent electric heater with an operating ambient noise of 50dB has a remote control, touch control, an 8-hour timer, and oscillation. It is suitable for a carpeted room due to its safety functions like tip-over protection and overheating safety protection features.
It has a sleek design that will blend with the interior decoration of most homes, making it appear more appealing and pleasant. There is a carry handle on the back to easily transport it from one section of the house to another.
The easy-to-use digital panel on the top of the heater allows you to select the function you want without kneeling. You may also use a remote controller to control the heater from 20-feet, which is quite convenient.
It includes a protective shield made of high-quality material to evenly distribute heat energy and prevent children from sticking their fingers into the heater.
Tower heaters are often easier to maintain than radiators or heating stoves since they can be easily assembled or disassembled for cleaning. 
Pros
Features three heating modes
It has a carry handle for easy maneuverability
Programmable thermostat function
Multiple safety protection
Fast heating and steady temperature
It is user-friendly with easy controls
Eco mode automatically adjusts power to save energy.
Cons
Inferior quality controls
It is pricey.
How to Choose the Best Space Heater for a Carpeted Room?
Let's check out the factors you must consider before buying the best space heater for a carpeted room.
1. Safety

Space heaters are a common cause of household fires, so choose one with additional safety measures to limit risk. Manufacturers have innovated automatic shut-off features that activate when a device overheats or tip-over accidentally.
Furthermore, several models include external enclosures that keep the device cold to the touch. Some models even include motion sensors that turn the warmth off automatically when a pet or child gets too close to it.
Some of the safety features are:
Tip-over Shut-Off Feature
Every space heater for a carpeted room must include a tip-over shut-off feature. It is a spring-loaded pin on the heater's bottom.
When you position the space heater on the floor, carpet, or hard surface, the post is depressed, and the unit begins to heat. When the appliance is flipped over or lifted, the spring pushes out the pin, causing the shut-off mechanism to engage.
The shut-off button may not depress if you have thick carpeting. Instead of taping down the pin, you can place a hard and fire-resistant item on the carpet, then position the space heater on it.
A flat baking sheet, for example, is ideal. Although most people use a space heater on a wooden floor, we don't encourage it. To be on the side of safety,  non-flammable materials such as metals are preferable to wood.
All space heaters in this review come with the tip-over shut-off feature, which is vital for a carpeted room space heater. 
Overheating Shut Off Function
Some space heaters do not have this feature, but the majority do. If you must use a space heater in a carpeted room, go for the ones with overheating shut-off mechanism.
Temperature sensors are standard features on units with overheated shut-off protection. If the sensor detects an excessive temperature that is not ideal for safe heating, the space heater will turn off automatically.
You should stop using your space heater if you notice that the thermostat is no longer working and the device continues to heat even after the space is quite warm.
We took the time to select the best space heaters for a carpeted room to ensure that they all have the overheating shut-off protection feature.
2. Certification for Safety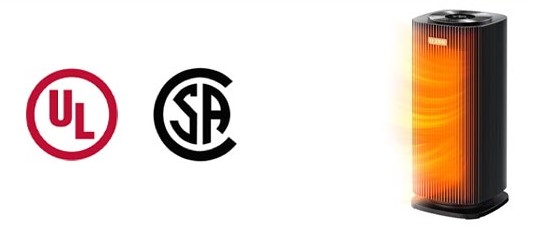 The space heater should be certified and approved by a reputable independent testing body. The testing shows that the product has met the universal safety requirements and is safe for use when operated properly.
Look for certifications from UL, ETL/Intertek, CSA International, or other affiliated bodies.
Also, look for the letters NRTL on the space heater box if you want peace of mind in your purchase. It implies that the model has been evaluated for safety by the Nationally Recognized Testing Laboratory. These units are approved and certified by the relevant authorities.
3. Heating Needs

As a general guideline, choose a space heater that produces 10 watts of power per square foot. For example, a 1200W space heater will heat a 10-by-12-foot area. A big room may require up to two space heaters to maintain a stable temperature.
Other factors that may influence the effectiveness of a space heater include the height of the ceiling, the number of windows, the insulation factor of the outer walls, and the accessible outlets.
While higher-wattage heaters provide more heat than the lower-wattage models, electrical outlets play a role in their capacity.
If a conventional 110V electrical outlet only supplies 1500W of electricity, the 1500W is the wattage limit for any equipment connected.
Although these units have a maximum wattage of 1500W, Dr. Infrared space heater outperforms other units on this list with an Advanced Dual Heating System that combines Quartz Infrared Element and PTC heating element to offer more heat to keep you warm.
4. Energy Efficiency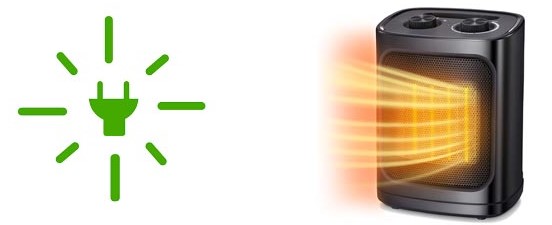 One of the primary benefits of using a space heater is to save money on electricity bills.
However, unlike many other appliances, space heaters do not need energy testing by the Environmental Protection Agency (EPA), nor do they receive Energy Star ratings, so consumers looking to save money should choose the most efficient model.
Infrared space heaters are the most energy-efficient, using up to 10% less energy than space heaters with blowers and coils. Dr. Infrared and Pelonis space heaters are the most energy-efficient units since they use radiant or infrared heating methods, which consume less energy.   
5. Noise Level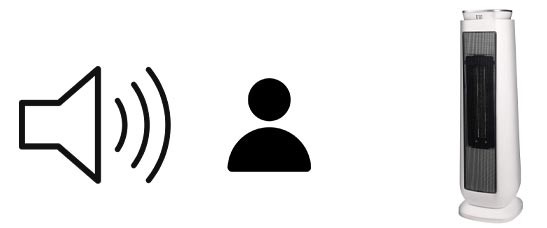 Space heaters are one of the quietest home appliances. Radiant heat space heaters, whether infrared or oil-filled, are practically silent. Traditional space heaters with fans produce an average sound level of 35 to 45dB, comparable to a mild indoor conversation.
Dr. Infrared space heater is the quietest unit on this list. With a noise level of 39dB, it is almost noiseless.
Comparison of Top Space Heaters for a Carpeted Room
Final Words:
Before purchasing the best space heater for a carpeted room, ensure that you understand what heaters you can use on the carpet clearly using the information we provided in this article.
Also, read and follow the instructions and guidelines provided by the manufacturer in the manual to use the space seater on carpet safely.
TOP RATED PRODUCTS FOR HOME