Everyone knows that most consumer electronics are susceptible to water damage. However, not many people recognize the dangers that dust can cause to their electronic appliances.
Dust settles, accumulates, and can ultimately impede the smooth functioning of your digital devices. Everything from your PCs to game consoles can suffer from the problems caused by dust buildup.
One of the best ways to keep your electronics dust free is by using an electric air duster. These devices work by thrusting air out of a nozzle at high speeds to displace dust.
Now you may be wondering, "What is the best air duster to keep my electronic gadgets dust free?" Here, we have reviewed 5 of the best air dusters for electronics. You should select the model that is most appropriate for your requirements.
Top 5 Best Air Dusters for Electronics
1. Metrovac Computer/Electronics Air Duster
Overall Best Air Duster for Electronics
If you have valuable electronics that you wish to keep dust-free, you will want to invest in this Metrovac electric air duster.
The device is super well constructed and is extremely effective at dislodging caked-on dust and debris. It works great at removing dust from digital devices such as PCs, laptops, keyboards, and game consoles.
This Metrovac air duster is fitted with a robust 500 watts motor and rated 0.75 HP for its capability to push out air. The unit is shipped with adaptable nozzle attachments so you can easily clean those difficult-to-reach areas of your electronic devices.
These attachments are not only durable but ESD-safe as well. Since the attachments are ESD-safe, you can be certain that they will not dissipate nor hold any static electricity.
The major drawback of this product is that it is extremely noisy during operation. Thus, it is not a good idea to use the air duster around children below the age of 5 or pets. You also do not want to run the unit at night if you have closeby neighbors.
The Metrovac Computer/Electronics Air Duster also tends to heat up after a bit of use. But this is to be expected from such a heavy-duty machine.
Nevertheless, the heat is not such a big issue and the air duster comes with a large sturdy plastic handle. This handle also feels very comfy and lightweight so you will have no problem working with it.
The air pressure that comes from the nozzle of this device is a bit less compared to that of canned air.
However, you will find that the air that comes out of its nozzle is more than sufficient to meet your electronic dusting requirements. Furthermore, the unit is reusable and is thus more cost-effective over the long term.
The Metrovac Computer/Electronics Air Duster ships with the air-flare nozzle, air-pin pointer, concentration nozzle, plus an extra dust brush attachment. Also included in the package are a grounding wrist strap and one grounded power supply cable.
Pros
Durable construction
Offers excellent value for money
Comes with 4 adaptable nozzle attachments
Highly effective at dusting out electronics
Comfortable and lightweight handle
Cons
Tends to get hot during use
Noisy
Somewhat pricey
User Feedback & Review on Metrovac Computer/Electronics Air Duster
Most previous buyers of the Metrovac electronics air duster describe the product as a great canned air alternative.
Some users even say that the device is immensely more efficient and versatile compared to canned air. Most of these users note that the product is more eco-friendly and can work for many years without needing to be replaced.
Several users rate the air duster high because of the adaptable nozzle attachments included in the package. These customers report that with the attachments, they can maneuver into hard-to-reach areas of most electronic gadgets to dislodge dust.
Most users of the Metrovac electronics air duster agree that the unit is well built and lasts a long time. Some users report that the device lasted for well over 3 years.
The major complaint from users of the Metrovac electronic air duster is that the device makes massive noise during operation. Most of these users report that using the unit outside makes the noise more tolerable.
Some users have also complained about the unit getting overheated particularly when the smaller nozzle attachments are being used. Several of these customers report that they were able to get around this problem by not using the air duster for more than 60 seconds at a time.
Some owners of the electric air duster have also complained about its high price noting that it is comparatively costlier than many other models on the market. These customers however agree that the product delivers excellent value for money.
2. EasyGo CompuCleaner 2.0
Best Air Duster for Computers/PC
The CompuCleaner 2.0 air duster from EasyGo Products is specially designed for removing dust on any PC component outside or inside. The unit blows a direct and constant high-velocity air stream to dislodge dust particles from any section of your home or office.
The air duster comes with attachments that make it easy to clean any type of computer as well as difficult-to-reach areas.
You can also use this air duster to clean your other valued electronic devices. Several previous buyers report that the included attachments allow for easy cleaning of devices like cameras, medical equipment, copy machines, and so forth.
The air duster features a robust 500 watts motor and utilizes 4.5 amps of electrical current to deliver a steady airflow of about 70 CFM. To use the device, you have to continuously press/hold the power switch. The unit turns off automatically once you release the power switch.
The air duster runs on 120 volts of electricity and the unit does not need to be recharged. Thus, all you need to do is plug the unit into an AC outlet and it will give you high-pressure air instantaneously.
The unit has a high and low power setting that is suitable for various dusting tasks. The high power setting is more appropriate for eliminating dust from your PC's motherboard, power pack, and fan.
The EasyGo CompuCleaner 2.0 has a lightweight build and is very easy to use. The device weighs a mere 1.8 pounds and comes with an extra-long 9-foot power cable. This means you can maneuver around easily in your workspace without entangling the wire.
The major concern with using compressed canned air is that you end up generating high amounts of waste. CompuCleaner 2.0 is highly eco-friendly and a cost-effective substitute for canned air.
Pros
Easy to use
Strong and effective air duster
Lightweight design
Eco-friendly
Delivers high-pressure air for dusting PCs
Cons
Heats up during operation
A little loud
3. DataVac Air Duster
Best Air Duster for Game Consoles
This MetroVac air duster comes with enough power to keep your electronic gadgets dust free. It is an older version of the Metrovac Computer/Electronics Air Duster which was reviewed earlier.
It comes with the same robust 500 watts motor plus a 0.75 HP rating for its capacity to push out air. The major difference between the two is that the older version does not feature the anti-electrostatic discharge covering that the newer model has.
This DavaVac air duster comes with three distinct nozzles – an air-flair nozzle, a concentration nozzle, plus an air-pin pointer. You will also find a micro-cleaning tool kit within the package.
The air-pin pointer works much similar to a can of compacted air with the exception that it features a flexible stem. This flexible stem can be utilized to deliver high-velocity air to difficult-to-reach corners in gaming consoles like Playstation and Xbox.
This electric air duster has an aperture with a foam filter on its underside. This foam filter works to ensure the device does not blow the same dust-laden air straight back into your gaming console or other electronics.
Thus, you should clean this filtration system after every few uses. You should also replace it as soon as it begins to break down.
The DataVac Air Duster comes with a few downsides. To start with, it tends to get hot after you have been using it for a few minutes. This should not be a big issue because cleaning a gaming console or any electronic device with this device should take not more than 5 minutes.
Also, the unit features a durable plastic handle that helps alleviate any uneasiness that the heat might cause during use. Be sure not to touch the unit's steel frame while using it.
The second major downside is that the unit is somewhat loud during use. Thus, you may want to use an earplug to protect your ears while using the unit.
You can also perform the dusting task outside to reduce the noise level. Overall, the DataVac air duster offers you an eco-friendly method to keep your gaming consoles and other electronics dust-free.
Pros
Robust all-steel build
Blows a powerful air blast
Comes with a range of beneficial attachments
No charging time
Environmentally friendly
Cons
Tends to overheat
Very noisy
4. Sin Shine Compucleaner 3.0
Best Air Duster for Laptops
This small but powerful air duster works great at removing accumulated dust from laptops and other digital devices.
It has a vigorous 550 watts electrical motor that supplies a 67 MPH max air force. This airspeed is precisely what you will get from a container of compressed air. The compucleaner 3.0 thus has enough power to remove stubborn dust, scraps, and crumbs from your laptop computer.
The product has a light that illuminates the area you are cleaning. This light will come in handy when you are dusting your electronic device in a poorly illuminated room.
The air duster comes with 3 different nozzles that you can use for different parts of your laptop. The nozzle with the narrowest opening is the most suitable for dusting your laptop. The nozzles with wider openings work better for cleaning out clogged pipes or drying damp items.
A set of 3 cute brushes is also included in the package. You can use the brushes to first loosen encrusted dust on hard-to-reach areas of your computer.
The brushes are sufficiently strong to remove caked-on dust but they will not scratch any delicate components of your computer.
The Sin Shine Compucleaner 3.0 comes 10-foot power cord and weighs an insignificant 1.9 pounds. This means you can easily maneuver the device to clean all types of gadgets.
Aside from your computer, compucleaner 3.0 also works great for dusting medical devices, cameras, printers, and even blinds. To power the unit, you will need to press and hold the power switch. The unit turns off automatically once the power switch is released.
Most users of the Sin Shine Compucleaner 3.0 agree that the product is an excellent substitute for canned air. The product is environmentally friendly and reasonably priced.
Pros
Lightweight
Built-in lighting
Fantastic performance
10 feet sturdy cord
Easy to use
Cons
Lacks variable airflow control
A bit noisy
Tends to overheat when used for prolonged periods
5. Opolar Cordless Air Duster
Best Air Duster for Keyboards
Looking for something compact that can efficiently clean up your computer keyboard and other electronics? This cordless air duster from Opolar is your ideal match.
With its robust motor and impressive air speed, this device can easily eliminate dust from all the cracks and crevices of your keyboard.
This Opolar air duster model is a 2-in-1 device – a vacuum cleaner and an air duster. You can use the air blower mode to dislodge dust from even the narrowest sections of your computer keyboard.
To ensure the dust does not settle back on your device, you can use the suction mode to suck away the dislodged dust and dirt.
The unit comes with 2-speed settings (High speed: 77000 rpm, low speed 44500 rpm). This variable speed setting is beneficial when you want to increase or reduce the blower's wind velocity.
This unit is not as powerful as canned air. So, you may want to use only the high setting when dusting your keyboards or other electronic gadgets.
Included in the package are 3 multifunctional nozzle attachments for various applications. You will find one brush nozzle for the blower mode and another brush nozzle for the vacuum mode. The third one is a round nozzle that is specially designed for blowing out dust from computer keyboards.
The Opolar Cordless Air Duster has a 6000mAH rechargeable battery. According to the makers, the ability to recharge the battery means you can reuse the blower up to 5000 times.
This makes the electric air duster a superb and cost-effective alternative to air canisters. It will take nearly 3 hours to charge the battery fully. The unit will work for about 30 minutes with a fully charged battery.
Pros
Handy and portable
Rechargeable air duster
Robust 2-speed mode motor
Long-lasting battery
3 removable nozzles
Cons
Comparison of Top 5 Air Dusters for Electronics
Final Words: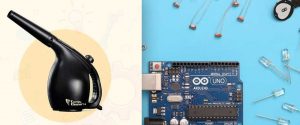 The benefits offered by electric air dusters are obvious. They are more powerful and more environmentally friendly compared to canned air. Also, they can be used for various purposes around the home or office.
The essential factors to consider when shopping for the best air duster for electronics are the motor speed, power source, adjustable speed, and nozzle attachments.
The options recommended here will do a great job of keeping your digital devices dust free.
TOP RATED PRODUCTS FOR HOME