Space Heater is one of the most vital appliances for people that experience severe winters. If you reside in an area where the weather is cold, you may have to integrate a space heater into your house.
Some of you may have carpets in your homes and they want to place a space heater on them. But may not be sure how to use it in safely.
In this article, we will explain the step-by-step process of how to use a space heater on a carpet. Before we start, there is some useful information we would like to share about the usage of space heaters on carpets.
In general, it is advisable to avoid using a space heater on the carpeted area. However, if it is avoidable, then, take additional care while purchasing a safe space heater to use on carpet.
How To Use a Space Heater on Carpet?
Before using this heater, read the manual provided by the manufacturer and take the necessary measures to prevent the danger of electric shock, fire, or injury.
Also, check if the manufacturer suggests the usage of any additional accessories, attachments, or extension cables, and follow the guidelines.
Follow the below described 20 Step procedure carefully to use the space heater on the carpet safely.
Step By Step Process of Using a Space Heater On Carpet [20 Steps]
When in operation, some parts of this heater will become hot. To prevent burns, avoid touching hot surfaces with bare skin. Furniture, cushions, bedding, books, clothing, and curtains should be at least 3 feet (0.9 m) away from the front grille, back and sides.
Take caution when using the heater near children or people with physical disabilities and when the heater is left unmonitored.
Do not use the heater if the cable or plug has malfunctioned or is damaged. Take the heater to a qualified service center for examination or repair.
For indoor use only.
Do not use it in the restrooms, laundry rooms, or other similar spaces. Never place the unit in a location where it might fall into a water container or bathtub.
Do not lay the cord beneath the carpet or cover it with throw pillows or mats. To eliminate tripping hazards, keep the cable away from traffic areas.
To disconnect the heater, switch off the controls and unplug the cord from the socket.
Do not insert items in the vent or outlet to avoid fire hazards, electric shock, or damage to the appliance.
Always connect to fully grounded outlets.
To avoid a fire, do not obstruct air intake or exhaust vents. Do not place it on soft surfaces, such as a bed, where apertures may be closed. Use the heater on a flat and dry surface.
A heater comprises heated and arcing elements. Avoid using the heater where flammable substances, gasoline, and paint are stored or used.
Only use the heater as directed in this guideline. Any other usage not specified by the manufacturer may result in a fire disaster or other unwanted circumstances.
Never attempt to clean this device while it is connected. Avoid submerging it in water. To disconnect it, switch OFF the control and remove the plug from the socket by holding and pulling it out. 
When not in use, always disconnect the heater from the outlet.
Always connect the heater to a wall outlet instead of an extension cable.
It is not abnormal for the plug and cable of the heater to be warm. A worn electric socket can cause a plug or cord to become hot or deform in shape. Before using the heater again, you should replace the worn outlet. Connecting this heater to a damaged outlet may cause the power cable to overheat and catch fire.
Check that the plug is connected firmly to the proper receptacle. Be aware that receptacles degrade with time due to constant use and other factors. Examine the plug regularly for signs of distortion and overheating. If it overheats or deforms, stop using it immediately and contact an Authorized Service Facility.
Examine the heater plug and cord connections. Overheated plugs or outlets are due to faulty wall socket connections or unsecured plugs.
Please check it regularly to see if your faceplate or plug outlet is hot. If it's hot, turn off the heater and have a competent electrician inspect and replace the faulty outlet.
After purchasing a space heater, install smoke alarms and gas detectors in your home, and test them regularly to ensure the detectors and batteries are functioning.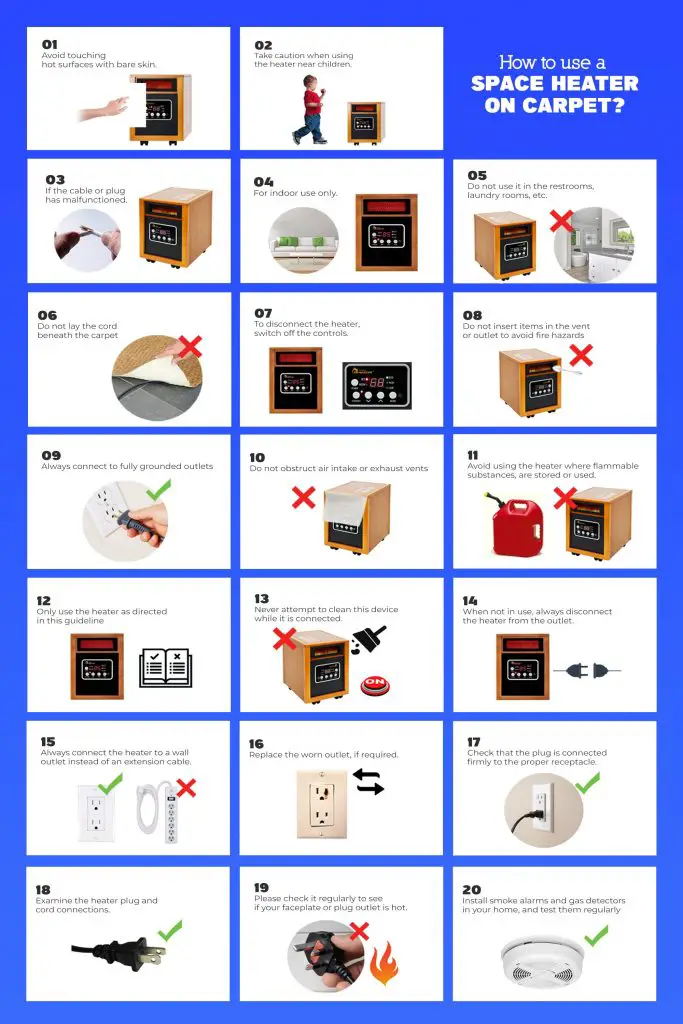 Precautions while Using a Space Heater On Carpet
This device is not for people (including children) with limited physical, mental, or sensory abilities or someone without the knowledge and experience unless they have been supervised or instructed on how to operate the appliance by someone responsible for their safety.
Final Comments:
If you have not yet decided on a suitable space heater to use in the carpet area of your home, we recommend you go with Dr. Infrared Space Heater. We found this is one of the safest space heaters to use on carpet.
The reality is that more than 80% of fires and injuries caused by space heaters are due to misuse rather than mechanical failure.
Hence, follow the above-described procedure and safety tips carefully to use a space heater on a carpet to avoid any unwanted incidents.