Pelonis is a brand that is consistent in the production and distribution of high-grade quality appliances that range from motors to fans, heaters and dehumidifiers is Pelonis.
The Pelonis brand has continued to establish itself as a leading innovator in the production of appliances for its loyal customers.
Pelonis dehumidifiers are produced with just one goal in mind; releasing a product into the market that is efficient in not only reducing excess moisture in the atmosphere to make for easily breathable air but also preventing the growth of mold on walls and furniture.
When it comes to being comfortable and relaxed in your home, there should be no compromise. There are several brands that may promise to provide you with the quality you need to achieve optimum comfortability, but not many are as tested and trusted as Pelonis dehumidifiers.
"Is Pelonis dehumidifier a good brand?" – Let's analyze every aspect of Pelonis dehumidifiers and decide. We will also check the popular pelonis dehumidifier reviews to help you make the final decision easily.
Who Makes Pelonis Dehumidifiers? [Evolution Of Pelonis Dehumidifiers]
Ever since the inception of the Pelonis brand in the mid-90s, they have been synonymous with top-shelf products and have continued to retain their customers by not compromising on quality.
From their head office in Exton, Pennsylvania, USA, to any of their local branches spread across the nation, their seal of approval is stamped on all their products, irrespective of the one you purchase. To further buttress this, every one of their facilities has been certified by ISO 9000 and ISO 14000.
From being a company without a name in the industry many years ago, to becoming a company known for its high-performance dehumidifiers that serve a wide range of needs.
Whether you need one for a small room in your home or a dehumidifier that is capable of serving large industries, this brand has got something for you.
Over the years, the manufacturers of this company have continued to comply with the strictest of policies that govern dehumidifiers like the EB, CUL, UL and TUV. The dehumidifiers produced by Pelonis could also be customized, depending on your specific need.
If you desire dehumidification in a work environment with the most unfriendly industrial conditions, you will require a dehumidifier that is equipped with more output power than an average dehumidifier for your home.
Is Pelonis a Good Brand for Dehumidifiers?
Pelonis has taken dehumidifiers to the next level. With their penchant for releasing only top-tier products, Pelonis has completely evolved the traditional idea surrounding dehumidifiers, but the essential function still remains.
In order to prevent the exponential growth of mildew and mold on the walls and ensure your environment is kept healthy at all times, Pelonis dehumidifiers are made with state-of-the-art technology that is second to none.
The dehumidifier contains a control panel that is simply easy to use. It helps you set and maintain a particular humidity level on your appliance, while you run it either manually or automatically depending on your personalized settings.
The exterior design includes 4 wheels attached to the base to make moving your dehumidifier from room to room in your home effortlessly.
You can also adjust the run time you want from your device with its control timer. There are other special indicators that inform you when you need to empty the water retainer or clean out the filter. 
Old customers may notice a slight change when comparing recent models with those from previous years.
Best Pelonis Dehumidifiers & Suitability [Considering All Pelonis Dehumidifier Reviews]
| | |
| --- | --- |
| Dehumidifier Model | Best suited for |
| PAD20C1AWT 20 pint dehumidifier | Ideal for smaller room spaces, basements and offices. Eliminates about 20 pints of moisture every day. |
| PAD30C1AWT 30 pint dehumidifier | Can be used in small to medium-sized rooms. Very effective in eliminating up to 30 pints of moisture every day. |
| PAD40C1AWT 40 pint dehumidifier | Very effective in medium to large-sized rooms, offices and living rooms. Capable of eliminating up to 40 pints of moisture from the atmosphere per day. |
| PAD50C1ABL 50  pint dehumidifier | Ideal for large living rooms, offices, basements, bedrooms etc. Can eliminate up to 50 pints of moisture from the environment every 24 hours. |
| PAD60C1AGR 60 pint dehumidifier | Effective for very large living spaces, bedrooms, bathrooms, offices, etc. It is capable of removing up to 60 pints of moisture every 24 hours. |
Most Popular Features of Pelonis Dehumidifiers
Here are some popular features of Pelonis dehumidifiers;
1. Bucket full indicator
How frustrating does it get using other dehumidifier brands and not being able to accurately tell when the bucket is full? You may try checking it periodically, but if there's no way to know for certain when the bucket is full, chances are you are going to encounter spillage.
This is why this popular Pelonis feature for its dehumidifier is so important. The indicator signals you when the bucket has reached its limit, and you need to empty it.
2. Auto timer
It is definitely not advisable to leave your dehumidifier ON throughout the night, or for very long hours.  This is because a dehumidifier working longer than it should lead to over-drying of the air causing respiratory difficulties. 
Pelonis dehumidifiers come with an auto timer feature that shuts off the device after a period of time.
3. Easy system for filter replacement
The filter system of this dehumidifier is easily detachable, in case you need to wash or replace the filters. It does not require any special skill as the steps are pretty straightforward and not at all time-consuming.
Although when it comes to general maintenance, you may require professional service, simple tasks like washing the filter can be carried out easily.
4. Auto defrost
In the case of the evaporator in your dehumidifier needing an anti-freezing mechanism, the pelonis dehumidifier comes equipped with a self-defrosting feature that allows for the easy defrosting of the evaporator from time to time.
5. Built in pump
One very common feature that is peculiar to the Pelonis dehumidifier brand is the addition of a built-in pump in all their devices. This built-in pump helps pump out the moisture that is extracted from the environment through a tube that is attached to a sink, or out the window.
Problems Reported from Pelonis Dehumidifier Reviews
Although this brand is synonymous with quality, there are some general issues that you may encounter while using any Pelonis dehumidifier model.
Occasionally spills water on the floor.
Devices may occasionally blow out hot air, thereby raising the temperature in the room.
Some users have complained that bucket indicators on older units may sometimes indicate the bucket is full when it isn't. This may be as a result of water damaging the sensors.
Best Usage of Pelonis Dehumidifiers
Generally speaking, Pelonis dehumidifiers are great for areas with high levels of humidity like in cold regions. Next, we need to determine the perfect dehumidifier placement in our homes in order to get the best results.
If you live in a duplex, it is most likely that you will need a powerful dehumidifier upstairs than you would downstairs.
This is as a result of certain factors that vary between upstairs and downstairs, like temperature, floor space, height etc., The only exception to this rule is the basement.
Also, not all dehumidifiers can be used with any floor space.  The exact Pelonis dehumidifier model determines the dehumidifier you will need for particular floor spaces.
For example, the Pelonis PAD30C1AWT 30-pint Dehumidifier with a DOE rating of 30 pints per day is more suited for larger spaces than the PAD20C1AWT 20-pint Dehumidifier with a DOE rating of 20 pints per day.
Highlights of Pelonis Dehumidifier Specifications
1. Capacity of the dehumidifier by DOE rating
This is a rating system used by the United States Department of Energy for dehumidifiers in order to determine their performance ability. The capacity of any dehumidifier is the amount of water that the dehumidifier can eliminate from the atmosphere per day.
So for larger rooms with more moisture in the air, you will require a dehumidifier with a high DOE rating. Pelonis dehumidifiers offer good DOE ratings.
2. Power supply
Pelonis dehumidifiers typically receive power supply from an electric source. This supply of power, depending on the voltage will determine the output capability of your dehumidifier.
You do not need to worry about excess power consumption as each product comes equipped with a low and high setting depending on your immediate needs.
3. Noise level
Pelonis dehumidifiers are relatively quiet and do not distract you while running. On average, Pelonis dehumidifiers have a noise level of 52 dBA on high setting and 50 dBA on low setting.
This relatively quiet feature also comes in handy if you have an infant in your home. You also do not have to worry about disrupting your sleep when your dehumidifier comes on.
4. Control type
The control system in Pelonis dehumidifiers is mostly electronic and so is much easier to operate than the ones from other brands that include manual forms of control.
Electronic controls are more effortless and do not require you to be in close proximity to the unit to control it.
5. Auto shut off
For most modern dehumidifiers, the auto shut-off feature has become very common. Pelonis dehumidifiers are not left out. The manufacturers have included a timer and an auto shut-off mechanism that completely shuts off the entire unit when the timer runs down.
How Much Area Do Pelonis Dehumidifiers Cover? [Coverage]
Quite simply, dehumidifiers with higher DOE ratings cover larger room square footage. To be able to determine which Pelonis dehumidifier model will be good for your home, you first need to measure the square footage and then select the appropriate dehumidifier.
Here's a shortlist of the different models and their appropriate square footage.
Pelonis PAD20C1AWT 20 pint dehumidifier – 1,000 square feet.
Pelonis PAD30C1AWT 30 pint dehumidifier – 1,500 square feet.
Pelonis PAD40C1AWT 40 pint dehumidifier – 2000 square feet.
Pelonis PAD50C1ABL 50 pint dehumidifier – 2000 to 2,500 square feet.
Pelonis PAD60C1AGR 60 pint dehumidifier – 2,500 to 3000 square feet.
How Long Do Pelonis Dehumidifiers Last?
The lifespan of a Pelonis dehumidifier is often subjective. It often depends on the frequency of usage, how well it is being handled, and a host of other factors.
This is why it might be a little difficult to correctly determine how long your product will last. On average, however, a Pelonis dehumidifier can last anywhere from 5 to 10 years.
It is important to note that the manufacturers offer at least 12 months warranty on any of their products.
Pelonis Dehumidifier Customer Service and Support
This is an important aspect of purchasing. It is absolutely necessary for brands to maintain good customer support after-sales.
For Pelonis dehumidifiers, the 12-month warranty offered by the manufacturers is a good start.
This warranty will cover any manufacturing faults in any individual part of the unit.
In addition, the company offers a very "quick to respond" customer service that caters to any need or questions you may have after purchase.
Price of Pelonis Dehumidifiers
Pelonis dehumidifiers cost anywhere from $150 to about $500 depending on the model you intend to buy.
Running Cost of Pelonis Dehumidifiers
The cost of running your dehumidifier will include electricity cost, cost of filters and the replacement of any other part of the unit,  over the course of usage.
Electricity, however, is the most frequent running cost for most appliances. Luckily, dehumidifiers do not consume so much electricity. High energy consumption equates to a higher electricity bill.
When we look at appliances on a grand scale, dehumidifiers are known to consume less energy in the process of extracting moisture.
On average, it will cost you around $0.05 to $0.16 to run your Pelonis dehumidifier every hour.
That means that it will cost you somewhere around $1.2 to $3.84 to run your dehumidifier every day.
This cost value is not fixed, however. There are 3 main factors that will determine the gross electric cost of running your dehumidifier in your region;
Average cost of electricity in your region.
Number of hours in a day that you run your dehumidifier.
The wattage specification of the dehumidifier.
Top 5 Popular Pelonis Dehumidifier Reviews
1. Pelonis 20 Pint Dehumidifier Review (PAD20C1AWT)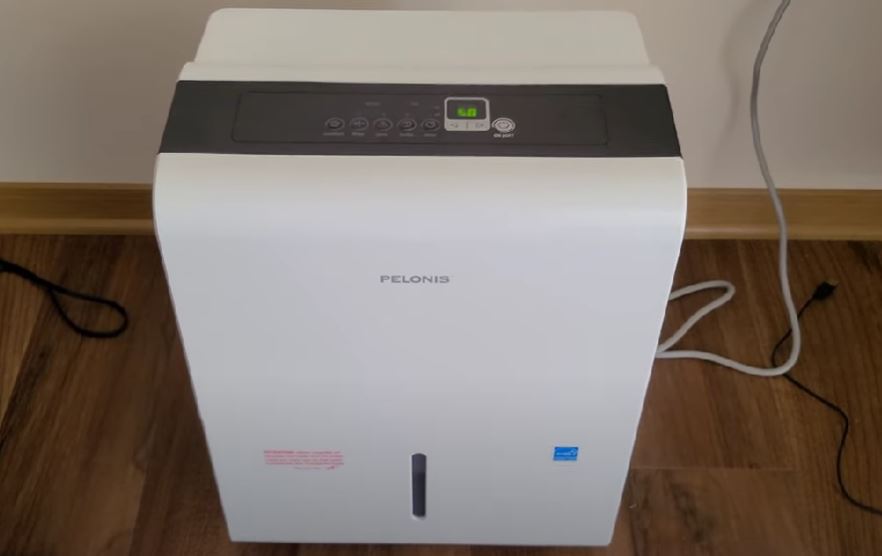 The Pelonis PAD20C1AWT 20-pint dehumidifier is a great dehumidifier efficient at removing moisture or preventing moisture damage. In addition, this Dehumidifier can assure you comfort in a less suffocated or damp space. 
This Dehumidifier has an adjustable digital humidistat to cycle on and off and maintain the perfect humidity level between 35% to 85% in 5% increments with noise levels between 49 to 53 decibels.
This gives it superior climate control. It uses a washable and reusable filter at the back of the air grilles to filter the space of dust, impurities, and pathogens in the air. In addition, it has an auto-defrost feature that thaws collected ice on the coils in a short time. 
The timer that comes with the unit lets you decide how long the 20-pint Dehumidifier will run, and you get the visual bucket full indicator, so you do not have to worry about annoying alarms. You can place this Dehumidifier on the floor and clean it after 250 hours of consistent usage.
The Pelonis dehumidifier is energy-star certified and is a great energy saver that reduces your cost of cooling bills.
It is smaller than other Pelonis dehumidifiers hence suitable for use in small homes with pets, basements, bedrooms, kitchens, living rooms, and other spaces not more than 1000 sq ft due to its compact design and minimal air grilles.
The filters in this unit can remove pet hair that causes nasal congestion and particles as small as 3 microns. In addition, with a fan that reduces the temperature so that your home will be free from insects.
This dehumidifier is best used for small damp spaces or corners due to its compact size and design with a strong plastic.
Specifications
Dimensions: 10.24 x 15.24 x 19.69 inches
Type: 20-pint Dehumidifier
Weight: 33.07 lbs
Power Supply: 270 W
Bucket Capacity: 6.33 pints
Operating temperature: 41°F
Auto Shutoff: Yes
Comfort Mode: Yes
Washable filter: Yes
Has a one-year warranty
 Pros
Saves energy
Can remove 20 pints of moisture from a room
You can adjust the timer
Has an auto-defrost feature for easy maintenance
Noiseless full bucket indicator
Easily moved with functional wheels
Easy filter replacement
Cons
Has a small bucket size
This unit does not function at a low temperature of 5°C
It can be quite heavy
No built-in pump
2. Pelonis 30 Pint Dehumidifier Review (PAD30C1AWT)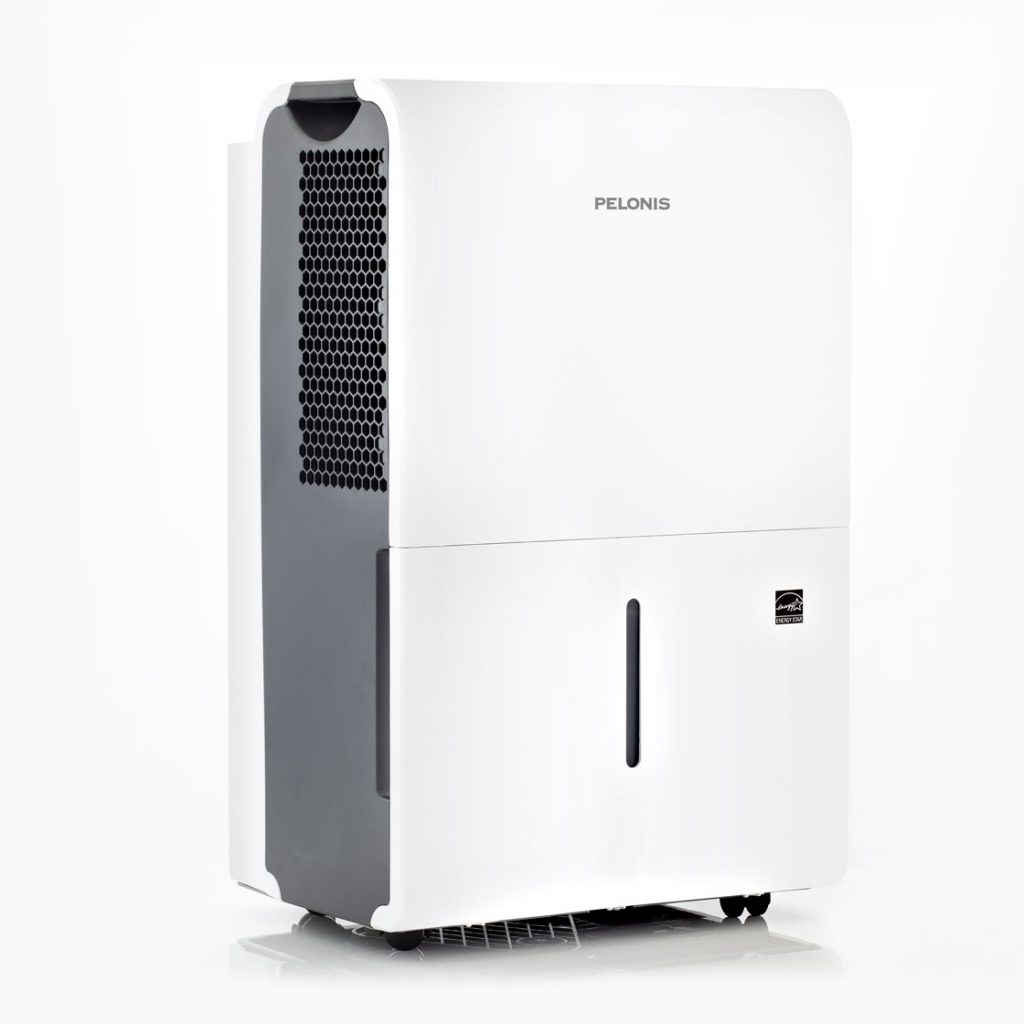 The Pelonis PAD30C1AWT 30-pint Dehumidifier can handle a space larger than the 20-pint Dehumidifier and absorb up to 30 pints of water. It is a cooling circuit and refrigerant condensation dehumidifier. It can clean the air and absorb the moisture in a 1,500 sq. ft room.
This Dehumidifier has a more compact build and water tank with a 6.3-pint capacity. This is relatively small for a 30-pint dehumidifier so you can attach a small hose to the drain outlet for continuous drainage, so it does not get messy.
You get a comfortable and clean space all year long. It also comes with an auto-defrost and bucket full indicator to know when you can empty the tank. A relay sensor monitors the fan's operation and detects the current humidity level. It has a 24-hour on/off timer. 
This Dehumidifier is energy star certified, with a 1.57 integrated energy factor. If the unit maintains the humidity levels at 35% for 24 hours, it will use 6kWh.
The same functionalities on this Dehumidifier as the other Pelonis dehumidifiers, including the digital humidistat, timer, turbo mode, and a noise output between 49 to 53 decibels.
The control panel is touch operated with five buttons and a regulator for fine-tuning the gyrostat. It is reliable, quiet, productive, cheap, and easy to set up and operate.
This Dehumidifier can be used in homes with pets, basements, offices, and domestic and commercial kitchens because of its large moisture capacity and reusable filters. It should be cleaned after 250 hours.
This unit is best used in slightly larger rooms but is unsuitable for crawl spaces due to its non-compact design.
Specifications
Dimensions: 10.24 x 15.24 x 19.69 inches
Type: 30-pint Dehumidifier
Weight: 33.93 lbs
Power Supply: 330 W
Bucket Capacity: 6.33 pints
Operating temperature: 41°F
Auto Shutoff: Yes
Comfort Mode: Yes
Washable filter: Yes
Has a one-year warranty
Pros
Can remove 30 pints of water from a 1,500 sq. ft room.
Automatically removes ice crystals on the coil so the Dehumidifier can work efficiently.
Has a reusable filter that retains 99% of impurities
Built-in timer for 24 hours
Uses a low amount of electricity
Extractive exterior design
It can be moved around with wheels
Cons
Has a small water tank
No built-in pump
No backlighting of buttons at the top
3. Pelonis 40-pint Dehumidifier Review (PAD40C1AWT)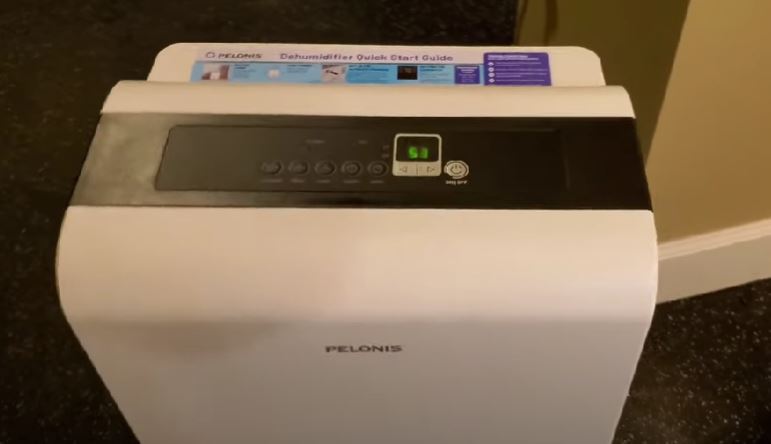 The Pelonis PAD40C1AWT 40-pint Dehumidifier tackles the rapid growth of mold, fungi, and accelerated corrosion of metal appliances by absorbing about 40 pints of moisture from the air in a 2000 sq. ft room.
Unfortunately, this moisture is enough to damage your wooden furniture, and dark, humid corners in your home can become breeding grounds for harmful micro-organisms. 
You can use this Dehumidifier to eliminate allergens or toxins in the air and odors. This third variation of Pelonis dehumidifiers has a gyrostat that keeps humidity between 35% and 85%.
While it shares similar characteristics with the other Pelonis dehumidifiers, this 40-pint Dehumidifier has a continuous drainage system but no built-in pump. Hence, does not require a bucket for draining.
It uses a fan to blow air into the evaporators for water extraction and then returns while maintaining uniform pressure throughout all areas. The Dehumidifier is Energy Star rated. This is great for reducing the cost of your electricity bills.
The control panel has two 7-segment LEDs and two quasi-sensor buttons for digital value selection. The 4-point led indicators and the power button can also be found on the control panel. The unit has a pleasing design and is easy to operate.
To ensure that this Dehumidifier keeps running efficiently, wash the filter with soapy water and dry it after 250 hours of consistent use. The Dehumidifier has a larger bucket capacity of 12.66 pints which is enough to handle the water absorbed from a large space.
The strong plastic, powerful filters, and air grilles make this 40-pint Dehumidifier useful for commercial areas, large rooms with pets to avoid nasal congestion, basements, offices, garages, and storage units.
Specifications
Dimensions: 11.10 x 15.43 x 24.25 inches
Type: 40-pint Dehumidifier
Weight: 42.33 lbs
Power Supply: 545 W
Bucket Capacity: 12.66 pints
Operating temperature: 41°F
Auto Shutoff: Yes
Comfort Mode: Yes
Washable filter: Yes
Has a one-year warranty
 Pros
Automatically maintains the desired humidity level
Saves energy
Automatic defrosting to improve the lifespan of the Dehumidifier
Has a compact design
Saves the set functions in case of power failure
Full bucket indicator
Available option for continuous drainage
A 24-hour timer for automatic on/off
 Cons
The device can blow out hot air, which causes discomfort
The fan creates noise
No built-in pump
Not a budget-friendly dehumidifier from Pelonis
4. Pelonis 50 Pint Dehumidifier Review (PAD50C1ABL)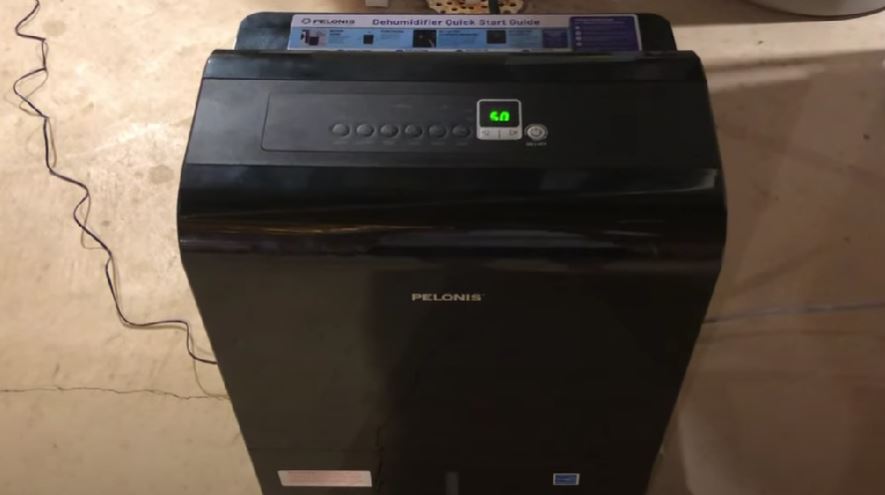 The Pelonis PAD50C1ABL 50-pint Dehumidifier is a more high-range dehumidifier from Pelonis. It is designed for effortless operation to help you adjust the humidity levels in the room.
You can use the control panel also present in other dehumidifiers to set the desired humidity level and allow it to operate automatically or manually.
This Dehumidifier has a powerful filter, a fan, adaptable air grilles and a built-in pump for use in living rooms, grottoes, and greenhouses. Since it is a large unit and a cooling system, it is best used in greenhouses.
It can absorb up to 50 pints of moisture from a 2000 sq. ft room with a bucket capacity of 12.66 pints. It has a complete cooling circuit with an R410a refrigerant to speed up the condensation process.
It uses both continuous and manual draining systems. You can attach a hose to the draining outlet to use the continuous draining system, but it also has a built-in pump. A feature not found in other Pelonis dehumidifiers.
The digital humidistat is used to adjust the humidity level between 35-85%. This Dehumidifier also has EasyMove for quick setup. In addition, the auto timer and other Dehumidifier features have made it possible for the machine to function without any intervention.
The body of this 50-pint Dehumidifier is made of plastic, and the side grilles are made of metal. The refrigerating circuit is protected with special softening inserts.
The unit will automatically shut down when the built-in tank is full or when the built-in filter capacity is reduced. You will not worry about extra electrical bills despite the additional features as the unit has an Energy Star rating. If the unit is set to a 50-69% humidity level, it will use only 1-2kWh per day.
The noise levels of this unit usually range between 49 to 53 decibels, with the highest noise level for turbo mode. In addition, this unit has an automatic humidity deviation of 2 to 3%. 
Specifications
Dimensions: 11.10 x 15.43 x 24.25 inches
Type: 50-pint dehumidifier
Weight: 42.33 lbs
Power Supply: 430 W
Bucket Capacity: 12.66 pints
Operating temperature: 41°F
Auto Shutoff: Yes
Comfort Mode: Yes
Washable filter: Yes
Has a one-year warranty
 Pros
Has built-in pump
It can absorb up to 50 pints of water
Built-in filter that retains 99% of impurities
Makes less noise when compared with other dehumidifiers
Has an automatic restart
Energy-efficient Dehumidifier
Cons
Small water tank 
No backlights for the buttons
For large spaces, due to their big size
5. Pelonis 60 Pint Dehumidifier Review (PAD60C1AGR)
The Pelonis PAD60C1AGR 60-pint dehumidifier has the largest moisture capacity. The unit has an innovative evaporation system to prevent mold, mildew, cracking, and wall stains. In addition, it removes allergens, mites, or asthma triggers.
This unit's built-in pump for draining can be connected to the sewage system for continuous drainage. It also shares similar reusable filters with the other Pelonis dehumidifiers.
It is an energy-star-rated unit that does not use much energy. It only uses 1kWh to absorb 2.8 liters of condensed moisture in a 250 sq. ft room. The bucket of this unit is large with a 21.1 pints capacity. This might still seem small since the unit has a moisture capacity of 60 pints.
It supports a continuous operation mode without the gyrostat, and automatic defrost for the fast condensation of the absorbed moisture and reducing power consumption. In addition, this unit uses a newly designed cooling element to reduce the amount of refrigerant pumped in.
While operating, the noise level is maintained below 59 decibels. In addition, it has an automatic humidity deviation of 4%. This is the point at which the fan will start to work.
This unit reduces humidity in a room by 45%-85% and is best used in large commercial workshops or offices due to its large size, superior cooling system, powerful fan and filters.
Specifications
Dimensions: 14.17 x 18.78 x 24.61 inches
Type: 60-pint Dehumidifier
Weight: 62.61 lbs
Power Supply: 420 W
Bucket Capacity: 21.1 pints
Operating temperature: 41°F
Auto Shutoff: Yes
Comfort Mode: Yes
Washable filter: Yes
Has a one-year warranty
 Pros
Has a high bucket capacity
Can absorb a large quantity of moisture
Energy efficient
Has a built-in pump
Filter that traps dust and allergens
Automatic control of air humidity levels
 Cons
This unit occupies a lot of space
Operates at high noise levels
Comparison of Top 5 Best Pelonis Dehumidifiers
| | | | | | |
| --- | --- | --- | --- | --- | --- |
| Dehumidifier | Deviation of Humidity Level | Extraction Rate   | Bucket Capacity | Built-in Pump | Weight |
| PAD20C1AWT | None | 20 pints | 6.33 pints | No | 35.49 lbs |
| PAD30C1AWT | 4% | 30 pints | 6.33 pints | No | 35.93 lbs |
| PAD40C1AWT | None | 40 pints | 12.66 pints | No | 42.33 lbs |
| PAD50C1ABL | 2-3% | 50 pints | 12.66 pints | Yes | 44.53 lbs |
| PAD60C1AGR | 4% | 60 pints | 21.1 pints | Yes | 62.61 lbs |
Final Words:
Although there are many dehumidifier brands lining the shelves on the market, you cannot deny the relevance of the Pelonis brand. The brand's strict attention to performance and design details places them ahead of the bunch.
There are many admirable qualities that the Pelonis brand is known for, but above all safety is paramount to this brand. Now, you can easily purchase a Pelonis dehumidifier and enjoy quality dehumidification without having to worry about safety.
It is easy to see how this brand has been able to infiltrate the international market with its products. The features each dehumidifier offers appeal to a wide range of needs irrespective of where you are in the world.
When you purchase, ensure you get the dehumidifier that is suitable for your home in terms of square footage and climate conditions.
TOP RATED PRODUCTS FOR HOME