Hold on! Before you go on and on about what you think of reviews and air purifiers, we'd like you to take a moment and keep an open mind. Let's pretend this is the first review you're reading.
You know why? It is important that you pay attention to this because it might just be the difference between living or working in a healthy environment, and exposing yourself to irritations and diseases. Welcome to our detailed review of Zigma Air Purifier.
If you're reading this article, it means you're in need of a product that can get rid of contaminants in your home.
It might be gaseous waste from the factory close by, pesticides or fumigant applied by your next-door neighbor, your pet's hair, dander or even its poo and urine odor, lint from a repainting work you're currently doing, cigarette fume, chemical odor from carpet cleaning agent or just free-floating pollen, allergen or mold spores.
As per our rating system, Zigma Air Purifier scores overall 9.4 out of 10 which is excellent.
Smart Features, Ease of Use, and Noise levels are top-performing features of the Zigma Air purifier and it scores 9.9, 9.9 and 9.5 out of 10 respectively for these 3 features.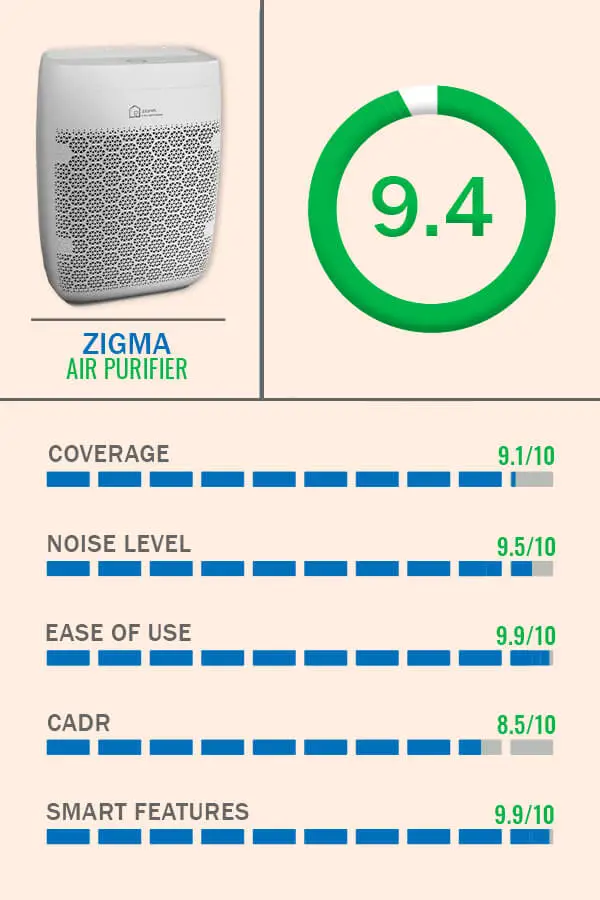 Zigma Air Purifier has good coverage, and that feature also scores 9.1 out of 10.
CADR rating is the only aspect where see scope to improve further for the Zigma air purifier, for which it scored 8.5 out of 10.
For you, it may also be the need to keep your home free from airborne bacteria and you're wondering if this Zigma purifier is what you need.
Well, you'll have to read up to find out just how this product fits in the scheme of things. We're sure you'll be able to make a decision whether to buy the product or not after you read this.
About Zigma Air Purifier
With the world going mobile and the thumb culture penetrating every area of our lives, wouldn't it make sense for your air purifier to be designed for ease and convenience as well?
Well, here's the Zigma Air Purifier hoping to win your hearts with Wifi connectivity and app control, meaning you can control it remotely while you sit on the couch to your favorite TV show or turn it in for the day.
This Wifi capability also makes it possible to use Voice commands from Amazon's Alexa, Siri or Google Assistant.
So, if you're all about the smart life, this may just be for you. But it's not just that, this Zigma purifier is an amazing piece of art that certainly commands a second look.
It is armed with a combination of filters all built to ensure nothing is left to chance. With vents in front and on top, there is sufficient capture and release of air every moment of the day, as long as you keep it working.
The device is equipped with a powerful fan and an efficient purification system for most kinds of air pollutants you're dealing with at home or at the office.
Specifications
16.5 x 11.4 x 23.6 inches in dimensions
15.42 pounds in weight
5-in-1 filter
Hands-free Control
White exterior color
Two-Way air flow
Key Features of Zigma Air Purifier
1. Filter Reminder
Wouldn't you love to be alerted when it is time to replace a filter? This feature does just that. Where this feature is absent, you may run the risk of running an air purifier with a worn-out filter that cannot trap pollutants.
2. Timer
A timer is such an important feature in any air purifier. It gives you the freedom to leave your device working even in your absence and set it to turn off at a specific time.
With the Zigma purifier timer, you can choose when you want the device to come on and when it should go off.
3. Child Lock
We all know how restless, curious and adventurous our little ones can be. They always want to know how stuff works.
With the child lock function, you can prevent your child or even your pet from tampering with your settings and avoid disruptions in your purifier's operation.
4. Sleep Mode
With the Zigma air purifier, you can go to bed with your device working. By setting it on sleep mode, you take the fan speed to the lowest and reduce the noise level to the barest minimum. This makes sleeping easy and comfortable.
5. Adjustable Fan Speed
The device has High and Low fan speed settings. This should depend on the situation at that point in time.
6. Air Quality Sensor
In case you're wondering if you can tell the quality of your air at every point of the day, the answer is yes and you don't need a separate air sensor to do that.
Zigma air purifier features a sensor that is represented by displays. The Red light indicates bad air, the Orange light shows Moderate air, and the two green displays represent good and excellent air quality.
This works with the Auto Mode feature that immediately triggers a response based on how dirty or clean the air is at every moment of the day.
7. Direct Touch Panel
The device also has a touch panel where you can find many of the functions highlighted here, including the On/Off button, Wifi indicator, Sleep Indicator, High fan Speed, Low fan Speed, Negative Ion Release, etc.
8. CADR Rating
The stated CADR of the product is 330 cubic meters per hour. It is not the most impressive on the market, but it will deliver clean air in your home and saturate the place within 15 minutes.
9. Wifi Enabled
With Wifi capabilities, you're able to control the device by using an app on your mobile phone. The remote control can be really convenient, especially if you have to multitask.
The air purifier also has a Shared Device function which can connect two mobile devices to one purifier, just in case you're sharing the room with a friend or family.
10. Voice Control
With the aid of its Wifi capabilities, you can also control the device by just speaking to it (issuing commands). All you have to do is connect it to Siri, Alexa or Google Assistant, depending on what mobile phone you use.
11. Online Support
This is a unique feature that saves you the trouble of waiting several hours, days or even weeks to get a reply after sending a complaints email.
With this feature, you can contact customer care on a one-on-one basis and get your complaints or comments across easily and quickly.
Core Functions of Zigma Air Purifier
1. Filter
One of the most talked-about qualities of the Zigma Air Purifier is its filtration system.
It is a 5-in-1 filter that features a pre-filter for capturing large particles including bird feathers, pet hair and dander.
Others include an H13 True HEPA filter which can trap the smaller particles that escape the pre-filter, up to 99.97% of particles even as small as 0.3 microns;
Activated Carbon filter for fumes, smoke and odors; and the Negative Ion Release which lets out ions that attach to particles in the air and make them too heavy to float, thereby dropping them on floors or walls.
This combination makes the Purifier very efficient, especially against particles (large and small) and gaseous pollutants like odor, smoke, fumes and VOCs.
2. Coverage
Coverage refers to the area or room size the air purifier is able to efficiently purify. And when it comes to that, this product scores really high.
With coverage of 1,580 sq ft, you can comfortably deploy this in your small apartments, large rooms, large offices and stores. What's more, it can clean up that entire area in just one hour.
This means if your room is just around 800 sq ft, this device would have replaced the bad air twice just within an hour.
3. Durability/Build Quality
Nobody wants a device that won't stand the test of time. This air Purifier is relatively sturdy and can hold it's own when called upon. The filters are also quite durable and can last up to 6 months before replacement is required.
4. Noise Level
This device has a noise range of between 25 db and 50 db, depending on the mode. At high speed, you may get as much as 50 db of noise. However, high fan speed may not be needed during sleep and the lowest speed will only produce 25 db of noise.
5. Safety
Safety is of the essence when dealing with air purifiers. The only concern that experts have with Zigma is its Negative Ion Generator, but again, it is optional.
An ion generator has the capacity to release ozone into the atmosphere and that can be a bit of worry. However, most brands like Zigma try to stay within the stipulated safe limits for ozone releases.
Best Place to Install Zigma Air Purifier
Due to its size (13.78 inches in width) and its weight of 15.42 pounds, it is preferable to put the device on the ground.
It might be too large or heavy for a fancy table.
However, if you have a dedicated stool or decker for it, that should do.
Just ensure it is placed at one corner of the room with the event facing the open area. It does not have a bracket and cannot be hung on the wall.
Due to its coverage, this product is suitable for very large rooms, stores, large offices, restaurants and small apartments. It is more suited for stationary use and may not be convenient in moving vehicles or outdoor settings.
Pros and Cons of Zigma Air Purifier
Benefits (Reasons to Buy)
One-on-One Online Customer support via the app
Impressive coverage
Smart and convenient operation
Multi-level filtration system
Good for its price
Has several advanced features including Child Lock
Great to look at.
Drawbacks (Reasons Not to Buy)
Air inlet present on just one side of the device
Ion generator might be a concern
Our Rating of Zigma Air Purifier
| | |
| --- | --- |
| Feature | Rating (On the scale of 1-10) |
| Coverage | 9.1 |
| Noise Level | 9.5 |
| Ease of Use | 9.9 |
| CADR | 8.5 |
| Smart Features | 9.9 |
| Overall | 9.4 |
Final Words
High Efficiency Air Purifiers - 15 minutes only! Our purifier will provide a Free-Breathing Zone! CADR up to 330m3/h! Clean up to 1580 sq fts within 1 hour.Supports a 3-levels purification mode and CARB, ETL Certificated.Zigma air purifier perfect for bedrooms, offices, kitchens, and living rooms.
H14 True HEPA Filter - Our hepa air purifiers' built-in high-standard purification system, makes your breathing easy and safe. H14 HEPA filter inside works faster to maintain low particulate levels like the PETS HAIR and removes 99.995% of DUST, POLLEN, absorbs the ODOR, SMOKE,etc and this allergy air purifier efficiently prevents respiratory problems,allergic reactions, sneezing, congestion,and other allergy symptoms caused by airborne contaminants.
Sleep Mode & Child Lock-Bedroom air purifier operates in nearly silent 25dB at low speed and you will have a sound sleep with all display lights turned off.This pet air purifier with the thoughtful child lock design can avoid your baby or pet from touching the buttons.EXCLUSIVE CUSTOMER SERVICE on Zigma APP will attach you with 1 to-1 online service and make you satisfied!
3 Fan Speeds & Auto Mode-There are three adjustable fan speeds, which are P1/P2/P3. You can select the fan speed according to the air quality. The higher the fan speed, the faster the cleaning. Or you could select the auto mode: air purifiers for home track the air quality and auto-adjust power in Auto Mode, displays the results you can see!
Smart Control-Remote Control by Zigma Exclusive App, Voice Control via Siri, Alexa, and Google Assistant. More than 10 advanced features are available eg. scheduling purification sessions, replacing filter reminds, scene-setting, sharing devices with family, etc.
Why tolerate the hazards and discomfort of airborne pollutants when you can get rid of them without doing so much? Now you have an air purifier that comes with the convenience and control you've always wanted.
It doesn't matter what it is, particles or gases, the powerful H13 True HEPA filter combines with the Activated Carbon filter to get rid of them. You now have the chance, more than ever before, to breathe clean, healthy and fresh air once again with the Zigma Air Purifier.
TOP RATED PRODUCTS FOR HOME