Are you sick and tired of trying so hard to get rid of air pollutants moving freely in your home? Perhaps, you can no longer bear the sneezing, coughing, lung and skin irritation and even the discomfort caused by the terrible odor in your home or office.
What you need is an air purifier that is tested and trusted to keep your home and office feeling fresh and clean all day long. This review is on Rigoglioso air purifier.
If you've also had questions about the effectiveness or performance of this product, then you've come to the right page.
Whatever you're looking for, as long as it is about this product, our honest Rigoglioso air purifier review will give you all the answers you need.
As per our rating system, Rigoglioso Air Purifier scores overall 9.2 out of 10 which is very good.
CADR, Noise levels, and Ease of Use are top-performing features of the Rigoglioso Air purifier and it scores 9.9, 9.6 and 9.4 out of 10 respectively for these 3 features.
Smart features in Rigoglioso Air Purifier received a score of 8.8 out of 10.
Rigoglioso Air Purifier has reasonable coverage with a score of 8.5 out of 10.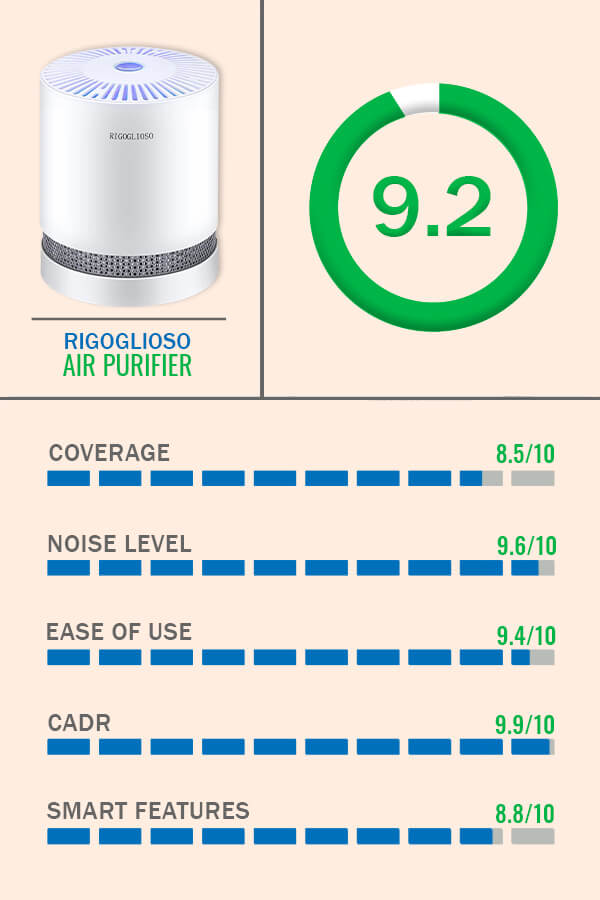 Read on to know more details to know if this air purifier is suitable for small or large rooms, filtration system effectiveness, and other key functions of Rigoglioso Air Purifier.
Also, another common reason many people buy air purifiers is to eliminate cigarette fumes.
If you're a smoker and have the habit of smoking in your home or in the office, you no longer have to worry about fumes selling you out all the time, as long as you have the right air purifier. So, is the Rigoglioso Air Purifier what you need? Let's check out.
About Rigoglioso Air Purifier
Let's begin with what you can see… a simple, sleek and classy design covered in white. Smart Display screen for touch control and a portable build for easy carry and transport.
Its small size also means it can sit pretty on a table. "Small" isn't always bad. In fact, small is all most people need.
If what you need is a portable device for your small room, office, dorm room, a trailer, a store or just about any small space, here is one device you should consider.
Within, it has a durable, high-precision bearing motor with a formidable internal structure that increases abrasion-resist and extends the life of the device.
The 3-in-1 filtration system makes it a truly efficient piece of engineering that can give you the clean air you deserve. It is easy to maneuver and operate and has an impressive noise level for sound sleep.
You can choose between operational modes to suit your needs per time. There is also a blue light to aid night-time operation and vision.
The air purifier also has a timer to shut off at preset times to save energy and prolong the life of the device. What's more, it comes with a pretty competitive price for its range. This is certainly one air purifier that you may want to try out.
Specifications
7.2 x 7.2 x 12 inches in dimensions
Touch Control Feature
360-degree air intake design
Top air outlet
White exterior
Compact design
4.64 pounds in weight
Includes a plug adapter for power
Key Features of Rigoglioso Air Purifier
1. Adjustable Operational Mode
This air purifier comes with a display control button to help you choose between the different modes of operation, such as the High-speed mode, Normal mode, Sleep mode or Sleep Night-light mode.
2. 5-level Timer
There are times when you'd need your air purifier to automatically hibernate, especially if you won't be home. This product offers you the chance to set a timer for 1, 2, 4, 8 or 12 hours.
This means your air purifier will shut down automatically after your specified time. This will not only save your energy consumption but can also prolong filter lifespan. You can also set it on 24-hour runtime for all-day operation.
3. 3-fan Speeds
Another feature of the Rigoglioso Air Purifier is the adjustable multi-stage fan speed.
You can set it on high, medium or low level depending on how much cleaning is required at the moment. The low fan speed is ideal for night use because it reduces the noise level as well.
4. Blue Night Light
To ease operation in the dark, the device has a night light that helps with control as well as visibility in the room. Also, this is ideal for kids who may be scared of sleeping in the dark and can also be turned off if the need arises.
5. CADR Rating
Rigoglioso air purifier has a Clean Air Delivery Rate of 110-150 cubic meters per hour. This is very efficient, as it can transform the air in your room in less than an hour.
So, if you have a dorm room, a small penthouse bedroom or even an office that is not so large, the CADR of this device makes it the ideal choice for you.
6. QuietKEAP Technology
This feature is what makes it easy for users to sleep comfortably at night while their purifier works all night. It keeps the noise level to a minimum 24 db to enhance your convenience without losing the value of clean air as well.
7. Touch Control Method
This is another important feature that adds to your convenience. It is intuitive in nature and requires only a touch of the display areas for commands to be given.
Core Functions of Rigoglioso Air Purifier
1. Filter
You may ask, what type of filter does it have? Well, don't look too far.
Rigoglioso is equipped with a 3-in-1 True HEPA filter, featuring a pre-filter for large particles like lint, pet fur, hair, dander and other particles;
A True HEPA filter for smaller and fine particles like pollen, allergen, dust mite, and even airborne bacteria; and an Activated Carbon filter which is highly efficient against household odors and smells.
This filter can also eliminate VOCs and other harmful fumes, formaldehyde and toluene.
Combined, these filters are very effective against most types of air pollutants and can eliminate up to 99.97% of them.
These particles range from as large as a bird feather to as tiny as a dust mite, less than 0.3 microns. If you ever need a high-performance air purifier, you should lookout for a device that has this combination.
2. Coverage
The next question would be, how big is the room that this purifier will be used for? You need to take note because this device can cover an area up to 91 sq feet.
This means you can't use it in rooms bigger than 120 sq feet or you may need to combine more than one device at different angles of the room.
Otherwise, you should look out for something bigger. To calculate the square footage of your room, multiply the length by the breath and the result is the area.
3. Noise Level
We all know how annoying it can be to have a device that lets out a disturbing sound all day. This is why the noise level of an air purifier is an important detail to consider.
This Rigoglioso air purifier has a noise level of between 24db (at the lowest fan speed) to 53db (at the highest fan speed). You can go ahead and breathe in clean oxygen while you enjoy undisturbed sleep.
4. Power Output
This device operates at an output of 8 watts. While this has a lot to do with its size and capacity, it is still an advantage regardless because it means low energy cost on operation.
In fact, you'll need more than 5 of these air purifiers to take up as much power as a regular light bulb.
5. Safety
The major concern for most people looking to buy air purifiers is ozone. Rigoglioso states clearly that its air purifier is ozone-free. This means you don't have to worry about ozone releases affecting you or your kids and pets.
Its low power output of 8 watts and low voltage requirement also reduces the chances of electrocution. So, we can actually say this device is safe for use.
6. Durability/Build Quality
This Air Purifier is quite durable and will give you good value for your investment. The plastic build is just strong enough to keep going for at least a few years.
Best Place to Install Rigoglioso Air Purifier
The device is quite small and may just be perfect as a tabletop air purifier.
It is also reasonably lightweight at just 4.6 pounds and won't be too much weight on your table.
At the same time, it is very portable due to its lightweight, hence, you can move it around as per your need.
Effective Usage of Rigoglioso Air Purifier
As we noted earlier, this is suitable for small or normal-sized rooms and offices, basements, stores and dorm rooms.
It is not ideal for large rooms or offices, neither can you use this purifier in a car nor for large restaurants. Just be sure that the area/space falls within 100 sq feet.
Also, due to its filter combination, this Rigoglioso air purifier is suitable to eliminate particles such as dander, pet hair, dust mites, mold spores, odors and VOCs like formaldehyde, as well as lint from paint.
Pros and Cons of Rigoglioso Air Purifier
Benefits (Reasons to Buy)
Affordable, budget-friendly air purifier
Easy to maneuver
Great for particles and gaseous pollutants
Low noise level
Safe and ozone free
Impressive CADR rating
Power saving operation
Flexible usability
Available for California
Drawbacks (Reasons Not to Buy)
Coverage only suitable for small to normal sized rooms and offices
Filter requires replacement every 3 to 6 months.
Our Rating of Rigoglioso Air Purifier
| | |
| --- | --- |
| Feature | Rating (On the scale of 1-10) |
| Coverage | 8.5 |
| Noise Level | 9.6 |
| Ease of Use | 9.4 |
| CADR | 9.9 |
| Smart Features | 8.8 |
| Overall | 9.2 |
Final Words:
Rigoglioso does sound like a mouth full, and with this, it gives us a lot to talk about. Don't be deceived by its portable size and price, the manufacturers left nothing to chance with regards to quality and performance.
When push comes to shove, you would want to have the right devices watching your back. We highly recommend this product, not just because of what we have observed, but also based on verified users' comments and feedback.
TOP RATED PRODUCTS FOR HOME