NuWave OxyPure comes as an alternative to the conventional air purifiers you find on the market. One look at its design and amazing features tell of a product that is not just built to perform, but also to serve conveniently and offer great value for money.
The OxyPure Smart Air Purifier is a masterclass work of engineering that combines the best of 5 filter types to help you get rid of all forms of air pollutants, whether in particulate or gaseous forms.
OxyPure is specially designed to eliminate all forms of dust, pollen, allergens, mold spores, smoke, VOCs like formaldehyde and other forms of airborne waste.
But that's not all, ozone also stands no chance against the power of OxyPure as it can reduce the amount in your home to as little as 1ppb, far lower than the American national average of 70ppb.
The manufacturers have a strict standard for quality and its compact design makes this a good choice for many families.
As a result of its efficiency and design, this product has been certified by the United States Environmental Protection Agency's EnergyStar as well as the California Air Resources Board (CARB) after several studies.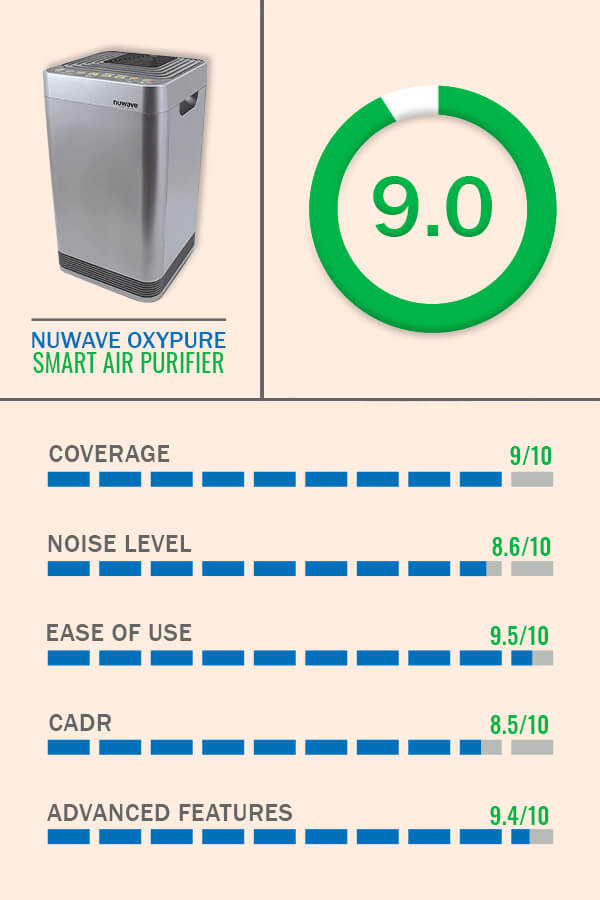 If you're looking to get an Air Purifier for your home or office and NuWave OxyPure seems to have popped up somewhere, this awesome review will help you decide if this is the product for you.
About NuWave OxyPure Smart Air Purifier
The NuWave OxyPure Smart Air Purifier has an iconic look that is bold, simple and elegant. It is an advanced device that is truly compliant with modern technological trends.
Convenience and comfort are also at the heart of the design as its Wifi feature saves you the trouble of having to get up to either set it up or manipulate it.
The purifier has an inlet at the base that runs across the four sides, giving it a 360-degree air collection advantage. Air distribution is done through the top.
With 5 filter combination comprising the Pre-filter, HEPA/Activated Carbon filter, Ozone Removal and a Bio-Guard filter, you can be sure of cleaning more than 99.9% of all pollutants in your home.
What's more, the stainless steel pre-filter and the bio-guard filter both have a lifespan of up to 20 years each. They are washable and reusable, giving you more value for your money.
The NuWave OxyPure is suitable for very large rooms and offices and entire homes, providing the clean air you need to prevent irritation and diseases.
Specifications of NuWave OxyPure Smart Air Purifier
14 x 14 x 26 inches in dimensions
27.25 pounds in weight
Grey exterior color
Wifi enabled for remote control
360-degree air intake
Key Features of NuWave OxyPure Smart Air Purifier
Sleep Mode: A sleep mode function is included here to help you catch that sound sleep you deserve even as the purifier goes on with its job.
6 Odor Levels: This feature is a game changer in the world of air purifiers as you're able to tell the progress of purification. You will also be able to tell at every point in time the different changes in the odor in your home or office.
Eco Mode: This simply allows you to set the device on its lowest fan speed to conserve power.
6 Fan Speeds: Works along with the odor levels. This should be adjusted based on the odor level in your room.
Top Ozone Outlet: This feature is unique in the sense that it is the outlet meant for ozone to escape. However, it has a filter which traps such ozone and prevents it from going into the environment.
An optional timer that has different running options, between 30 minutes and 12 hours.
Apart from its app control, it has several touch-sensitive controls at the top.
Core Functions of NuWave OxyPure Smart Air Purifier
1. Filters
The NuWave OxyPure air Purifier is equipped with a 5-in-1 filtration system that comprises an 18/8 Stainless Steel Pre-filter that is not just washable and reusable, but can last for up to 20 years.
This filter can eliminate large dust particles, including pollen, dander and pet hair. There is also a bio-guard filter that uses Electrostatic Precipitation.
It has a lifespan of up to 20 years and can be rewashed and reused. The Ozone Removal filter comes next with a lifespan of up to 20 years and an incredible ability to eliminate harmful ozone gas, also known as O3 to as low as 1ppb.
The final strike against pollutants is the powerful combination of True HEPA filter and Activated Carbon filter which extends protection beyond just allergens, pollen and particles to include the elimination of household and industrial emissions like fumes, cigarette smoke and formaldehyde.
All these filters combine to ensure it cleans out 100% of particles even as tiny as 0.09 microns.
2. Coverage
The importance of coverage (or what some experts call square footage) cannot be over emphasized. OxyPure has an impressive coverage of 1,200 square feet.
This makes it suitable for very large rooms, diners, restaurants, lobbies, offices and small to medium apartments. One advantage is that you get as much as two air exchanges every single hour.
3. Noise Levels
Having an air Purifier that works is the dream of everyone, but when you have a functional air purifier that is noiseless, or at least emits very low noise then you've hit the jackpot.
4. CADR Rating
CADR refers to Clean Air Delivery Rate and translates to how much clean air is released per time. This heavy-duty air purifier comes with an average CADR of 350 Cubic feet per minute (CFM).
To put that into perspective, it has a CADR of 332 CFM for fireplace smoke, cooking and tobacco, 369 CFM for pollen and 346 CFM for dust. This is great and enhances the efficiency of the device.
5. Power Output
The wattage of NuWave OxyPure Smart Air Purifier hovers around 100 watts when it is at its highest fan speed. This is slightly higher than what a typical light bulb consumes.
If you use this device 24/7 all year round, you still won't be spending more than $10 in energy charge.
6. Safety
Safety concerns continue to take the front burner as far as air purifiers are concerned. Major issues like ozone and UV emission always take centre stage.
OxyPure neither releases harmful ozone nor does it emit Ultraviolet rays that can affect humans and animals. Studies have shown that it releases less than 10 negative ions even at full throttle.
This makes it very safe for humans. Furthermore, unlike many air purifier brands that emit uncomfortable smells during operation, this device does not.
Other Special Features of NuWave OxyPure Smart Air Purifier
1. OxyPure Sensors
This is one of the reasons why OxyPure os adjudged one of the most advanced air purifiers on the market.
Its sensor monitors air quality for particles and odors and displays the results using color codes, to tell you if your air is clean or dirty. With this readily available information, you can take immediate action.
2. Wifi
This feature offers you the ability to track, monitor and manipulate the controls and settings of your air purifier. This is possible from anywhere in your home by means of a smartphone and the NuWave Connect App.
3. Voice Commands
Also added to the app is the option of Voice Commands. You can easily connect the device to Alexa or Google Assistant and send voice commands for remote operation.
4. Ultimate Clean Mode
When polluted air is detected by the sensors, there is an automatic adjustment of the fan speed to level 6, which is the optimum speed. This ensures quick cleaning of the air, afterwhich the speed returns to the lowest.
Build Quality of NuWave OxyPure Smart Air Purifier
Build quality is a crucial factor and with one look, you can tell how sturdy this product is.
You're not likely to experience damage anytime soon, unless there is severe impact, of course.
Best Placement of NuWave OxyPure Smart Air Purifier
This is a very large and heavy device by every standard.
It also has a 360-degree air flow design.
The best position for this would be on the floor somewhere in the middle of the room.
Effective Usage of NuWave OxyPure Smart Air Purifier
Air purifiers are designed to cater for specific needs, whether for cars, dorm rooms, cigarette smoke, eczema, allergies and so on.
While some are great at eliminating particulate pollutants due to their filter types, others may be more potent against gases and VOCs or even viruses and bacteria.
It is always best to have an air purifier that can be deployed for different air pollutants. The NuWave OxyPure Smart Air Purifier, for instance, is equipped with filters that can eliminate dust, allergens, pollen, mold, smoke, VOCs and even bacteria and viruses.
With these filtration capabilities, you can use the device for most pollutants that affect our air.
Also, due to its size, weight and coverage at 1,200 sq ft, it has to be used in a large space like a restaurant hall or an entire apartment within the same square footage.
This cannot be used in a car and is certainly too powerful for a small dorm room or penthouse. Also, it is best placed on the floor rather than a table.
Pros and Cons of NuWave OxyPure Smart Air Purifier
Benefits (Reasons to Buy)
Impressive coverage
Great filtration system
No harmful ozone releases
Smartphone App control for remote operation
Also effective against airborne viruses
Easy to operate
Pre-filter and bio-guard filters are washable and reusable, can last 20 years each.
Comes with 5 additional HEPA/Carbon replacement filters
Low maintenance cost
Drawbacks (Reasons Not to Buy)
Quite pricey, with high initial investment
Quite heavy as well, not suitable for moving around
Our Rating of NuWave OxyPure Smart Air Purifier
| | |
| --- | --- |
| Feature | Rating (On the scale of 1-10) |
| Coverage | 9 |
| Noise Level | 8.6 |
| Ease of Use | 9.5 |
| CADR | 8.5 |
| Advanced Features | 9.4 |
| Overall | 9.0 |
Final Comments:
QUICK COOLING: Give your hot room the cold shoulder. TOSOT 10,000 BTU Window Air conditioners are best for spaces up to 450 sq. ft. If your space has high ceiling, an open floor plan, or a lot of traffic, you may want to consider sizing up.
MODERN DESIGN: This ain't your grannie's Window AC. Gone are the eyesores of yesterday, with their ugly metal grilles messing up the flow of your interior decorating skills. Bring the art gallery to your home by installing this sleek, minimalistic air conditioner in your living room window.
1 PRODUCT, 3 USES: At TOSOT, we want our products to solve as many of your problems as possible. That's why we're giving you three products for the price of one! This is not only a Window Air Conditioner, but also comes with modes for fan-only and for dehumidifying.
SMART TEMPERATURE CONTROL: On most air conditioners, the thermostat is located on the unit itself. TOSOT Air Conditioners uses a thermostat is located on the remote, meaning your AC will cool your space based on the temperature around your remote (which is probably close to you, right?)
SAVES YOU MONEY: TOSOT Window Air Conditioners are Energy-Star rated, making them better for the environment and your wallet. Everyone may not agree on climate change, but the one thing we can all stand behind is lower utility bills.
The NuWave OxyPure Smart Air Purifier is one step ahead of the competition. With an impressive range, efficient filters, smart features and convenience, as well as a great deal of attention to safety, there are only a few products on the market that can measure up.
This product is also a great reminder that good things cost money and its stellar quality and performance justify its price.