Evaporative Coolers have become the preferred choice for homeowners seeking an affordable and easy way to cool their homes in hot climates and seasons.
As summer approaches, owners will be looking to retrieve their units from their stores, garages and basements, clean them up and get them running again.
If you're considering getting one for your home, but you're not sure of its durability and lifespan, here's a post to provide all the info you need on how long evaporative coolers last.
Beyond the coolers themselves, the motor is an important component that needs to keep functioning for your unit to keep running. In some ways, it determines the lifespan of the unit.
So, this post also probes the lifespan of the evaporative cooler motor and when you should replace them. We'll also share easy tips to improve the lifespan of your evaporative cooler, as well as the cost implication of replacing a swamp cooler.
How Long Do Evaporative Coolers Last?
A typical evaporative cooler will last an average of 15-20 years. Some units may last longer than 20 years and some may not even last up to 15 years; it all depends on the quality of the unit, its durability, how extensively it is used and on how well you maintain it.
Generally, evaporative coolers are durable appliances and do not have fragile or sensitive parts that are prone to quick damage. Its three major components are the fan, motor and water reservoir. On their own, and with good care, these components should last several years.
The only component of the evaporative cooler that requires frequent replacement may be the cooler pads. The pad, no matter how durable, may not last beyond one season or year.
But this is an easily replaceable component and it doesn't affect the main workings of the unit. Major damage would be one that affects the motor or the fan itself. Without these two components working, the evaporative cooler is as good as scrap metal.
Top 3 Evaporative Coolers with Best Lifespan
How Long Do Evaporative Cooler Motors Last?
The evaporative cooler motor is the main mechanism of the entire cooling system. When we say an evaporative cooler, we're actually referring to the motor- along with other components that make it effective.
Overall, the swamp cooler motor should last for at least 15 years on average. Some may keep running for as long as 20 years. The cooler's brand is a factor here, as superior brands always tend to stand out.
How you handle and use the unit is another very important factor that can determine how long your evaporative cooler motor will last.
If your swamp cooler motor does break down prematurely and every other component is still in good shape, replacing the motor may just be the way to go.
This is something you can do yourself with a couple of simple tools. But if it does seem like rocket science, you can call in a professional to get it done for you.
Top 3 Evaporative Coolers Motors With Best Lifespan
When Should I Replace My Swamp Cooler?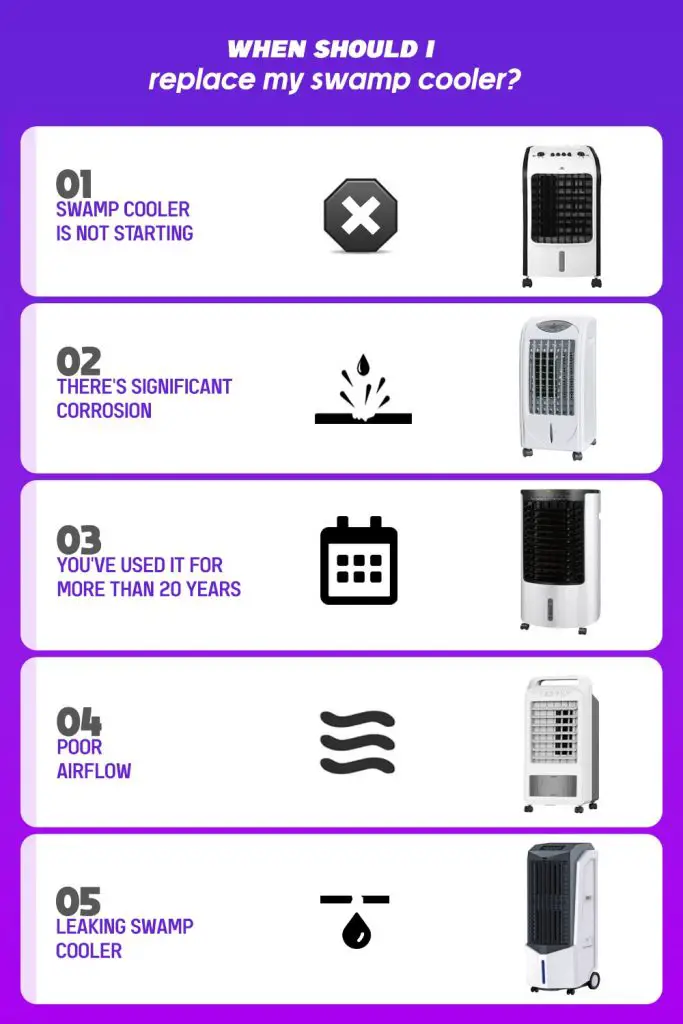 Even though we've said your swamp cooler should last for 15 to 20 years, it may not always be that way.
While the lifespan is not set in stone, there are specific signs as listed below that you can never go wrong with.
The swamp cooler is not starting
There is significant corrosion
The swamp cooler is 20+ years old
Poor Airflow
Leakage in the cooler
When you see one or more of these signs, you should know it is time to replace your evaporative cooler with a new one.
Even though we've said your swamp cooler should last for 15 to 20 years, it may not always be that way. While the lifespan is not set in stone, there are specific signs that you can never go wrong with.
When you see one or more of these signs, you should know it is time to replace your evaporative cooler with a new one.
1. Swamp cooler is not starting
When your swamp cooler refuses to start, there's probably something wrong with the motor or power of the unit. Fixing this problem may just be too expensive, so you may just need to get a replacement.
2. There's significant corrosion
Corrosion is another bad sign that a swamp cooler needs replacement. Not only does it deface your evaporation, but it may also gradually affect the functioning of your unit as it worsens by eating into vital components and parts. Corrosion can also cause a leak which is a red flag.
3. You've used it for more than 20 years
We already established that an evaporative cooler may last as much as 20 years, but it is important to note that any swamp heater that continues to run after 20 years is living on borrowed time.
Functionality and efficiency may be limited and it might struggle to cool your space. A replacement should be considered at this time.
4. Poor airflow
Poor airflow might be the result of a malfunctioning fan or motor. And with poor airflow, the unit will not efficiently and effectively cool your home. Poor airflow from your swamp cooler is actually a waste of energy and you'd simply pile up energy bills without many results.
5. Leaking swamp cooler
We mentioned this earlier, but it's important to emphasize that a leaking swamp cooler is bad for you, the unit itself and your furniture or flooring.
Your carpet might get soaked up and smell, it may affect your wooden floor, cause stains on stone floors, and even further add to the room's humidity. This is apart from the stress of frequently refilling the tank due to the leak. It is best to get a new unit in this situation.
Important Tips to Increase the Lifespan of Evaporative Coolers
1. Cleaning and Maintenance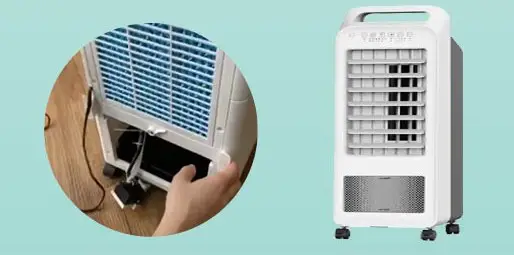 You can never downplay the importance of regularly cleaning and maintaining a swamp cooler. You need to clean the water tank as often as required (weekly, perhaps), as well as the fan, vent, and other parts and components.
This prevents the accumulation of dust, grime and deposits which could worsen and affect your unit.
2. Regularly check the pump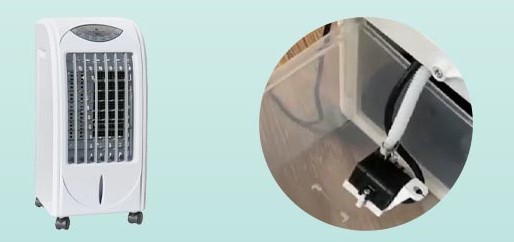 You should regularly check the pump to be sure it's in perfect condition. This will ensure a continuous flow of water and the effective performance of your unit. Also, you'll be able to quickly detect faults and fix them before they become irreparable damages.
3. Regularly check the water tank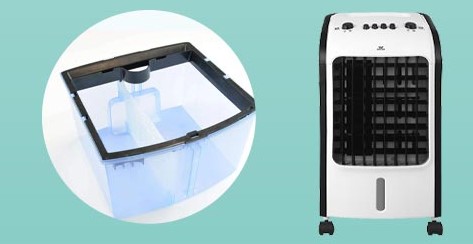 The water tank is another sensitive component that requires regular checks to be sure the water level is adequate, there's no leak and there are no dirt, grime or deposits which may cause corrosion over time.
4. Empty tank when the unit is not in use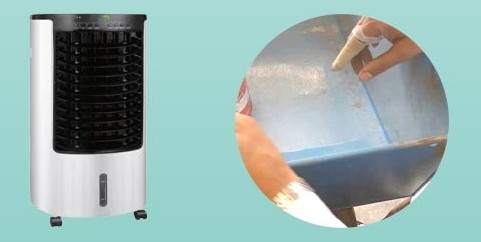 This is not emphasized as often as it should be. You need to empty the tank when not in use, as leaving the water would be an invitation to algae, bacteria, and other microorganisms which can contaminate your tank and cause damage over time.
5. Winterize properly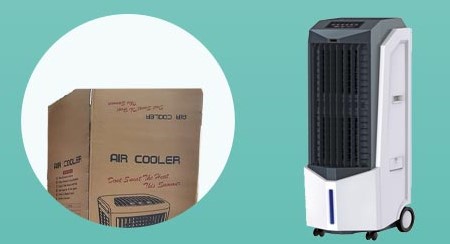 You're unlikely going to need your evaporative cooler during winter, so it's best to prepare it for the season. This means cleaning and storing it properly and safely.
You should check for deposits and accumulated dirt, rust, cracks and other dents and get them fixed immediately. Be sure to store in a dry place without risk of corrosion.
How Much Does It Cost to Replace an Evaporative Cooler?
Replacing an evaporative cooler is actually buying a new one. You can buy a brand new package, a pre-used model or even a refurbished unit. If you can afford it, we advise you get a brand new evaporative cooler as a replacement.
On average, an evaporative cooler costs between $200 and $2,000.
This ranges from small, single-room units to bigger whole-house, industrial units. Sometimes, with a warranty still in effect, you can get a replacement from the seller or manufacturer at no cost at all.
Uninstalling the bad one and installing the replacement unit may also cost some money (usually around $70 per hour) if it is a large unit that requires installation.
If are looking for some help in selecting the best evaporative cooler that lasts long, then, our recommendation is AGILLY 3-in-1 Evaporative Air Cooler which is value for money.
Final Words:
Evaporative coolers, along with their motor and other component parts, have a pretty satisfactory lifespan overall.
While they will generally last an impressive number of years, you must ensure proper maintenance and follow certain tips to get the best out of your swamp cooler.
The basic things to keep in mind are frequent cleaning and maintenance, along with ensuring that the water tank is never empty, except when not in use.
TOP RATED PRODUCTS FOR HOME