When infrared heating was introduced many decades ago, the first thing it did was correct the misconception that all electric heaters are dangerous and expensive to run.
Truth is, infrared heaters use up less energy than convection heaters, and they're designed with certain features that make them safe to run, even for long periods.
But, does it mean you can leave your infrared heater on all the time? Is it safe to run infrared heaters 24/7?
Well, we'll find out in a bit and tell you whether or not such actions have consequences.
Top 3 Safest Infrared Heaters
Can You Leave Your Infrared Heater on All the Time?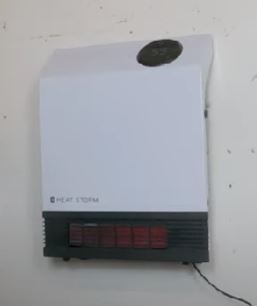 Our answer would be to turn on your heater when you need it. But the assumption is that your infrared heater becomes a necessity in the winter when it's cold.
At this point, most homeowners would need their heaters to run continuously.
But, can your infrared heater do the same? There's truly nothing wrong with leaving your infrared heater on all the time.
In fact, leaving your unit running at all times will help you to maintain consistent heating and a uniform temperature all the time.
However, you must also ensure the heater has safety features, such as an overheat protection switch, tip-over shut-off, surge protector, and other features that will automatically force the unit to go off in the event of any unforeseen circumstances.
Without these precautionary features in place, it will be unwise to leave your unit on all the time. Also, one reason why you should leave your unit on all the time is that turning it ON and OFF all the time will cause the indoor temperature to fluctuate.
Starting the heat all over again means your heater will need time to spread the heat around the room.
We must also make the point that infrared heaters are able to store heat within the space's structure, but they must be installed properly.
Furthermore, you should use temperature parameters to set up "on" temperature and "off" temperature limits for your unit. This will trigger the unit to run at a specific temperature and keep your home within that temperature limit when you're using it.
On the other hand, the "off" temperature will ensure your home doesn't drop below a certain temperature.
We must warn, however, that leaving your unit on all the time will cost you money. Energy bills incurred will be quite high, so you may want to set specific schedules for running your unit, maybe between 12 and 16 hours daily.
Also, leaving your heater on while you're away is not wise and can be quite risky if you've not put safety measures in place. We completely recommend you turn the infrared heater off before leaving the house.
How Long Should You Keep an Infrared Heater On?
This really depends on how long you need it to be on. If it's a temporary cold and you require heating for just a few hours, then that's how long you should keep the infrared heater on.
Also, if it's the cold season and your heater has been able to provide sufficient heating for that day or after three days, you may decide to turn it off for a while. Leaving your heater on when you're away is not wise.
Sleeping with your heater on is another controversial topic, but with an infrared heater, you shouldn't have any problems, especially when using a heater with functional safety features.
Overall, you can run your infrared heater for 16 hours daily during the not-so-cold seasons. The thick of the winter may require continuous heating and you should be prepared to run your unit all the time when winter beckons.
What Happens If You Leave the Infrared Heater on All The Time?
Running your infrared heater all the time will keep your home consistently warm and comfortable during the cold. However, there are a few drawbacks you need to consider.
High Running Cost
The amount of energy you'll use if you run your infrared heater all the time will be certainly higher than what you'll require to run it for 12 or 16 hours daily. Hence, you must be ready to bear the financial cost of 24/7 heating.
Away from electricity are other maintenance costs. For example, heaters that use filters would require more frequent filter replacements if they are run all the time.
Lifespan Concerns
This is another area of concern if you're considering running your unit all the time. The lifespan of your infrared heater will certainly be affected negatively due to increased wear and tear.
It's just like any other appliance, the more extensively you use it, the quicker the wear and tear.
What Is the Safest Infrared Heater to Leave Unattended?
Here's a disclaimer: we do not advise you to leave any heating appliance unattended, even if it has all the safety features in the world.
However, infrared heaters come really close. And, if for any reason you need to leave an infrared heater running in your absence, there are a few you should be paying attention to.
1. Dr Infrared Heater Portable Space Heater
Best Price
Dr Infrared has truly gained trust and customer loyalty as far as infrared heating technology is concerned. Their products are strong and durable, and this portable space heater is clear proof.
Beyond its durability and heating efficiency, this unit is also equipped with several safety features that give you the confidence to run it unattended.
These include a tip-over protection switch to automatically turn it off when tipped over, overheat protection and a 12-hour automatic timer. It also has high and low settings for preferred heating levels.
It is a 1,500-watt unit that radiates heat across the room seamlessly and quickly. It features both the infrared quartz tube and PTC for dual heating. Although portable, this unit is suitable for large rooms up to 1,000 sq ft and has a heating capacity up to 5,200 BTU.
Pros
Includes 3-year warranty.
Sturdy wheels for easy mobility.
Safe to use with features like overheat shut-off, programmable thermostat, tip-over protection, and timer.
UL certified in the US and Canada.
Very energy efficient.
Convenient remote control.
Safe touch design.
Cons
Will not complement your interior.
2. AirNmore Comfort Deluxe Infrared Space Heater
Best Features
Safety is one of the biggest selling points of this infrared heater. Apart from its built strength and durability, as well as its box design which reduces the incidence of tipping over, the appliance comes with dual high limit sensors for easy risk detection and prevention.
The tip-over shut-off sensor and overheat protection sensor are two of the most important tools you need to prevent accidents when your infrared heater runs in your absence.
Also, there's a Touch Safe feature that helps to prevent burns when you return to touch the unit. The materials used for most components are flame retardant and help to keep the incidence of fore at the nearest minimum.
Pros
Can be set on high (1,500 W) and low (1,000 W).
Comes with auto-reboot memory to save the last heating mode before the power outage.
Comes with a 2-year warranty.
Uses Copper PTC heating elements, so no need to replace bulbs.
Relocation is released with caster wheels.
Cons
3. Heat Storm HS-1500-PHX-WIFI Infrared Heater
Value for Money
This particular infrared heater has excellent visual design inside and outside. But its most important feature is its attention to safety.
As long as it's properly mounted and maintained regularly, this infrared heater offers automatic operation for several hours. There's truly nothing to worry about when it comes to safety.
With its child lock, tip-over shut-off and overheat protection features, you can leave this running, rest assured that no accidents will happen unchecked. On its highest setting, the unit runs on 1,500 watts of electricity.
The good thing is that it maintains a cool touch and doesn't heat up the wall as well, and that's why you can hide the cord behind the unit once mounted.
Other amazing features include auto dimmer, auto eco-mode, digital thermostat and power outage settings recall.
Pros
Quiet operation.
No harmful Fumes.
Washable lifetime air filter.
Easy to operate.
Wall-mount design saves space.
Energy-efficient.
WiFi control.
Cons
Can't go beyond 750 sq ft.
Final Words:
So, how long you leave your infrared heater on truly depends on the climate in your area, the type of unit you own, its features, and how much you're willing to spend on energy bills.
Most infrared heaters, like the ones reviewed above, will do really well even when they're left to run continuously. However, electric appliances are still electric appliances and you must take precautions when you use them.