We all know what an infrared heater is, don't we? Those space/baseboard heating boxes are safe, efficient and easy to use in our homes.
This explains why the demand for infrared heaters has increased significantly in the last decade as more homeowners are seeking easier ways to provide clean and supplementary heat in their homes.
While this is true, questions around its lifespan have often come up as people want the best value for their investment, even for appliances that work.
Knowing the lifespan of an appliance is an important piece of information if you're looking to get a unit for your home. As far as infrared heaters are concerned, the supplementary, space heating you'll get will only last as long as the unit is built to last.
So, wouldn't you like to find out just how long an infrared heater lasts? If you're reading this post, you've certainly come to the right place and we'll tell you all you need to know about the lifespan of an infrared heater and its component parts.
Top 3 Infrared Heaters that Last Long
How Long Do Infrared Heater Bulbs Last?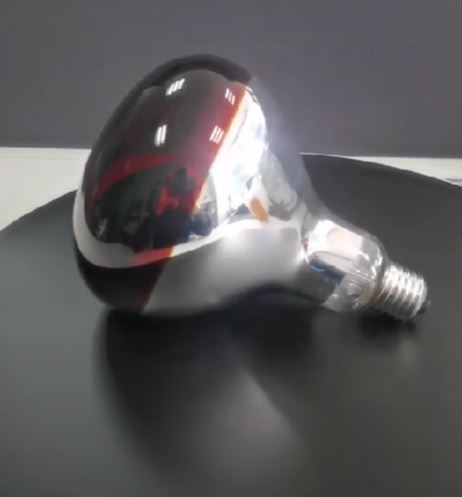 Between 3-6 months, depending on the frequency of usage and quality of the product. Infrared heaters contain a heat bulb that sends heat to the heat exchanger, from where the built-in fan blows out the warm air into the room.
Typically, you'll find that an infrared heater bulb will blow out in its fourth month. However, this can happen sooner if you use the heater extensively, especially in the summer, but the bulb might also last up to 6 months if you do not run the unit that much.
This is why we've also worked out the math and we can tell you that infrared heater bulbs last for about 1,500 hours to 10,000, depending on the type.
Some can even last as long as 20,000 hours such as those designed to last the entire lifespan of the infrared heater. Some good examples of replacement bulbs include the 3 Pack Osram Sylvania 1500W Heater Bulbs and the Eden Heater Bulb.
How Long Do Infrared Heaters Last?
Infrared heaters can last for as little as 10,000 hours to as much as 100,000 hours. It all depends on the type of infrared heater and how you use it.
Specifically, infrared heaters that run on carbon wires will offer about 10,000 to 12,000 hours in lifespan, while quartz heaters will last anywhere between 20,000 hours and 60,000 hours.
The most durable are infrared heating panels which can last for as long as 100,000 hours. How well you maintain the appliance is also a factor, but these are overall estimates.
It is also important to note that most infrared heaters are actually quartz infrared space heaters. Chances are that the one you're using right now is a quartz unit, so you should expect an average lifespan of 40,000 hours.
If you run the unit for 12 hours everyday, that should give you about 8-10 years. If you run it for 24 hours daily, you should get as much as 4-5 years of use.
However, you must consider the wear factor that comes with continuous use of any appliance without rest time for recovery.
Factors That Affect the Lifespan of Infrared Heaters
1. Installation Quality
No matter how great an infrared heater is, if you do not install it or place it properly or in a suitable spot, you'll be putting it at risk of damage.
Bad installation can cause leaks or clogging, or may even cause the unit to overheat if placed in a spot with restricted airflow.
2. Indoor Air Quality
Indoor air quality is also a major factor here. High indoor pollution including dust, dander, and other particles can clog the pad, filter and other components of the unit and cause it to break down quickly and frequently.
3. Maintenance
Maintenance is, perhaps, one of the most important factors that determine the lifespan of an infrared heater. You need to clean the water tank, pad and filter frequently to avoid mineral stains that may turn to rust over time. The pad and filters may also get clogged and wear out slowly.
4. Frequency of Use
Running your unit for 12 hours everyday is different from running it for 24 hours daily. A more frequently used unit will certainly wear out faster than a unit used sparsely.
It's simple mechanics- the components and parts will diminish more quickly when used more extensively, more frequently, and non-stop.
5. The Brand
There will always be super brands, good ones and the not-so-good-ones. The difference between these categories of brands is the quality of materials the manufacturers produce them with.
A super brand will definitely last longer than a not-so-good brand under similar circumstances. They may cost more, but they're usually worth it in the long run.
Top 3 Infrared Heaters with Best Lifespan
1. Dr Infrared Portable Space Heater
Value for Money
Dr Infrared is a household name in infrared heating technology and their products are renowned for durability and strength. This is what makes them truly valuable and long-lasting.
This box infrared space heater is a 1,500-watt unit that radiates heat across the room seamlessly and quickly. It features both the infrared quartz tube and PTC for dual heating.
Although portable, this unit is suitable for large rooms up to 1,000 sq ft and has a heating capacity up to 5,200 BTU.
This unit is built to last with a lifespan ranging from 7 to 10 years on average. The 3-year warranty is proof of the manufacturer's assurances.
Pros
Comes with a 3-year warranty.
Has wheels for easy transport.
Safety features include tip-over protection, overheat shut-off, and programmable thermostat and timer.
Certified by UL in the US and Canada.
Very energy efficient.
Convenient remote control.
Safe touch design.
Cons
Not very attractive to look at.
2. Heat Storm HS-1500-PHX-WIFI Infrared Heater
Best Features
This wall-mounted infrared is a beauty to behold. As long as it's properly mounted and maintained regularly, this should last for up to 8 years on average, which makes it a truly long-lasting unit.
Its radiant heat runs on 1,500 watts of electricity when on its highest setting. The good thing is that it maintains a cool tough and doesn't heat up the wall as well, and that's why you can hide the cord behind the unit once mounted.
Other amazing features include auto dimmer, auto eco-mode, digital thermostat and power outage settings recall.
As for safety, there's truly nothing to worry about with its child lock, tip-over shut-off and overheat protection features. These features, along with its lifetime filter, are other reasons why this is such a durable and long lasting product.
Pros
Quiet operation.
No harmful Fumes.
Washable lifetime air filter.
Easy to operate.
Space saving due to wall-mount design.
Energy efficient.
WiFi control.
Cons
Can't heat areas larger than 750 sq ft.
3. KEY TEK Wall-Mounted Patio Heater
Best Price
The Key-Tek wall-mounted heater is not just a great unit for small to medium indoor rooms and spaces, but is also suitable for patios, garages, and outdoor spaces.
You don't even have to worry about damage from weather elements like rainfall or snow; this unit is IP55 waterproof rated, so you can be sure of long-lasting outdoor use.
This unit should last last at least 5 years. Some homeowners may enjoy it for up to 7 years and beyond, depending on maintenance and use. It is easy to use and has a remote control device for smooth operation.
With 3 heat setting and convenient assembly, this is one unit that's truly worth the small investment.
Pros
Easy to use.
Durable and waterproof.
Smooth installation.
Great for both indoor and outdoor use.
Remote control for easy manipulation.
Cons
Difficult to operate without remote control.
Suitable for small spaces up to 80 sq ft.
Final Words:
As we've explained above, your infrared heater's lifespan is dependent on the brand quality, extent of use, maintenance and air quality in your home.
Overall, a good infrared heater, no matter how frequently you use it, should be able to give you up to 5 years. Less use often means a longer lifespan (with all other things taken care of).
If you're shopping for a new infrared heater, you may want to take a look at the three products reviewed above. Any one of them should give you good heating value based on your needs.
But if none of them tickles your fancy, there's an array of good products out there you can choose from to help keep the winter cold away.