Miko is probably not the name that comes to mind when you think about electronics. Let's face it; the rave about brand equity and following the big names is a major influence when we're faced with options to choose from. Truth is, you shouldn't write off a product just because you've probably never heard of it.
When it comes to air purifiers, Miko Air Purifier is one of those products that are constantly building a reputation and name as one of the most reliable and effective air purifiers for all sorts of air pollutants.
Are you having a hard time getting rid of pollen, dust mites, mold spores, dander, pet air, smoke and all sorts of odors in your home? Have you recently cleaned your carpet with chemicals including formaldehyde and you just can't bear the odor?
Do you have a pet that has refused to visit its pee or poop spot but would rather pee and poo anywhere and everywhere? Are you repainting your home but do not know how to deal with the smell of paint?
If you're reading this, we take it you've heard about air purifiers and are wondering if Miko Air Purifier is the right one for you.
As per our rating system, Miko Air Purifier scores overall 9.2 out of 10 which is excellent.
Low Noise levels, Ease of Use, and Area Coverage are top-performing features of the Miko Air purifier and it scores 9.8, 9.5 and 9.2 out of 10 respectively for these 3 features.
Miko Air Purifier has a good filtering system also scores 9 out of 10.
CADR rating is the only aspect where see scope to improve further for this air purifier, for which it scored 8.5 out of 10.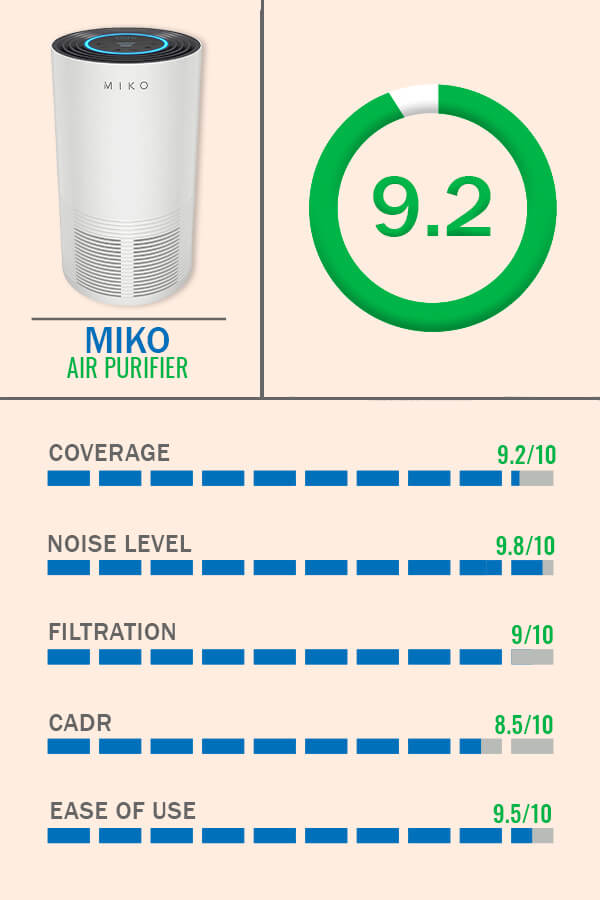 This is an honest review that tells you everything you need to know about the product, from its coverage, filtration system, noise level and Clean Air Delivery Rate (CADR) to its size and extra features.
You should be able to make an informed decision after you read our Miko Air Purifier Review.
About Miko Air Purifier
The first thing you'd notice about this product is its exterior beauty that is not just pleasing to the eyes but also compliments your home or office furniture.
Add that to its portability, efficiency and compact design and you'll see why this product is fast becoming a leader in the air purifier market.
Its sleek build, white exterior color with a greyish strip makes it a great piece of device to look at. The Miko air purifier is controlled by touch. The lit-up buttons are easy to navigate as well as operate.
This medical-grade H13 HEPA purifier is built to function optimally in medium to large rooms and offices.
Its capability is further enhanced by additional filter combinations. With this, you can be sure of getting rid of all pet dander, pet urine odor, pet hair, dust, pollen, allergen, smoke, odor and other particulate and gaseous pollutants.
Its filtration components are large and can handle large volumes of air contaminants without giving off.
What's more, you can adjust the fan speed to whatever level you want. At the lowest speed, the noise level can reduce to as little as 25 db.
It is one thing to eliminate air contaminants and bad odor, and yet another to replace it with an amazing and soothing fragrance. This air purifier gives you that much value.
Specifications of Miko Air Purifier
White exterior colour
10.97 x 11.5 x 13.2 inches in dimensions
Touch control buttons
6.49 pounds in weight
Replacement filter indicators
2 level non-stop timer
Key Features of Miko Air Purifier
Easy Touch Controls: The control of the air Purifier is done using the screen displays on the device. They are easy to use and manipulate for whatever operation you desire. The control also lights up at anytime of the day, so you don't have to worry about not being able to see them in the dark.
3 Fan-Speed Settings: You can easily set the fan speed to high, medium or low, depending on how clean or dirty your air is at that moment. This also determines the noise level of the device.
360-degree Filtration Suction: The purifier is designed with vents all around to enable air intake from all angles of your room, a system the manufacturers call the Tornado Intake Technology with 1,594 intake valves. The outlet for air release is at the top of the device.
Core Functions of Miko Air Purifier
1. Filters
The Miko Air Purifier boasts of having the best HEPA filtration technology on the market.
But it's not just that. The True H13 medical-grade HEPA filter is combined with a preliminary filter and an Anti-bacterial filter for enhanced performance against particles, odors and germs.
While the preliminary filter takes care of larger particles like pet hair and dander, the True HEPA filter can eliminate 99.97% of smaller particles like dust, mites, spores and so on, even as little as 0.3 microns.
But we all know particles can sometimes present living harmful microbes and viruses. As a tested medical-grade Purifier, with EPA, CARB, UL and ROHS certification, this product can eliminate bacteria and viruses in the air.
2. Coverage
The purpose of buying an air purifier is to clean up a specified area, whether it's your room, your entire home, a basement, an office, a restaurant or just about anywhere.
However, if you don't know the exact square footage of the air that needs cleaning, you may end up with a product that lacks the coverage needed or waste your money on one that does too much.
Your room could be anywhere between 80 sq feet and 200 sq feet. You may also have a much larger space or an entire house that needs cleaning, up to 1,600 sq feet.
The Miko Air Purifier has a coverage of 400 sq feet which can conveniently take care of medium to large rooms and offices.
3. Noise Levels
Miko Air Purifier has a pretty good rating when it comes to noise. It has a noise level bracket between 25db to 46db, from the lowest fan speed to the highest.
This ensures you can set it on sleep mode at night and have that comfortable sleep that you deserve with nothing more than a quiet whistling sound.
4. CADR Rating
CADR refers to how much clean air is delivered to the room per minute. With Miko, you get as much as 150 cubic meters per hour. This is slightly more than a third of the coverage area and is a fair amount of delivery.
5. Air Exchange Rate
This device is able to filter the air in a 400 sq ft area 5 times every hour. This means that it takes only 12 minutes to purify an 80 sq ft area. This feature ensures your air stays fresh and clean all day long.
6. Power Output
The product uses up only 25 watts of power, which can save you a lot of money on energy bills.
There are other products on the market that will cause a strain on your pocket at the end of the month or year, but this will not. Its energy consumption is far less than what a regular light bulb consumes. This makes it an economical product in the long term.
7. Safety
Safety is always a concern if you're out shopping for an air purifier. With Miko, you do not have to worry about ozone releases, UV exposure or other harmful effects. The exterior is also made of plastic, so there are no concerns of electrocution.
Other Special Features
Essential Oil Amplifier: This is always an extra for air purifiers. Think about having the smell of lavender, citrus or melon in your home just by having a Purifier clean up your home. You won't even require an extra air freshener. All you need is your preferred essential oil which will be poured into the amplifier. You can set the mood just how you want it.
Overheating Protection: When plastics overheat, they can give off an offensive smell. With Miko, this is prevented with its built-in protection mechanism that keeps the temperature at bearable limits.
Intuitive Control Panel: What the device has are not buttons but screen displays with lit-up images. These control displays work intuitively and do not require pushing. It is one of the smart features of the product.
Build Quality
In terms of durability, we'll score this product an 8/10. That is reasonable and you'll enjoy this product for a few years to come if you decide to buy it.
Best Placement
This air Purifier is reasonably large, but it doesn't pack so much weight.
If you have space on a solid table, it can work.
Otherwise, you can just place it in the middle of the room to enable its 360-degree design go to work.
Effective Usage of Miko Smart Air Purifier
This device is suitable for medium to large rooms not exceeding 400 sq ft.
This can be a bedroom, sitting room, a large study, a cafe or diner, an office and so on.
It is best used for dust mites, mold spores, dander, pollen, allergen, pet hair, bacteria, virus, and offensive or harmful odors.
What makes it great for odors is actually its ability to release soothing fragrance in the air, and not because it is actually able to capture all types of gases. You would need an Activated Carbon Filter for that.
Pros and Cons of Miko Air Purifier
Benefits (Reasons to Buy)
Great coverage, suitable for medium to large rooms
Added fragrance for clean and fresh air
Easy to operate and manoeuvre
Easy to use
Quiet operation in low noise mode
Quite affordable for its quality
Good exterior design
Very efficient air exchange rate at 5 times per hour
Comes with two replacement essential oil pads.
Drawbacks (Reasons Not to Buy)
May not be efficient against gaseous pollutants.
Requires filter replacement every 6 months.
Our Rating of Miko Smart Air Purifier
| | |
| --- | --- |
| Feature | Rating (On the scale of 1-10) |
| Coverage | 9.2 |
| Noise Level | 9.8 |
| Filtration | 9 |
| CADR | 8.5 |
| Ease of use | 9.5 |
| Overall | 9.2 |
Final Comments:
The H13 air purifier by Miko features multiple fan speeds, built-in timer, maximum surface area for air flow, all around suction, replacement filter indicator and essential oil port. The filter is composed of an H13 medical grade filter, a preliminary filter, and anti-bacterial filter for super clean filtration and performance.
Large filtration components allow for a more thorough and well rounded purifying process throughout your room. Filter out allergies, dust, pollen, pet dander, smoke, bacteria, viruses, germs, fungi, mold and more.
Oscillating Intake process collects all particles in a tornado motion which helps maximize efficiency while distributing fresh air. Air tight insulation makes sure there is no spacing so that all the air is filtering while going through the air purifier. Erosion protectant to ensure safe and durable quality.
Essential oil amplifier, easy touch control panel, and modern design will replace unhealthy particles with clean and fresh air in any room.
Lifetime support and full 1 year warranty, ETL, CARB, EPA, UL and ROHS certificated, CADR of 150m3/h, Range of 400 ft2, 25db to 46db, just 25w of power.
The Miko Air Purifier is a distinct offering by a committed brand looking to make a difference in the industry. With this Purifier, what you get is a truly budget-friendly, efficient, and functional device that eliminates almost 100% of airborne contaminants, keeping you free from irritation and diseases.
What's more, it gives a whole new freshness to your room making it a convenient place for rest, work and play. We certainly recommend this product if it ticks your boxes.
TOP RATED PRODUCTS FOR HOME