An air exchanger is a very useful appliance to have in your building if you need to have controlled ventilation. Think of it as a device that allows fresh air into a building, while removing indoor air.
The heat is, however, transferred between the incoming and outgoing air to reduce energy consumption in the process of maintaining indoor temperature.
Air exchangers are also a great way to recover heat and humidity, depending on the unit you use- whether a Heat Recovery Air Exchanger or an Energy Recovery Air Exchanger.
If you do not already have one, you're probably wondering what it would take to get a unit. Truth is, air exchangers are not so easy to come by. Depending on the complexity, capacity, coverage and size of the model, you'll need to part with a significant sum.
Purchasing and installing an air exchanger can cost a lot of money. This cost may even be higher if your building doesn't have an existing HVAC system. So, how much exactly does an air exchanger cost?
How Much Does an Air Exchanger Cost?
On average, an air exchanger costs between $700 and $2,000 for whole-house units while single-room units cost around $250. You'll need a ballpark figure of around $3,000 when you add installation costs.
But this cost can change, largely depending on your building's configuration and size. It also depends on whether the unit is a stand-alone model or whether it will be attached to your building's HVAC system.
This installation cost can raise the total cost way beyond $3,000. The cost of air exchangers also largely depends on their range and we'll take a look at them shortly.
1. Cost Based on Type of Air Exchanger
Both HRVs and ERVs tend to attract the same cost. Overall, you'll find single-room units for between $200 and $350, while whole-house units are sold for between $700 and $1,500.
ERVs tend to be a bit more technical and feature high-end functionalities. Such high-end models may cost up to $2,000 or more. There may also be other features that influence the pricing of an air exchanger, including defrost feature, core material, etc.
2. Cost based on Size and Capacity
We already mentioned that smaller single-room air exchangers cost around $250 per unit. These smaller units have a pretty low capacity but are just enough to perform significant air exchanges in an average room.
An example is the Tjernlund-X2D model.  On the other hand, larger whole-house units will cost between $700 to $1,500, depending on the model size, capacity, functionality and features.
Top Rated Air Exchangers
Are Air Exchangers Worth It?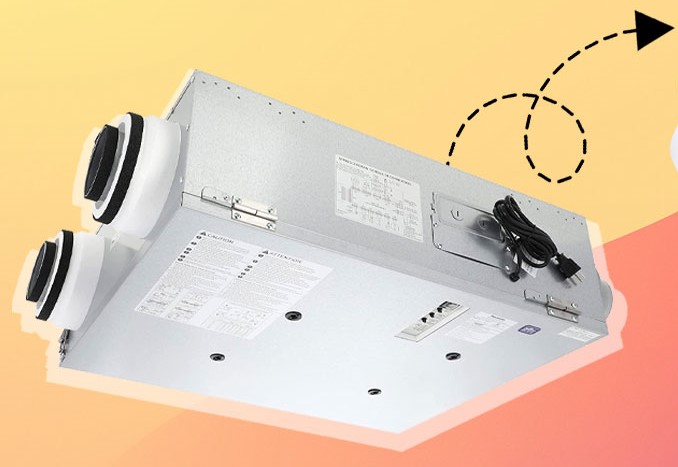 The simple answer is Yes. Air exchangers are a great way to include controlled ventilation in your home and, in many cases, can perform the job of multiple air appliances.
Air exchangers are great air purifiers, can help to regulate temperature and humidity, and can also help with damp recovery.
You may not need to run an air purifier, humidifier or dehumidifier or heater all the time as long as you have your air exchanger running. This will help you save cost on energy bills.
The initial cost of purchase and installation may seem like a big deal, but the value is worth it, and you're likely to recover that investment over time from savings made from other appliances. What's more, air exchangers are mostly energy efficient and quite easy to maintain.
How Much Is Air Exchanger Installation Cost?
We'll focus on whole-house air exchangers here. Asides from the cost of purchasing the unit, the installation also attracts quite a lot of money, usually between $1,200 and $1,800 per installation. Let's break it down for you;
1. Installation Basic Labor Cost
This includes personnel charges for installation work where there's existing ductwork.
The technician will assemble and secure the unit, mount a new external intake where necessary, fabricate openings, connect dampers, controller and power and ensure that the unit achieves good operation and airflow.
Area preparation, area protection, clean up, setup, material acquisition and so on are also included here. On average, technicians and HVAC professionals charge between $1,000 and $1,500.
2. Installation Supplies Cost
These include mounting hardware, fittings and fasteners needed for the installation. Usually, it'll cost you around $100-$170 to get these items.
3. Other miscellaneous costs
Sometimes, you may need the HVAC professional to remove an existing HVAC system or dispose-off air exchanger debris. Such jobs include mounting hardware disconnection, power disconnection and material dump fee. Overall, you'll be charged between $100 and $150 for it all.
Existing or New Ductwork
This is another way to determine installation cost. It is often cheaper when you have an existing HVAC ductwork to attach your air exchanger. However, this will require a large unit because an HVAC ductwork can only take bigger units which are more expensive. If you intend to have a stand-alone unit with a dedicated ductwork built from scratch, the ductwork will cost quite a lot, but you can save money on the size of unit you'd need to buy.
On average, building a new ductwork in an average home will cost anywhere from $1,000 to $5,000, using the standard $45 per linear foot average. This is higher compared to using an existing HVAC ductwork which may only cost between $600 to $1,500, depending on the complexity of the installation.
The VENTS TwinFresh Comfo is an example of a stand-alone ERV Air exchanger that can also attached to an existing ductwork depending on specifications.
Final Words:
It could seem like a lot of financial burdens to buy and install an air exchanger, but when you consider how much you save on the long run, you'd realize it's a good deal.
You'd spend way less money running your HVAC systems like air conditioners and central heaters, while you enjoy fresh, clean air with just the right amount of temperature and humidity.