A crawl space is a narrow area beneath the roof or the first floor of a building and is used to access plumbing and electrical wiring. The passage of air in and out of space is known as ventilation.
Ventilation of crawlspaces may have a significant influence on a property. Although few people visit these places regularly, the condition of the crawlspace has far-reaching consequences.
The state of your crawl space has a significant impact on your comfort and indoor air quality, but the fact is that there are consequences that may cost you money while also jeopardizing the value and safety of your house. Many of these problems are related to crawlspace ventilation.
A typical crawl space has wall apertures or vents that enable outside air to circulate beneath your living area. Moist air accumulates and condenses on colder crawl space surfaces throughout the summer.
This accumulated moisture causes rapid decay and rot of pillars, beams, joists, and floors of a building.
Wet wood attracts ants and termites whose colonies wreak havoc on the timber. Indoor air pollution can cause health challenges due to airborne spores that infiltrate the living area through cracks and crevices in the crawl space floor.
So, you need a crawl space exhaust fan with a built-in dehumidistat to switch on and off automatically as the humidity changes.
Wet crawl areas may develop problems over time and become enclaves for molds, fungus, pests, and mildews.
Moisture accumulates in crawl spaces as a result of insulation absorbing water vapor. Mold and fungus thrive in dark and warm environments. These pathogens can migrate to the house, causing significant damage.
In addition, high humidity promotes termite infestation and the growth of fungus. The moisture level in a crawl space also influences rust, causing corrosion and leakage in metallic pipes.
Ventilating a Crawlspace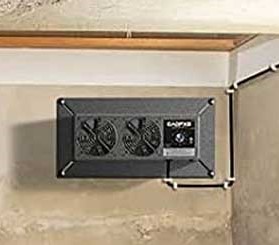 It takes time to install ventilation in a crawl space, and numerous choices are available depending on the kind of structure or foundation. Encapsulation was a popular alternative recently due to its energy efficiency.  
It involves covering walls, floors, and support systems in plastic sheets to keep the space dry.
More options for crawl space ventilation include:
Ventilating the crawl space with a limited supply of warm air from a heating system such as HVAC.
Using an exhaust fan to force air from the crawl space to the outdoors.
Installing a dehumidifier or an air intake system.
Using the outside air from an exhaust fan is the most efficient and effective method of drying a crawl space and improving the air quality.
However, keep in mind that you must first measure your dew points to assess whether the air is favorable or not.
The Cubic Feet per Minute (CFM) of a Crawl Space Exhaust Fan
You can use the CFM to determine the size of the fan that will best meet your ventilation requirements. When buying a crawl space exhaust fan, it is vital to know the amount of air the fan will move, measured in CFM.
You need to calculate the cubic area of the space by multiplying the length, breadth, and height of the crawlspace. Then, divide the figure by 15 to get the minimum CFM required to ventilate the area in 15 minutes.
A crawlspace should have 1 ft2 of screened vent for every 150 ft2 of area, according to the International Residential Code (IRC).
Best Exhaust Fan for Crawlspaces: AC Infinity AIRTITAN T8 Crawlspace Exhaust Fan
Best Overall
The AIRTITAN T8 crawlspace exhaust fan is a weather-resistant, high-airflow exhaust fan that ventilates and controls the temperature and moisture levels in crawlspaces, basements, attics, and garages.
The AIRTITAN T8 lowers humidity levels by generating exhaust airflow to eliminate smells and stale air from your house, making it comfortable and safe. It can also aid in the removal of unwanted heat that may accumulate to toxic levels.
A programmable controller with a wired probe can regulate the airflow based on temperature and humidity.
It has a heavy-duty stainless steel frame with 120mm IP-44 certified fans that are resistant to dust and liquid. The fan system is encased in heavy-duty metal and protected by spiral fan guards.
It has an LCD, smart thermostat, dehumidistat control, and adjustable fan modes. The controller also has corded sensor probe jacks for monitoring temperature and humidity.
With an input power of 10W, the fans can increase the airflow to 240 CFM while decreasing the noise level to 32 dB. It uses DC motors controlled by Pulse Width Modulation (PWM), which is quieter and more energy-efficient than AC fans.
The motor contains dual-ball bearings with a life expectancy of 67,000 hours, and you can install it vertically or horizontally. To mount the device and power it through a socket outlet, you'll need hardware and a 6-foot corded power supply.
Each unit's controller monitors the temperature and humidity, and the fan speed configures to adjust automatically to low and high temperatures and humidity.
With the smart controller, you can set the fan to operate constantly or on a timer at different speeds. It also has a 12-foot corded sensor probe, alarm warnings, eco-mode, fan failure alerts, and backup memory.
Specifications
Airflow Rating: 240 CFM
Dimension: 9″ W x 18″ L x 2″ H
Type of fan: Crawl space fan
Controls: Electronic
Wiring style: Plug
Dehumidistat: Yes
Noise Level: 32 dB
Ductable: Yes
Fan bearings: Dual Ball
Number of fan speeds: 10
Mounting positions: Vertical or Horizontal
Operating humidity: 35 to 85% RH
Operating temperature: 32 to 1400F
Operating voltage: 12V DC
Power consumption: 10 W
Amperage: 8 Amps
LIO Life Expectancy: 67,000 Hours.
Pros
Simple to install and program
It moves air effectively from crawl space, attics, and basement
Controls moisture efficiently
Extremely durable
Runs near-silently
It has a LED display.
Cons
Usage Guide
Your home protects you from external factors such as rain and dust, although they can also infiltrate your home unexpectedly. Trapped moisture causes mold, wood decay, and insect infestation.
Harmful contaminants such as radon, which seeps from the earth, can accumulate to toxic levels, while unpleasant temperatures or odors make life uncomfortable.
To eliminate these contaminants from crawl spaces, attics, and the basement, install the AIRTITAN T8 Exhaust fan.
Installing the Unit
Remove any existing grilles, vents, or coverings from the ventilation aperture where you want to install the exhaust fan.
Place the unit away from the wall, just above the ventilation opening. Before installation, please double-check the airflow direction.
Use the unit or plastic template to identify the mounting location, whether you are fixing the unit on a cabinet, wood header, wall, rim joist, or mesh on an existing crawl space vent.
Use the supplied wood screws to fix the mounting frame to the surface. You may need to drill a hole if you're using a machine screw with nuts. Note that this product does not come with a plastic template.
Powering the Unit
To enable temperature monitoring, insert the male connection of the thermal probe into the specified probe port on the lower part of the fan unit.
To power ON the unit, connect the male plug of the corded power adapter to the corresponding power port on the lower part of the unit. Then, plug the adapter head into an outlet.
The AC Infinity AIRTITAN T8 provides excellent cooling, heating, and ventilation to your home.
Users Feedback on AC Infinity AIRTITAN T8 Crawlspace Exhaust Fan
These are feedbacks from customers who bought the AC Infinity AIRTITAN T8 Crawlspace Exhaust Fan.
Positive Reviews
1. It is quiet
Several customers liked the noiseless operation of the unit. You will hardly hear the sound. Operating at a noise level of 32 dB means it is super quiet and whispering to give you comfort in your home. 
2. Easy to install and operate
Some users mentioned that they installed the unit using the installation manual without calling a professional. It is easy to operate the programmable features, a controller, temperature, and humidity probes. 
3. Maintains the temperature and humidity level
Another positive feedback from users is the ability of this fan unit to keep the temperature and humidity stable.
Several customers liked it for reducing and maintaining the temperature and moisture level in their crawlspaces, basements, and garages. They also praised it for its effectiveness as a bathroom vent fan and very helpful when having a hot steamy shower.
4. It gives value for money
Lots of users gave accolades to the great features of this unit. While some customers mentioned that it has a great value with low power consumption, others liked the quality, adjustable 10-speed modes, and fair price. 
5. Smart Controller
The Smart Controller is another feature that caught the attention of several users of this crawl space exhaust fan. They said the controller allows them to set up the fan to operate constantly or on a timer at different speeds and gives off alarms and eco-mode.
Negative Reviews
Few users complained that the fan blades are not powerful enough to move much air.
4 More Top Rated Exhaust Fans for Crawlspaces
1. CADPXS DuraAir Crawlspace Ventilator
Best for Large Areas
The CADPXS Crawl Space ventilator provides good air circulation on the porch and beneath the building. It measures 18″ L x 9″ W x 2″ H and comes with two fans and a 6.56 foot grounded power cord.
It provides a strong airflow of 220 CFM to ventilate a moist crawl space up to 1200 sq ft, exchanges indoor and outdoor air, improves the air quality, and regulates humidity with its quiet ball bearing motor of 32 dB noise level.
It features a built-in dehumidistat with 20% to 80% RH. This ventilation fan can effectively remove radon gas from treated wood and other contaminants to avoid migrating into the living room and causing discomfort.
It also has a thermostat with a freeze control feature. If the freeze protection thermostat detects low external temperatures, the dehumidistat control will stop functioning.
The CADPXS DuraAir Crawl Space Ventilator regulates the temperature and humidity levels in a crawlspace, attic, basement, or garage to improve air circulation and protect your home and its inhabitants.
It operates quietly without compromising performance with the powerful centrifugal blades. It won't disturb you and is ideal for sleeping and working. When it reaches the desired humidity level, it will automatically turn on or off, thanks to the humidity sensor.
This crawlspace ventilation fan is easy to use with the knob-control panel design. You can control it with the humidity switch, and the fan will start operating when the detected humidity exceeds the preset value.
Crawl space ventilators feature factory-installed and pre-installed thermostats to eliminate the possibility of the fan being disabled when external temperatures drop below 35 degrees Fahrenheit.
When the outdoor temperature exceeds 50 degrees Fahrenheit, the fan will resume regular operation.
It weighs about 5.7 lbs and has a power output of 45 Watts with an operating voltage of 115V AC to help you save money on electricity costs.
Pros
It is quiet
Strong polypropylene structure
Equipped with humidity and temperature controls
Simple installation
Can be concealed beneath a building
Regulates temperature and humidity effectively
Reduces moisture level
It improves air circulation.
Cons
It takes time to remove much air.
2. ALORAIR Crawl Space Ventilator Fan
Most Energy Efficient
The ALORAIR crawlspace exhaust fan is 18″ L x 1.7″ W x 9″ H in dimension, and you can install it horizontally or vertically.
It has a low noise level of 48dB and is one of the best choices for regulating the humidity and temperature levels in crawl spaces and basements.
The built-in 120mm double-blade fan with a front metal grille is powered by a double-ball DC motor and can move up to 240 CFM while consuming less electricity and producing less noise than AC fans.
This crawl space exhaust fan also features wind speed adjustment, a multi-function control panel, timer, temperature, and humidity settings. The time loop function allows the user to operate the unit by adjusting the rest and working times.
It has a durable construction with a metal fan cage, heavy-duty stainless steel frame, and IP-44 rated fans with high water resistance and protection to withstand different weather conditions.
This high airflow exhaust fan from AlorAir regulates the humidity and temperature levels in crawlspaces, garages, and basements. You may install it inside a crawl area behind an existing ventilation aperture using the included screws and brick wall anchors.
The temperature and humidity probes should be mounted in the same space as the equipment, but not where they will get wet or damaged. 
Excess moisture would lead to costly restoration efforts. The AlorAir Ventirpro-S2 features advanced programming, which allows it to smartly open, close, or adjust the airflow to respond to changing weather conditions.
With the advanced programming, the fan speed will change automatically in response to changes in humidity and temperature. In bad weather, the programmed alarm system will activate at the appropriate time.
This excess moisture is released into the air through open, vented crawl areas and continues to degrade the air quality.
Through a "stack effect," high humidity can make its way to the upper levels of the house. In essence, whatever air is beneath the house is equally inside it.
As warm air rises and exits through the higher floors of the home, fresh air enters to replace what is lost. Lower floors get intake air through open crawl spaces.
A decrease in humidity provides comfort. Another advantage of using the crawlspace fan Ventirpro-S2 is that it reduces the smell in the basement and crawl space.
The airflow produced by the underfloor fan Ventirpro-S2 flows smoothly through the vents, keeping the air cool.
You may change the airflow based on the temperature and humidity levels to accommodate varied weather conditions.
The operating temperature of this machine is 140F to 1580F, with a relative humidity of 20% to 100%. It uses a low power of 8.5W, driven by a 12V DC operating voltage.
Pros
Built to last
It saves space
Well-equipped with features
Easy to install
Reduces humidity effectively
Circulates air evenly
Multi-function control panel
It saves money on the energy bill
Eliminate odors from crawlspaces.
Cons
It is too loud
The display screen is not humidity proof.
3. Tjernlund V2D UnderAire Crawlspace Exhaust Fan
Easy to Install
High humidity in crawl spaces causes mildew, mold, and wood decay, and the odors usually migrate to the living area. Tjernlund's UnderAire ventilator fan quickly reduces moisture in crawlspaces to safeguard your home and inhabitants.
It is made of wood with dimensions of 22″ L x 12.8″ W x 4.7″ H and weighs 6.5lbs. This machine enhances air circulation to ventilate damp areas that may cause contamination and condensation.
It vents radon gases from treated wood and other contaminants that may spread into living spaces if turned ON always.
A dehumistat feature controls the humidity and operates between 20% to 80% RH. It activates the fan whenever humidity increases above the predetermined level. 
This machine has two fans and a faceplate suited for ventilation apertures through simple block foundations. It swiftly exhausts odors and moisture to the outside through the pre-existing passive ventilation.
You can modify the galvanized faceplate to match the frame of your air vent or non-standard foundation outlets.
It runs on 115V and produces 220 CFM of airflow with 40 watts of maintenance-free exhaust fans at a noise level of 51 dB.
It also has a built-in adjustable dehumidistat for automated operation, a freezing prevention thermostat, and a 6-foot grounded power cable.
This built-in dehumidistat regulates humidity levels by altering the thermostat temperature to prevent excess humidity from causing mold when you are away from home for some time.
Furthermore, if the freezing protection thermostat detects low external temperatures, the dehumidistat function will not work.
High humidity can encourage the growth of fungi, enhance termite activity, and cause plumbing issues due to corrosion and rust.
Pros
Eliminates odor and stuffy air efficiently
Circulates air evenly
It is well-built
Powerful airflow rating
It features different humidity settings.
Cons
Not suitable for larger areas
It is noisy.
4. Durablow Crawl Space Exhaust Fan
Smart Technology
The Durablow crawlspace fan is an AC axial ventilator with seven wings, a power cable, and dimensions of 18″ L x 9″ W x 2″ H.
It reduces the radon concentration in a crawlspace, and since radon gas is denser than air, it will condense on lower levels.
It consists of a 304-grade stainless steel panel and a casing for longer life in a humid climate. The stainless steel body is corrosion-resistant and perfect for moist environments.
This machine has an airflow of 220 CFM (cubic feet per minute), with both fans producing a noise level of 50 – 60dB.
It is equipped with EVA shock absorbers for installation to reduce the noise to a minimum level. If properly installed, the noise level is unnoticeable during operation.
It features a built-in dehumidistat to regulate the humidity and a freezing protection thermostat to turn off the machine instantly when the temperature falls below 320F.
This device is a digital home crawlspace ventilator with 2.4GHz WiFi capability. It is compatible with Smart Life APP if you want to check the moisture level on your smartphone.
There will be no more creeping in a dark, dirty, cobweb-infested crawl space. This exhaust fan offers voice control and is compatible with Echo, Alexa, and Google Home Assistant hub speakers with preset timer and schedule.
You can check the fan and WiFi status indicators and the current relative humidity of the area on the control panel and modify the settings on the smartphone APP, and the information will sync immediately.
Pros
Reduces moisture effectively
Improves air circulation
It prevents odors from spreading into living spaces
Suitable for smart homes
Built-in dehumidistat.
Cons
How to Choose the Best Exhaust Fan for Crawl Space?
1. Airflow Rating

The square footage determines the CFM value, with a suggested 1 CFM per square foot. Units with a minimum CFM of 50 will cover small areas, and others with a larger airflow rating will take care of larger spaces.
It means exhaust fans with a higher CFM value will cover larger areas.
In this case, the ALORAIR Ventilator and AIRTITAN T8 crawl space fans are the best crawl space exhaust fans on this list, with the highest airflow rating of 240 CFM.
2. Noise Level

Our best selection of exhaust fans for crawl spaces has a noise level ranging from 32 dB to 60 dB. The fan will be quieter if the noise levels are lower.
A 32 dB fan is practically quiet, but a 60 dB fan is comparable to the sound of a buzzing refrigerator. If you are uncomfortable with noise while you rest, then selecting the one with a silent operation will help.
The CADPXS DuraAir and AIRTITAN T8 have a silent operation with a noise level of only 32 dB.
With this, you can't hear any sound while it is operating. So, it is best to go for units with a quiet operation that will not disturb your comfort.
3. Programming features

Some of the most complex crawl space exhaust fans have humidity control (dehumidistat), temperature control (thermostat), and fan speed adjusters, beneficial in areas with varying temperatures, such as tropical residences or greenhouses.
Programming features will make it easy to operate the device for maximum efficiency. Whatever crawl space exhaust fan you choose, make sure it has a built-in dehumidistat.
That is the most vital factor to consider when making a purchase, while other requirements are secondary. High-level crawl space ventilators come with these programming features and are present in the crawl space exhaust fans we have reviewed.
4. Installation

Installing a crawlspace exhaust fan should not be time-consuming. It is important to note that new constructions might take up to a day to complete because they involve drilling a hole, mounting a vent, and linking the fan.
So, we carefully selected only the best exhaust fans for crawlspaces with easy installations that you can fix yourself if you understand the construction.
5. Smart Functions

Purchasing the best exhaust fan for crawlspaces with features such as Amazon Alexa or Google Assistant can be used to manage switches and other devices that might control an exhaust fan.
With a Smart Life APP, you can control the appliance remotely using your smartphone to check the moisture level and modify settings, and it will synchronize instantly.
The Durablow Ventilator fan outperforms other fans in this review. It is compatible with Smart Life APP, installed on your smartphone with WiFi capability. It also offers voice control compatible with Echo, Alexa, and Google Assistant. 
6. Power

Purchasing a crawl space exhaust fan that can operate steadily for some time but consumes less energy is the best bet for users. It will save electricity costs while ventilating your crawl space effectively.   
ALORAIR Ventilator fan consumes less energy with 8.5 W, which is the least among others, followed by AIRTITAN T8 with an input power of 10 W.
Be sure that your preferred choice does not consume much power while working to ventilate your crawl space.
Comparison of Top 5 Exhaust Fans for Crawl Space
Final Words:
To save money, having an efficiently ventilated crawlspace is just as vital as building your house with the best exhaust fan for crawlspaces from the beginning.
Buildings with inadequately ventilated areas develop a lot of wood rot over time and weaken the foundation. If that isn't enough to frighten you, the thought of mildew, pests, mold, and dampness should.
We recommend that you ventilate your crawlspace using one of the best crawlspace exhaust fans recommended in this post.
TOP RATED PRODUCTS FOR HOME