Heaters have been known to be man's reliable companion when the blistering winter winds come around. In the thick of winter when snow falls heavily on our homes, it is very likely to find smoke coming out of the chimney of certain houses, especially those built before 1970.
Today, there are other alternatives that allow you to use electricity and propane, and also focus on heating in specific rooms and spots. This is why you can have a heater in that one room in your home where heating is most needed.
But what about bathrooms? While you can use portable heaters in your bedroom, living room, and other parts of your home, is it also possible to use them in the bathroom?
Are there concerns about electrocution or even damage to the appliance itself? And if you can use them in bathrooms, are there safety precautions to consider? These are some of the questions we'll answer in this post, and we urge you to stay with us.
Top 3 Safe Heaters for Bathrooms
Is It Safe to Use Heaters in A Bathroom?
For most people, this is a resounding No, and we can understand why. The thought of having an electrical appliance close to water or water vapor can be quite scary, and rightly so.
In fact, the U.S. Consumer Product Safety Commission (CPSC) warns that you should NOT use electric heaters in bathrooms.
This was as far back as 1990 and was issued after several accidents involving the use of electric heaters in Missouri, Illinois, and several other states in the country.
However, that was more than 20 years ago, and while the danger is still very much present, there are now ways to get around using heaters in the bathroom.
For starters, there are now many wall-mounted propane heaters you can use in the bathroom, as long as the bathroom has an outer wall, the unit's input rating is well below 6,000 BTU, and there is an Oxygen Depletion Sensor (ODS).
Central heating systems may also be connected to the bathroom, depending on the design.
But let's focus on portable heaters. Using Ground Fault Circuit Interrupters (GFCI) is one way to safely use a heater in a bathroom. In fact, GFCI outlets are a legal requirement for bathrooms in the US built since 1975.
The outlet is designed to automatically shut off power when fluctuations in current occur. This can be due to contact between vapor/water and the unit.
They are also pretty sensitive and reliable that even the CPSC admits that the GFCI will detect and shut off power for as little as a slight current interruption of 0.006 amperes.
Also, the quality of the heater you use is a factor. Cheap, low-quality heaters under $30 are usually not what you need in a bathroom, except for a few exceptions.
Apart from wearing off and rusting away due to water vapor, they are also less likely to have protection against electrocution in case of contact with water.
Instead, get a powerful space heater that heats up fast and adequately. By getting hot, the heater protects itself- evaporating the water around it and in the air and dehumidifying the room in some way as well. Also, the high heating power means you don't have to leave it on for too long.
But beyond getting a top-quality heater for your bathroom, where you place it matters a lot. You should never drop your space heater on the side of your bathtub or hanging above it.
You should also never keep it close to the shower area. The best spot is close to the exit door and close to the floor as possible, or even on the floor.
Most accidents involving a heater in a bathroom occurred because the appliance fell into the bathtub causing electrocution. By leaving it on the ground, there's no chance of it falling into the bathtub, or even falling at all.
Can I Use a Heater While I Shower?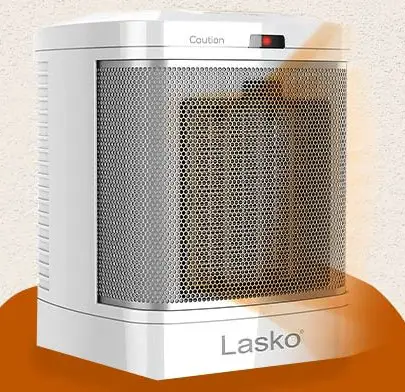 You certainly can, as long as it is a top-quality heater, with some level of protection against electrocution from contact with water. Also, ensure that you have a GFCI installed in your bathroom and that the heater is placed on the ground far away from the bath area.
Also, you need to ensure that there is no continuous splashing of water on the unit. While quality heaters may withstand water vapor, they cannot withstand contact with high amounts of water.
You also need to shut off the heater from the outlet once you step out of the bath area or tub, to prevent your wet body from coming in contact with a running heater.
After showering, ensure you air the bathroom to allow water vapor to escape. Otherwise, it may settle on your heater and cause some damage. You can simply open the windows and doors, but if you have a ventilator, that's an even better option.
What Kind of Heater Is Safe for The Bathroom?
Sadly, waterproof and weatherproof electric heaters are often built for outdoor patio use. You can talk to your local electrician or HVAC professional to see if any of those fit in your bathroom.
As long as it's not hanging over your tub, you should find something that works. However, there are some indoor space heaters built with certain safety features that can work well in your bathroom.
Important safety features to look out for in bathroom heaters:
1. Automatic Shut-off Switch
This will shut down the unit when there's a surge or interruption in the flow of current.
2. Tip-over Protection
With such a feature, the unit automatically shuts down when it is tipped over. This can help avert accidents in your bathroom.
3. Cool-touch Exterior
This is another safety feature that you should look out for in a heater whether in your bathroom or elsewhere in your home. Burns and injuries can be prevented.
4. Non-conductive Exterior Casing
It is better to purchase a heater with a plastic or other non-metallic, non-conductive outer casing. This can help to prevent electrocution if water touches the body.
Top 3 Best Heaters for Bathroom
1. Vornado MVH Vortex Heater
Value for Money
The Vornado MVH Vortex Heater is a well-rated heating appliance that's both portable and compact. With 3 heat settings running from 750W to 1,500W, the unit is able to conveniently heat small to medium-sized rooms and help keep the cold away.
But more importantly, this unit can be used in a bathroom. First, it is built with plastic on the outside, making it non-conductive and less likely to cause outward electrocution.
The forced air heating technology means it has a fan that blows out air. This is one way to keep vapor away.
But the unit is also equipped with safety features, including tip-over protection, a cool-touch exterior, and an automatic shut-off system.
Specifications
Dimensions at 9.2 x 10.4 x 10.6 inches.
Weighs 3.76 Pounds.
Forced air heating method.
3 heat settings.
Includes internal 7-setting thermostat.
Pros
Has sufficient safety features.
Pretty affordable.
Portable and compact.
Convenient for use in different parts of the house.
5-year warranty.
Cons
Cannot cover large rooms and spaces.
2. Lasko CD08200 Small Portable Ceramic Space Heater
Best Features
This is an unbelievably affordable product with just the right features for use in rooms and your bathroom as well. It is a ceramic space heater that runs on the convection heating method.
With a maximum heat output of 1,500 Watts, it is a powerful but portable space heater with proven performance and safety. The ALCI safety plug is one of the most important features that make this Lasko heater suitable for bathroom use.
This quickly shuts off power to the appliance in a tenth of a second when a short circuit occurs. It also has a cool-touch exterior, automatic overheat protection, and other features that make it a favored choice for bathroom use.
Specifications
6 x 6 x 7.65 inches in dimensions.
Can cover 225 sq. ft.
Weighs 3.67 pounds.
Convection heating method.
3 heat settings.
Pros
Very easy to use.
Portable and compact.
Strong heating power.
Sufficient safety features.
Easy to move around.
Comes with its own GFCI.
Cons
3. BEYOND BREEZE Space Heater
Best Price
This is yet another space heater with proven stellar performance in providing much-needed warmth when called upon. It is a 1,500-watt ceramic electric heater that uses the ceramic, fan, and forced-air heating method.
This heater is portable and compact, yet powerful enough to cater to small to medium-sized rooms. It can also be used in several applications including bathrooms due to specially designed features and components that ensure its safety.
There is tip-over and overheat protection on one hand, as well as plastic exterior casing and safety grills on the other. However, it is advised to use this unit with a GFCI outlet in place.
Specifications
7.8 x 5.5 x 9 inches in dimensions.
2.23 pounds in weight.
Uses ceramic, fan, forced air heating method.
3 adjustable power levels.
Has a convenient carry handle.
Pros
Easy to use and manipulate.
Lightweight and easily carried around.
Very portable and compact.
Good output.
Extremely affordable.
Cons
Can only cover small rooms and spaces.
Maybe too weak to withstand continuous exposure to water over a long period of time.
Final Words:
Bathrooms are one place we get the chill after a shower in the winter. Coming out of the bathroom to that blast of cold wind is the reason we need to find heating solutions.
Thankfully, there are heaters that can be used in a bathroom as we've shown in this post. You may pick any one of your choice and warm-up that crucial part of your home.
Otherwise, you can look for something else that fits better. If you cannot abide by these tips we've highlighted here, it's best you keep your electric heater away from your bathroom for your safety and that of your household.
TOP RATED PRODUCTS FOR HOME