Have you felt the chill and discomfort of a cold bathroom before or after a shower? If you have, then you must have shivered in discomfort and wondered if there was any way to keep your bathroom warm, especially during the cold season.
The good news is, there are several heating options for your bathroom, ranging from underfloor heaters to towel radiators, electric heaters, and ceiling heaters. 
Ceiling heaters are quite popular among all these options, probably because of their location and ability to emit warmth without any obstacles. 
However, is it safe to use ceiling heaters in your bathroom? Are there safety tips you should be aware of? Let's find out. 
Are Bathroom Ceiling Heaters Safe?
If handled properly, bathroom ceiling heaters are safe. If the bathroom ceiling heater has all the necessary safety features and meets the required standards, then you can rest assured that you'll enjoy the warmth it delivers without being in danger of accidents or fire outbreaks. 
However, this isn't to say that there are no risks associated with ceiling heaters. The tricky relationship between electricity and moisture is one reason the use of heaters in the bathroom has been questioned and even criticized.
There is a risk of fire outbreaks when using ceiling heaters in the bathroom, and in some terrible situations, such outbreaks have led to the loss of life and property.
What Type of Room Heater Is Allowed in A Bathroom?
You'll find several types of heaters that are suitable for your bathroom, which means you have to consider what best suits your taste and the nature of your bathroom. They include wall-mounted heaters, compact heaters, portable heaters, and baseboard heaters.
1. Baseboard heaters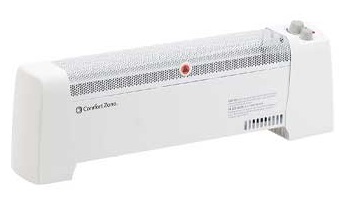 As the name implies, these heaters are installed on the floor of the bathroom to supply heat throughout the room.
Although they are quite efficient, many electric baseboard heaters take a long time to warm up and then circulate the warmth throughout the room.
2. Ceiling-mounted heaters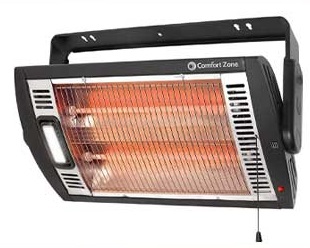 Ceiling heaters are a great source of permanent heating for your bathroom.
They are often preferred above floor heaters for several reasons. First, their location makes them impossible to obstruct.
They are also out of reach, so you won't come in contact with them accidentally.
Ceiling-mounted heaters are also far away from water sources, which means fewer risks of hazards.
3. Wall heaters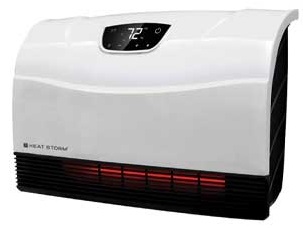 Wall heaters are a less expensive bathroom heating option and a perfect choice for small bathrooms.
They don't get in your way and also don't occupy much space in the bathroom because they're hung up with a nail or screw.
Wall heaters are next to ceiling-mounted heaters in safety because when placed at an appropriate height, they are out of reach of kids and adults likewise, and less likely to come in contact with water.
4. Exhaust fan heaters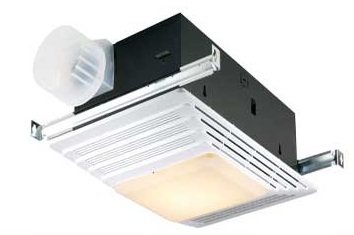 Exhaust fan heaters work using an exhaust fan mechanism that heats the room, reduces humidity, and prevents steam damage on your walls and bathroom furniture.
These bathroom heaters need a duct to remove trapped air from the house, otherwise, mildew and fungus will form in your bathroom.
5. Portable heaters
Portable heaters are perfect for multipurpose usage because their compact and lightweight nature makes it easy to move them out of your bathroom when you're done and into another room to heat up.
How Long Can You Leave a Bathroom Heater On?
Depending on how quickly your bathroom heater warms up, you can leave it on for 20 minutes during and after your shower. You can leave them on just long enough to preheat the bathroom before bathing.
As long as you're in the bathroom or using the bathroom, you can leave the heater on, but when you step out, the heater shouldn't be left running. When it is left running, it can pose a risk of fire damage, which can be quite costly.
The National Fire Protection Association said home fires and resulting deaths happen every winter because of improper heater operation.
The association reports that 53 percent of home fires between 2011 and 2015 were caused by heaters placed too close to flammable materials. 20% of fire damages caused by heaters happen between 8 p.m. and 12 am, while 18% happen between 12 am and 8 a.m. 
With all these in mind, it is a bad idea to leave your bathroom heater on when you're handling other chores or going to bed.
To ensure that your bathroom and the entire house are safe during the period of its usage, try to get a ceiling heater that has the following features:
Timer
Some bathroom heaters come with a timer feature that can help you specify how long you want to leave the heater running. When the timer goes off, your heater also goes off, so you can go about your business or go to sleep without any worries.
Adjustable thermostat
This thermostat is set in a way that your bathroom heater will only run when your bathroom is at a certain temperature or lower. You get to set the ideal temperature for the heater to work, and it will only work when that temperature you set is reached.
Automatic shut-off
Similar to the adjustable thermostat, this feature will shut down when an internal temperature gets too high. This feature helps to reduce the risk of overheating and potential outbreaks that start in the bathroom. 
Final Words:
A ceiling heater is a great addition to your bathroom because it delivers much-needed warmth and stays out of your way while doing that. Ceiling heaters can be installed in your bathroom once you decide to opt for them, and they are worth the investment because of their convenient nature.
If you have decided to use a ceiling heater in your bathroom, then you should engage the services of an electrician who is skilled in bathroom heater installations to come in and install the heater. 
Remember, the quality and standard of the ceiling heater determine whether it'll be comfortable and safe for use, so always go for the best ceiling heater and you'll be glad you did.