Do you experience a damp, stale, and musty smell in your apartment due to mold and mildew? Do you have allergies in your home? If you answered " yes " to any of these questions, you need a decent dehumidifier for your apartment.
It is vital to spend enough time and effort choosing the best dehumidifier for your apartment. Most people may enjoy the comfort and convenience of an air conditioner, so they give dehumidifiers little attention. So, it is best to keep your environment away from moist air and maintain the humidity level.
Investing in the best apartment dehumidifier is necessary, especially if you or someone in your home suffers from allergies. Not only does a dehumidifier eliminate extra moisture, but it also removes dust mites and other allergies.
For best performance, the dehumidifier should be close to the source of moisture. Always keep it away from furnishings, curtains, and walls, because anything obstructing the airflow may hinder dehumidification.
Sources Of Moisture In Apartments
During the day, there are several sources of excess moisture. The shower is one of the primary sources. Washing the dishes and using the clothes drier also contribute to the humidity in a small apartment. Your apartment will continue to absorb moisture if there are no exhaust fans or open windows.
Excess moisture or high humidity can be hazardous to your health and property. It may cause mold and mildew to grow, which can destroy wood, corrode metal, and make you feel sick from bacterial contamination of the air. However, you can control the humidity to avoid this.
A helpful approach to it is an apartment dehumidifier. Depending on the types, they have features that control and maintain a safe humidity level.
Are you trying to figure out the type of dehumidifier to purchase that will take care of the humidity in your one-bedroom apartment? Generally, a one-bedroom apartment should have a minimum of 450 square feet. Anything less than that is considered a studio apartment.
If it is more than 700 square feet, it is considered a large one-bedroom apartment. A coverage area of about 1,000 square feet would be a massive one-bedroom flat. So, the average size of a one-bedroom apartment is 600 square feet.
That is why the dehumidifiers that make up this list operate within the average size of a small apartment.
Best Dehumidifier for a One Bedroom Flat: Gocheer 550 sq. ft. Dehumidifier
The Gocheer 550 sq. ft. home dehumidifier uses only 0.048 kW of power per hour and about 1.1KWh when running continuously for 24-hours. This dehumidifier is more eco-friendly than chemical absorbents.
They have advanced double cooling semiconductors and 360° dehumidification technology with a coverage area of 550 sq. ft. These features make it perfect for a small apartment and other rooms such as a studio, garage, bedroom, basement, bathroom, and kitchen.
It rapidly decreases the moisture content of the air, with a condensation rate of 1L per day, and keeps moisture below 45%. This condensation rate is the highest on this list, except for the MADETEC 550 sq. ft. dehumidifier with the same condensation rating.
This unit regulates the humidity in your room at all times, thus preventing mold and physiological discomfort caused by high moisture content.
Considering all the critical aspects listed above, we selected this as the best dehumidifier for a one bedroom flat or apartment.
It has an auto-shutdown mechanism that turns off the machine when the water tank is full. Also, the color of the light displayed shows its working mode.
Blue light: It means the device is operational.
Red light: It means the water tank is full or not well-positioned.
It also uses a built-in power supply that is safer compared to the external power supply.
This portable electrical dehumidifier for a bedroom does not have a compressor. It operates at less than 40dB, which is like the buzz of a refrigerator, and will not disturb your sleep.
It is one of the quietest dehumidifiers on this list. As a result, this whisper-quiet dehumidifier is perfect for an apartment, bedroom, children's room, and workplace to improve air quality.
This machine also features a one-button switch control, which sets the device running when it is connected and turned on. It is easy to operate and suitable for the elderly because it gives a relaxing experience without difficulties.
It comes with a concealed handle so you can store it in any location, including the basement, bathroom, bedroom, RV, caravan, garage, kitchen, warehouse, and closet.
This appliance has two drainage options – the manual and continuous drain.
Manual drain involves removing the 2L tank and pouring the water. Alternatively, you can use the continuous drainage option by connecting the 4.9″ drain pipe to the drain hose outlet to empty the water in a sink.
Other dehumidifiers on this list are drained with a water tank only, except the MADETEC 550 sq. ft dehumidifier that comes with a tank and drain hose.
It has an ideal operating temperature range of 590F to 86℉, so it will not function below 41℉.
Specifications
Area Coverage: 550 sq. ft.
Condensation rate: 1L per day
Collection tank: 2L
Desiccant type: Semiconductor refrigeration
Working temperature: 590F to 860F
Controls: One button switch
Operation Mode: Continuous
Automatic Restart: Yes
Caster Wheels: No
Noise level: 40dB
Automatic Shutoff: Yes
Portability: Yes
Drainage: Tank/drain hose
Working humidity: >30% RH
Rated power: 60W
Voltage: AC 100V/DC 15V 4A (built-in)
Weight: 5.07lbs
Pros
It is easy to operate with the one-touch control button
It has a whisper-noise operation
Equipped with an auto-shutoff feature
It gives efficient dehumidification
It is eco-friendly and saves energy
It effectively controls humidity in spaces up to 550 sq. ft.
Ideal for an average-sized apartment or basement
It eliminates unpleasant smell
It can be operated safely with a built-in power supply. 
Cons
It does not operate in environments below 410F.
Gocheer 550 sq. ft. Dehumidifier User Guide
For the best experience using this dehumidifier, follow the standard procedures during operation to avoid damaging the unit.
Operating the Unit
This dehumidifier is only for a small apartment of up to 550 sq. ft.
Place the appliance on a smooth flat surface that can sustain it when the tank fills up.
Do not place the appliance in a location where the temperature will drop below 410F.
Keep the appliance away from a radiator, heater, or clothes dryer.
To achieve the best result, shut all room openings, doors, and windows during the process.
Allow some air space on the sides of the appliance and above it for proper air circulation.
Choose a suitable location for easy access to the electrical outlet.
Connect the device to a power outlet.
Before you turn ON the appliance, ensure that the drain bucket is in place, or if you are using the continuous drain option, connect the drainpipe to the outlet.
Turn ON the unit by pressing the power button to start dehumidification.
It has three indicator lights. The first indicator is for power, the second shows the operational mode, and the third is a 'full tank' indicator.  
When the appliance is running, the second indicator light will turn blue.
When the water tank fills, it turns the third indicator red, and the unit automatically shuts off.
Use caution while moving a unit with a tank full of water.
If you turn off the appliance and want to switch it back on, wait for a few minutes for the operation to restart.
When using this dehumidifier, make sure to follow the safety standards and warnings indicated in this guideline.
Feedback from Users on Gocheer 550 sq. ft. Dehumidifier
Positive Remarks
Several customers liked the whispering noise level while in operation.
Most users said they prefer the continuous drainage option to avoid emptying the tank often.
A customer specifically mentioned its efficiency in eliminating musty smells, clearing out moisture and dampness from the basement overnight, and quickly stabilizing the humidity level.
Another user mentioned that he used the dehumidifier in a bookstore of about 250 sq. ft. it took less than a day to dry out the room.
Some customers admire the ease of operation with the one-button touch switch and low noise level.
A customer disclosed that he got this unit for his office after trying a few dehumidifiers, and he wasn't disappointed. After using it for the first time, he realized it is a perfect fit with a longer drain pipe that can connect to the toilet and is very quiet in operation.
Almost all customers agree that the dehumidifier is stylish and portable with a carrying handle for ease of lifting.  
Few users commended the manufacturers for including more features in the unit, just like in a larger dehumidifier. It is a powerful unit that works well in apartments and the basement.
Negative Remarks
A customer mentioned that it is smaller than expected and not perfect for large areas.
Some users complained that the product stops to operate after some time.
Few users complained of the quality of the product and its airbrush.
4 More Top Rated Dehumidifiers For One Bedroom Apartment
1. SEAVON Dehumidifier
SEAVON 560 sq. ft. is a fourth-generation, high-efficiency dehumidifier redesigned with thermoelectric cooling technology and a 2.1L water tank. The appliance removes up to 0.8L of moisture per day at 86°F (30°C), 85% RH, and outperforms comparable micro dehumidifiers. It also reduces humidity to an acceptable level.
This model is one of the best alternatives for room sizes up to 560 sq. ft.  It is highly efficient at temperatures exceeding 15 degrees Celsius.
It also includes a simple remote control with a 10m effective range. It is more convenient to use the remote controller to turn the unit ON/OFF, control speed, and the light mode.
This 4.7lbs portable dehumidifier operates by innovative technology without a compressor, making it whisper-quiet when in use. In sleeping mode, the noise level is regulated around 35dB, without disturbing sounds, making it comfortable while resting or sleeping.
In Turbo mode, the dehumidifier uses a high fan speed to reduce the humidity in your space. You can use it in an apartment, office, bedrooms, and other places where the noise level is critical.
When the water tank fills, the light turns red, and the dehumidifier will shut off automatically. This unit comes with a 3-LED light mode that toggles between on/off and breathing.
Clean and dry indoor air ensures your well-being and the durability of your furnishings and decorations. It is best to close the doors and windows to maximize the effect of the dehumidifier in the room.
2. MADETEC Upgraded Dehumidifier
This compact dehumidifier with a 2L water tank can rapidly and effectively remove up to 1L of moisture from the air every day (temperature: 86°F, humidity: 80% RH). It improves the quality of the environment and makes your home healthier and more comfortable.
The MADETEC home dehumidifier can remove moisture from a small apartment and room with a coverage area ranging from 107 ft2 to 550 ft2.
With the convenient handle and portability, you can position the machine anywhere, making it perfect for a bedroom, bathroom, basement, living room, and closet.
When operating, this ultra-quiet dehumidifier emits less than 50dB of noise, which is neither loud nor unpleasant. Furthermore, the one-button switch design makes it simple to operate the dehumidifier.
When the water tank reaches its maximum capacity, the "Full Tank" indication illuminates, and the dehumidifier turns off automatically, so you can remove the tank and empty it. The machine also has a 4.92-foot drain pipe that connects to the outlet for continuous draining.
This apartment dehumidifier is efficient and saves energy. It has a built-in and safer power supply with a power consumption of 48W/hour. That means it uses only 1.1kW of electricity after 24-hours of operation. When compared to other dehumidifiers, it is more environmentally friendly.
It can dehumidify your home, humid basement, living room, kitchen, office, laundry room, stockroom, bathroom, bedroom, and crawlspace.
It enhances air quality and maintains a comfortable atmosphere by regulating the humidity in your apartment between 45% and 55%.
The performance of dehumidifiers is affected by the temperature and humidity of the surrounding environment. This dehumidifier's ideal operating temperature is 590F – 86°F, so it will not function below 41°F.
3. COLAZE Dehumidifier
The COLAZE 480 sq. ft. dehumidifier uses the most advanced semiconductor refrigeration plate technology, resulting in a better effect than a standard portable type.
This highly effective dehumidifier for home with a 1.8L water tank gathers about 0.8L of water from the air per day at 86°F, 80% RH, and covers an area of up to 480 sq ft. With a big water tank, it can achieve continuous dehumidification for 24-hours.
The electronic dehumidifier comes with an electronic induction switch. When the water level reaches MAX 1.5L (50.7oz), the RGB light turns red, and the appliance shuts down automatically to prevent spilling.
This portable dehumidifier upgrades to ultra-quiet and silent technology, which ensures it does not make irritating noises while in use. It has a silent mode, zero-noise interference, and a night light feature to satisfy your dehumidification and illumination needs.
A low-noise dehumidifier is the best option for an apartment, bathroom, basement, garage, and especially for a bedroom or RV. When you hit the mute button, the light turns off, and the wind speed decreases, resulting in no light or sound interruption while you sleep.
For a safe operation, an over-current protection feature in the appliance will trip automatically to stop the machine from operating when the maximum current exceeds the rated 4A.
When you switch ON the dehumidifier, seven distinct lights flash in a loop, allowing you to select the color you want by pressing the light button.
This dehumidifier comes with a handle, and it is lightweight and compact, thus suitable for any setting. 
Humid areas, such as the bathrooms, laundry rooms, and basements, have extremely high humidity levels, so you need the COLAZE dehumidifier to reduce moisture, improve air quality, and prevent humidity growth.
4. SANVINDER Dehumidifier
The SANVINDER 500 sq. ft. dehumidifier comes with an extra set of double Thermo-Electric Peltier semiconductors and a 2.3L (2300 ml) water tank.
In a humid environment of 86°F and 80% RH, this appliance may collect up to 0.8L (800ml) of moisture daily. You no longer have to suffer humid days to live in a comfortable environment.
It effectively absorbs excess moisture from spaces up to 500 sq. ft in size. It is suitable for flats, bedrooms, basements, closets, bathrooms, wardrobes, and recreational vehicles.
During operation, the dehumidifier for a bedroom is whisper-quiet, especially in the ultra-quiet sleep mode, with a noise level of less than 39 dB. It is vital to choose a quiet and effective dehumidifier for the home.
When the water tank fills, a red light illuminates with a beep sound to remind you to empty the tank before shutting off automatically.
This appliance can operate effectively even at low temperatures with its defrost function. When the compartment frosts, the defrost mechanism is instantly activated to melt it, thus protecting the machine and increasing its lifespan.
It has three settings (the strong, sleep, and auto) and an easy-to-use touch-control LED display to accommodate your dehumidification demands.
With the flexible Timing Mode (8H/12H/24H/48H), the dehumidifier will shut down after a specified period of operation, thus reducing energy consumption, protecting the equipment, and extending its life span.
This machine controls the humidity level of the environment to avoid excessive dehumidification and maintain a healthy humidity balance.
It will stop operating when the humidity falls below 50% RH (although fans will still run) and resume operation when the humidity rises above 50% RH. (Tip: 50% humidity is ideal for living conditions.)
It has an HD touch LED screen that shows the humidity and operating mode in real-time, thus enabling you to adjust the condition of the dehumidifier.
You can use the functional modes and touch control panel to manage this dehumidifier and meet your preferences at different times.
You may also select your preferred mode, making moisture control easy and convenient. It has a power rating of 65W/hour and will help you save on your electricity bills.
It includes a power cord storage compartment on the rear, where you can securely wind and store the cable to conserve space and make your apartment more organized.
Why Do You Need a Humidifier in Apartment?
Aside from maintaining the humidity level, there are a few other reasons why you need a dehumidifier in an apartment.
1. Mold Prevention

Mold may be hazardous in any place, whether small or large space. It is better to prevent it before it forms, and you must make efforts to eliminate it when they develop.
Mold commonly grows in basements. When you remove excess moisture from the air, you protect your environment from mold and mildew. A dehumidifier prevents mold formation, removes mold spores, and maintains moisture levels, thereby making it uncomfortable for their growth.
2. They get rid of odors
Moisture causes the formation of musty odors. Dehumidifiers absorb the moist air, dry it, and return it to the environment. This process eliminates any undesirable odor in the air.
Although it is helpful in any area, a small apartment will benefit because odors and steam are not easy to remove in compact spaces.
3. Aids collective housing
You should be aware that humidity control does not end with only taking care of your home. If you invest in an ideal dehumidifier for your apartment, it will safeguard your house against mold infestation, musty odors, and damp air that your neighbors may be experiencing.
These changes in high humidity conditions among households are due to poor ventilation in public housing. This is just another motive to examine dehumidification.
4. It boosts the air conditioner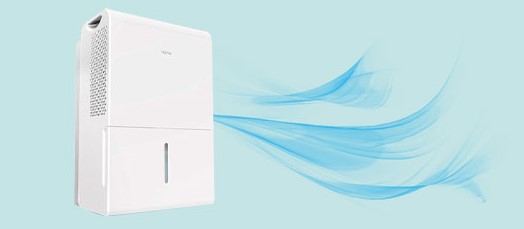 Using the best apartment dehumidifier will improve the performance of your air conditioner. Do you know that using the appropriate dehumidifier for your apartment will help you save money on your air conditioner?
When you turn ON a dehumidifier, it eliminates moisture from the air and excessive humidity in the environment. After this, the air conditioner will focus on cooling the apartment rather than worrying about humidity levels. If there is excess moisture, an air conditioner will first absorb the moisture before freezing.
5. Air quality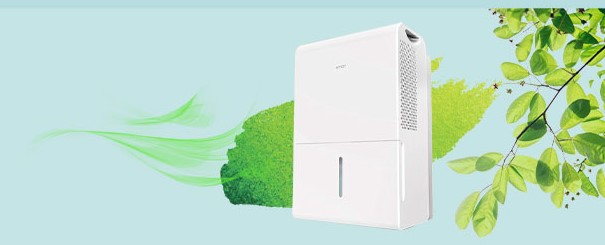 The efficient moisture control by a room dehumidifier will naturally enhance indoor air quality. When the unit transforms humid air into fresh and dry air, the resultant air is devoid of bacteria, dust mites, allergies, mold spores, and other contaminants.
Furthermore, you must regulate moisture and keep high humidity levels away, to safeguard the building's structure.
Let's have a look at some of the top dehumidifiers on the market that would be ideal for your one-bedroom flat.
How to Choose the Best Dehumidifier for a One Bed Room Flat?
If you have ever lived in a humid environment, you should know how uncomfortable it can get. Not only does humidity make everything sticky and unpleasant, but it also makes breathing harder.
This may lead to headaches, sore throats, and even asthma attacks. Thankfully, there are ways to combat the effects of humidity.
One of the easiest ways to keep things dry is using a room dehumidifier. These machines remove moisture from the air, making rooms more comfortable and healthier.
However, not all dehumidifiers are equal. To help you pick the best unit for your needs, we have put together this buying guide of the best dehumidifier for an apartment.
1. Capacity
The first thing you need to look at is the device's capacity, the amount of excess moisture it can remove. This is not the size of the product but the number of pints of water it can successfully process in a day. The larger your apartment, the more the dehumidifier's capacity you will need. 
The capacity and performance of a dehumidifier are directly proportional. This implies that the higher the pint rating, the more efficiently it can absorb moisture while consuming less energy.
Remember that a product is rated by its manufacturer, indicating its maximum capacity and floor area, provided it operates in the recommended space.
Considering the capacity, always go for the one with a suitable coverage area for your apartment.
All dehumidifiers on this list are perfect for moisture control in a one-bedroom apartment since their coverage area is above the minimum (450 sq. ft.) for a small apartment.   
2. Automatic features
Automatic functions improve the user experience when operating a dehumidifier. We suggest your product include the following features: auto-shutoff, auto-restart, and auto-mode.
These features contribute to a safe working environment by:
preventing the water bucket from overflowing (auto-shutoff)
restarting after emptying the container (auto-restart)
working efficiently to balance the humidity level (auto-mode).
Using the air dryer would be more convenient with these features.
We carefully selected all the dehumidifiers listed above with automatic features for safe operation. 
3. Noise
Some dehumidifiers come with noise due to their large compressors and high-capacity fans for air circulation.
This should, however, be limited so as not to irritate. Unless you intend to hide it away to work someplace in your basement, only buy a product with a reputation of noiseless operation.
Some dehumidifiers are without compressors. That is why they are ultra-quiet with a whispering noise.
The SEAVON 560 sq. ft is the quietest dehumidifier to make up this list, with a noise level of 35dB.
4. Ease of operation
The ease of use and maintenance requirements should weigh heavily on your choice of an apartment dehumidifier. Most units feature a LED display and simple controls that allow you to get it running instantly.
You may also choose the unit with a remote controller so that you can operate it from a distance. With this, you can turn ON/OFF the switch, adjust the speed or light mode, and control other functions.
The SEAVON 560  sq. ft. dehumidifier outperforms other units on this list with its remote controller for convenient operation.
5. Drainage option
Another vital feature to look for is the drainage option. You can choose between the continuous drain or manual drainage option.
Having a continuous drain option relieves the stress of periodically draining the water. This is the most user-friendly function to have in a small apartment dehumidifier. Your dehumidifier will continue to remove moisture from the air and operate at its best as long as you keep it plugged in.
Large room dehumidifiers tend to accumulate water faster than the average-sized room dehumidifiers. As a result, the tank would get filled quickly and emptied more frequently.
The Gocheer 550 sq. ft. and MADETEC 550 sq. ft. dehumidifier outperform other units on this list. They have continuous drain and manual drainage as their drainage options.
Comparison of the Top 5 Dehumidifier for a One Bed Room Flat
Final Words:
We hope you found our review on the best dehumidifier for apartments informative in your quest for the right product for your home. You can try out the options and our advice on how to select the best dehumidifier for your apartment.
Invest in a reliable dehumidifying machine to eliminate moisture from the air and prevent mold and other contaminants from forming. It is easier to be preventive than to spend a large sum on painting or replacing carpet later.
If you are still not able to decide, go with Gocheer 550 sq. ft. dehumidifier which is our recommendation for the best dehumidifier for a one bedroom apartment or flat.
TOP RATED PRODUCTS FOR HOME