Lego is arguably the most popular inventive toy of all time. And why not? These brightly colored, sturdy plastic bricks can be arranged in infinite combinations restricted by your imagination only.
However, if you are a passionate collector of lego sets, you know that dust can make those sets look dull and dirty.
Of course, you can easily remove surface dust using a microfiber/feather duster. However, to dislodge dust trapped within difficult-to-reach sections of your displayed lego set, you will need a reliable air duster.
Air dusters work by blasting air at high velocity via a nozzle that can fit between gaps of displayed lego sets. Here, we've put together a list of the top 5 air dusters for cleaning your lego sets. There is also a buyer's guide to make your shopping a whole lot simpler.
Top 5 Air Dusters for Lego
The Best Air Duster for Lego: Falcon Dust-Off
Best Overall
The Falcon Dust-Off air duster works marvelously for cleaning dust and dirt off your lego. Thanks to its thin long nozzle, you can easily get rid of sticky dust even on hard-to-reach- sections of your lego. It is odorless, dries quickly, and contains no ozone-depleting propellants.
This canned air duster from Falcon Safety Products comes with an extension tube that makes cleaning those difficult-to-reach places super simple.
The air duster contains no dangerous substances like CFCs, huffs, butane, or propane, and is 100% ozone safe. The product is offered in 2-pack of 10 oz cans (fill weight), thus you get excellent value for your money.
Dust-off is compact and lightweight so you can use it for extended periods without experiencing fatigue. Each can come with a long narrow red tube that you can attach to the nozzle.
This tube makes it possible for you to reach those confined, small, and tight sections of your lego setup where large traditional tools may not fit.
Also, the narrow red tube delivers just the right amount of air pressure to dust off your lego collections without breaking the build. The product also works great for clearing out the vent within your computer and blowing out dust, dirt, crumbs from your keyboard, and so forth.
Specifications
Weight: 2 pounds
Color: Clear
Number of items: Pack of 2
Dimensions: 7.8″ x 5″ x 8.5″
Comes with a thin, long tube for fine jobs
Pros
100% ozone safe
Delivers effective dust-removing power
Great air capacity
Extra large and economical to use
Excellent customer service
Contains a bitterant that helps prevent inhalant abuse
Cons
Contains flammable ingredients
Can cause frostbite if exposed to skin for prolonged periods
Usage Guide
If you plan to use Dust Off or any compressed air product to dislodge dust from your lego, it is recommended that you perform the task outside. This is because your air duster is not a vacuum cleaner.
It will dislodge any encrusted dust on your lego. However, the dislodged dust may end up settling on your other lego creations or other surfaces within the room.
Also, you should wear a mask so you do not end up inhaling the displaced dust particles.
Below are additional tips to help you achieve the best results while using Dust Off for cleaning lego.
When spraying canned air, try doing it in short sharp bursts of approximately 3 – 5 seconds each. If you spray continuously or for extended periods, the can will cool quickly. This will not only disrupt the blast of air coming from the can but will also make the can unpleasant to hold.
It is never a good idea to shake the can before or while using compressed air. This is because shaking will cause the can to spray out liquid
Try as much as possible not to tilt/tip the can during spraying. Also, do not use the product upside down. Doing any of these will also cause the can to shoot out the liquid.
If the can gets very cold during use, stop spraying for a while so the container can warm up. The problem with excessively cold containers is that they may spray out the liquid.
User Reviews & Feedback on Falcon Dust-Off Air Duster
Most previous buyers have praised the thin long red nozzle that comes with the product. These customers note that this nozzle delivers just the right degree of air blast to eliminate dust and dirt from lego. Most users also appreciate that the gas produces no odor and dries quickly.
Nearly all users are happy with the large capacity of 2 packs of 10 oz cans that this product comes with. These users observe that Dust Off offers excellent value for money as many other brands on the market come in 7 oz cans.
Many users have also praised the container that this product comes in noting that it is a lot sturdier compared to that from larger companies.
Several users describe the after-sales support they got from the vendor as amazing. Most of these customers report that they received their orders within 3 – 4 days and the product arrived in perfect condition.
However, a few users were disappointed that the product was shipped within a bag instead of a box.
A few users have also complained that the plastic nozzle included in the package for directing the air stream did not fit on the can. These customers report that the tube was excessively wide to attach to the can, making it impossible to use the product.
Some users have also reported that the product's plastic cap tends to pop off when the trigger is pulled.
4 More Top Rated Air Dusters for Lego Sets
1. Svinkal Air Duster
Compact & Portable
This rechargeable air blower from Svinkal is a fantastic substitute for using air canisters. The major downside to using an electric air duster is the lack of sufficient pressure. With its 33,000 RPM motor, this unit creates enough air pressure to eliminate any loose dust on your lego sets.
The handheld air duster is cordless, compact, and features a full-palm gripping construction. This means you will have no trouble handling the unit. The device's 2 smart start modes also allow for a convenient operation.
Double pressing the power button will turn the device on and it will stay on until the power button is pressed again. When you long-press the unit's power button, it will switch on but will switch back off once you let go of the power button.
The unit features a long and thin nozzle that makes it very simple to clean corners or difficult to reach areas of your lego toys. This nozzle is detachable so after cleaning, you can pull out the nozzle and store it within a hole beneath the unit.
A brush nozzle is also included in the package. You can use this brush nozzle to get rid of stubborn dust particles from your lego sets.
The Svinkal Air Duster comes with an in-built 6000mAH rechargeable Li-ion battery pack. Note that a USB charging cable is included in the package but without a power adapter. It will take about 3 hours to charge the battery fully.
And, a fully charged battery will run for more than 30 minutes continuously. The unit has a knob that lets you adjust the wind speed. However, be aware that the device's battery life is affected by the speed you choose.
The package contents comprise 1 Air duster, 1 brush nozzle, 1 nozzle, 1 USB cable, and a user manual.
Pros
Compact
Highly Portable
Forceful air pressure
Adjustable wind power
Handy construction and simple operation
Cons
Loud
Lacks a battery level indicator
2. Dorobeen Air Duster
Excellent Battery Life
This air duster by Dorobeen comes with a high-performance 33000 RPM motor that creates approximately 28m/s wind velocity. With this air velocity, cleaning dust from your lego collections will not be a hassle.
Aside from lego sets, you can also use this unit to deep clean other items like computers, printed circuit boards, and medical equipment.
The Dorobeen air duster comes with a high-quality 6000 mAh Li-ion battery pack. Users love that the unit's Li-ion battery is rechargeable allowing for easy reuse.
The main disadvantage is that the battery is inbuilt and cannot be replaced. Thus, when the rechargeable battery dies completely, you can no longer use the air duster.
The unit can be charged via the USB interface and it will take about 3 hours to achieve a full charge. The makers say the device will charge quicker if you use a 2A adapter, which is not included in the package. A full charge will give you get about 30 minutes of use time.
The air duster is compact, lightweight, cordless, and weighs a paltry 405 grams. These features make using and handling the device straightforward. The unit's detachable nozzle also makes it very simple to move and store the product.
Most previous buyers are happy with the brush attachment included in the package. This brush attachment is highly beneficial for loosening dust fragments which are then blasted away by the air current.
Pros
Great value for money
Long battery life
Powerful wind duster
Easy to handle
variable speed control
Cons
Non-removable batteries
Somewhat noisy
3. Wincool Air Duster
Easy to Use
The Wincool air duster features a 33,000 RPM robust motor along with sleekly constructed housing. These combine to deliver an incredible air velocity of 28m/s. This forceful air blast is more than sufficient to eradicate any type of dust or dirt on your lego collections.
The air duster also features an integrated 6000 mAh rechargeable battery pack. Thanks to this built-in rechargeable battery, you can reuse the unit several times.
You can charge the batteries via the USB port and a full charge can be utilized continuously for approximately 30 minutes. It will take about 3 hours to completely charge the battery pack but that is if you use a 2A adapter.
The device's ergonomic construction allows for a comfy full-palm grip. It is also cordless allowing for use practically anywhere and at any time. The Wincool Air Duster comes equipped with two kinds of nozzles – air only and brush.
The brush nozzle works great at dislodging stubborn dust and dirt even in hard-to-reach sections of your lego sets.
When the air duster is not in use, the nozzle can be conveniently stored within the nozzle storage opening. This way, you will never have issues with missing nozzles.
Pros
Powerful motor
Cordless
Rechargeable batteries
Simple to use
Eco-friendly
Versatile uses
Cons
Some users say it is not as powerful as canned air
4. AFMAT Air Duster
Powerful Air Output
If you are looking for a reliable alternative to using dusting rags, wet cloths, and canned dusters to clean your lego collections, you may want to check out this AFMAT rechargeable Air duster.
The product is capable of producing a forceful air thrust of nearly 10-degree air current (28m/s). This powerful air current is enough to wipe out dust and dirt from your lego display.
There are two easy methods to power the air duster. Long pressing the power switch will star the device but the unit will switch off once the power switch is released.
Pressing the power switch two times in quick succession gives you a continuous working mode. To switch it off, you will have to press the power switch twice again in quick succession.
The AFMAT Air Duster comes with a robust 6000 mAh rechargeable battery. On a full charge, this battery functions seamlessly and smoothly for upwards of 30 minutes.
This makes this air duster suitable not only for cleaning legos but other household items like electronics, cameras, and computers.
Pros
Powerful air output
Robust 6000 mAH rechargeable battery
Portable and compact
Eco-friendly devoid of propellants/chemicals
Charges last a comparatively long time
Cons
Comparison of Top Air Dusters for Lego Sets
| | | | | | |
| --- | --- | --- | --- | --- | --- |
| Air Duster | Type | Charging Method | Battery working time (full charge) | Motor Rotate Speed | Weight |
| Falcon Dust-Off | Canned Air | – | – | – | 2 pounds (pack of 2) |
| Svinkal Air Duster   | Rechargeable Air Duster | Micro USB 5 volts 2A | 30 minutes | 33,000 RPM | 0.904 pounds |
| Dorobeen Air Duster | Rechargeable Air Duster | Micro USB 5 Volts 2A | 30 minutes | 33,000 RPM | 0.893 pounds |
| Wincool Air Duster | Rechargeable Air Duster | Micro USB 5 Volts 2A | 30 minutes | 33,000 RPM | 0.66 pounds |
| AFMAT Air Duster | Rechargeable Air Duster | Micro USB 5 Volts 2A | 30 minutes | 33000 RPM | 0.88 pounds |
How to Select the Best Air Duster for Lego?
1. Electric Air Duster Vs Canned Air Duster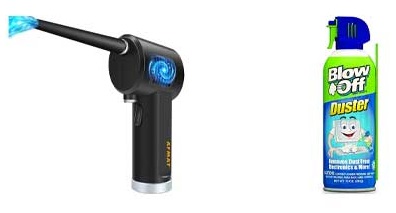 Canned air dusters employ compacted air that is assisted by a chemical refrigerant/propellant to create pressure. Electric air dusters are fitted with electronically-powered motors that compress atmospheric air and shoot out the air via a nozzle at very high speeds.
While the two serve the same function – to remove dust from lego and other types of surfaces using moving air, they have distinct benefits.
Many canned air dusters contain flammable ingredients. The flammable constituents can pose a fire hazard when the product is used in an area with poor ventilation.
There is also the issue of waste generation with using canned air dusters. Once the compacted air within the container is used up, the can is usually discarded thus creating a great deal of waste.
However, canned air dusters perform a lot better at delivering forceful short blasts of air compared to electric air dusters. You need the forceful short air blasts to eliminate stubborn dust and dirt from your lego collections.
Also, while you can recharge electric air dusters for reuse, they are a lot more expensive compared to their canned air counterparts.
Thus, if you are looking to remove caked-on dust from your lego set, you will need a dependable canned air duster like the Falcon Dust Off. This product delivers powerful short air blasts that can effectively dust your lego.
However, if you require a safer alternative and are concerned about generating a great deal of waste, then you may want to settle for an electric air duster such as the Svinkal Air Duster.
2. Rechargeable Vs Corded
If you decide to opt for an electric air duster for lego, you have the choice of choosing a battery-powered or corded device.
The problem with corded air dusters is that the lengthy cords can easily get tangled as you are dusting your lego collections. And, at times, the cords may not be as long as you want them to be.
In contrast, cordless devices are a lot simpler to use. However, you have to ensure the batteries are properly charged to enjoy seamless operations.
All of the electric air dusters recommended here are cordless rechargeable units. Each of these units can function seamlessly for upwards of 30 minutes on a single full charge of the battery pack.
3. Portability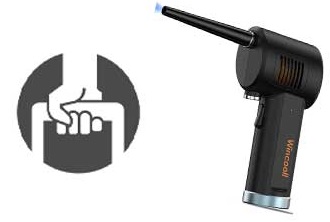 When shopping for the best air duster for lego, you want one that is compact and portable so you can easily transport it from one section of your house to the other.
Both the canned and electric air dusters recommended here are highly portable so you will have no problem moving them around.
4. Safety
If you opt to go with canned air dusters, know that some less expensive options on the market may contain flammable and environmentally harmful substances like CFCs, butane, and propane.
The Falcon Dust-Off air duster is ozone safe and contains no injurious substances. It also contains a bitterant to ensure people do not huff it. You should select this option if you have youngsters in your home.
5. Budget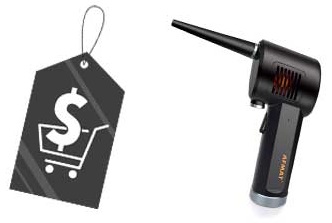 Compressed canned air dusters are cheaper for the initial buy but remember that you have to replace them once the gaseous content runs out.
In contrast, electric air dusters are much more expensive upfront but they will last you several years. Therefore, before you settle for one, consider how often you will be dusting off your lego toys.
If you are ready to pay the relatively hefty initial price tag, an electric air duster is more sustainable. If budget is a constraint, you may want to opt for canned air dusters.
Final Words:
Keeping your lego sets dust free is a continuous battle. It is detrimental and can make your lego toys look older than they are. So, we have reviewed 5 of the best air dusters for lego.
Whether you are leaning towards electric dusters or canned air dusters, each of the products recommended here has been selected based on its impressive performance and efficiency. So invest shrewdly and get yourself a dependable air duster for lego.
TOP RATED PRODUCTS FOR HOME