The importance of exhaust fans in bathrooms, basements, laundry rooms, certain kitchens and other areas where they are needed cannot be overemphasized.
Rooms with a high level of moisture (humidity), heat, dampness, and odor require sufficient ventilation to keep the air fresh, and exhaust fans have been identified as one of the most successful ways to keep things under control.
But, knowing that you need something is quite different from knowing the right one to pick. There are many different types of exhaust fans in the market and you have a choice to choose what offers you the best value.
Typically, there are plastic and metal exhaust fans, and you need to make a choice between the two types. If you're wondering what you should pick between plastic and metal fans, then this post is for you.
How are both fans different? What makes one better than the other? Are there specific places and situations where one should be picked over the other? These are mind boggling questions and we'll provide answers as we move along.
Plastic Exhaust Fan Vs Metal Exhaust Fan [Key Differences]
Before you make that decision, it's important to know what you're getting into and what you're spending your money on.
One thing's for sure though, both the metal and the plastic exhaust fans are an effective way to ventilate your bathroom or kitchen, but you still need to watch out for other factors.
1. Weight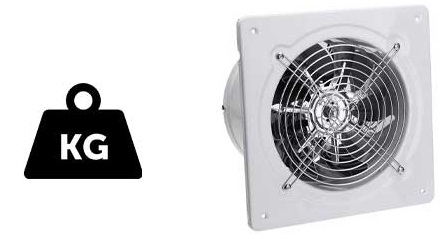 Naturally, the metallic exhaust fan is heavier than the plastic option. But this shouldn't be a problem as long as you're installing it on an outside wall.
An exhaust fan is installed once and the weight shouldn't be a bother to you as long as it is properly installed and wouldn't need to be moved. The 328 CFM RLOZUI 6 inch Exhaust Fan easily comes to mind.
2. Price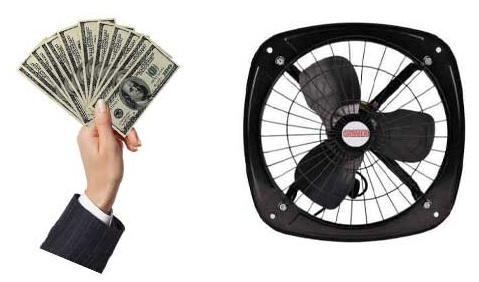 Most metal exhaust fans are pricier than plastic ones. This is understandable considering that metal is a more expensive material than plastic or fiber.
So, if you're looking to buy a metal exhaust fan, you should also be willing to pay the price. This is not to suggest that there are no expensive plastic fans. High-end options made from plastic can be quite pricey as well.
3. Rust/Corrosion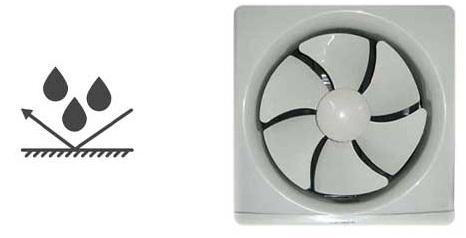 Metal exhaust fans, especially those made of iron, tend to be corrosive and will lose face value over time.
While plastics can simply be cleaned by a dry or damp piece of cloth and towel (as the situation may require), extra care needs to be given to a metal exhaust fan to prevent corrosion on the blades and around the body. This is not the case with plastic fans.
4. Durability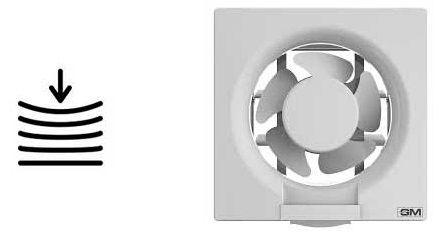 As for durability, it's tricky to say which is durable because the brand is always an important factor. However, there is some evidence that shows that a properly built metal exhaust fan is way more durable than an equally properly built plastic model.
As long as cleaning is done as regularly as required, a metal exhaust fan should last for several years without any issues.
Which Exhaust Fan Is Better – Metal Or Plastic?
This is another very sensitive question that cannot be answered at face value. Each type of fan has its own strong points and weaknesses, so we must assess them based on the different situations and places they can be applied.
1. Bathroom
We wish to state as clearly and firmly as possible that you should not use a metal exhaust fan in a bathroom.
Exposure to liquids and vapor can cause serious damage, including electrocution if contact is made as well as corrosion if water and condensation are allowed to settle on the body or blades for a while.
A plastic exhaust fan is better for bathrooms because it is not prone to rust, doesn't cause electrocution and there's nothing to worry about. Simple regular cleaning with a piece of cloth should do.
2. Kitchen
This is where a metal exhaust fan can act conveniently without any trouble. So, you can use either a metal exhaust fan or a plastic exhaust fan in a kitchen.
Just be sure to wipe them up carefully regularly to ensure grease and heat aren't having a negative effect on the body of the fan or its blades.
3. Laundry
The preferred choice for a laundry room is the plastic exhaust fan. Just like a bathroom, a laundry room tends to produce a lot of moisture which can cause vapor to rest on metal fans and possibly run into sensitive areas.
This can lead to electrocution and corrosion. It is best to keep metal exhaust fans away from such highly humid areas because liquid and iron do not interact very nicely.
4. Garage
A garage is another part of a home or building where an exhaust fan is needed. Thankfully, you can use either a metal or plastic exhaust fan because they can both function there without any trouble at all.
Unless your garage has a plumbing leak that's yet to be fixed, or some other exposed water channel passing through, any well-rated exhaust fan (metal or plastic) should do.
There are other fans that have a combination of plastic and metal (alloy steel) materials. The 110 CFM Broan-NuTone AE110 Invent Flex Energy Exhaust Fan comes pretty close.
Some others are made of alloy steel, which is a much more improved material, coated with alloy to prevent easy corrosion. A good recommendation is the 200 CFM Broan-NuTone 505 Exhaust Fan.
Final Words:
Knowing what an exhaust fan is made from is important in the decision-making process because you'll be able to determine where the fan is suitable and what it is best applied for.
Other factors like CFM rating, durability, noise, energy efficiency and size are very important, but if you do not also consider the material, you may just be setting yourself up for unplanned spending in the near future.
There are also other materials like fiber, alloy steel, and combos which some manufacturers employ. Just be sure to check what works for you.