When people ask how much it costs to replace an attic fan, it's important to let them know how much it costs to not have a functional fan. First, you need to understand why an attic fan is important.
It is often too easy for many homeowners to focus on the most obvious and most-used parts of the house without paying much attention to crawlspaces, like your attic.
For instance, controlling the temperature of your attic is almost as important as the temperature inside the rooms in your home. This is where an attic fan comes into play.
An attic fan is a pretty important component if you intend to manage ventilation and temperature in your attic. This will help to push out the hot air and cool the attic, to prevent warm air from seeping into parts of your home.
But, what happens when your attic fan starts failing in its function? What happens when the heat begins to enter your home from the attic despite having a fan installed?
You check around the walls and there are no leaks and the air vents leading outside are also not blocked. This is where you need to check the fan.
If it is damaged, a replacement becomes necessary. But you may be wondering how much it costs to have a replacement attic fan. We'll break things down for you in terms of how much it costs to buy and install a replacement fan, and every other information you need.
How Long Do Attic Fans Usually Last?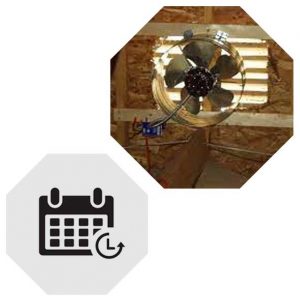 Most attic fans last for an average of 10 years. Some may falter after only 5 years and there are some others that will go on for as long as 15 years. It mostly depends on the quality of the fan, workload and pressure, as well as maintenance.
To get the best of your fan, you need to have it checked out as frequently as possible. A professional needs to be contacted to frequently clean the shutters, ensure the oil ports are lubricated, wash the blades and watch out for any damage that may require repairs.
Be sure to also find a trusted brand. The secret to a long-lasting attic fan is brand quality, durability, usage and maintenance. Looking out for reviews and warranty information is important before choosing a product.
No one wants to spend money on an appliance that won't last so you need to be sure of what you're buying before you make that payment.
Can Attic Fans Be Repaired?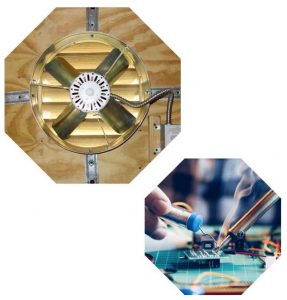 Yes, attic fans can be repaired depending on the problem. It is true that good attic fans can last up to 15 years with proper care. But as they get older, expect them to develop some faults which would either require repair or replacement.
Attic fan repair can be done personally if you have some knowledge of electrical appliances, or you may need to call a professional to get it fixed.
There are quite a number of faults that your attic fan can develop, including blades not moving, the fan not coming on, fan lacking airflow, noise, burning smell, etc.
If you notice the blades aren't moving but the motor is running, it is most likely a belt problem. Open up the casing and check the belt for cracks, wear and tear, or even breakage. If you notice any, you should replace the belt and your fan should work properly.
If your fan simply refuses to come on and you discover a blown-up fuse, fixing the problem will depend on the home design.
Older homes will require fixing or replacing the fuse, while newer homes may require a circuit breaker reset. If the fuse or circuit breaker is working properly, you may want to check the thermostat.
Manually turn on the fan and see if it comes on. If it does, it is a sign that your thermostat is faulty. Replacing the thermostat is the solution in most cases.
Some other times, you may realize that the circuit breaker, fuse and thermostat are in perfect working condition and the fan still doesn't turn on. This is an indication that the fan motor may be faulty, especially when you hear a humming noise.
Repairing a fan motor can be pretty expensive. Therefore, it's better to buy a replacement attic fan than try a repair a fan motor.
Repairing a fan motor might cost you anywhere from $100 to $200 to buy and approximately $70 to $100 per hour to install.
Whereas you can get a brand new attic fan for between $80 and about $450, the installation might cost you around $200 to $1,000, depending on the size of the unit, installation type, and how long it takes.
We advise you to call the professionals if there's any damage for repairs unless you're really good with electrical appliances.
How Much Does It Cost to Replace an Attic Fan Motor?
Replacing an attic fan motor will cost anywhere from $150 to $750. This largely depends on the model you're using, the cost of the fan motor, and the number of hours spent during the replacement.
Typically, a replacement attic fan motor costs around $50 to $250 to buy, depending on the size and brand. A whole house model would cost more, usually between $200 and $350.
The rest of the cost is spent on removing the bad motor and installing the new one, usually around $70 to $100 per hour.
An attic fan motor is the main component of the fan and often determines the lifespan of the unit. The motor should last more than 10 years and some may even go on for up to 15 years, depending on how they're used.
This is why you're advised to simply buy another attic fan unit when the motor is damaged, because the cost of replacing the motor may not be so different from what it would take to buy a new unit.
One issue that could affect your fan's motor is a power surge, so that's one thing you need to watch out for.
How Much Does It Cost to Have an Attic Fan Replaced?
On average, you should spend around $350 to $650 to replace your attic fan. It all depends on the unit's quality, your choice of brand, size, capacity, and location.
Some people may only spend about $250 to replace their unit while others may spend as much as $1,000. Getting a regular attic fan for a part of the house is understandably cheaper than getting a whole-house unit.
A typical replacement fan will cost between $80 and $450, depending on the type, brand, size and purpose.
Also, the sophistication level of the installation can determine how much you'll pay. This is because the overall time that the professional spends is what you're paying for.
Does the process require opening up a wall or ceiling? How difficult is it? Does it require extra installation materials? These are some factors to consider.
1. Attic Fan Cost
Non-powered turbine-style fan- $50 to $130
Electric-powered Roof/Gable mounted fan- $75 to $220
Solar-powered Roof/Gable vent fan- $120 to $350
2. Fan Installation Supplies
Electric wire for electric fans (assuming some old wires will run short after removing the damaged fan)- $15 to $25
Sealant or Roof cement (to prevent leaks and hold the fan in place)- $10 to $20
Other parts that may need replacement, including an automatic shutter for Gable vents ($25 to $100), wood, screws, nails, plywood, wire staples, etc ($20 to $50).
Note that some of these materials are required for first-time installation only, unless when damages have occurred over time.
3. Labor Costs
Expect to pay between $75 and $100 per hour if you're going to replace your old fan. This is for the HVAC installer, roofer, electrician, or handyman.
The professional should spend 1-2 hours for replacement of the exact unit requiring no additional work, 2-4 hours for most replacements without wiring or electrical work, and approximately 6 hours for complex replacement work requiring new electrical work or a new hole on the roof or Gable side.
Final Words:
Attic fan replacement will definitely cost you some money, ranging from a few hundred dollars to around a thousand dollars.
At the end of the day, you'd realize that the money spent is worth it after all, because having a functional attic fan will help send the hot and humid air outside the house. This will also help to prevent undue pressure on your cooling system and keep your indoor air as cool as you want it to be.
TOP RATED PRODUCTS FOR HOME