In order to boost airflow in ductwork and ensure thermal energy from your central HVAC system, an inline duct fan can be installed in your duct. An inline duct fan is designed in such a way that air in the duct is enhanced and pushed to distant rooms and spaces in your home.
The bigger and more powerful the fan, the higher the pressure of airflow and the farther it'll travel. As far as inline duct fans go, their effectiveness is determined by a number of factors, especially the length and size of the duct and how they're designed.
In context, inline duct fans are built for different duct sizes and lengths. So, what happens when one duct fan fails to deliver the required airflow? Can you install and run two fans in a single duct?
If yes, how does this work? Where should the fans be placed? Will two fans work well in a duct or work against themselves? This post will unravel that mystery and tell you all you need to know about the possibility of using two fans in one duct. Let's get right to it.
Can You Put Two Inline Fans in The Same Duct?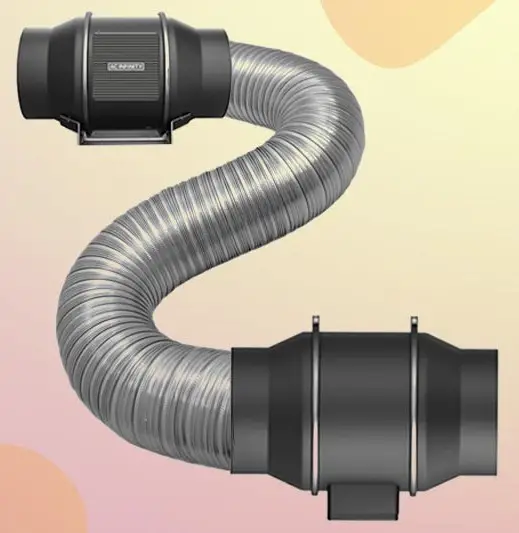 The simple answer is No. It is wrong to put two inline fans within the same ductwork. Each ductwork run should have only one inline fan.
If you must run two fans, you have to create two separate duct runs with separate airflow channels.
The reason is this; having two fans in a single duct will cause opposing air pressure which would do any good.
Also, the air is available in a duct in the air produced by the HVAC system.
No matter how many fans you have in a duct, it is what is produced by the HVAC system that'll be delivered into the rooms.
Furthermore, the torque of the airflow is increased when you use two fans in the same duct, but it generally has no impact on maximum unrestricted airflow.
Facing the same way on either side of a single duct, two inline fans will create just about the same amount of airflow as one would. Whether it's in a 2-inch or 3-inch duct tube, there won't be any significant difference.
The reason is simple; the duct is the same size and only has the capacity for a certain amount of airflow. Also, the HVAC system (unless upgraded) can only produce the same amount of heat or cool air.
Of course, we can only imagine what having two fans facing each other in a duct would mean.
Unless you're going to be having larger ductwork or upgrading the source, it may not make much difference. In the end, it is best to have separate duct runs for separate fans.
What Happens When You Put Two Fans Together on The Same Duct?
Putting two fans on the same duct is more or less a waste of resources. It will not make airflow better, and neither will it make your rooms cooler or warmer. But beyond that, there are certain disadvantages that you need to be wary of.
Let's start with the most obvious consequence. Having two inline fans inside your duct will cause your energy usage to soar significantly, leading to increased energy bills and a hard strain on your finances.
In fact, if you use two of the same fan type, you should be ready to spend double the cost of running one.
For instance, the 6-inch AC Infinity Cloudline S6 uses 38 watts. Based on the current national electricity charge average of $0.13 per kWh, that's around $0.13 daily and $3.62 monthly on electricity for one unit.
Two units will logically double that cost to $7.24 per month, and $43 annually just on supplementary appliances like inline duct fans. It doesn't make economic sense to spend extra money on something that doesn't add value to your home.
Apart from that obvious consequence, combining two inline fans in a single duct can lead to a number of complications. For starters, there will be a system imbalance of the positive/negative pressure which can affect the fan motors and cause them to fail.
Not just that, you may also face a lot of troubles with issues around cross-contamination; a situation described as the unintentional transfer of bacteria and other organisms from one object or substance to another.
Again, the best way to go around this is to create two separate duct runs with different channels to the atmosphere. So, you can have your HVAC unit feed the two different ductworks, each with its own inline duct fan to boost airflow.
How Many Maximum Fans Can You Put in the Same Duct?
Put only one fan in a single duct. If you need to run ductwork in a very large home or area and you think the inline fan wouldn't do, it's best to break the ductwork into two and run an individual duct fan for each.
Rather than try and put multiple inline fans in a single duct, you should rather consider upgrading the fan to boost its capacity.
For instance, if you had a 4″ fan that's not doing a good job, you may upgrade it to a 6″ or 8″ unit with higher fan power and pressure for more cooling or heating impact.
There are certain people who believe that two fans can be used in Y-shaped ducts. The only problem with that is there will be too much room between the fans and the end of the duct where it runs from.
Also, there's a possibility that the fans will prevent the air coming from behind them to go throw (especially because most of them are not designed to pull air). This situation can cause more harm than good.
Besides, even if they manage to push air out, it doesn't increase the CFM output. If one fan would push out 70 CFM of cool air from the air conditioner, two fans will do the same.
When Do You Need to Put More than 1 Fan on the Same Duct? Why?
We do not recommend using multiple inline duct fans in a single duct. Mind you, it is not the same thing as booster fans which can have multiple units fitted to the ceilings of different rooms.
We often get the question of whether one can use two fans in a series or in parallel. We do not think it is necessary to use either, and here's why.
If you install two fans and arrange them in series, you'll only get the same airflow just as one. However, you may witness a near doubling of the pressure.
On the other hand, if you place them in parallel, you may experience an increase in airflow, but the pressure will be the same as one. In the end, there's not much improvement and no effect on the rooms and spaces.
So, at no point should you use two inline duct fans in a single duct. Rather, you can install a separate duct to run an additional fan or use booster fans to support air flow instead.
As long as you have a compatible inline fan with a good enough airflow and pressure, you can add a booster fan (or two) in distant rooms and spaces.
Final Words:
Before you step out to buy an inline duct fan, you must be sure of the size and capacity, as well as the fan's compatibility with your ductwork. Getting the right size will help prevent the temptation to consider adding an additional fan to the duct.
As we've established earlier, it won't make any sense to add a second fan to your ductwork, unless you're installing a separate duct for the new fan. Be sure to check the size and CFM of an inline fan in relation to your home's ductwork before you buy it.