A geothermal system is often described as what the world needs to significantly cut down on fossil fuels and non-renewable energy. In fact, it is a potential source of power generation with limitless possibilities and substantial resources for a lifetime.
There are several components that make up a geothermal system, and the heat pump is one of its most important components.
The heat pump is housed on its own to protect it from the elements because damage to the unit can be very costly. But, how much do geothermal heat pumps really cost?
We know that an entire geothermal system can cost as much as $12,000 to $30,000 to install on average, but how much of this cost is taken up by the heat pump? Are they expensive? What factors influence the cost of a heat pump?
These are some of the questions we'll treat in this post, and if you stick with us, you'll certainly get the answers you seek.
How Much Do Geothermal Heat Pumps Cost?
A geothermal heat pump costs around $2,200 to $5,000. This is what the heat pump alone costs on average. There are a number of factors that will determine the cost of the specific product you've selected, and we'll see them shortly.
Overall, the size of the unit you're installing will determine the size of the heat pump that should be installed and this also determines the cost.
For instance, while a $2,500 heat pump is adequate for a 1,500 to 1,800 Square foot home, you'd probably need a larger $3,000 to $4,800 heat pump for homes exceeding 2,000 Square feet.
Meanwhile, larger homes up to 6,000 Square feet may require heat pumps much larger and exceeding $10,000. This large heat pump will also require a geothermal system with installation costs rising as high as $50,000.
There are some factors to consider when reviewing the cost of a geothermal heat pump, and they include;
1. Heat Pump Type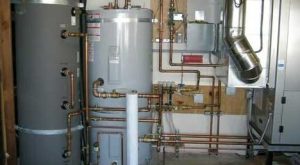 There are three main types of heat pump compressors, namely single-stage, two-stage, and variable-stage.
Typically, they are also in the order of least expensive for the single-stage to the most expensive for the variable-stage unit.
So, this is a factor. Note, however, that large, high-end two-stage and variable-stage heat pumps can sell for as high as $4,000 to $10,000.
2. Size
This is already a clear factor as explained above. There are heat pumps designed for typical residential-sized geothermal systems and those designed for industrial uses, and this is why their size range can go from as low as 1kW to about 1,500kW.
Some industrial units can go as high as 15,000kW. Naturally, the bigger the capacity, the higher the price, but there are also recent models that are cost-saving with high coefficient performance, giving you more power for less cost.
3. Brand
The brand of the product also matters a lot. There are quite a number of them, including GEA, Power World, Shuanguang, Viessmann, BOSCH, Carrier, and so many others.
Generally, American, UK and European heat pumps are more expensive than Chinese heat pumps. Also, the recognition of the brand is a factor.
4. Features
The features of the heat pump are also very important in determining the cost of the unit. Ideally, heat pumps with high-end features and built with advanced technologies will typically cost more than those with mundane features.
Hot water production and WiFi control are two major features that homeowners look out for in a heat pump and brands that have such features and more tend to cost higher.
5. Efficiency and Performance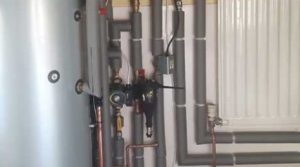 Terms like SEER a COP are common when appliances like geothermal heat pumps are discussed.
Overall, efficiency ratings begin at a low 15 EER to as high as 30 EER.
The coefficient of Performance (COP) rating is also an important cost factor. This ranges from 3.0 COP to 5.0 COP and the higher it is, the more costly the heat pump is likely to be.
The more efficient the heat pump is, the more costly it is likely to be initially.
Let's examine some possible cost ranges:
$2,000 – $3,000: Most heat pumps within this price range will have a COP rating of 3.0 to 3.5, meaning that every unit of electricity received by the heat pump will result in 3.0 to 3.5 times the amount of energy the unit is able to produce for cooling and heating. These units will also have EER ratings between 15 to 25.
$3,000 – $4,000: Here, heat pumps in this price range will generally have a COP rating of 3.5 to 4.5, meaning that the coefficient of performance can more than quadruple in some cases. Also, EER ratings for units within this price range from 20 to 25.
$4,000 – $5,000: This is the highest cost range for most residential heat pumps and would generally have a COP rating of 4.0 to 5.0 and an EER rating between 20 to 30. This is one of the highest-performing heat pump ranges and also represents the highest cost range for typical residential heat pumps.
Above $5,000: There are high-end geothermal heat pumps for very large houses and industrial purposes, with higher kilowattage, COP and SEER ratings that go for more than $5,000. Some of them can even go as high as $10,000 per unit.
How Much Does It Cost to Install A Geothermal Heat Pump System?
Between $300 to $700. Usually, it's not the practice to install a geothermal heat pump in isolation, without the other components like the geothermal well along with the loops and pipes, and the indoor air delivery system.
The entire system is usually installed together, as a whole. However, if you're going to replace just a heat pump alone, you'd need to spend an additional $300 to $1,000 for installation.
This depends on the type of housing you're creating for the unit, the material that will be used, and how long it'll take to get it done.
Generally, you'll find experts charging about $70 to $120 per hour for heat pump installation. If the housing needs to be built from scratch, this can cost some more money for materials and much more time for installation.
Also, there are other materials the expert may need to buy for the installation, including bolts, wiring, and insulation materials.
When you add an average of $700 for installation to the cost of purchasing a geothermal heat pump, you'd have a clear idea of how much the total installation of the heat pump would cost.
Are Geothermal Heat Pumps Worth the Money?
Yes, geothermal heat pumps are certainly worth the money. In fact, because of their efficiency, they're recorded to produce about 3 to 5 times the amount of energy they receive.
Also, they're considered to be around 60% more efficient than most conventional cooling or heating appliances, so much so that they're able to pay up the initial investment in a matter of 5 to 20 years.
Although expensive to install, geothermal heat pumps save a lot of money over time because they harness natural energy from the earth, which is free and limitless.
Also, geothermal heat pumps are worth the money because they are very versatile. They're able to pull in heat and cool air, which makes them useful in both winter and summer.
This means you won't need another central heating system or even an air conditioner in your home if you have a geothermal system installed. There's also the added function of producing hot water performed by some heat pumps. This can help save money on hot water and heating bills in your home.
Final Words:
Bottom line is, geothermal heat pumps cost a lot of money. On average, they cost anywhere from $2,200 to $5,000 for typical small to medium-sized residential houses and between $5,000 and $12,000 for larger units built for larger houses and industrial settings.
The eventual cost of any unit will depend largely on its size and capacity, heat pump type, brand, performance, and efficiency. This is not the most expensive component of the geothermal system, but it's certainly one of the most important parts.
TOP RATED PRODUCTS FOR HOME