Radiator Heaters are a dependable source of heat when you're looking to get relief from the cold and a break from rising central heating bills. Or, perhaps, you require supplemental heating because your current heater isn't doing enough, a radiator heater is one of your best options.
They are quite an energy-efficient when compared to central heaters and other types of convection or furnace heaters. They are also reliable, durable and extremely low maintenance.
But like many other electrical appliances, electricity consumption is a major subject that most users can't stop talking about. What's the point of having a reliable heater if you're too afraid to use it because you can't afford electric bills?
When it comes to radiator heaters, many people have asked if they use a lot of electricity. Well, that's not a question that has a straightforward answer and we'll try and break it down for you.
Do Radiator Heaters Use a Lot of Electricity?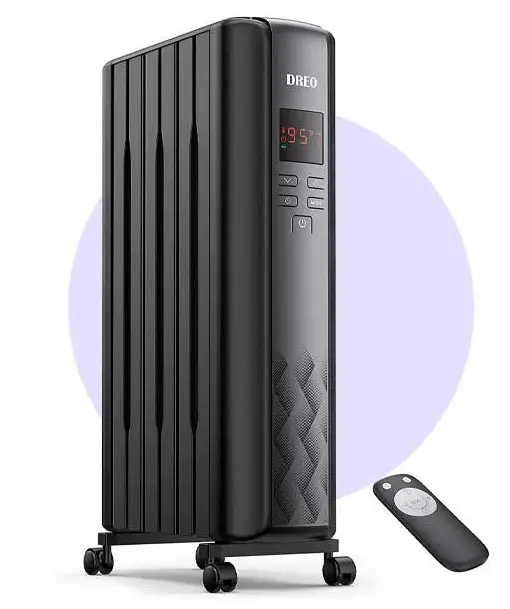 Overall, radiator heaters are considered very efficient because nothing is wasted. Every bit of energy the unit draws from the outlet is converted into very useful heat.
This is because radiator heaters are eco-friendly and do not waste energy. However, the term "a lot" is relative. Exactly how much can be regarded as too much?
In relation to what other heat source? Also, factors like the number of appliances in your home and how many people live there may determine why what is a lot for one person might be quite little for another.
If you have a heating system already in place, adding a radiator heater will certainly increase your electricity mark. However, using them in place of less efficient appliances will certainly help to cut down on usage.
Whatever the case, you can be sure that every watt of electricity that the unit draws is converted to heat that goes into your home and warms up your room.
Top 3 Energy Efficient Radiator Heaters
How Much Electricity Does a Radiator Use?
Radiators come in different sizes and heating capacities, hence the different wattage considerations. You must first determine the size of the area that requires heating to ascertain how much energy the appliance would need to run effectively.
Oftentimes, the manufacturers would state the recommended coverage of the unit and its wattage. There are radiator heaters that use 500 watts, 750 watts, and even 1,500 watts, and so on, depending on the capacity.
If you use a 750-watt radiator heater, for example, you'd need to convert that to kilowatts and multiply it by cost of electricity per kW-hour in your region x the number of hours you run the unit to arrive at the cost. Let's do the math.
750 watts ÷ 1,000 (to convert to kilowatts) = 0.75 kWh
The above is how much electricity your 750-watt radiator heater would use per hour. If you run your heater for 12 hours per day, that would amount to 0.75 x 12, which equals 9kWs per day.
How Much Does It Cost to Run a Radiator Heater?
Once you've ascertained how much electricity your heater uses per hour, it is quite easy to tell the cost as long as you know the cost of electricity per kWh in your region.
Different states have different tariffs, but we'll use the national average cost of electricity in the United States which is $0.13 per kWh.
0.75 x 0.13 = $0.0975 per hour.
If you run the heater for 12 hours daily, that would be 0.0975 x 12, which amounts to $1.17 per day. In a month, that'll amount to $35.1, and in a year, your radiator heater would be gulping $421.2 on electricity charges.
Which Is the Most Economical Radiator Heater?
1. Honeywell EnergySmart Electric Radiator Heater
Best Features
The first thing to notice about this amazing radiator heater is its mobile features. It comes with an easy-carry handle and smooth, easy-glide wheels.
But beyond that, this unit is considered one of the most energy-efficient radiator heaters out there. At 1,500 watts, it can heat up entire rooms- up to 300 sq. ft or more.
This ensures you don't have to leave it on all day, saving you huge energy costs in the process. What's more, every energy drawn is used efficiently so nothing goes to waste. You can also turn down your thermostat a bit to help save money.
The unit comes with amazing safety and convenient features, including overheat protection, a tip-over switch, adjustable thermostat, 1-12 hour timer, 3 heat settings, and thermal insulated wiring.
Pros
Comes with flexible features for your convenience.
Very safe to use.
Quite portable and compact; easy to carry around.
Quiet operation.
Remote control.
Cons
Not the cheapest radiator heater.
May make some noise when it starts.
2. Dreo Radiator Heater
Value for Money
This Dreo Radiator Heater comes highly recommended by experts for many reasons. First, it has a 360° hot air circulation feature as a result of its M-shaped fins. This creates a stack effect, allowing warmth to find its way to the different parts of the area that needs heating.
The unit also provides fast heating for rooms up to 300 sq ft. Most importantly, it is very efficient with energy-saving features.
The eco mode automatically adjusts the unit's operation based on the temperature of the room. This is further enhanced by a temperature sensor that ensures you get just the right amount of heat, while saving cost on energy.
The unit is easy to use and features 3 heating levels at 600W, 900W and 1,500W. The unit also features a 24-hr timer for auto-on and auto-off times and flexibility for 1-hr increments.
It is UL certified and features an automatic shut-off and tip-over switch to keep you and your loved ones safe.
Pros
Multi-stage heating levels.
Very easy to use and manipulate.
Portable design.
Energy-saving technology.
Easy-slide wheels for smooth transport.
Cool-touch to prevent burns.
Cons
3. De'Longhi Comfort Temp Full Room Radiator Heater
Best Price
Talk about Portability, ease, and convenience; this unit tops the list. Its unique exterior design is a trademark of the brand's versatility and style. Its wheels make it easy for you to move the unit from one room to another without stress.
With its Comfort Temp Technology, this product can cut down energy costs by maintaining the unit's optimum temperature and settings without using up more power, making it truly energy efficient.
For those who love big value for low costs, this is the ultimate radiator heater as far as energy efficiency is concerned.
Three-heat settings, adjustable thermostat, thermal cut-off, a rounded design, and overheat protection are some of the other amazing features of this heater.
Pros
Energy saving technology.
No assembly is required.
Easy and safe to use.
Very affordable.
Maintenance-free.
Cons
Much vertical room is required.
Final Words:
Radiator heaters are pretty efficient heat sources, and if you're intentional enough, you can get a unit that offers true energy efficiency, providing maximum heating at lower energy costs.
We have provided three examples here which will help keep your energy bills low when you run them. But, whatever the case, you can be sure of sufficient heat for those cold rooms in winter and you'll get your money's worth if you decide to use any of the products here.
TOP RATED PRODUCTS FOR HOME